Decadent no-bake chocolate bars on a chocolate and sea salt almond crust. These Chocolate Truffle Pie Bars have the creamy, rich, smooth consistency of a truffle in every bite.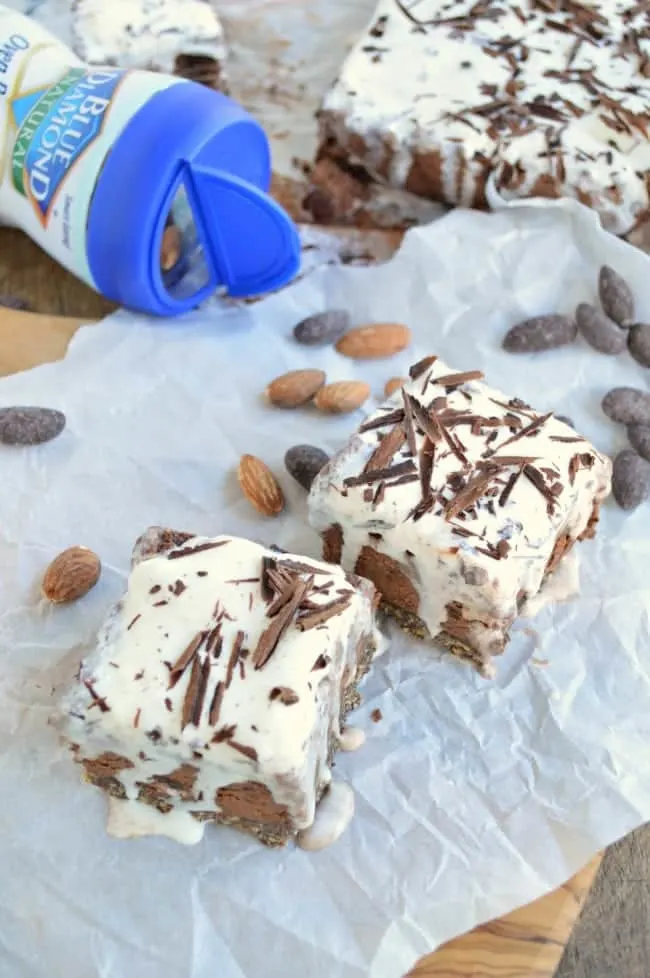 This post is sponsored by Blue Diamond Almonds.
You guys.
I want to faceplant straight into these bars.
Is it just me or has it been the longest short week in the history of the world? I feel like it is taking us one million hours to get to Friday. We have been installing bamboo floors for what seems like a year and it is starting to take a toll on my state of mind. Give me a cocktail and a pile of truffle pie bars, please.
We started demolishing our kitchen, living room, and dining room a week and a half ago. We decided to do the installation ourselves because the cost of the installation was going to be as much as the floors and I could definitely buy more fun things than labor with that kinda cash. I am fortunate to have Chad who is very capable in the construction department, and I knew we could pull it off, but I think we underestimated just exactly how hard bamboo is.
I mean… it's like trying to nail down rocks.
And since the installing is happening only after work and before bed it is taking us an obnoxious amount of time. I'm constantly sweeping up sawdust, every time the air compressor comes on Betty panics, and last night I stepped on a flooring staple in my bare feet.
In other words, these Chocolate Truffle Pie Bars are the best thing to happen to me all week.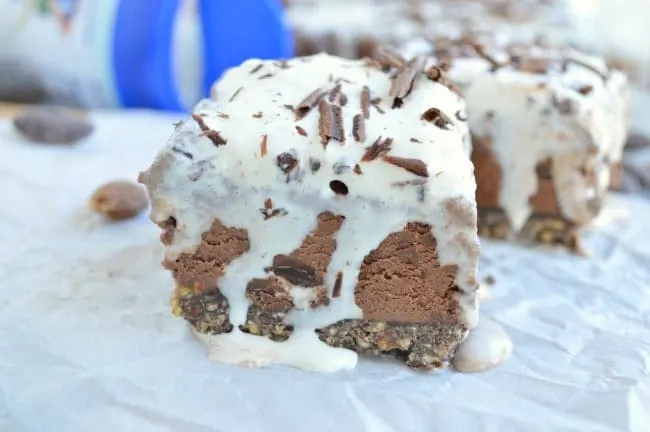 A looooooong time ago I made this Chocolate Truffle Pie. Like so long ago I almost forgot about it. Earlier this year I made Kahlua Chocolate Truffles and they are bite size little bombs of awesome. So in the middle of all this construction drama I was having visions of that cool, creamy chocolate texture, but on a crust with some crunch. And no baking! No baking was a big part of it.
OBVIOUSLY the crunchy crust craving led me to almonds. They are my favorite crunchy crunch. Remember those chicken fingers with crunchy almond crust? That's the good stuff.
For these pie bars I used a combination of Dark Chocolate and Sea Salt Blue Diamond Almonds. Then I added a few chocolate graham crackers for good measure. And butter. Duh.
The chocolate and sea salt flavors work SO well together. When I get a box of chocolates I always go for the ones with salt first.
The filling is dark chocolate ganache folded with sweetened whipped cream. The sugar in the whipped cream is the only added sweetener in this recipe, making it totally rich and decadent without being too sweet.
You can go a few ways with the topping — the recipe calls for more homemade whipped cream. It's thick and delicious and will hold up pretty well. You can also use whipped cream from a can. That's what I used in the photos here because I love a good melty mess (plus I'd already cleaned my mixer once and geez I have enough work going on over here). Prepared whipped topping is probably going to be your most stable bet, and that's what I'd go with if I were hauling this to a potluck or something.
Get your no-bake pie bars on!
And if you are installing bamboo floors any time soon, have two.
Chocolate Truffle Pie Bars
Decadent no-bake chocolate bars on a chocolate and sea salt almond crust. These Chocolate Truffle Pie Bars have the creamy, rich, smooth consistency of a truffle in every bite.
Ingredients
For the Crust:
½ cup Blue Diamond Dark Chocolate Almonds
½ cup Blue Diamond Sea Salt Almonds
5 whole chocolate graham crackers
6 tablespoons butter
For the Filling:
9 ounces good quality dark chocolate, chopped
1 teaspoon vanilla
¾ cup heavy cream + 1½ cups heavy cream, divided
¼ cup powdered sugar
For the Topping:
1½ cups heavy cream
¼ cup powdered sugar
garnish with shaved chocolate
Instructions
Line an 8 X 8 pan with parchment paper or foil.
Add the Dark Chocolate Almonds, the Sea Salt Almonds, and the chocolate graham crackers to your food processor and pulse until you have fine crumbs. Pour the crumbs into a medium bowl. Melt the butter and then toss with the crumbs until everything is evenly coated. Press the crust into the bottom of the prepared pan.
Wipe out the bowl and add the chopped chocolate and vanilla. Heat the ¾ cup of heavy cream until it just barely simmers. Pour the cream over the chocolate and whisk until smooth. Refrigerate for about 15 mins, just to cool it down.
While the chocolate refrigerates, make the whipped cream for the filling. Beat together the first 1½ cups heavy cream together with the ¼ cup powdered sugar until stiff peaks form.
Use a sturdy spatula to fold together the refrigerated chocolate and whipped cream until the color is smooth and no more streaks remain. Scrape the filling into the pan and spread it evenly over the crust. Loosely cover and refrigerate for at least 3 hours.
To make the topping beat together the last 1½ cups heavy cream and ¼ cup powdered sugar until stiff peaks form. (see note for alternate toppings)
Spread the whipped cream over the chilled truffle pie bars, use your veggie peeler to shave some chocolate over the top, slice, and serve.
Notes
1. You can also use semi-sweet chocolate.
2. In place of homemade whipped cream you can also used prepared whipped topping or whipped cream from a can.