An easy, fresh, homemade version of the quinoa salad at Bonefish Grill. Copycat Bonefish Quinoa Salad is healthy and filling! Goes great with chicken or fish and makes a terrific lunch!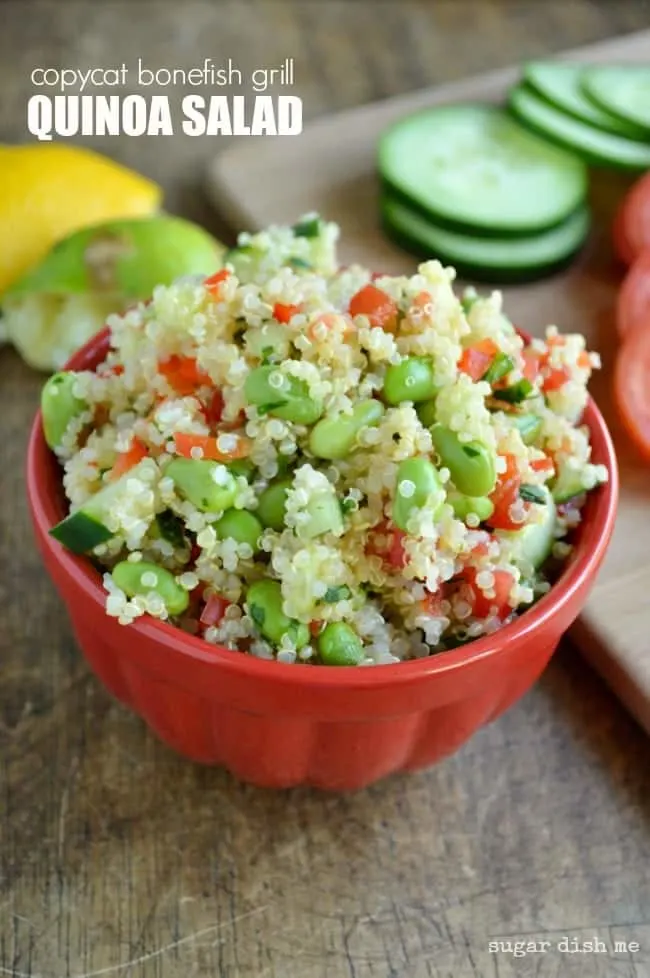 I was not quick to jump on the quinoa bandwagon. I made a few dishes with it the first time I bought it. I tried using it in place of rice or pasta here and there because once Beyonce' mentioned doing that and well… I mean it couldn't hurt, right?
Anyway, for awhile quinoa was just a mediocre grain for me. The texture can be kinda funny — like in a stir fry it sticks to my broccoli. And I like it in granola but really I like oats better. That's probably not very cool and trendy. But then cool and trendy is not anything I ever really claimed to be.
THEN I spent a weekend with my sisters and after eating a game-changing quinoa salad side dish in a delicious little restaurant, I came right home and re-made it because I loved it so much. That was the first time I was really really on board, and not just because I was aiming for a healthy grain. I mean… when it's done right? Quinoa is totally awesome.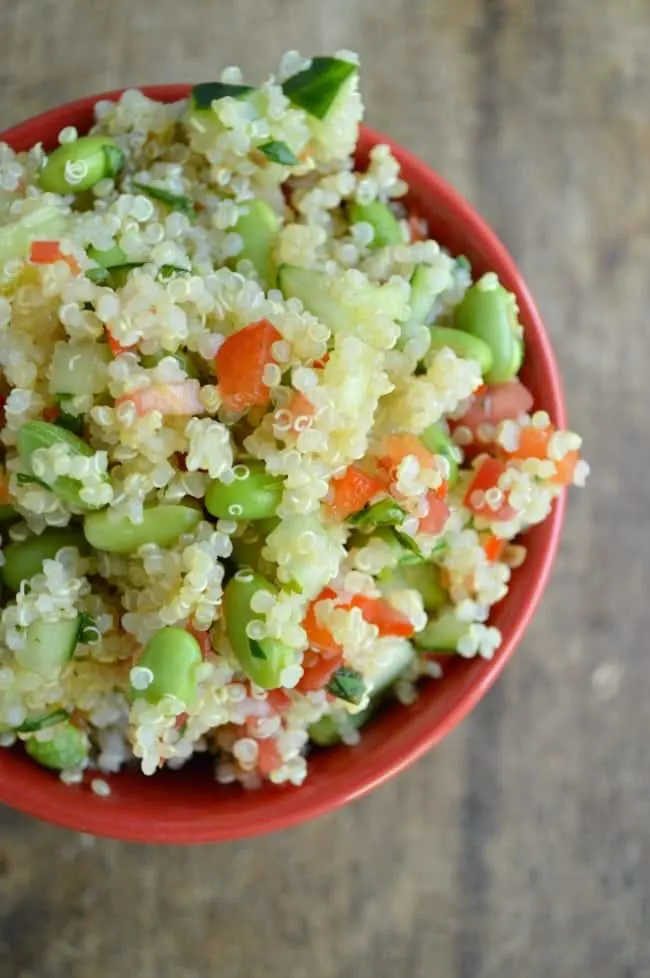 Enter the Bonefish Grill. Last time we visited I ordered their red quinoa salad with my meal and then proceeded to embarrass myself at the dinner table trying to get every last granule of tart light grain goodness out of the bowl. IT WAS FLIPPING DELICIOUS.
So I decided to try it at home.
I did not use red quinoa because honestly I can't readily find it here so I thought it might be the same for you. Also… this copycat may not be totally accurate. I might be missing a thing or two but I got it to my liking and I know that if you are a fan of the Bonefish side dish or you just want a delicious light meal accompaniment you will love this. It's fresh and citrus-ey and the edamame makes it kind of meaty while still feeling light. I had this for lunch 3 days in a row.
So the moral is that this quinoa bandwagon is definitely one to get on — no more mediocrity!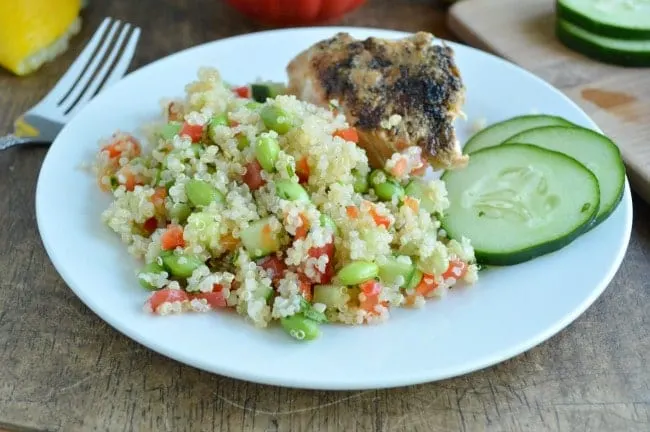 Copycat Bonefish Quinoa salad
Ingredients
1 cup uncooked quinoa, rinsed
1 cup steamed edamame, cooled
⅓ cup red (or green!) bell pepper, diced
⅓ cup Roma tomatoes, diced
⅓ cup cucumber, diced
⅓ cup choppped cilantro
juice of 1 lemon
juice of ½ a lime
sea salt to taste
Instructions
Cook the quinoa according to package instructions. Cool slightly
Steam the edamame according to package instructions, drain, and cool.
Toss together the cooked quinoa, steamed edamame, bell pepper, tomatoes, cucumber, and cilantro. Toss so that it is evenly colorful!
Squeeze the lemon & lime juice over the salad. Add salt to taste and toss so the juice coats everything.
Chill and serve!