Creamy goat cheese is topped with quick-cooked cranberries, honey, cinnamon, and chopped Smokehouse Almonds. This Cranberry Almond Goat Cheese Spread is the perfect appetizer addition to your game day or holiday spread.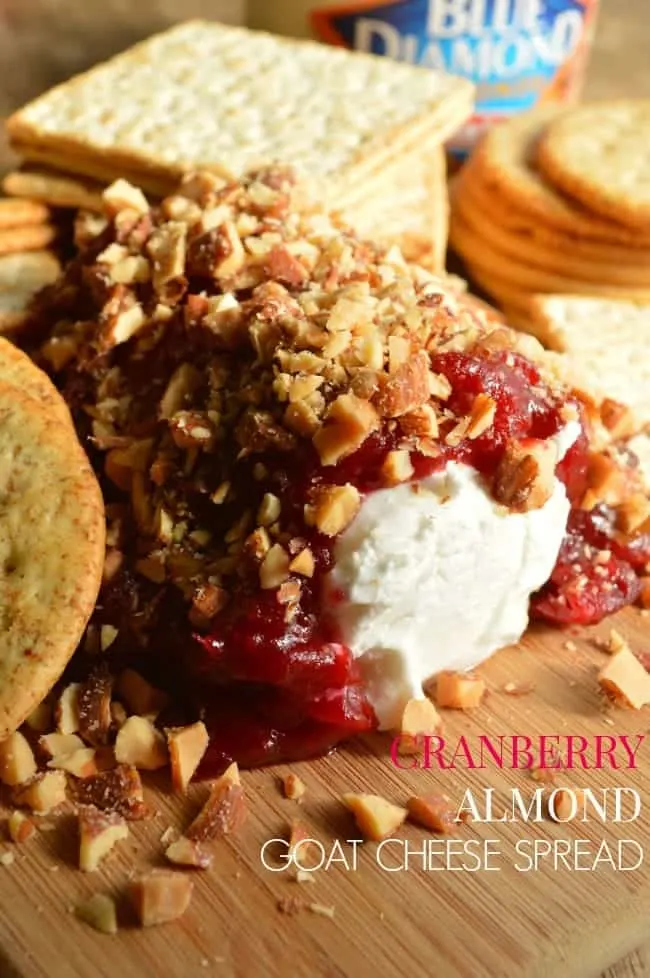 This post is sponsored by Blue Diamond Almonds.
Tis the season for appetizers!
Who am I kidding? I am always up for a table full of starters versus a meal.
But anyway, it's December and not only are there a gajillion reasons to celebrate and set out something snazzy like this Cranberry Almond Goat Cheese Spread, but there are also a gajillion game days.
It is my humble opinion that sometimes game day food needs revitalizing. I don't watch sports (sorry. I'm sure that's un-American or something) but end up with plenty of people that do, and if we are keeping it real I am 100% in it for the snacks.
In the past I have shared with you recipes like these Chicken Fingers with Crunchy Almond Crust for game days. I love those and if you are serving them I'd like an invite, please!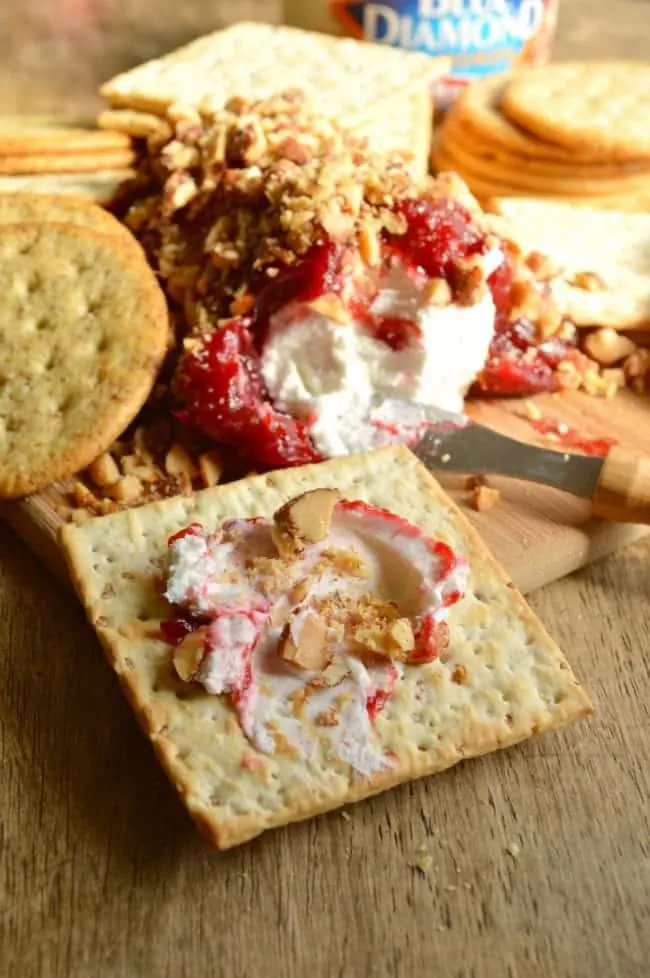 For this round of awesome game day snacking recipes though, I was inspired by a table full of appetizers that I shared last week with my best blogging friend in the universe — Tanya.
This job is weird because it fosters an environment where you make REALLY amazing friends that you talk to every day, work with, collaborate on things with, and commiserate with, except you are never actually face to face with because they are 6 1/2 hours away from you.
Tanya is that friend for me, and this past week we remedied our distance with a face to face lunch that lingered for a couple of hours. We ordered three appetizers, a couple of drinks, and caught up on several years worth of gabbing.
One of the appetizers we shared was a soft goat cheese with apples and figs and nuts. I decided to come home and make my own version with cranberries, honey, cinnamon, and of course, Blue Diamond Smokehouse Almonds. This snack is a game changer. Sorry for the pun.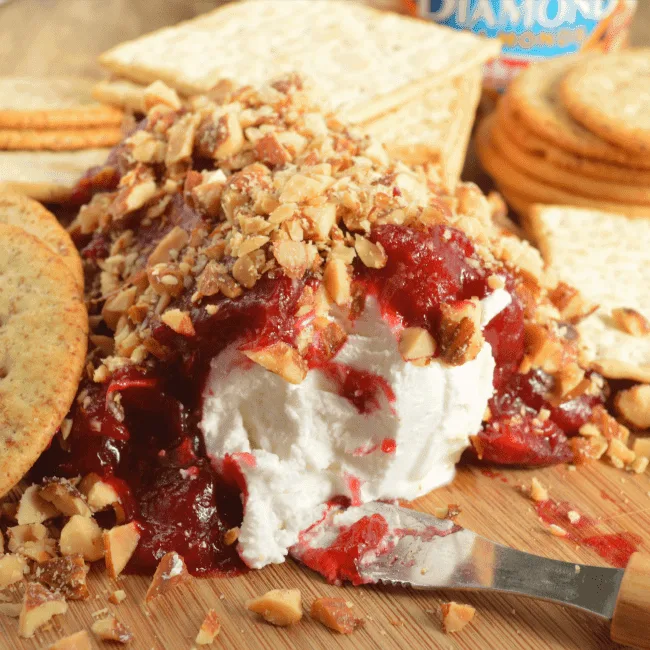 Creamy goat cheese is covered in cranberries that I quickly cooked down with honey and cinnamon. Topped with chopped almonds, the flavors are sweet, salty, a little tart, and totally addictive. I will not tell you how many crackers I ate because I needed a goat cheese vehicle. Toasty bread or even crusty baguette will also work.
Change it up with your next snack — make Cranberry Almond Goat Cheese Spread your thing.
Cranberry Almond Goat Cheese Spread
Ingredients
1 small (4 ounce) log of soft goat cheese
1 cup fresh cranberries
½ cup water
2 tablespoons honey
¼ teaspoon ground cinnamon
⅓ cup chopped Smokehouse Almonds
crackers or bread for serving
Instructions
Place the goat cheese on a cheese platter or serving plate.
Place the cranberries and water in a small saucepan and bring to a simmer. The cranberries will pop and cook down after just a minute or two. At the 4 minute mark stir in the honey and cinnamon. You want the mixture to be thick, but you can add another tablespoon of water or so if needed.
Pour the warm cranberries over the goat cheese. Top with the chopped almonds.
Serve with the crackers or bread.
This post is sponsored by Blue Diamond Almonds. Ditch the chips and grab some Game Changing Flavors this football season! Enter for a chance to win the Ultimate Football Party Prize Pack, get great savings and ideas for delicious snack hacks at GameChangingFlavors.com.
You should also check out this Almond Crusted Baked Ravioli!
And for a meal you can't go wrong with, this Slow Cooker Honey Sriracha Chicken Stir Fry is a WIN.