Classic Broccoli Rice Casserole is the version my mom made – the one with the Cheez Whiz! This quick-cooking and easy to make-ahead side dish is a holiday staple.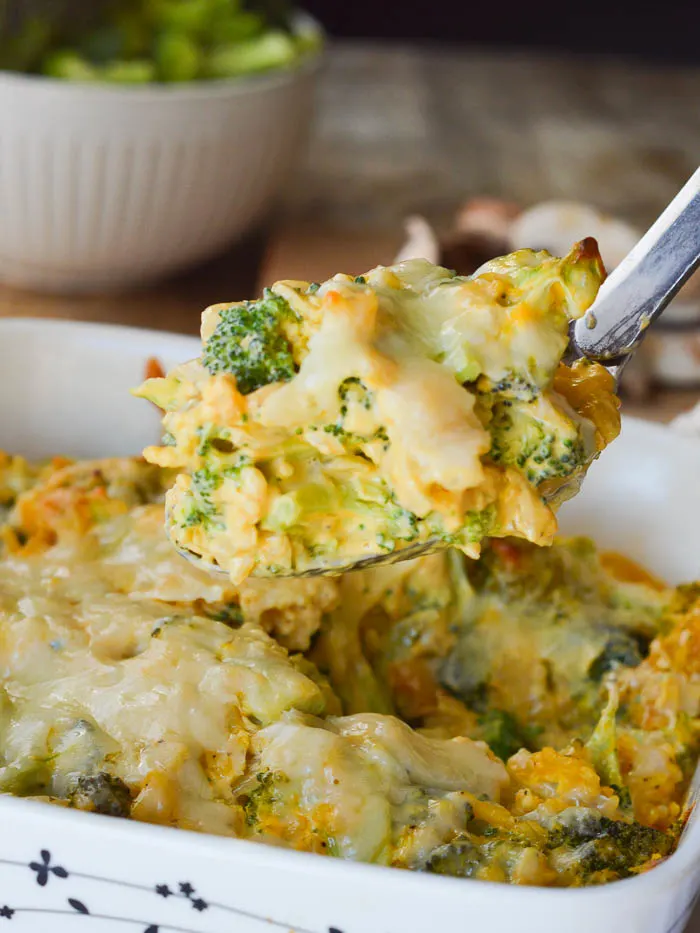 You know how you have those foods that are just inexplicably tied to a holiday and overall feeling of nostalgia? This casserole is that for me.
We are not really a family of homemade food traditions; when I think of my grandparents, I think of canned biscuits, bacon, Puddin' Pops, and Coke, not necessarily in that order, but probably all in the same day.
When I think of holidays however, I think of cinnamon rolls (also out of a can; still delicious, y'all) and this Classic Broccoli Rice Casserole.
This is the version my mom made with the Cheez Whiz. A whole jar of Cheez Whiz.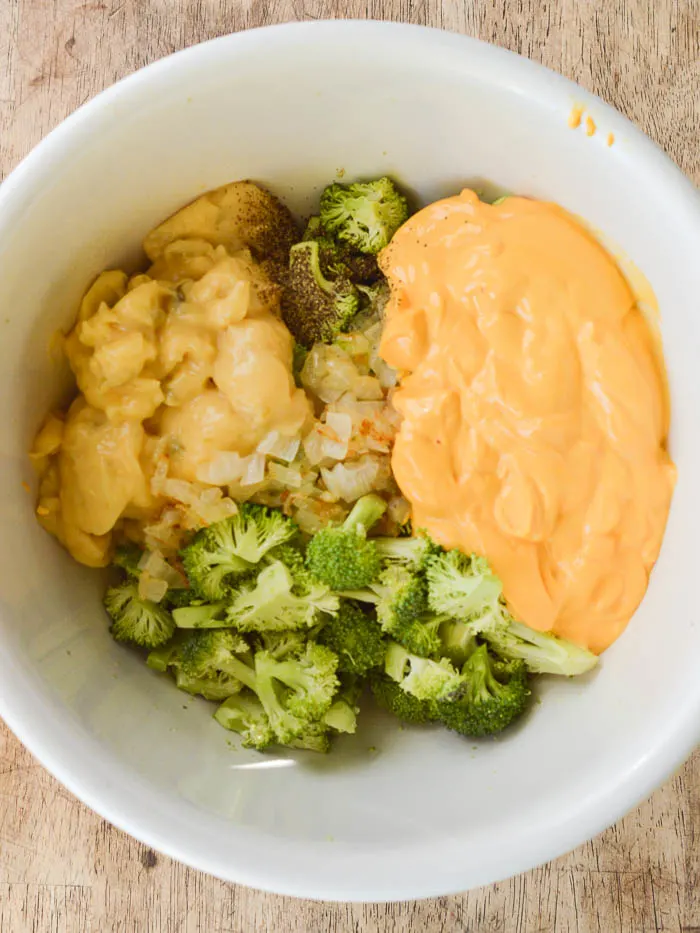 There's also canned Condensed Cream of Mushroom Soup, which I never buy anymore, except to make this recipe, but I feel like when I was a kid, cream-of soup made its way into everything.
I think we can safely blame my Midwest roots for that.
In this casserole you will also find sauteed onions, instant rice, black pepper, and broccoli – obvi.
Don't add salt
Unless you are some sort of glutton for high blood pressure punishment, please do not add salt. It's really not even necessary when you saute the onions, which was weird for me, but trust.
When I decided I should share my mom's version of this recipe (here's my from-scratch version of Healthy Broccoli Rice Casserole ), I text her for the specifics, because as simple as it is, I was certain I'd forget an ingredient. She left out salt, which at first I really thought was a simple error, but just in case I made as-is.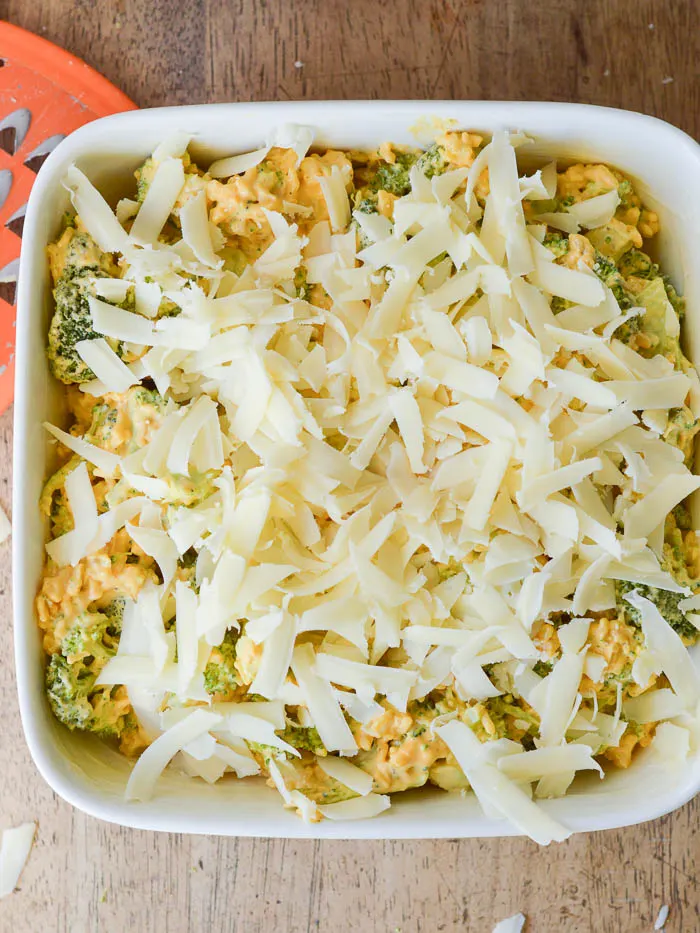 The Cheez Whiz makes this salty enough. Extra salt is 100% not needed.
Can I Make Broccoli Rice Casserole Ahead?
100% yes! DO IT.
There are a thousand things that need doing before a big holiday meal, even if you are not the host. Because of that, I am a huge advocate of getting all the things I can possibly manage done ahead of time. I make my pie crusts, bake sweet potatoes for mashing, cube butternut squash for roasting, and I mix up my broccoli casserole and cover, so all I have to do the day-of is bake.
Broccoli Rice Casserole will keep, refrigerated, for up to 3 days before baking.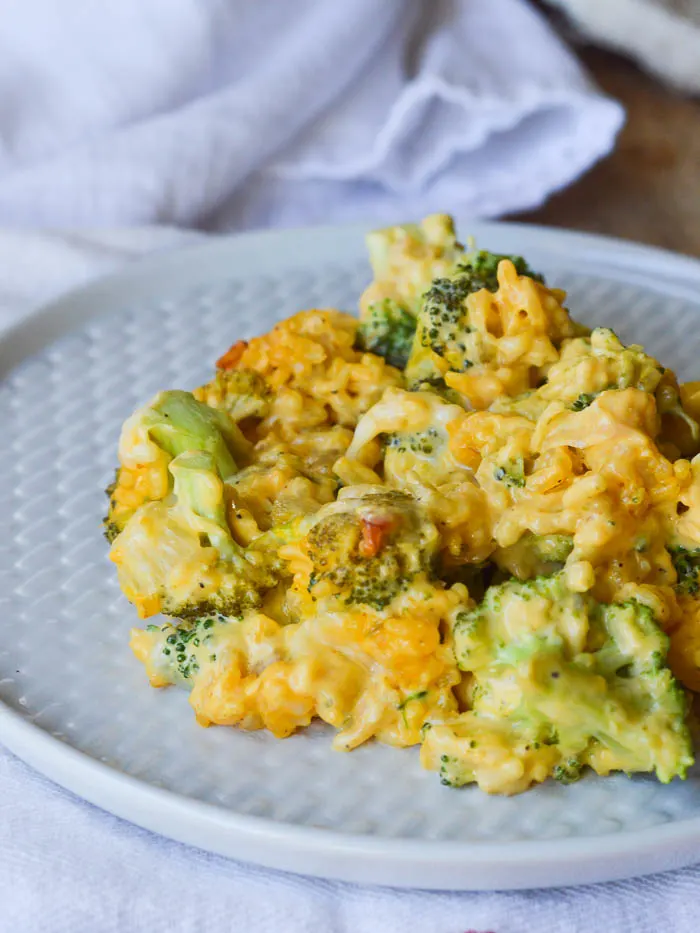 Baking Tips
If you are using fresh broccoli, add about 10 minutes to the baking time (so err on the 40-50 minute side instead of 30-40 minutes). This will make sure it's tender.
Frozen broccoli is best with the 30-40 minute bake time; this heats everything all the way through, but the broccoli is not overcooked.
You can cover this with foil and stash in a warm oven until you are ready to serve.
I have also covered this with foil and let it bake in the oven with other things at a slightly higher temperature. Don't let it go too long, obviously, but it's a pretty resilient casserole and it's hard to mess up.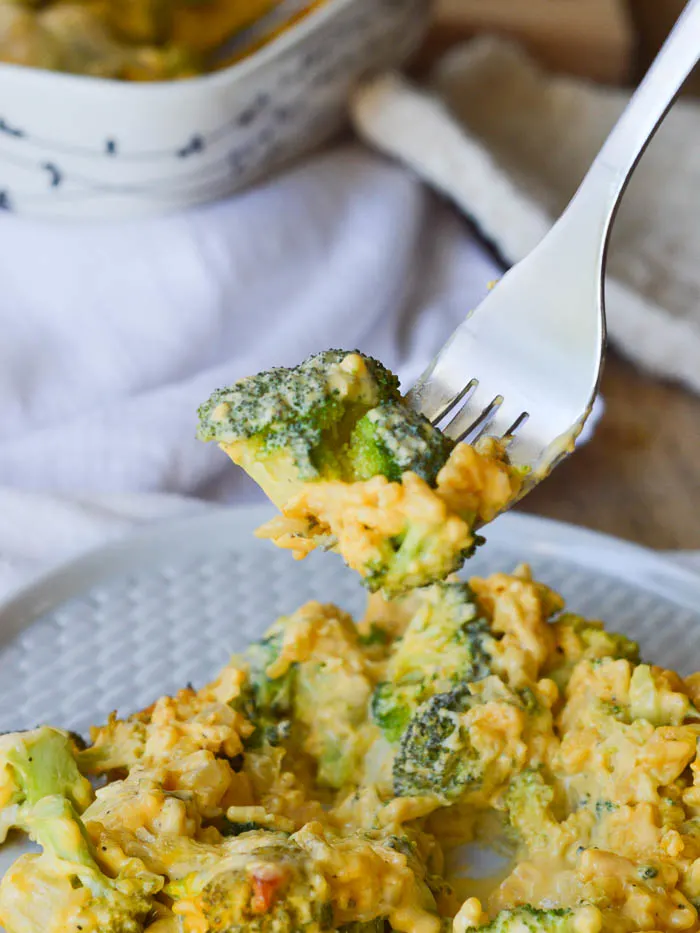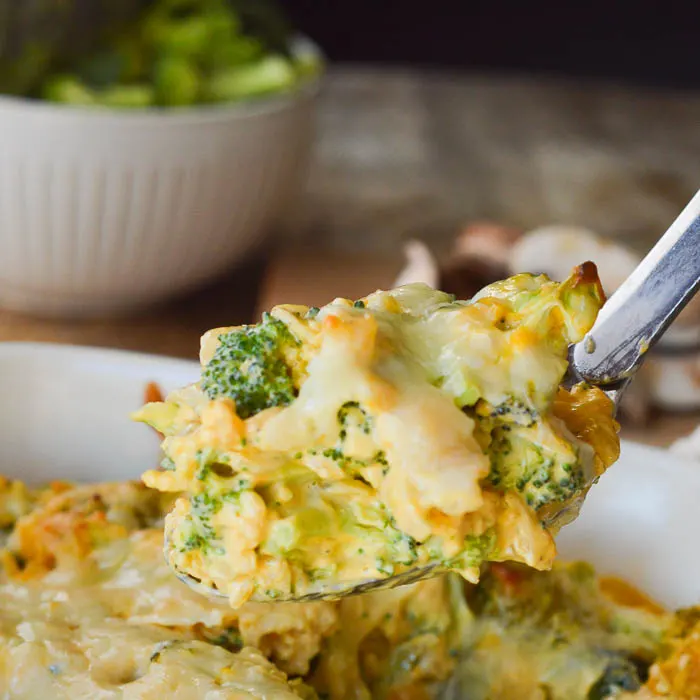 Yield:

serves 8
Classic Broccoli and Rice Casserole
Classic Broccoli and Rice Casserole is a holiday staple that is super easy to make ahead. This easy side dish is a familiar, crowd-pleasing comfort food.
Ingredients
1 tablespoon butter
1 cup onion, minced
4 cups fresh or frozen broccoli florets (see notes)
1 (8 ounce) jar of Cheez Whiz
1 (10.5 ounce) can of Cream of Mushroom soup (see notes)
2/3 cup milk
1 cup instant rice
1 teaspoon ground black pepper
1 1/2 cups shredded cheese (see notes)
Instructions
If you are making this dish ahead of time skip to Step 2. If you are making to bake immediately, preheat the oven to 350°F.
In a small saucepan, melt the butter and saute the onion over medium heat for about 5 minutes, until fragrant and translucent. Set aside.
Butter a 2 quart casserole dish, and in a large bowl, stir together the sauteed onions, broccoli, Cheez Whiz, cream soup, milk, instant rice, and black pepper. Spread evenly in the prepared casserole dish.
Top with the shredded cheese. If you are making this dish ahead, wrap with plastic wrap and refrigerate for up to 2 days. If you are baking immediately, bake uncovered for 30-40 minutes (see notes). Serve warm.
Notes
Fresh broccoli will take a little longer to cook - 40 minutes is the high end of the cook time listed, and it's how long was needed for fresh broccoli. Frozen broccoli introduces a bit more water to the dish and makes the rice a little fluffier.
For homemade Cream of Mushroom Soup you can search Sugar Dish Me for Healthy Broccoli Rice Casserole; this recipe will require 2 cups of homemade soup, and you can omit the additional milk.
Cheddar cheese works well here! You can also use a cheese blend. I wouldn't use anything too sharp or too smoky; it'll compete with the Cheez Whiz in a weird way. My mom used slices of American cheese. If you go this route, you'll need 4-6 slices.
Recommended Products
As an Amazon Associate and member of other affiliate programs, I earn from qualifying purchases.
Nutrition Information:
Yield:
8
Serving Size:
1
Amount Per Serving:
Calories:

199
Total Fat:

11g
Saturated Fat:

6g
Trans Fat:

0g
Unsaturated Fat:

4g
Cholesterol:

30mg
Sodium:

371mg
Carbohydrates:

17g
Fiber:

3g
Sugar:

3g
Protein:

9g