The best easy Rotisserie Chicken Salad Recipe starts with the best shortcut: store-bought rotisserie chicken! A bright and creamy dressing + plenty of texture means that this will be your go-to!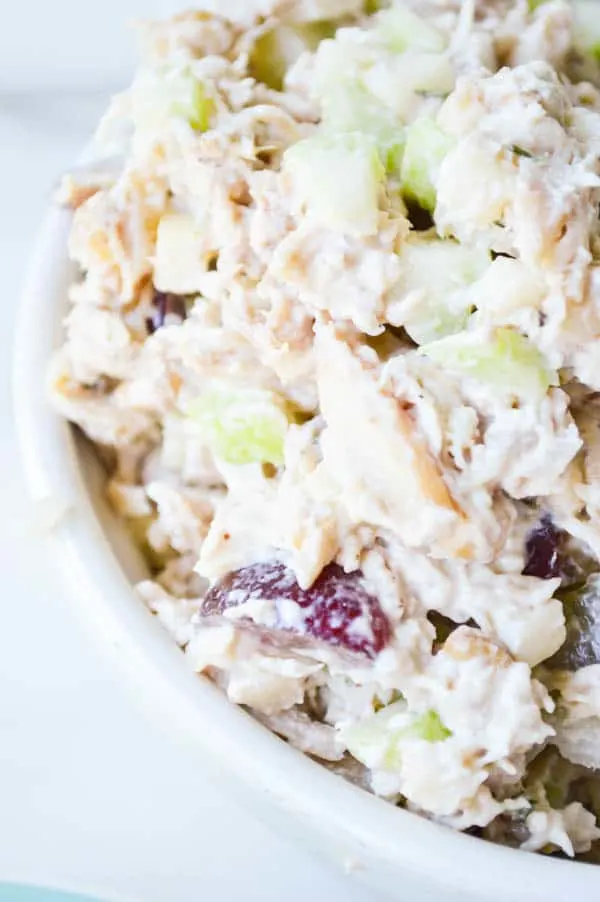 This Rotisserie Chicken Salad really is the best – for a few reasons. It's easy, which will basically land any recipe at the top of my list. But also there's a ton of texture – tender chicken, crunchy celery, crisp apples, creamy dressing. It's amazing over a bed of lettuce, piled high on soft bread for sandwiches, and straight from the bowl with a fork in true I-AM-SO-FREAKING-HUNGRY fashion.
My obsession with chicken salad started sometime back in the 90's after ordering the life-changing chicken Salad at a restaurant called Eddie's Place in Charlotte. They are better known for other things; in particular their She Crab Soup is listed as "a must", but honestly you really can't go wrong there. The chicken salad though? It's next level. And I am not here to say that I tried to recreate it.
Nope.
What I did do is take all the bits and pieces from chicken salad recipes I adore and marry them into one big bowl of delicious.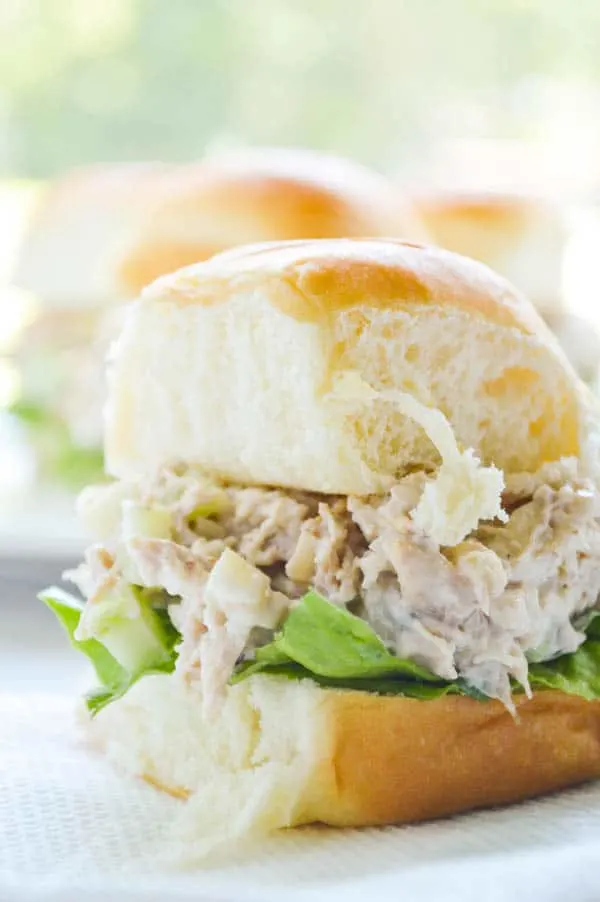 What kind of rotisserie chicken?
I typically buy the straight up "plain" or "traditional" rotisserie chicken for this recipe, but my local grocery store sometimes carries fun flavors like Lemon Pepper or Bourbon – those work well here, too. I'd steer clear of anything that says "Barbecue" or "Santa Fe", etc. We can save those for another day, perhaps.
I use the WHOLE chicken with this recipe, so if you are buying just breasts or thighs, you will want to be sure that you have 2-3 pounds of chicken to shred.
Other Ingredients you need for Rotisserie Chicken Salad
mayonnaise – Duke's if you can swing it (it's not available everywhere). Don't argue with me – it's the best.
spicy mustard
1 lemon (or lemon juice, but the bottled stuff is disappointing)
red wine vinegar
honey
salt & pepper
celery
tart, crisp apples (Granny Smith, Pink Lady, and Honey Crisp are all varieties that work well)
sweet onions
red grapes
tarragon!!!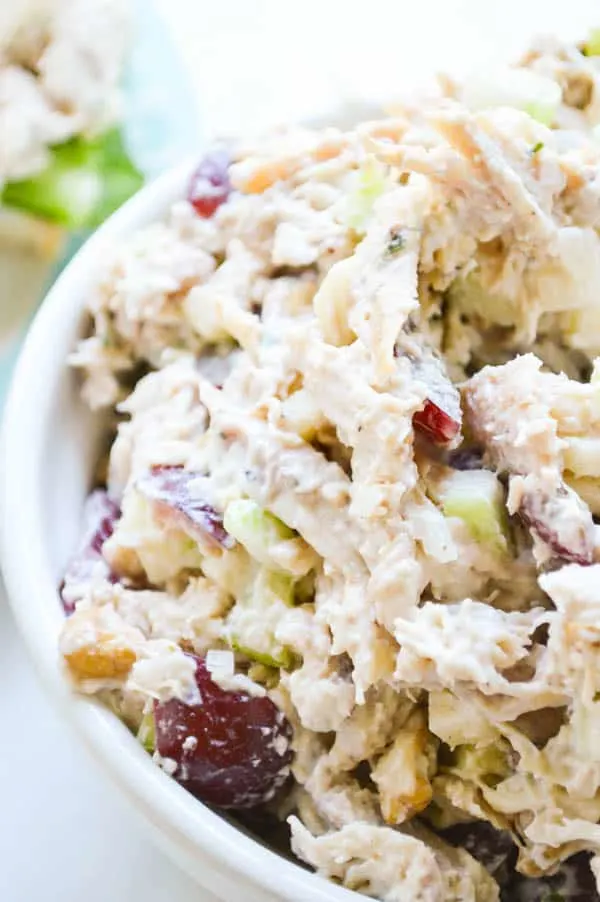 What is Tarragon?
So listen. I promise I am not trying to be fancy. You can definitely proceed with this recipe sans tarragon. BUT! If you are in your produce department, which is usually sort of near the deli where they have the chicken, and you see tarragon, grab it.
Tarragon is an herb with tender leaves that taste a little bit like anise.
I am not usually a lover of anise or anything related to black licorice, but I worked with a restaurant manager once that swore by adding tarragon to the chicken salad at the sandwich shop, and he was RIGHT ON. It makes this rotisserie chicken salad just a liiiiitle different; it sets it apart. The flavor works well with the creamy dressing and the brightness of the lemon.
Adding herbs is one of my favorite ways to jazz up my chicken salad. EXAMPLE: the thing that makes these Healthy Dill Chicken Salad Wraps special is the dill. (also those are delicious and you should try them)
Can I make chicken salad without mayonnaise?
You can! I've definitely made this with all Greek yogurt. Typically, if I am trying to add protein or cut calories, or just feel better about myself, I use half mayonnaise and half Greek yogurt. The yogurt is not as creamy as the mayo and tends to be thicker, so if you go the Greek yogurt route, you will probably want to adjust some of the other liquid ingredients a little.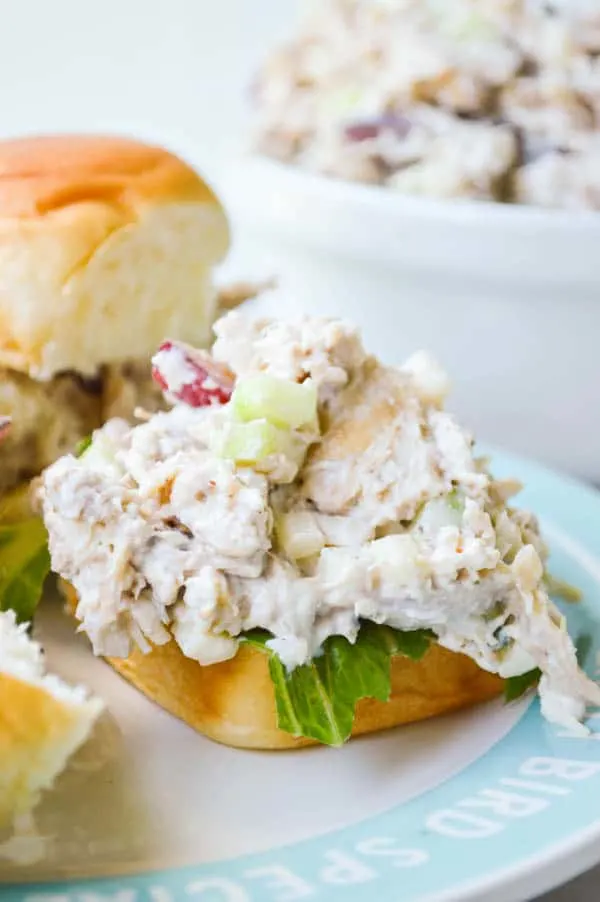 How long does Rotisserie Chicken Salad last?
This is important because for me it determines just how much of anything I am going to make. With this chicken salad recipe I typically double it because I will totally eat it for lunch every day, will eat it for dinner at least once when work has spilled over into the evening, and will dig in with a fork when I haven't had time to pause and eat, and then notice it's 5pm and I am gnaw-my-arm-off starving.
Rotisserie Chicken Salad will keep, refrigerated and covered, for 3-5 days.
This also means that you can make it ahead pretty easily; just give things a stir before serving and sprinkle a little more fresh tarragon over the top.
Other types of salads!
Hooooo y'all. I love a good salad. Of any variety really. I grabbed a few of my favorites here because everyone needs a good bean salad, egg salad, potato salad, or taco salad recipe.
Southwestern Chicken Salad is like my favorite version of taco salad. I always top it with leftover chicken from my Sheet Pan Chili Chicken and Sweet Potatoes recipe. It's loaded with pico de gallo and I added Chili Cheese Fritos. Seemed like a good idea.
The Best Easy 5 Bean Salad is healthy! And it literally goes with everything.
The Best Dang Egg Salad Ever is another oldie but goodie recipe that I used to turn out in volume in a little diner I ran. You seriously can't go wrong with a classic like egg salad.
Dill Potato Salad is made without mayo! There's some vinegar, fresh dill, a little honey – it's REALLYYYYYY good. Cold or warm. I like to dash it with a little more vinegar before serving.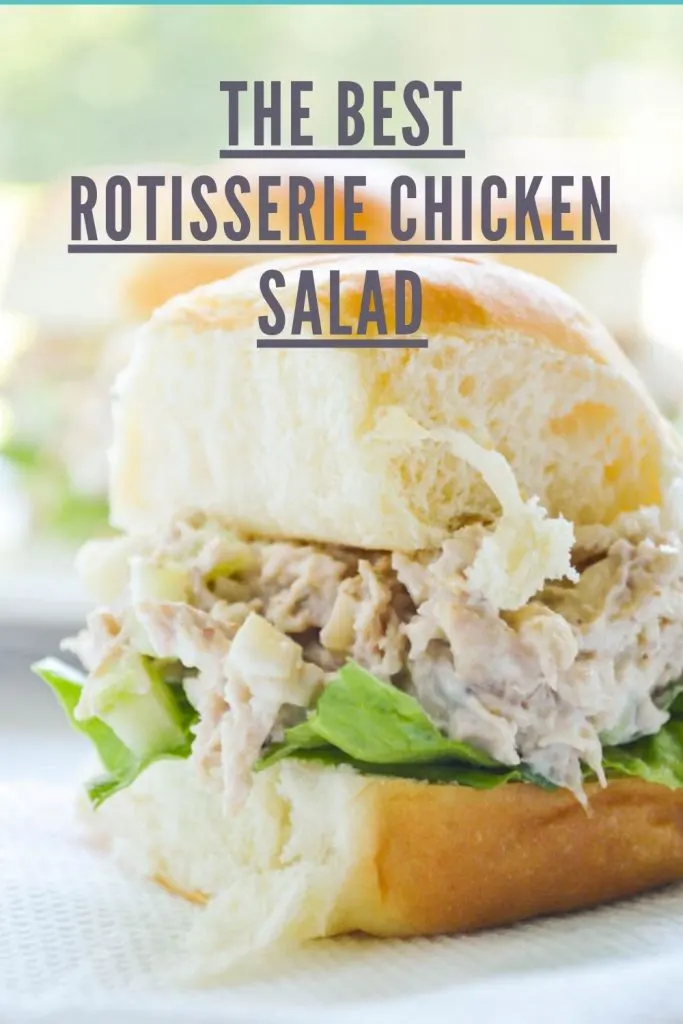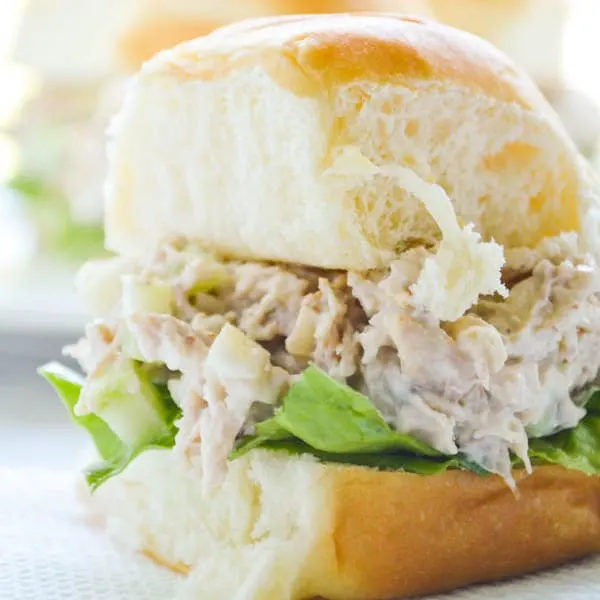 Yield:

Serves 12
The Best Rotisserie Chicken Salad
Rotisserie Chicken Salad is bright and simple and delicious! Shred a whole rotisserie chicken and mix it with apples, grapes, celery, a creamy dressing, and serve some chicken salad sandwiches that will seriously impress!
Ingredients
1 whole rotisserie chicken
1 1/2 cups crisp, tart apples, cut into small cubes
1 cup celery, very finely chopped
1/4 cup sweet onion, very finely chopped
1 cup red grapes, quartered
1 tablespoon finely chopped fresh tarragon + more to garnish
For the Dressing
1 1/4 cups mayonnaise
2 tablespoons honey
2 tablespoons spicy mustard
1 tablespoon fresh lemon juice
1 tablespoon red wine vinegar
1 teaspoon salt
1/2 teaspoon ground black pepper
Instructions
Shred the chicken and pull all the meat off the bones.
In a large bowl, toss together the chicken, apples, celery, onion, grapes, and tarragon.
In a large liquid measuring cup, whisk together the mayo, honey, spicy mustard, lemon juice, red wine vinegar, salt, and pepper.
Pour the dressing over the chicken mixture and stir to coat. Garnish with a little more fresh tarragon!
Recommended Products
As an Amazon Associate and member of other affiliate programs, I earn from qualifying purchases.
Nutrition Information:
Yield:
12
Serving Size:
1
Amount Per Serving:
Calories:

270
Total Fat:

22g
Saturated Fat:

3g
Trans Fat:

0g
Unsaturated Fat:

17g
Cholesterol:

34mg
Sodium:

486mg
Carbohydrates:

12g
Fiber:

1g
Sugar:

6g
Protein:

8g