A great beginner biscuit recipe! Honey Butter Glazed Whole Wheat Biscuits are tender and fluffy with flaky layers brushed with honey butter for a little sweetness. These are perfect for breakfast, dinners OR holidays!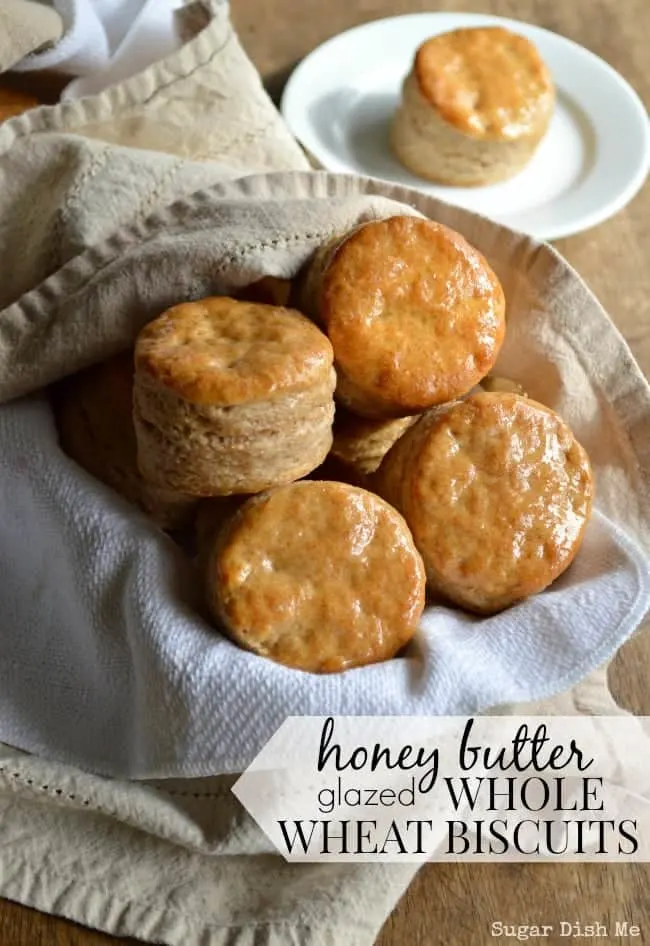 I was starting to think that these biscuits were not meant to be.
Biscuits have been sort of like my culinary unicorn.
You see, Chad is a good southern fella. And like most southern good 'ol boys, he has a grandma that makes these insanely delicious and amazing buttermilk biscuits. I mean they are the real deal.
Better than I've had in any restaurant or at any homestyle church-lady catered supper (and some of those little ladies can COOK, let me tell you) EVER. It's the lard and whole buttermilk that makes them so addictive I'm sure, but also Chad's grandma could make her biscuits in her sleep.
Several times she's tried to show me how she makes the biscuit magic happen. Several times I've tried to replicate them and failed miserably.
What's worse is when Chad, who was raised by his grandma, tries to "help" me in my biscuit trials by telling me how he thinks Grandma's biscuits come to be. But Chad isn't capable of properly frying an egg (as evidenced by the breakfast he very sweetly tried to concoct this morning), so I'm pretty much not taking his word for it.
So. A friend of mine was all a-rave about these biscuits she'd been making. She kept going on and on about how they were so so awesome and light and fluffy and she couldn't stop baking them and eating them every single day.
Of course, in my quest for making an awesome biscuit I had to beg her for the recipe. And being the friend that she is, she obliged.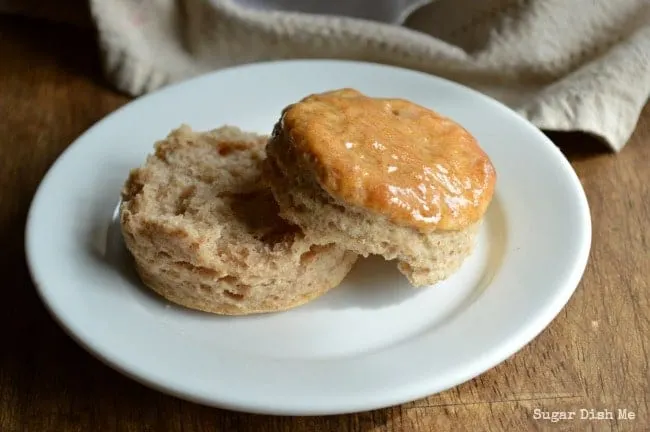 But something got lost in the translation.
Because I promise promise promise I can follow a recipe.
My mantra is "if you can read, you can cook", you know what I mean?
I knew when I copied down the recipe something was wrong. I spend an awful lot of time in the kitchen and never ever have I seen anything call for 4 Tablespoons of baking soda. Unless we are making a paste to scrub the bathtub. Since I am CLEARLY not proficient at making biscuits though, I followed the recipe exactly how she gave it to me.
And after baking for just 7 minutes I had a whole batch of biscuits that looked like hockey pucks and tasted like Arm & Hammer toothpaste.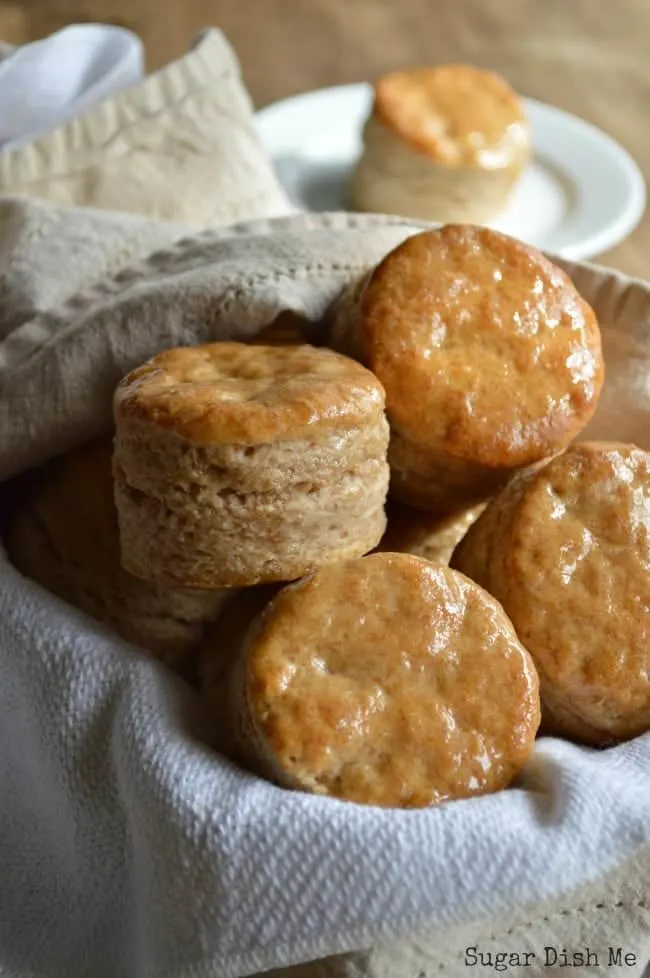 My verdict is that the Tablespoons should have been teaspoons, and if I weren't such a biscuit dummy I would have had enough sense to adjust for a simple typo before I ruined them.
And so I started over again.
What I came up with was a kind of hybrid recipe.
AND I LOVE IT.
These biscuits are soft and sweet. The bread pulls apart in these fluffy but flaky layers and the tops are brushed with a rich and buttery honey glaze. And! With the addition of whole wheat flour, they are definitely ME. I'm excited.
Sooooo… I failed. But not completely!! The biscuits didn't get me down today. And I'll be cranking these sweeties out for awhile before I go fooling around with anymore biscuit recipes. Okay? Okay.
P.S. Michelle… I'm sorry I ruined your biscuit recipe.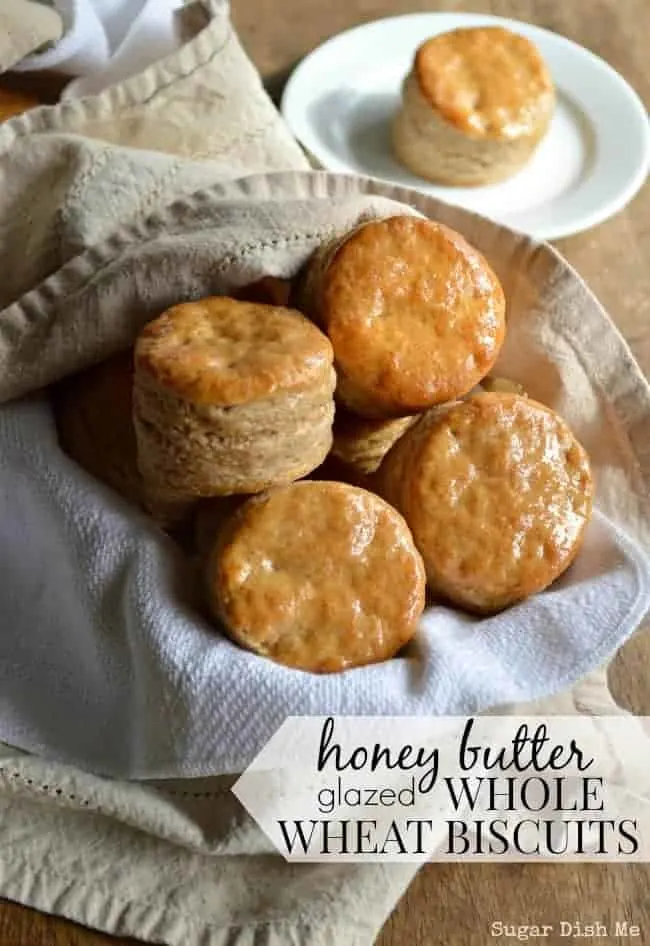 Yield:

8-10
Honey Butter Glazed Whole Wheat Biscuits
Honey Butter Glazed Whole Wheat Biscuits are tall, fluffy whole wheat biscuits with perfect flaky layers covered in a honey butter glaze. Great for breakfast, brunch, or dinner.
Ingredients
2 1/2 cups all purpose flour, plus more for dusting the surface
2 cups whole wheat flour
1 tablespoon + 1 teaspoon baking powder
1 teaspoon baking soda
2 teaspoons sugar
1 teaspoons salt
1 cup solid vegetable shortening
2 cups buttermilk
2 tablespoons water
3 tablespoons cold unsalted butter, cut into pieces
3 tablespoons honey
1/4 teaspoon salt
Instructions
Pre-heat the oven to 425. Set out a baking sheet … any size will do; my mom used to make biscuits in round cake pans. Line the baking sheet or dish with parchment paper if that's your thing. I didn't. Sticking is not an issue.
In a large bowl whisk together the flours, baking powder, baking soda, sugar, and salt.
Cut in the vegetable shortening using a pastry cutter OR a fork OR your hands. Method is a preference thing. You'll know it's good when coarse crumbs have formed and if you grab up a fistful it sticks together pretty well.
Gently stir in the buttermilk. I sort of folded in mine with a rubber spatula.
Before you get your hands all gunky, generously flour a clean work surface and keep your flour nearby to dust your hands and the dough regularly.
Knead the dough a bit in the bowl — it will be obnoxiously wet and sticky!! Just do your best and make sure to incorporate any dry bits from the bottom of the bowl into the sticky dough mess.
Turn the dough out onto your prepared surface, flour your hands, and knead it a few times. It will get easier to work with.
Pat it out into a kind of oblong oval shape that's about an inch thick. Fold the short sides toward the middle, sort of like you're folding an envelope. This is what gives your finished biscuits their "layered" texture. Smack the folded dough down and press it back out into the oval shape. Repeat this process a total of 7 times, but on the 7th time, skip the folding and get ready to cut out your biscuits.
I cut mine out with a floured juice glass. But if you have a biscuit cutter, great!!
Space the biscuits an inch or two apart on your prepared baking sheet. If you're using a cake pan or baking dish just place them right side by side.
Bake for 20 minutes.
While the biscuits bake, in a small saucepan, bring the 2 tablespoons of water to a boil. Add the butter pieces one at a time, stirring around, waiting for each piece to melt before adding the next. Do this over medium high heat. Once all the butter has been added stir in the honey and salt.
When the biscuits come out of the oven brush them with the honey butter glaze.
Recommended Products
As an Amazon Associate and member of other affiliate programs, I earn from qualifying purchases.
Nutrition Information:
Yield:
16
Serving Size:
1
Amount Per Serving:
Calories:

283
Total Fat:

16g
Saturated Fat:

7g
Trans Fat:

0g
Unsaturated Fat:

8g
Cholesterol:

14mg
Sodium:

334mg
Carbohydrates:

31g
Fiber:

2g
Sugar:

5g
Protein:

5g
(adapted from
THIS
recipe from the book American Flavor and
THIS
recipe at Allrecipes)
Do you love making biscuits? You should also try…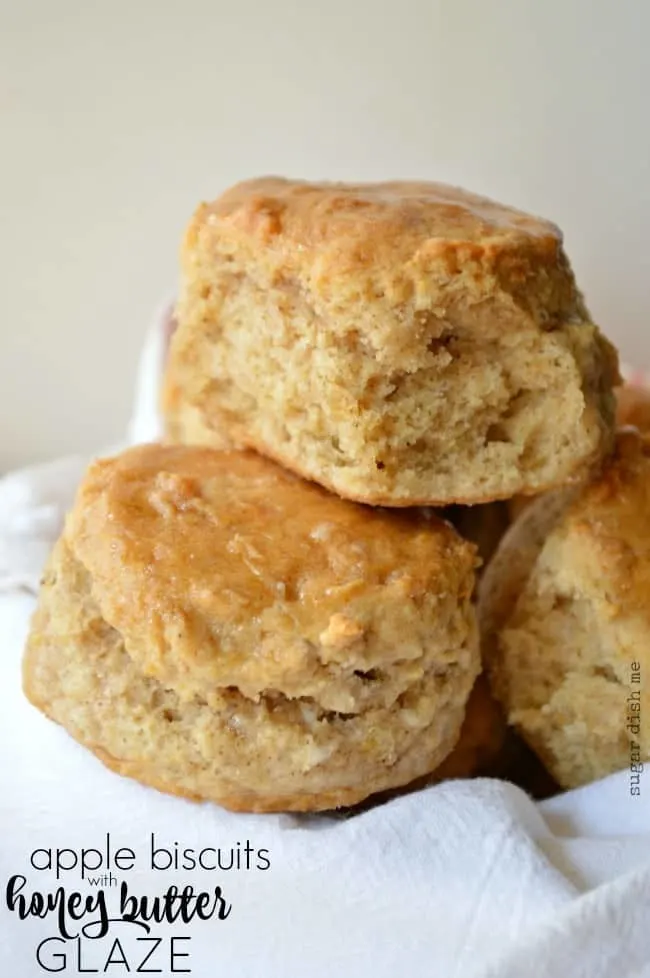 Apple Biscuits with Honey Butter Glaze