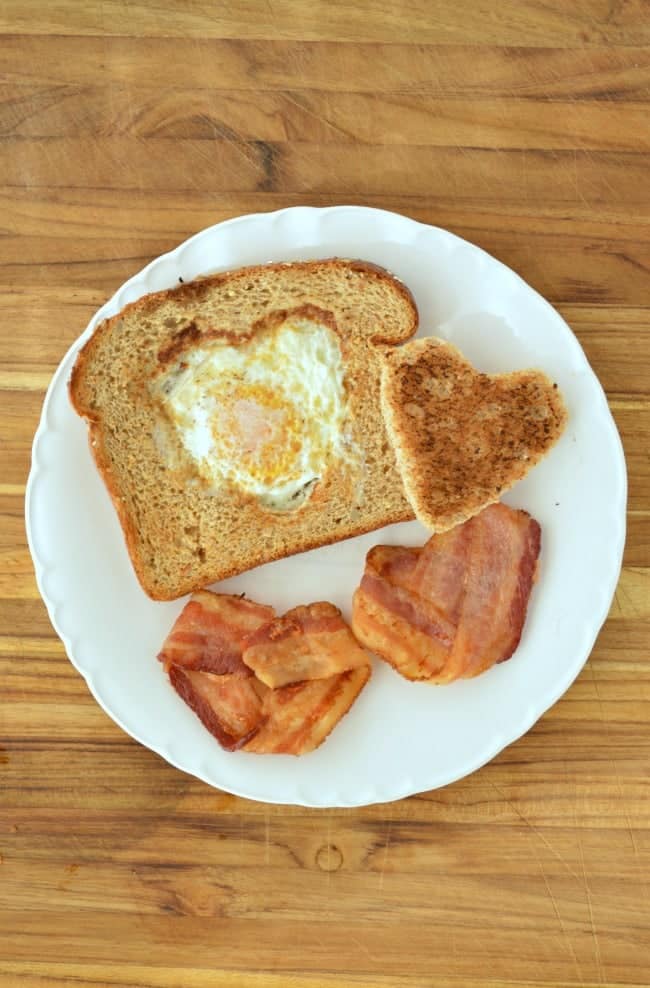 So… this recipe isn't like rocket science or anything. And really, you can make almost anything Valentine- appropriate with a heart-shaped cookie cutter. Once I made these Jalapeno Cheddar Buttermilk Biscuits – they are delicious in any shape. But this weekend we are talking about How to Make a Heart Shaped Breakfast. Bacon, eggs, and all.
I used a regular slice of wheat bread for my eggs in a basket. You can get fancy with the bread, but if we are keeping it real here I actually used several kinds of fancy bread first, and because of the size of the slices vs. the size of the cookie cutter, a normal, sliced loaf of bread was the winner. Nutty whole wheat. Mmmmm.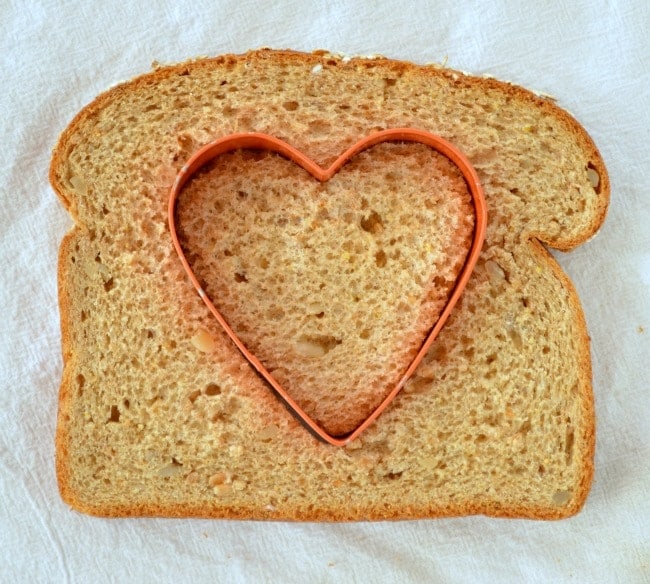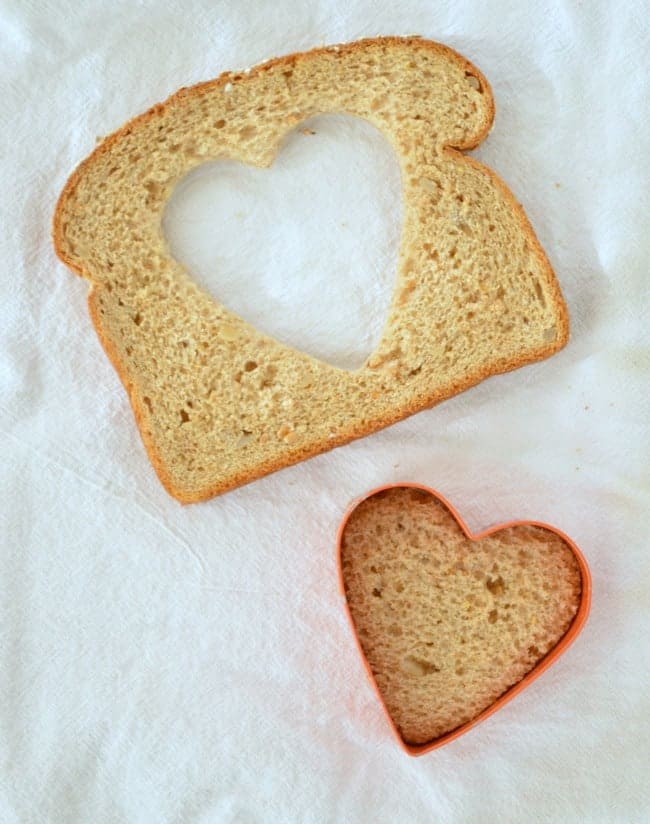 Heart-shaped bacon is all in the fold. Annnd I baked it. I'm sure you could fry heart-shaped bacon, but I think mine would end up looking like a wad of bacon. not cute.
Anyway. Baking frees you up to watch your eggs and toast so everything is done at once.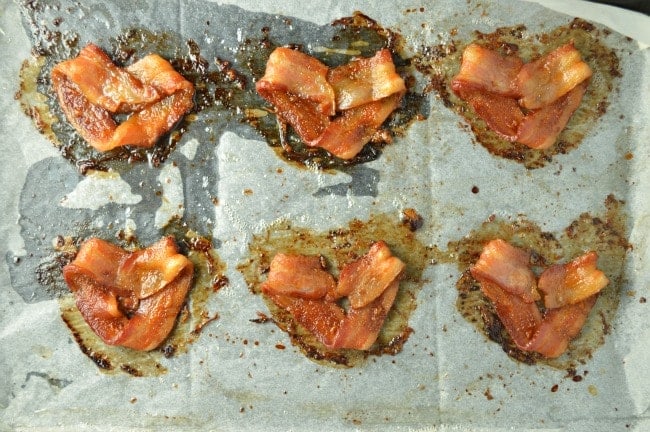 Butter in the skillet, cut out bread in the hot buttered pan. Crack an egg into the cut out center and let it cook until the bread is toasty and the whites are done enough to flip. The flip is the other reason to use a "regular" slice of bread. A big thick slice doesn't let the egg cook on both sides.
While you are cooking the egg, put your heart-shaped toast cut out in the pan so it can get all buttery toasty, too.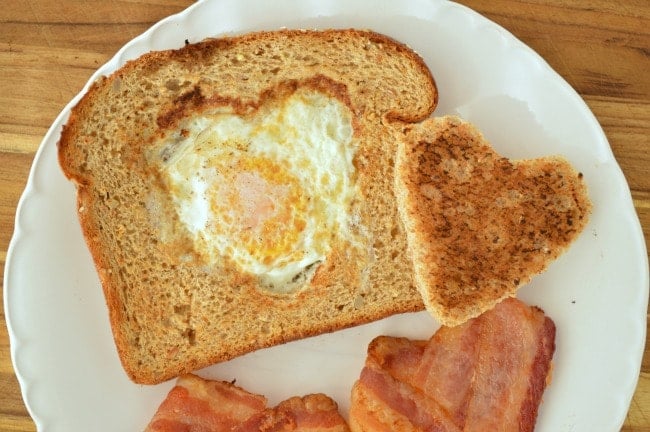 Plate it up. My eggs are over-medium. Perfect for dipping.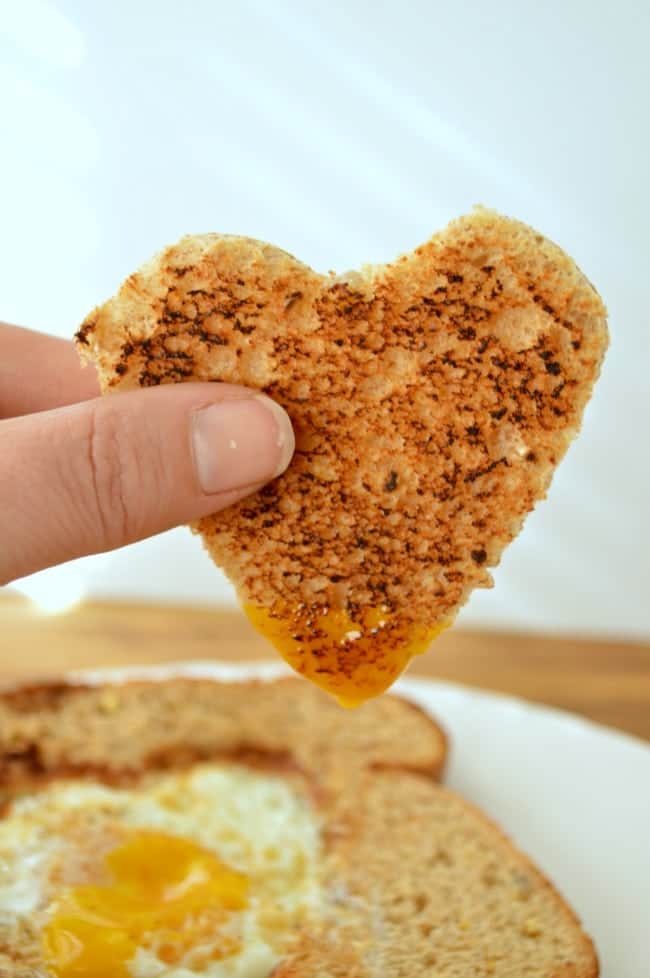 How to Make a Heart Shaped Breakfast
Ingredients
4 slices of bacon
2 slices of bread
2 large eggs
butter for the skillet
salt and pepper to taste
Instructions
Preheat the oven to 375°F and line a baking sheet with parchment paper. Foil will also work.
Fold the bacon slices into heart shapes. See in-post photo for an example. Bake for 10-15 minutes. This will depend on how thick your bacon is cut and how crisp you like it.
While the bacon cooks, melt the butter over medium high heat in a large skillet. Use a heart-shaped cookie cutter to cut the center out of each slice of bread.
Place the bread in the skillet. Crack an egg into the center of each and cook until the whites are cooked through. Place the heart cut-outs in the skillet to toast as well. Flip the bread when the egg whites are cooked. Let it cook on the second side until the yolk reaches your desired temperature.
When the bacon is done let it drain briefly on paper towels.
Plate everything up and serve.