Thick slices of challah, spread with cream cheese, covered with fresh blueberries and a delicious oat crumble. You won't believe how simple and perfect this Slow Cooker Blueberry Crunch French Toast is!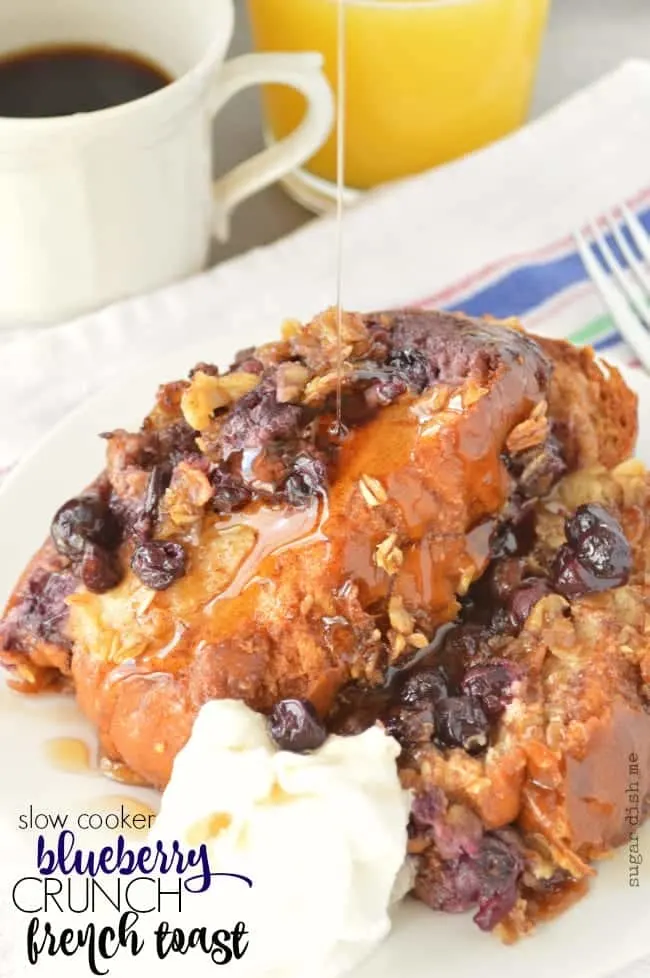 Time to start sharing ALL THINGS BRUNCH.
Something about spring makes me want brunch 24/7 because it is basically the greatest meal ever invented. Anything goes – prime rib? Sure. Scrambled eggs? okay. Slow Cooker Blueberry Crunch French Toast? Yep. That, too. Also — mimosas reign supreme at brunch. I think we should fancy a few of those up this week, too.
In years past I have given you guys fun brunch recipes like Berry Blintz Breakfast Enchiladas. We have Coffee Rubbed Steak and Eggs, and of course Apple Butter Waffles with Cinnamon Syrup. DELICIOUS. So this past week I decided to put my french toast in the crock pot and I was sort of worried that I was ruining a perfectly good loaf of challah. Slow Cookers add moisture and I was paranoid about making a big pot of mush.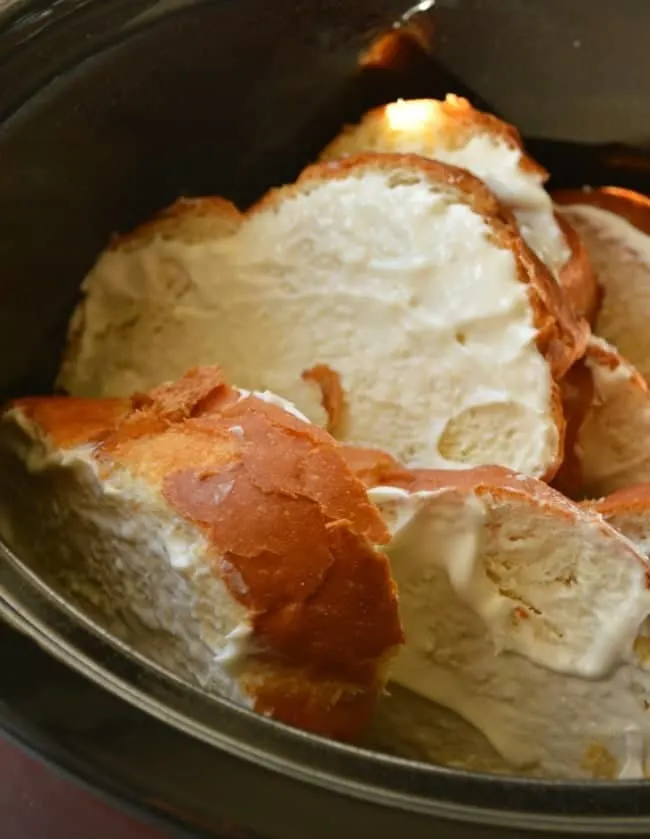 But that didn't happen! That's why I added the word "crunch" to the title. I wanted you to be super positive that there's no mush. Somehow the slow cooker works this magic that crisps the outside of the bread while still keeping it soft enough to cut with a fork.
Annnnnd I spread the bread with sweetened cream cheese. Because I think it improves most things.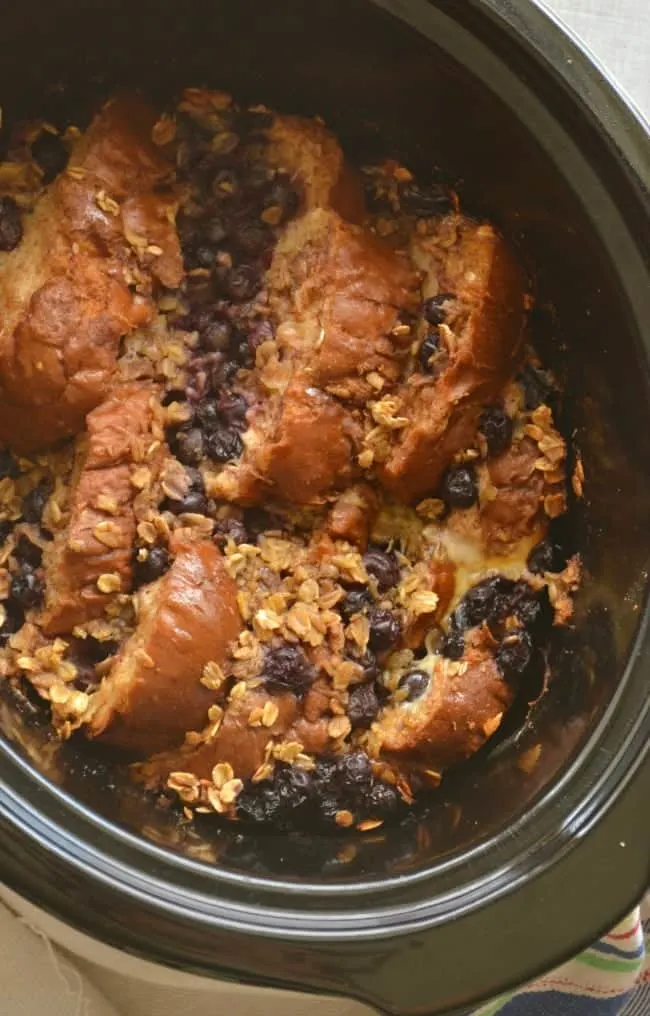 I also gave you guys a crumbly oat topping because I LOVE blueberry crumble type things. And I was trying to double up on the crunch factor just in case.
The just in case wasn't necessary but add the oats and brown sugar anyway. Trust.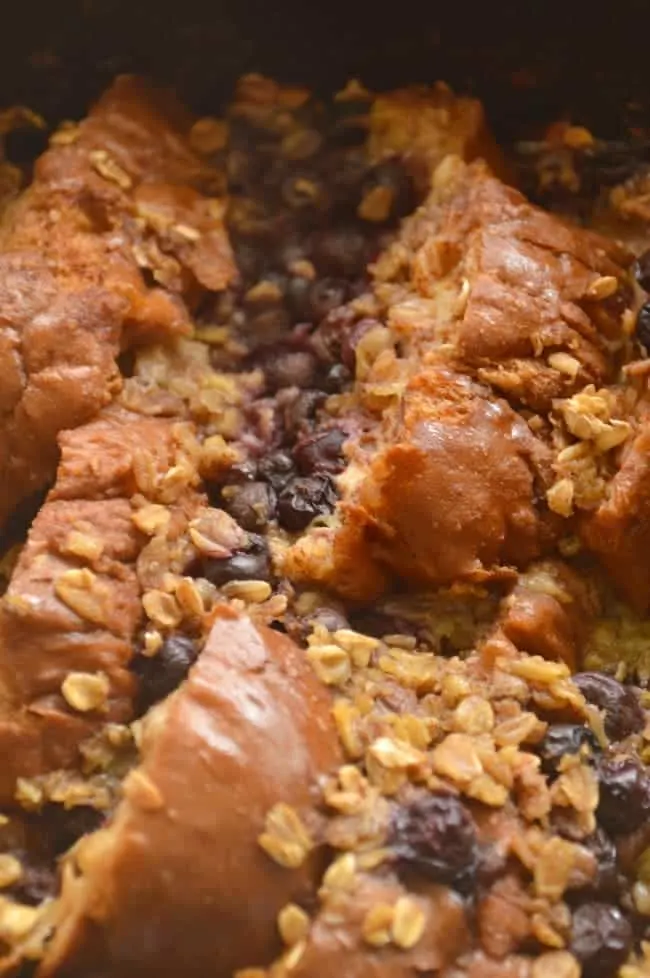 I have about a billion brunch and breakfast recipes, ya'll. (<<<— still trying not to feel like a fraud when I use that word) And this crock pot blueberry french toast is at the top of my list right now. This and Cherry Pie Pancakes. YES.
Oh!! And before I go — it's worth noting that I have a few events coming up annnnnd if you are in the Charlotte, NC area and would like to attend I'd LOVE to meet you! This Saturday I'll be at Treehouse Vineyard for a St. Patrick's Day Party. I'm making my Death by Chocolate Guinness Cupcakes and some delicious Corned Beef & Cabbage. We are also serving up Guinness Beef & Mashed potatoes. 7-10 pm.
On April 9th I am helping to throw a Masquerade Ball at Loray Mill in Gastonia – it's a fundraiser event and will include hors d'oeuvres, drinks, music & dancing, a silent auction, and is a great excuse to get dressed up and have a fun night out. Also — the mill we are holding it in? It's basically the most amazing building I have ever been in. Worth the ticket just to check out the inside!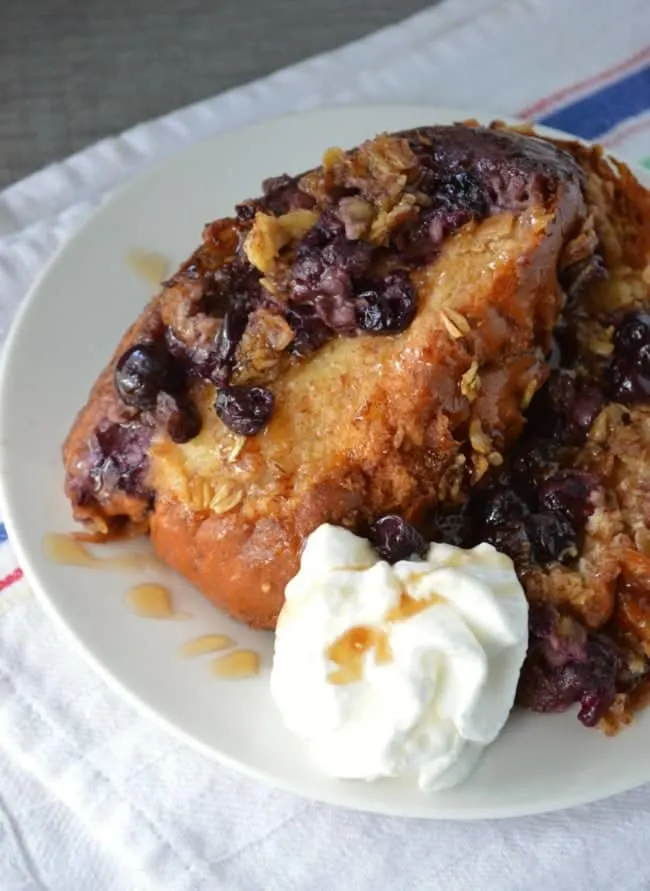 Slow Cooker Blueberry Crunch French Toast
Ingredients
1 (approximately 14 ounce) loaf of day-old bread (I used challah), cut into thick slices
4 ounces cream cheese, softened
2 tablespoons powdered sugar
½ cup milk or heavy cream, divided
1 cup fresh blueberries
2 tablespoons brown sugar
¼ cup oats (I used old fashioned)
¼ teaspoon kosher (or sea) salt
3 large eggs
1 teaspoon vanilla
2 tablespoons butter
Instructions
Lay out your bread slices and lightly spray your slow cooker with nonstick cooking spray.
Using a hand mixer, or your stand mixer, beat together the cream cheese, powdered sugar, and ¼ cup of the milk or cream until smooth. Spread each slice of bread with the cream cheese mixture on both sides and then layer the slices in the slow cooker.
Add the blueberries and then in a small bowl combine the brown sugar, oats, and salt. Sprinkle the mixture over the bread and blueberries.
Whisk together the eggs, the remaining ¼ cup of milk or cream, and the vanilla. Pour the mixture over the bread, making sure it falls in between the cracks, etc. Cut the butter into small pieces and dot them all over the top.
Cover and cook on high for 2 - 2 ½ hours or on low for 3-4 hours.
Serve with fresh blueberries, syrup, and/or whipped cream.