If you love apple pie or apple crumble, you'll LOVE this Apple Cinnamon Oatmeal! Warm, cozy, and loaded with cooked apples plus all the delicious spices.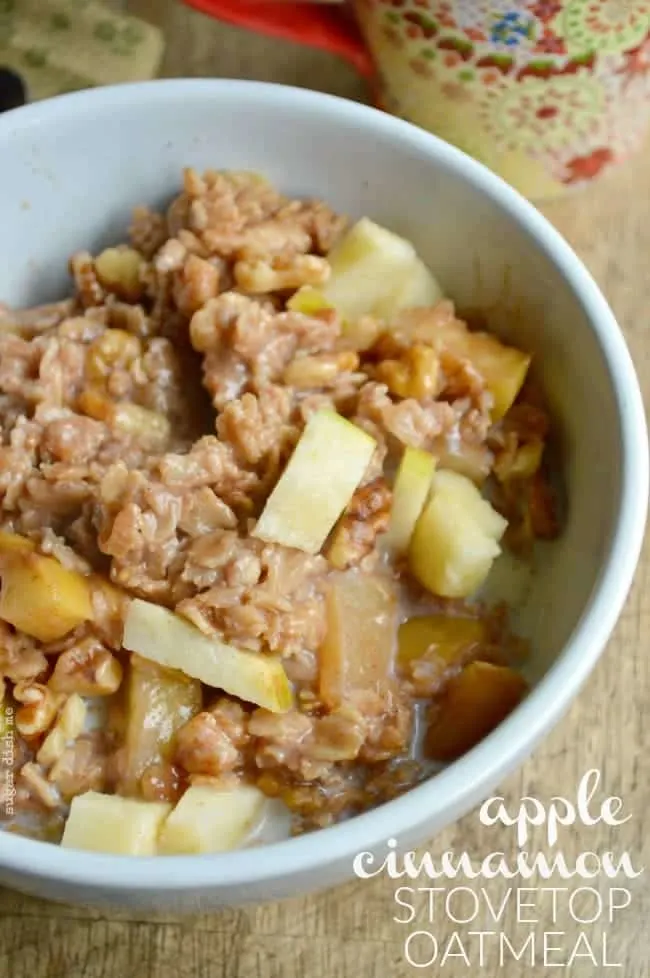 Note: This recipe dates back to 2013! But it's still one of my favorite breakfasts. So I have added some new photos and am sharing it again, for those of you that haven't been hanging around that long.
I can't think of anything better on a cold morning than a cozy bowl of oatmeal. I think that stovetop recipes can get a bad rap – they really don't take more than a few minutes. You can still get breakfast on the table (or in a to go cup) quickly, and the possibilities are basically endless.
This apple cinnamon oatmeal is my current favorite.
Fresh apples, apple pie spice, just a little brown sugar, and old fashioned oats. You can have a hearty, happy, warm, delicious breakfast in less than 10 minutes.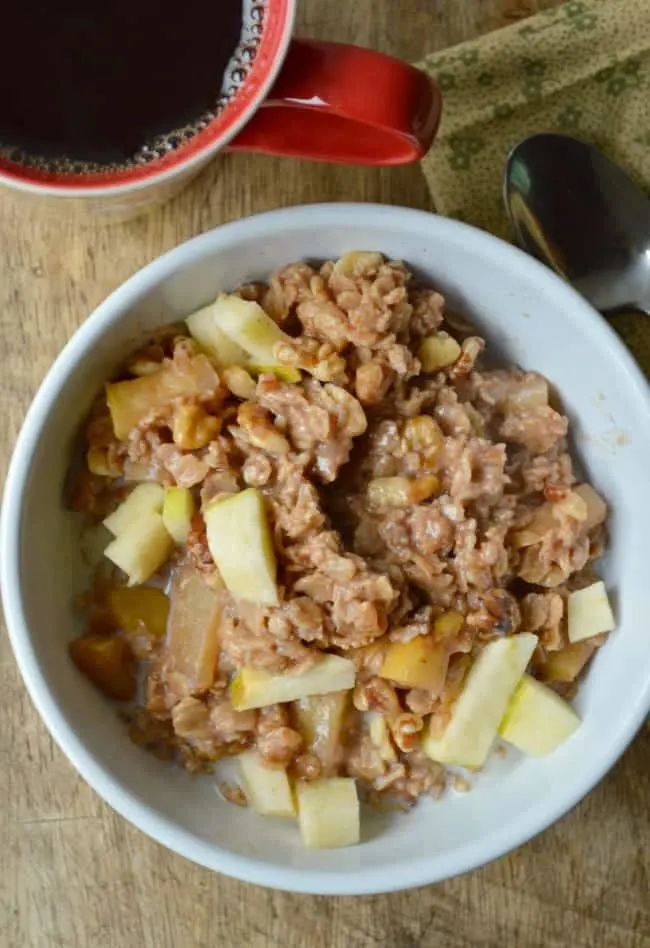 I think it's time for a Lucy update.
My little Lucy girl is getting big!! If you're new around here you can read more about Lucy here and here.
She is my snuggly little companion. She is smart and sweet and might be the laziest puppy ever.
I was sifting through some blog things today and I noticed that I might be a pretty slack Lucy mama because I never updated my "About"page to include her. Oops.
So here she is…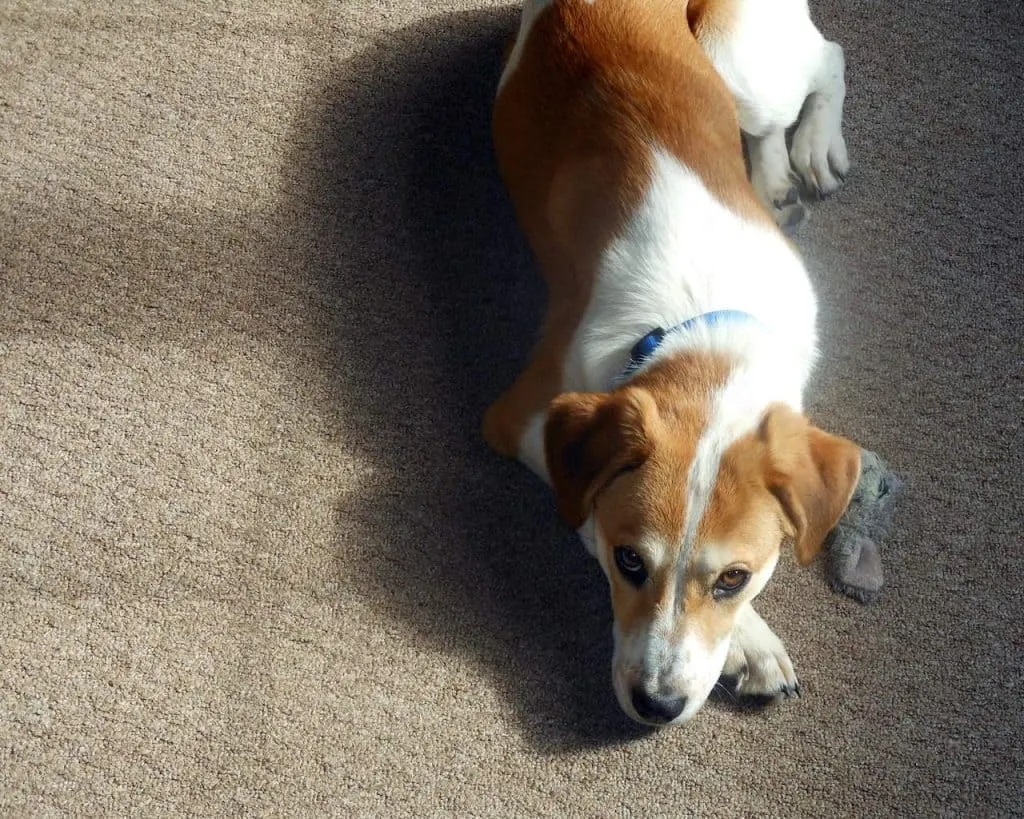 She really is a doll.
Like any puppy she has a few issues, but nothing major. Mostly she just doesn't like to be left alone. Ever. At all. She's not the greatest car rider either. She adjusts. And then readjusts. And then she fusses a little. And then she drools.
This morning I drove Evan to school. So we brought Lucy with us. We were completely engrossed in this puzzle game that Chad put on my phone while we waited in the neverending line of non-moving vehicles. We weren't really paying attention when it was time for Evan to get outta the car. Evan leaped out…
…annnnnd so did Lucy.
Evan exclaimed, "Oh no!, Lucy!!," and then took off running after her.
Fortunately Lucy wasn't trying to run away. She was just really excited about all the little kids and she was really sick of sitting in the car.
I had this brief flash of me having to leap out of the car to chase my puppy down. Just so we're clear about my carpool attire, it consists of a sports bra under a tank top, a pair of sweat pants, flip flops, a mop of curly disaster hair, and a cup of coffee glued to my hand. I was majorly relieved that I did not have to exit the vehicle.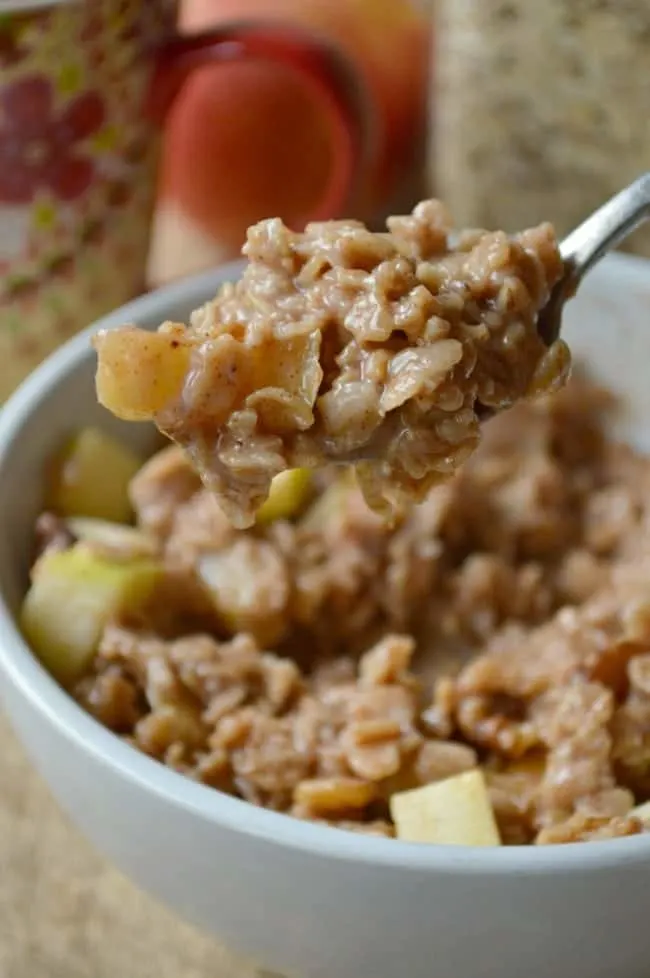 Oh morning.
I eat oatmeal at least 3 mornings a week. It's basically perfect. You can dress it up or dress it down. You can make it taste like your favorite dessert. You can add fresh fruit, dried fruit, nuts, CHOCOLATE! Oatmeal is amazing.
This homemade apple cinnamon oatmeal really never fails me. Lots of good heart-healthy fuel for when you might need to chase a puppy across a school parking lot.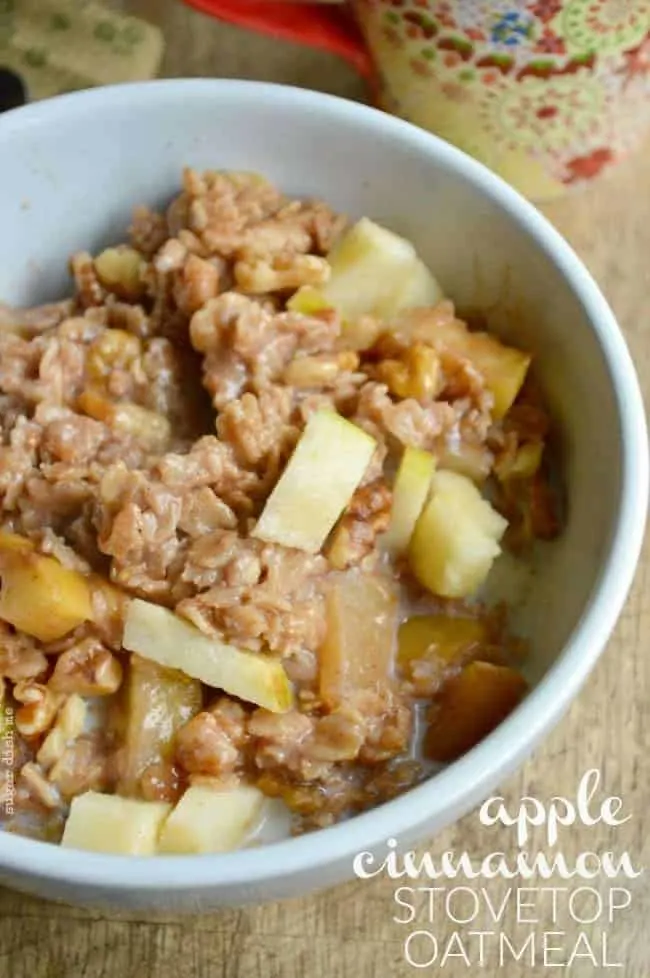 Yield:

2 servings
Apple Cinnamon Oatmeal Stovetop Recipe
If you love apple pie or apple crumble, you'll LOVE this Apple Cinnamon Stovetop Oatmeal! Warm, cozy, and loaded with cooked apples plus all the delicious spices.
Ingredients
1/2 tablespoon unsalted butter
1 medium crisp apple, about 1 1/2 cups diced
3 tablespoons honey (OR 2 tablespoons brown sugar), plus a little more to drizzle over the finished oatmeal
1 teaspoon cinnamon
1/4 teaspoon ground ginger
1/4 teaspoon ground nutmeg
pinch of salt
2 cups water
1 cup old fashioned oats (or gluten free oats!)
1/2 cup chopped walnuts (optional)
1/2 cup milk (optional)
Instructions
In a medium saucepan, melt the butter over medium high heat. Add 1 cup of the apples, the honey or brown sugar, and sprinkle in the spices and salt. Cook for 2-3 minutes until the apples are softened.
Pour in the water, turn the heat up to high, and bring to a low boil. Add the oats and reduce the heat to medium/medium high. Cook, stirring occasionally for 3-5 more minutes.
Add the walnuts (if using), and continue cooking until most of the liquid is absorbed. Divide the oatmeal between two bowls, sprinkle each with the remaining apples, drizzle with a little more honey, and splash 1/4 cup milk into each bowl.
If you love oatmeal,you should also try…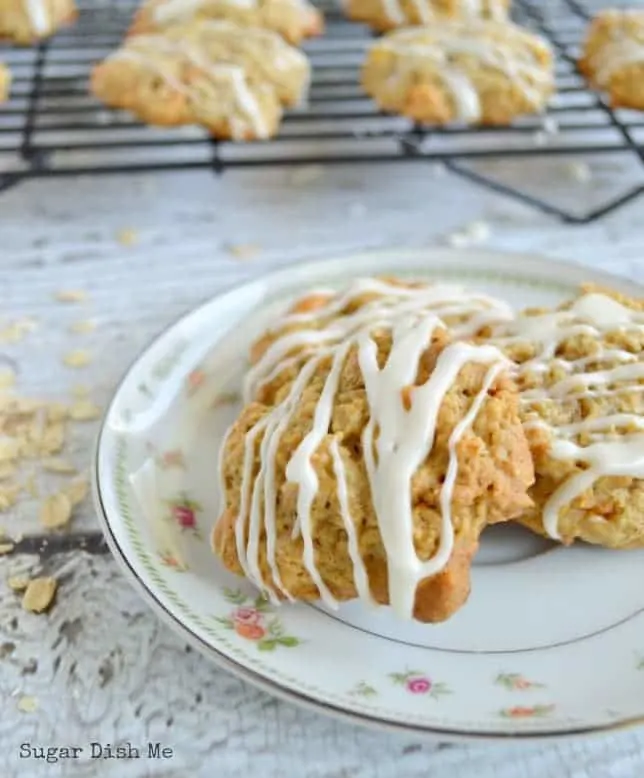 Iced Apple Butterscotch Oatmeal Cookies