Rum Raisin Scones are buttery, tender, warm, and fruity. They are perfect with tea or coffee, ideal for gift baskets, holidays, and brunching!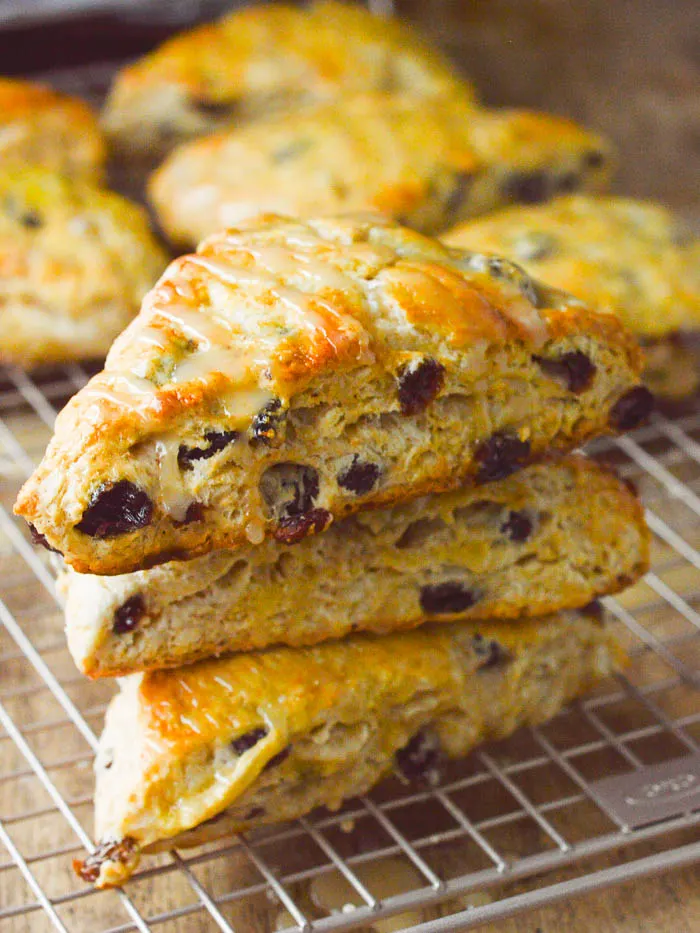 Y'all. I did a thing and it was REALLY GREAT.
Raisin haters look away. I have lots of other scone recipes you'll dig, I promise.
I had rum on the brain (shocking, I know), and I was thinking about rum raisin pie specifically. I've never made it, but I love boozy sweets so I feel like it's probably amazing and one day I will DEFINITELY make it. Not everyone loves raisins though, so the thought of a whole pie with raisins feels daunting, know what I mean?
Scones are like the bread version of cookies though. You can sneak in some raisins and they aren't so overwhelming.
The thing I did? It was to soak raisins in spiced rum overnight so they soaked it almost all the way up, and then I folded those rum-plumped raisins into the buttery flour base I use for scones to make these Rum Raisin Scones, and they are like one of my favorite things I have baked in a very long time!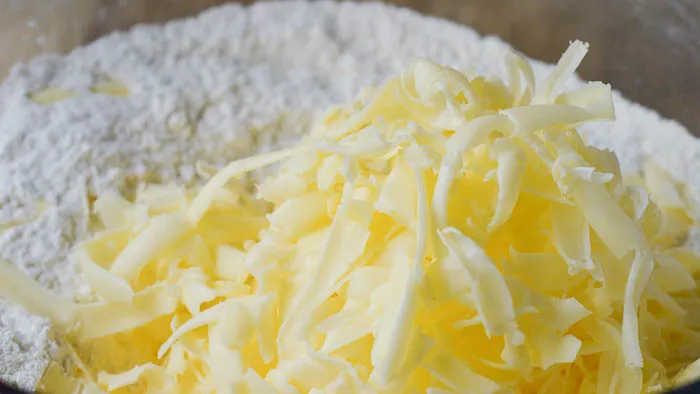 What makes the perfect scones?
I've made loadssssss of scone recipes over the course of writing this food blog. All of the recipes I have shared have different flavor profiles, toppings, and add-ins, but they all share the same basic base recipe, and a few tricks that help keep my scone recipes consistently successful.
Keep your ingredients cold. If you don't take any other tips away with you, this one is the most important. I typically refrigerate between each step, just to be sure that the heat from my hands or the friction of cutting the butter isn't warming up my ingredients too much. Cold ingredients equal more tender, fluffy scones.
Don't over mix! After you add the buttermilk (or milk), you want to mix things until they are JUST incorporated. Over mixing makes for tough scones.
Use real butter. There will be no successful fake butter scones happening here. It'll change the outcome, trust me. There IS a place in my heart for shortening in baking (just ask these Peppermint Hot Chocolate Brownie Cookies), but scones are not that place.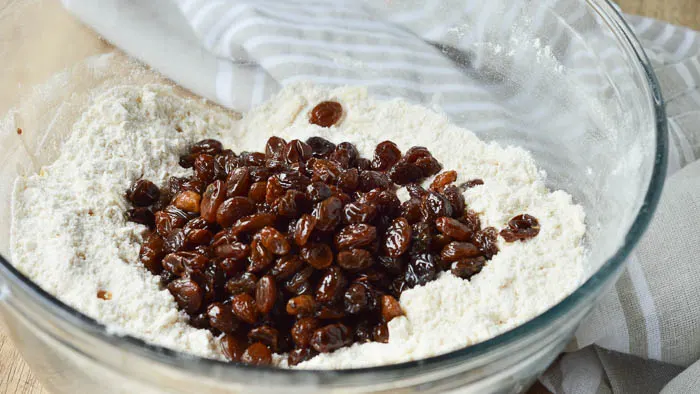 How long do I soak the raisins?
This is mostly up to you. If you want to mimic my recipe EXACTLY, you will soak 1 cup of raisins in 1/2 cup of spiced rum for 24 hours. Overnight also works.
If you're pressed for time you might try soaking them for as long as you can manage, and then swapping out a tablespoon of the buttermilk or milk for a tablespoon of rum. That would give you a bit more of that rum flavor without needing to prep the day before.
For best results, soak the raisins overnight, at least.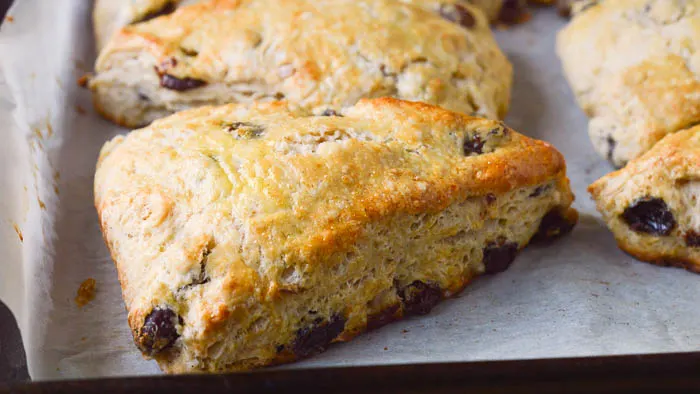 Can I Make Scones Ahead?
Yes! But I wouldn't necessarily BAKE them ahead.
You can get all the way through the soaking of the raisins and the forming of the dough, and cutting the scones into the pretty triangles you plan to bake up.
THIS IS THE POINT WHERE YOU FREEZE THEM.
I like to just line a baking sheet with parchment paper, lay out my cut scones at least an inch apart so they don't accidentally freeze together, and then place the baking sheet in the freezer. Once they are frozen you can put them in a freezer bag until you are ready to bake.
There's no need to thaw your frozen scones before baking! You'll just preheat the oven to 375°F, line a baking sheet with parchment paper, brush them with the egg wash, and then bake your scones for about 25 minutes.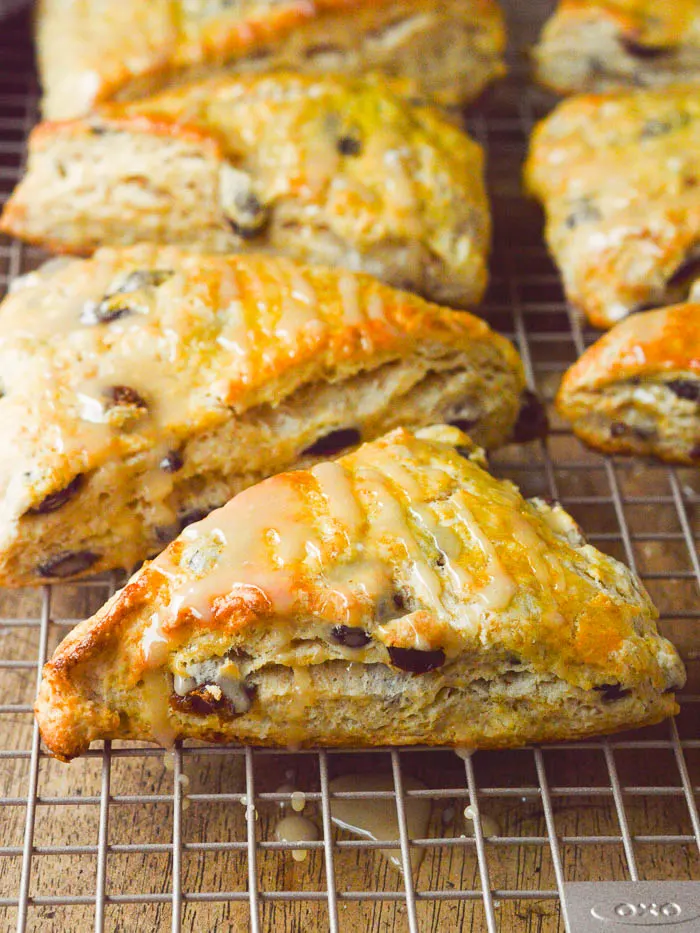 How do you make glaze?
I use the same glaze or sweet drizzle on a lot of my baked goods – I love the finish it adds to things. The un-glazed scones are still great, don't get me wrong. But adding glaze makes them feel more complete and they definitely LOOK fancier.
To make glaze you need 1/2 cup powdered sugar + 2 tablespoons of liquid (milk or juice or rum, etc). Whisk together until smooth. For thicker glaze you can add 1 tablespoon of powdered sugar at a time.
For Rum Raisin Scones I used 1/2 cup powdered sugar + 2 tablespoons of the spiced rum that I soaked the raisins in. I strained the raisins before adding them to the scone batter, and I reserved the rum.
Don't skip the boozy glaze. Trust me on that.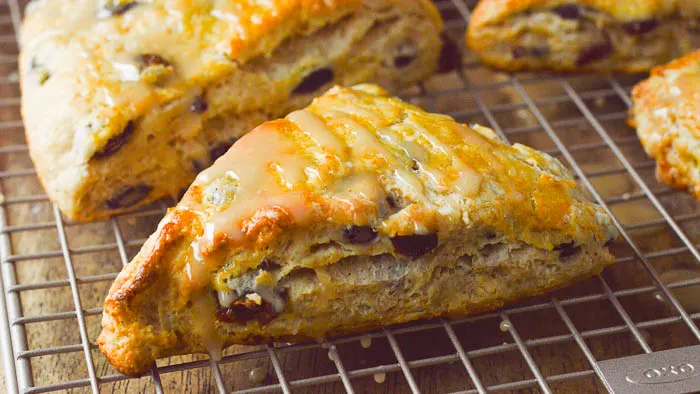 Rum Raisin Scones turned out to be so buttery, tender, and the perfect balance of sweet – you will LOVE THEM.
Raisin haters, you might try currants? Maybe dried cranberries? I feel like either would work well here, but raisin lovers rejoice! We have a good treat that's not an oatmeal cookie or a pie ?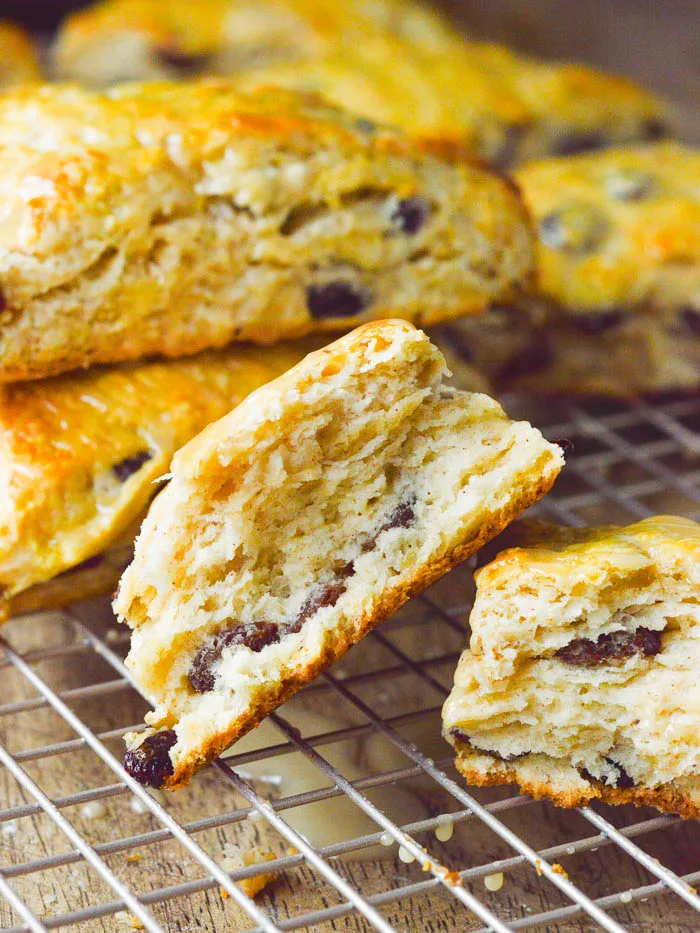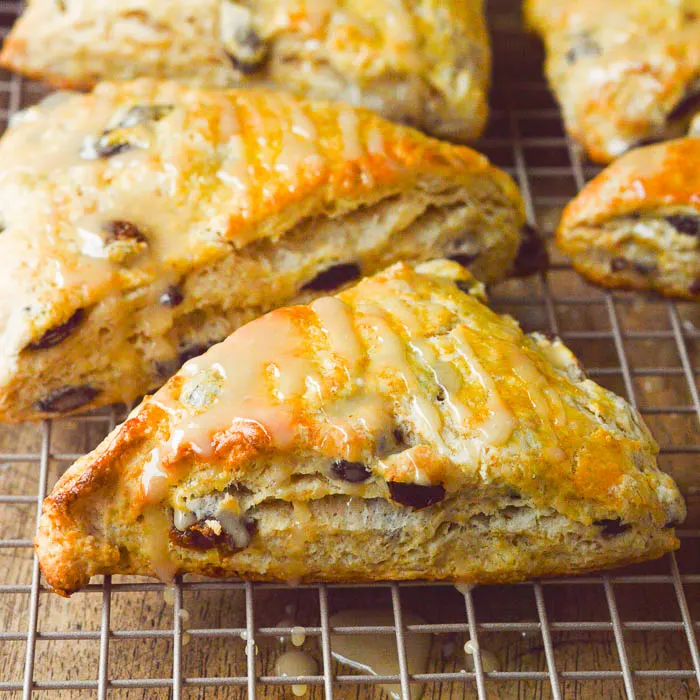 Yield:

Makes 8 large scones
Rum Raisin Scones
Raisin Soak Time:
8 hours
Total Time:
8 hours
28 minutes
Fluffy, buttery Rum Raisin Scones are not too sweet, but are LOADED with plump rum-soaked raisins. Topped with a pretty rum raisin glaze, these scones will be the perfect add to all your breakfasts, brunches, and afternoon snacks!
Ingredients
For the Scones
1 cup raisins
1/2 cup spiced rum
3 cups All-Purpose Flour, plus more for the work surface
1/4 cup Granulated Sugar
1 tablespoon Baking Powder
1 teaspoon Kosher Salt
1/2 cup Butter, Cold
1 cup Buttermilk
For the Egg Wash:
For the Glaze:
1/2 cup Powdered Sugar
2 tablespoons of the reserved rum
Instructions
Place the raisins and rum in a small bowl and cover with plastic wrap. Let the raisins soak in the rum for at least 8 hours but as many as 24.
Preheat the oven to 400°F and line a baking sheet with parchment paper.
In a large bowl, whisk together the flour, sugar, baking powder, and kosher salt. Strain the raisins and reserve the rum. Toss them with the flour mixture so that they are coated.
Cut the butter into the flour mixture until coarse crumbles form.
Pour in the buttermilk and incorporate it gently using a sturdy rubber spatula or wooden spoon. You want to JUST combine the ingredients. Do not overmix.
Turn the mixture out onto a lightly floured surface and pat it out to about 3/4 " thickness. Make a circle with the dough and then slice it like a pie.
Lightly beat together the egg and water and then brush the tops of the scones.
Place the scones on the prepared baking sheet about an inch apart. Bake for 18-20 minutes, but check them at the 15 minute mark. Rotate the pan as needed.
Remove from the oven and let the scones cool on a wire rack.
To make the glaze, mix together the powdered sugar and 2 tablespoons of reserved rum.
Drizzle the glaze over each scone (it takes a few minutes to set up so it's not sticky).
Notes
If you do not have buttermilk you can use regular milk OR you can use 1 cup of milk minus 1 tablespoon, and add a tablespoon of white vinegar. Let is sit for about 10 minutes and tadaaaaa cheater buttermilk.
Recommended Products
As an Amazon Associate and member of other affiliate programs, I earn from qualifying purchases.
Nutrition Information:
Yield:
8
Serving Size:
1
Amount Per Serving:
Calories:

439
Total Fat:

13g
Saturated Fat:

8g
Trans Fat:

0g
Unsaturated Fat:

4g
Cholesterol:

55mg
Sodium:

609mg
Carbohydrates:

66g
Fiber:

2g
Sugar:

26g
Protein:

7g