Peppermint Cheesecake Cookies will be the stars of your next cookie exchange. They are super simple to make, bake up quickly, and each cookie is like a tiny little peppermint cheesecake!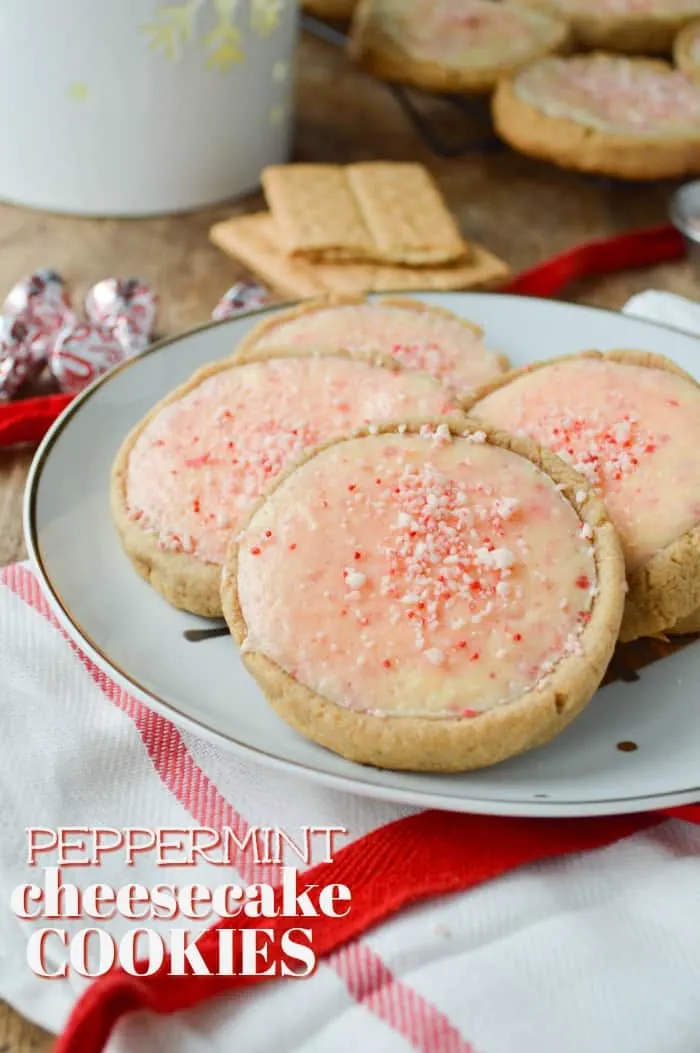 UPDATE December 2017: I love cheesecake and I L.O.V.E. these peppermint cheesecake cookies! But they were stashed away in my 2013 archives with some sad terrible photos and needed some new life. I didn't change the recipe a bit, just added a few notes and tips that I picked up after making these for the last 4 years. And of course I gave you some new photos. Cause these are 100% worth sharing.
Clearly I am a tiny bit obsessed with peppermint.
I can't help it. I LOVVVEEEEE minty stuff all year round – ice cream, brownies, milkshakes – but at Christmas that little bit of red and white plus crunch makes me so super extra happy!
Every year I put peppermint cheesecake on my to-do list and every year it doesn't get made because Christmastime is crazy busy and I don't have hours to babysit a cake.
So.
I made cheesecake cookies!!!! And I have to say, these are a fan-freaking-tastic cheesecake substitute.
They have a buttery graham cracker crust — just like cheesecake! They are full of a rich, delicious cream cheese filling — definitely just like the real deal. I also added chopped Andes Peppermint Crunch Mints — I cannot get enough of those this season — but you could also use the baking chips to achieve the same effect. It's all delicious.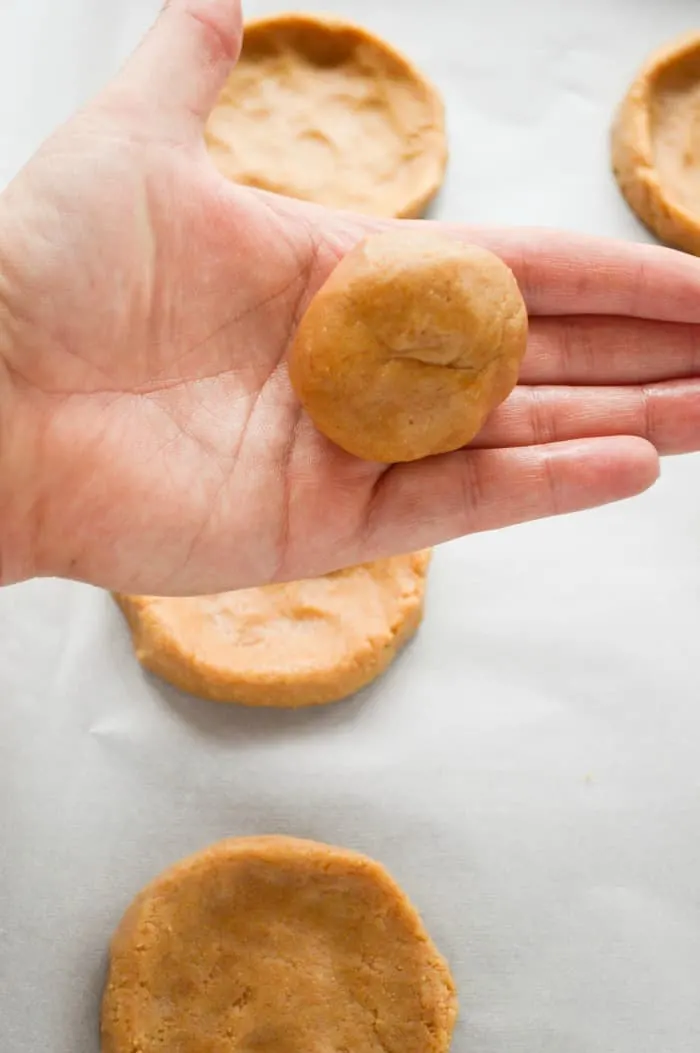 To make cheesecake cookies you have to start with a crust. This crust is made with graham cracker crumbs AND flour (and butter and egg whites and brown sugar) to give you that graham flavor that holds its shape but still has a nice cookie texture. You're going to shape it into a ball.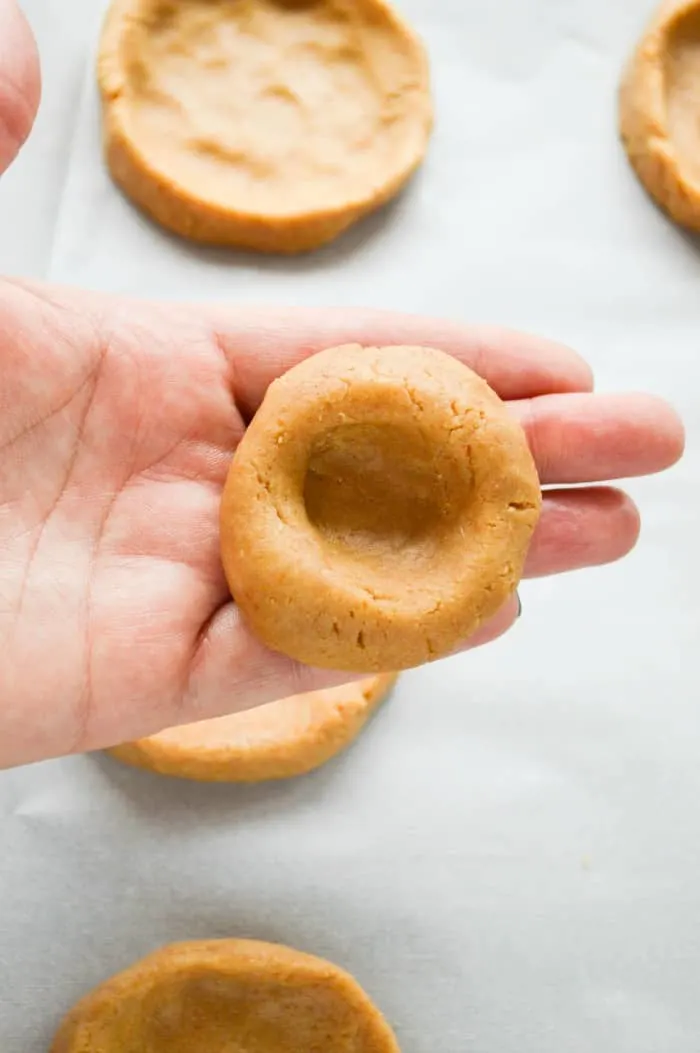 Then press your thumb into the center and start to gently pinch around the edges (like you are shaping a little bowl. It goes pretty quickly after the first one or two.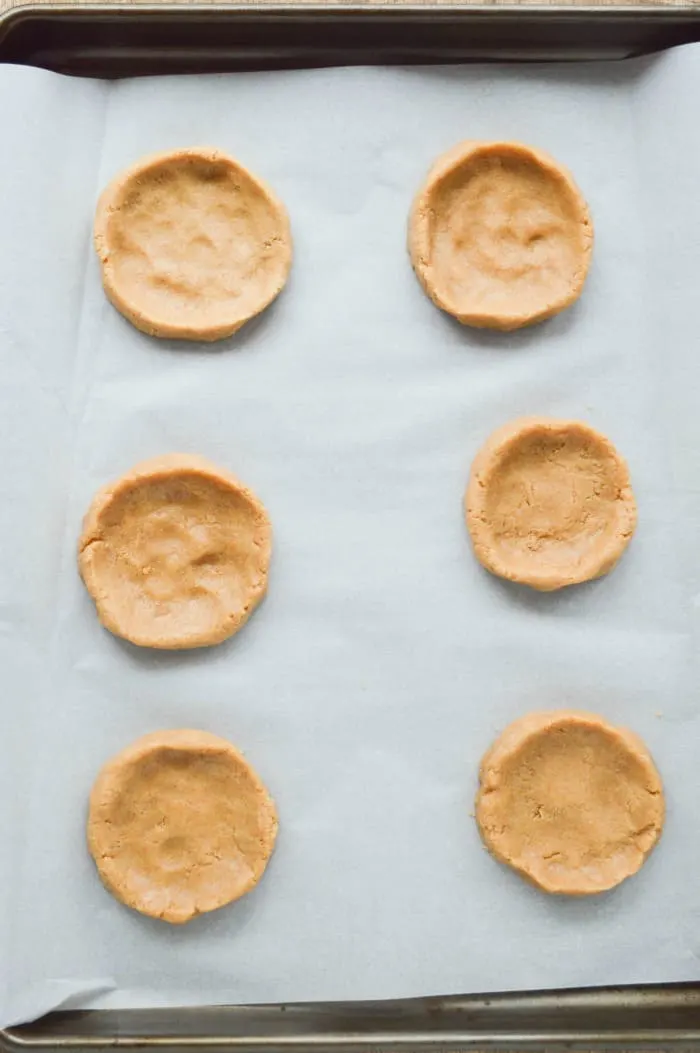 Place your little crust bowls that you made on your prepared baking sheet and then gently flatten the center of each so it resembles a tiny crust.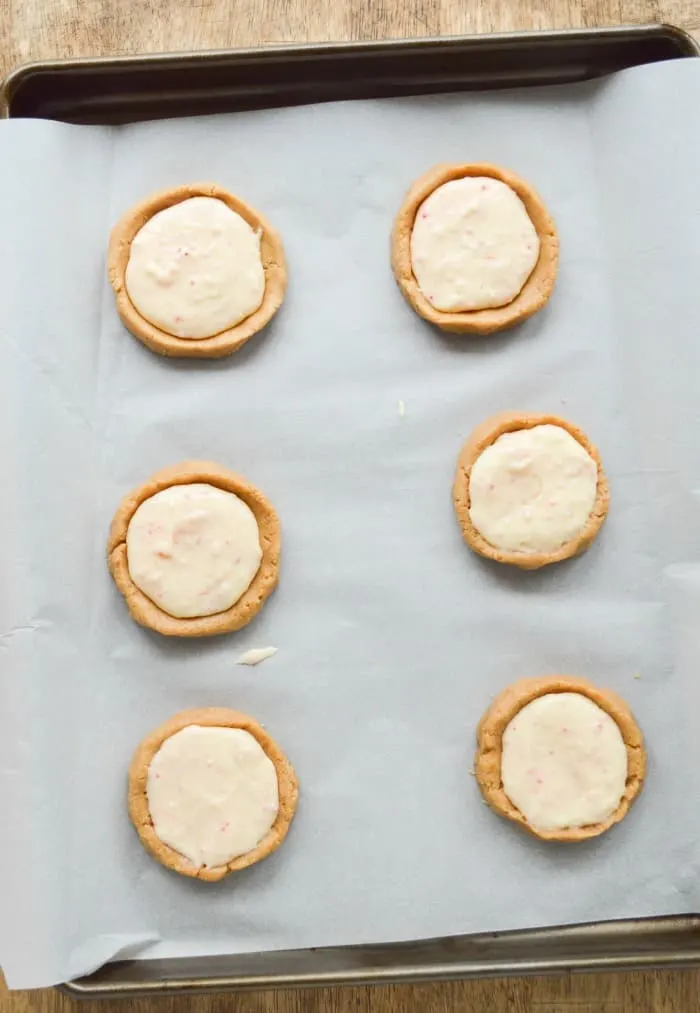 Fill the crusts! How cute are these?!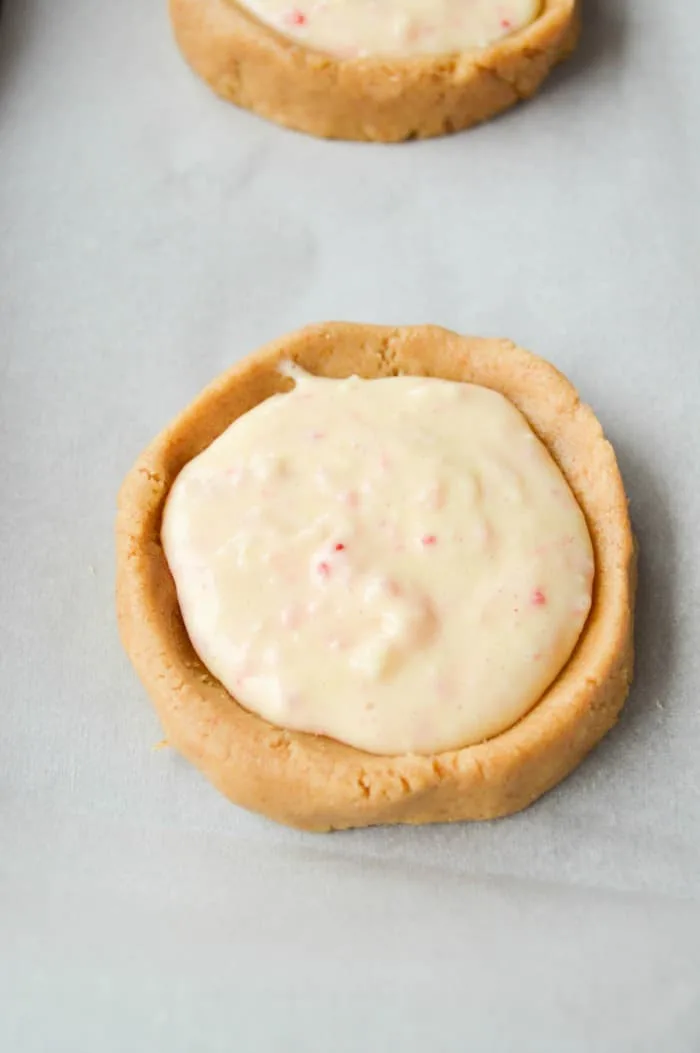 They bake up quick! 10-12 minutes is it. The center of each cookie will sort of puff up when they are ready.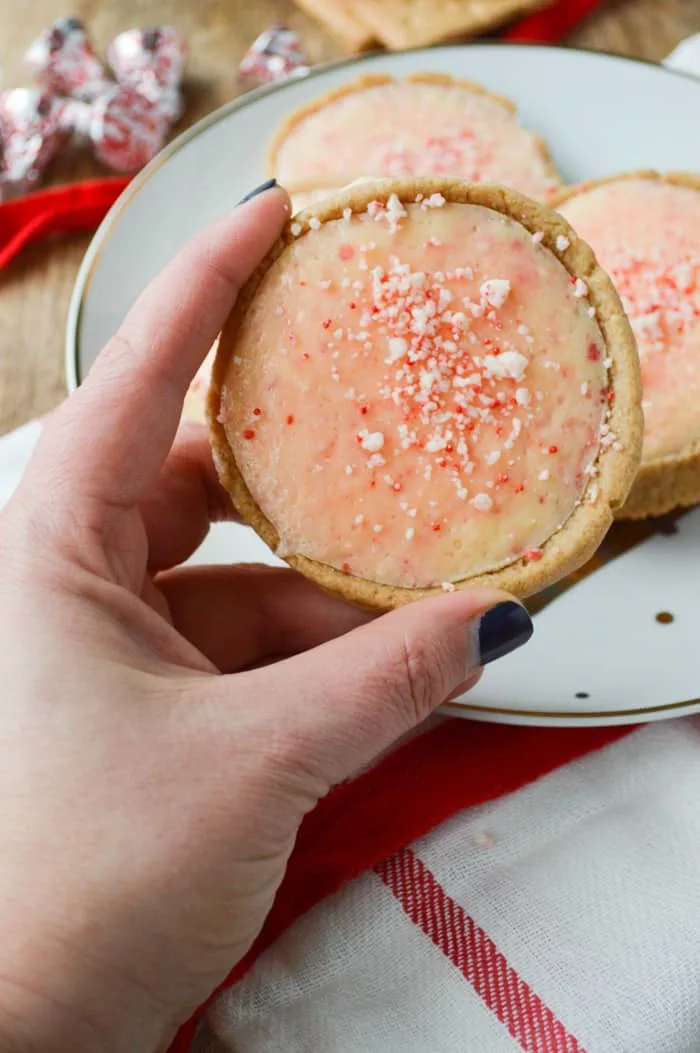 So IF YOU ARE GOING TO TAKE THESE TO A COOKIE EXCHANGE (or really anywhere to share) you'll wanna make them a day ahead. They are 100% awesome after they have chilled and I feel like the peppermint flavor amplifies overnight.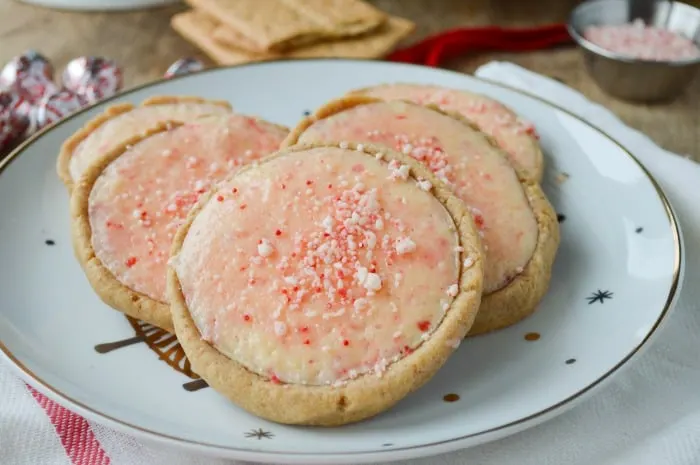 I had been told by the cookie monsters that these are the most amazing cookies in the whole world, which says a lot since they taste test every cookie. Serious cookie palates over here. If you have a cheesecake lover in your life, these are perfect.
Pro Tips:
A food processor will make these cookies a breeze. It really helps the crust come together in a texture that is easy to work with.
If you can't find Andes peppermint baking chips or the Andes peppermint Thins candies, Hershey's makes Candy Cake Kisses that are perfect
Try not to stack them without wax or parchment paper in between the layers. The cheesecake will stick to things and it ruins the pretty smooth finish
Refrigerate! If you are toting these with you someplace they are fine to set out, but refrigerate them before taking them and after when you are packing things away (assuming there are any left
You can make big cookies or small. I've found that what works best for me is to use 1- 1 1/2 tablespoons of the crust mixture to form the base.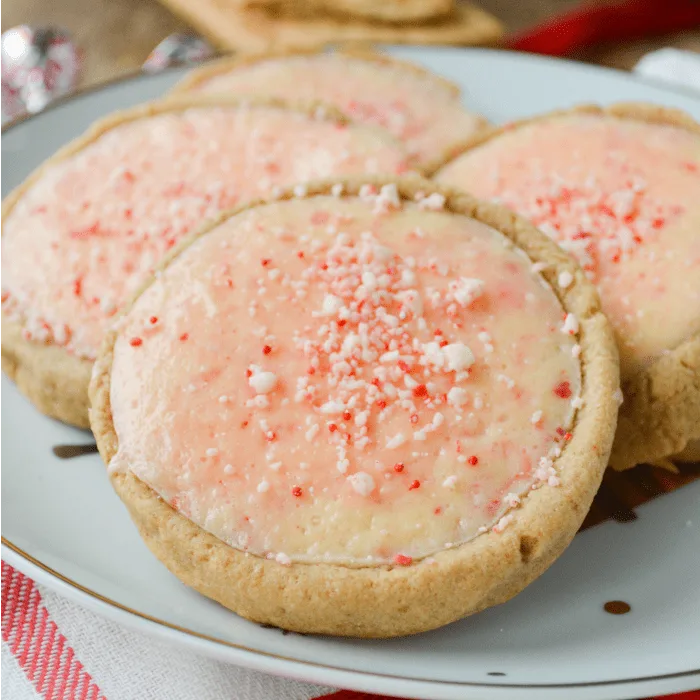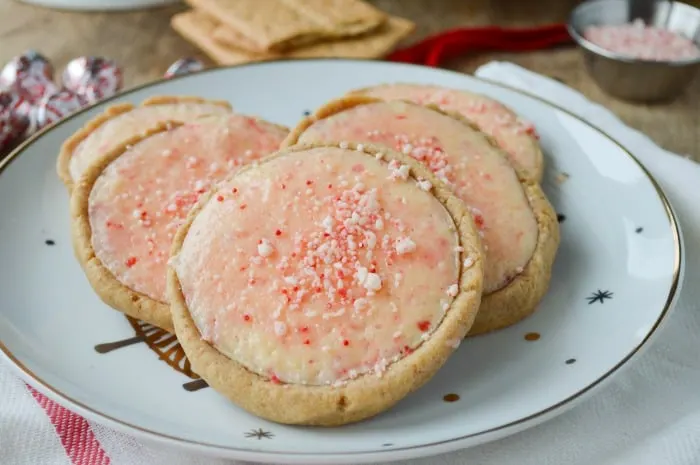 Yield:

16 cookies
Peppermint Cheesecake Cookies
No time to bake a cheesecake? Make these delicious Peppermint Cheesecake Cookies! Graham Cracker Cookie Crust, creamy cheesecake filling and peppermint candy crunch! All the taste of traditional cheesecake in less than an hour!
Ingredients
1 1/4 cups finely crushed graham crackers
1 cup flour
1/2 cup packed brown sugar
1/2 cup unsalted butter, softened
2 eggs, separated
8 ounces cream cheese, softened
1/2 cup granulated sugar
1/2 teaspoon peppermint extract
1/2 cup chopped Andes Peppermint Thins, Hershey's Candy cane Kisses, or Andes Peppermint Baking Chips
Instructions
Preheat the oven to 350°.
In a large bowl combine the graham cracker crumbs, flour, and brown sugar.
Beat in the softened butter. The mixture will be crumbly. Add in the 2 egg whites (set the yolks aside for the filling) and beat for about a minute until combined. See note
Scoop 1 1/2 - 2 tablespoons of the crumbles into the palm of your hand. Squish them into a ball. The crumbs will stick together after you work with them for a second.
Place the balls of graham cookie crust on an ungreased cookie sheet an couple of inches apart. Press your thumb down in the center (like when you make thumbprint cookies) to make a little well. Flatten the center and pinch your fingers around the edges to make what look like little cheesecake crusts. After the first one or two this will go really quickly.
In a large bowl, beat the cream cheese and sugar until smooth, for about a minute or two. Add the peppermint extract and the two yolks. Continue beating for about a minute. Fold in the chopped peppermint pieces. Spoon the mixture into the little cookie crusts. You can fill them all the way up.
Bake for 10 - 12 minutes.
Let the cookies cool for about 5 minutes on the pan before moving to a rack to cool completely.
Refrigerate before serving.
Notes
Crust comes together easiest with a food processor! But I made these for years with just a hand mixer. It will also work! The mixture is a bit more crumbly with a hand mixer.
Nutrition Information:
Yield:
16
Serving Size:
1
Amount Per Serving:
Calories:

291
Total Fat:

16g
Saturated Fat:

9g
Trans Fat:

0g
Unsaturated Fat:

5g
Cholesterol:

56mg
Sodium:

106mg
Carbohydrates:

33g
Fiber:

1g
Sugar:

21g
Protein:

4g
Recipe adapted from Sandra Lee's New York Cheesecake Cookies
Love Peppermint things? You should also try…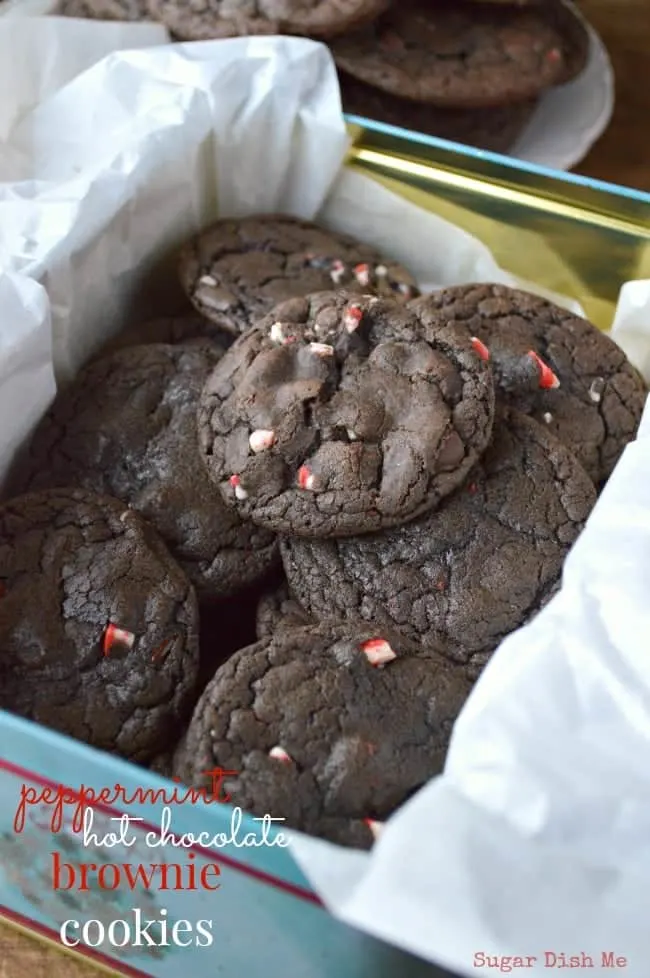 Peppermint Hot Chocolate Brownie Cookies
Slutty Peppermint Oreo Brownies