Learn how to make the best Pigs in a Blanket with Biscuits that are fluffy, tender, and made from scratch with just 3 ingredients!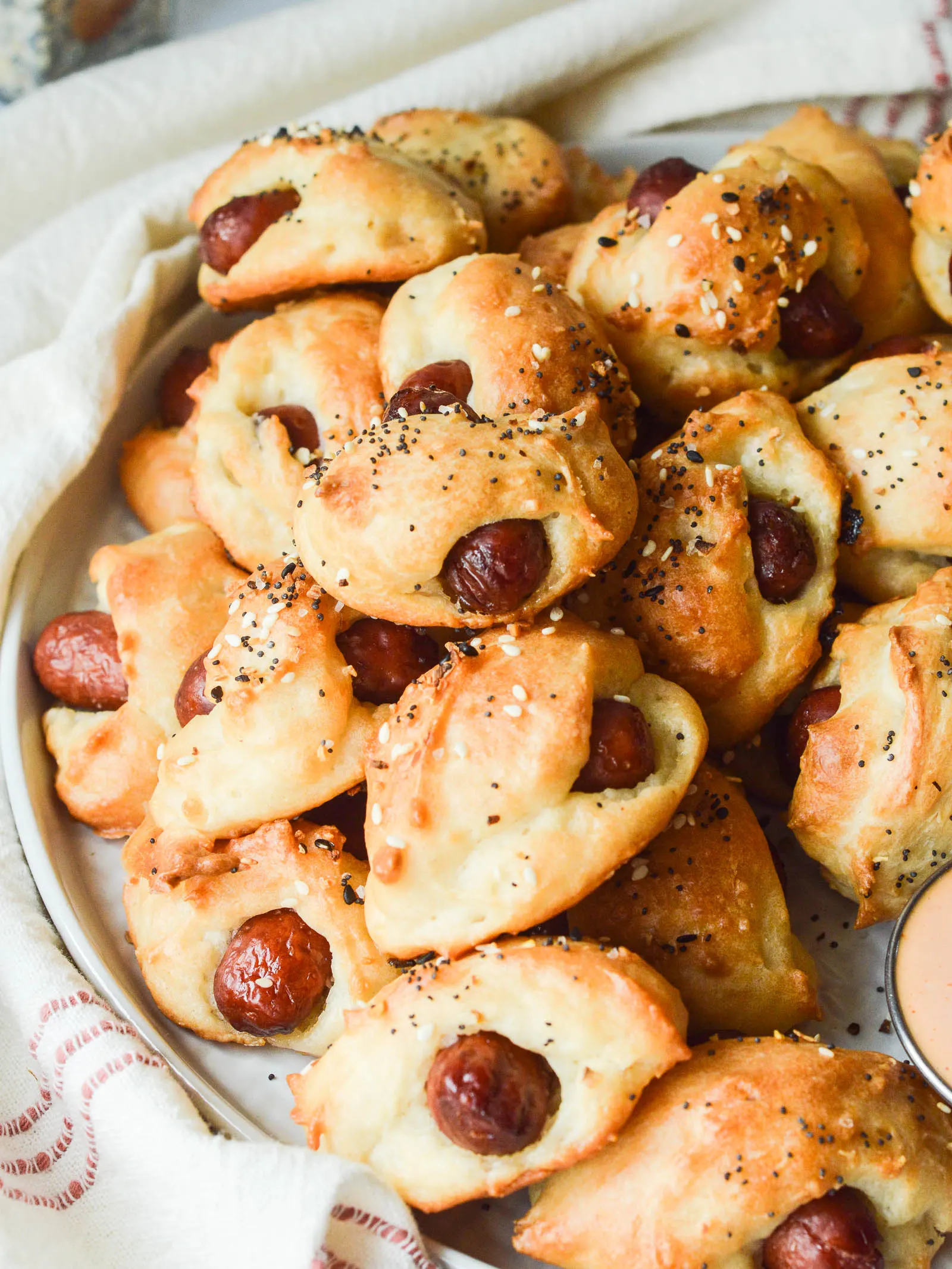 This post is sponsored by Duke's Mayonnaise and includes tracking links. For more information about tracking links and how to opt out, All About Do Not Track prior to clicking any links found in this post.
OMG y'all. These little appetizery pick-me-up bits of goodness are going to blow your mind. ALSO – would you believe I'd never made Pigs in a Blanket prior to this?
Not even the typical, wrap-it-in-a-crescent roll kind.
Those are fine, but THESE are stellar, and I'll tell you why:
It's the homemade biscuits.
How to Make the Best 3-Ingredient Biscuits
Somewhere in my early 30's I went on the quest to make the best biscuits. My husband grew up on a 55 acre farm with his grandparents, the sort of people that always say, "Yew come back!," while waving from the porch whenever you are on your way out.
They are also the sort of people that make homemade biscuits for every meal. His grandma has tried several times to teach me her buttermilk + lard + self-rising flour magic, but I need like … measurements ?
So anyway I went on a biscuit quest and will say that I DID learn to turn out the Biggest, Fattest, Fluffiest All Butter Biscuits. Those never fail me. But to get really tall, flaky biscuits – it is a PROCESS.
For this Pigs in a Blanket with Biscuits recipe, I wanted super simple. These biscuits needed to be un-fussy and quick. They are the best, fluffiest, 3-ingredient drop biscuits that bake up PERFECTLY around sausages.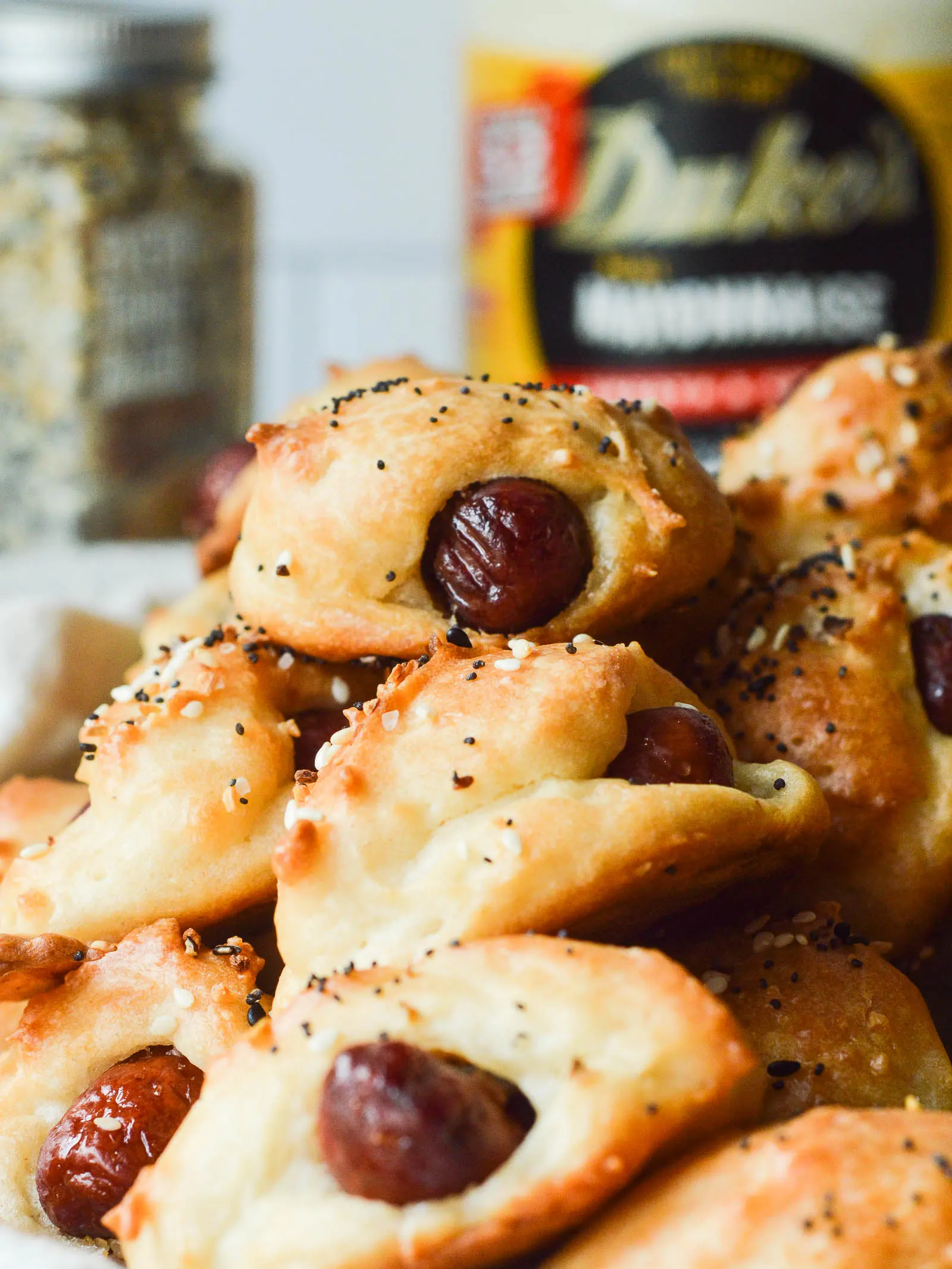 Ingredients To Make The Biscuits
3-ingredients, as promised. Ready to have your mind blown?
Duke's Mayonnaise
milk
self-rising flour
Yes. We are making biscuits with mayonnaise! And not just any mayonnaise, THE BEST MAYONNAISE. Duke's Mayonnaise. There is no other. Don't argue with me. It has the best tangy flavor, there's no added sugar, and with just three ingredients here, you've really gotta get them right.
You HAVE to have self-rising flour for this recipe. This is what will make your biscuits rise.
2% milk works great here, as does whole milk. Skim milk might water things down too much, but I've not tried it. Buttermilk might be too tangy in this recipe. Save it for these Rum Raisin Scones.
Tips for Making Biscuits with Mayo
These biscuits are INSANELY easy to make, but you do need to get the technique right. You're going to want to whisk together the Duke's Mayonnaise and milk until smooth, and then stir in the self-rising flour.
Once everything is mixed up, YOU HAVE TO LET THE DOUGH REST.
You can't skip this part or you will be mad at me. The biscuits will actually still bake up, but the dough is watery and impossible to work with.
The next part you need to pay close attention to is the portioning.
I used a medium cookie scoop to drop my biscuits, but if you use a whole scoop, it's not the right biscuit-to-sausage ratio. Using the MEDIUM scoop, you really need to drop half a scoop on the bottom, and then half a scoop on the top. A small cookie scoop (but NOT heaped full) is about perfect on the bottom and the top.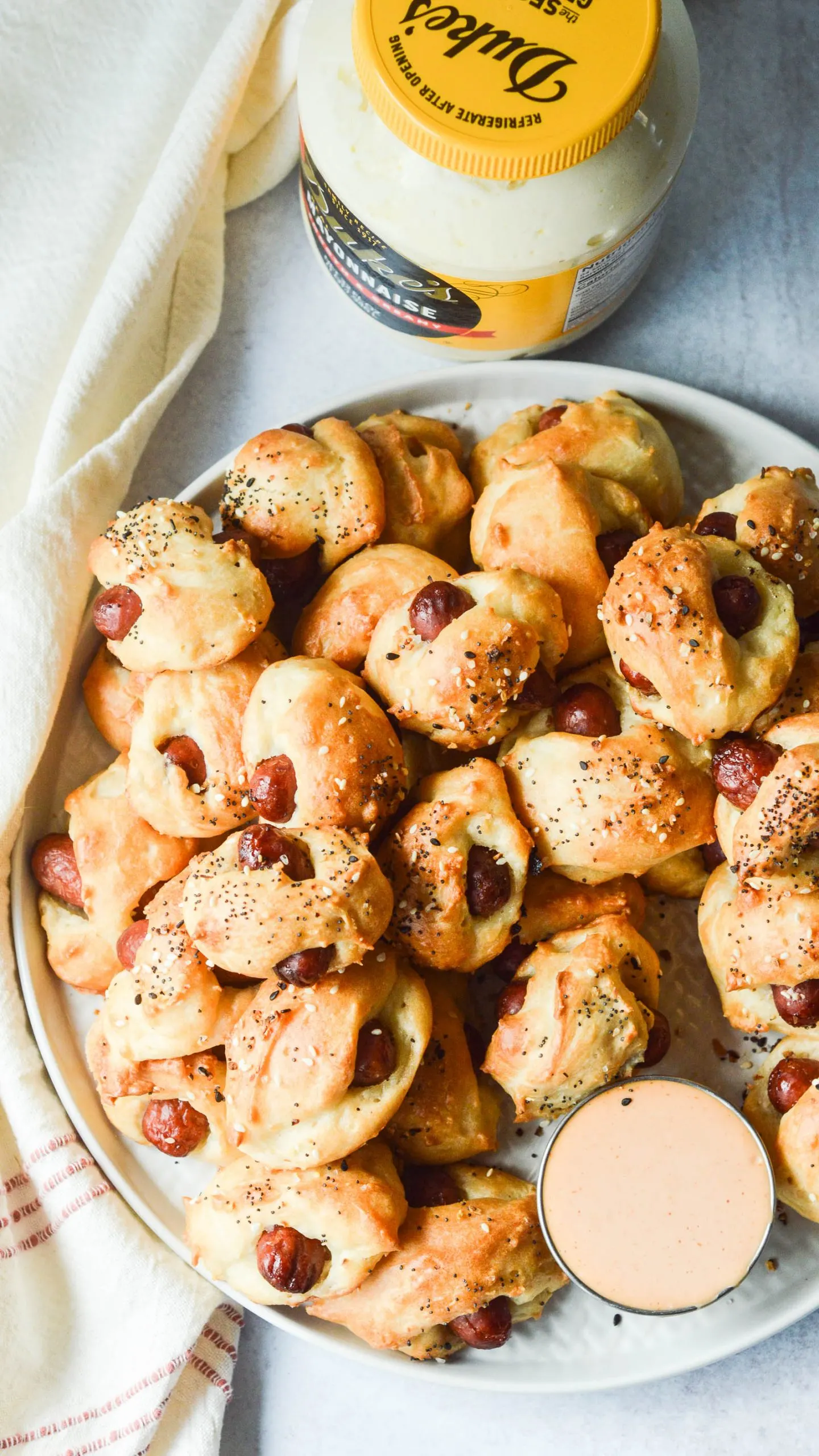 What condiments go with Pigs in a Blanket?
My top choice here is Comeback Sauce. I like to make my own, but if you want a quick and easy alternative, Duke's has Mississippi Comeback Sauce for you! It's a little spicy, a little sweet, and a lot good with pretty much everything. Also the name makes me happy.
You can also serve these with mustard, BBQ sauce, ketchup, and any other dippy things or sauces you feel like putting out. You honestly can't go wrong.
Dress them Up
There are a few ways you can take these Pigs in a Blanket with Biscuits up a notch. I've really had fun playing with the variations and would love to hear all your tips and suggestions! Here are my favorite ways to dress these lil' appetizers up.
Sprinkle with everything bagel seasoning before baking
Add a slice of cheese before you add the sausages
Try breakfast sausage links and serve these in the morning! With maple syrup of course.
Use all-beef sausages. I know that defeats the name, but really I just prefer them. Most brands carry both varieties (all beef or a pork / chicken blend) so try them both ways and see what you like the most.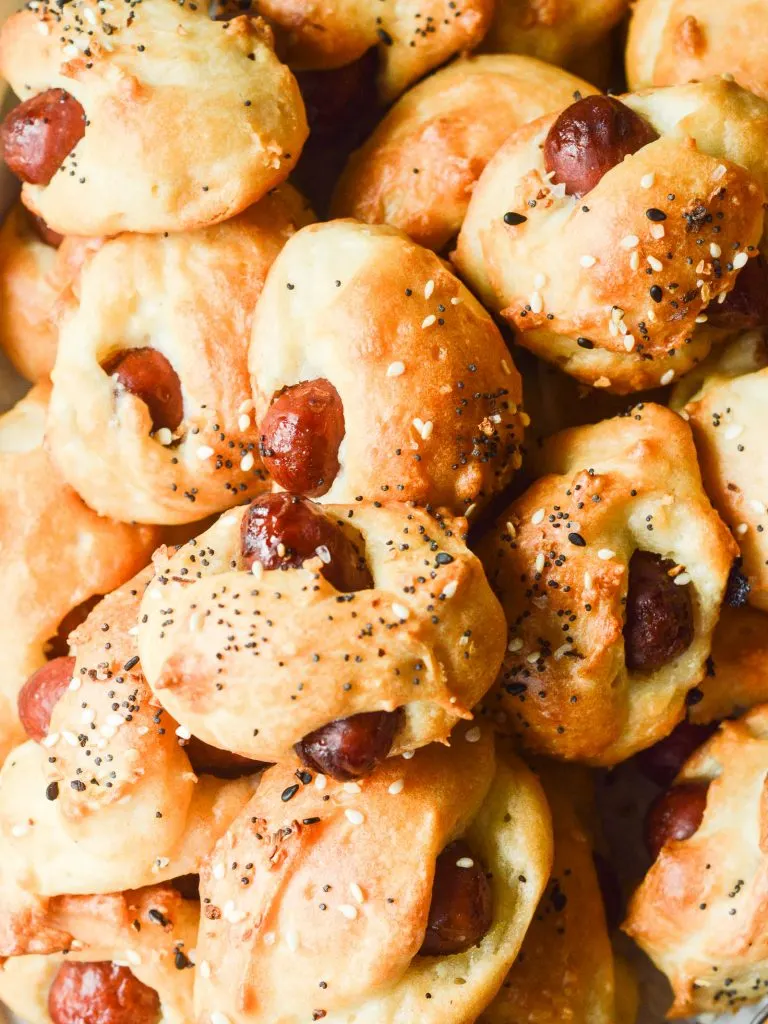 Looking for more game-day goodies?
These Bacon Sausage Bites are savory and sweet, and if you have a smoker, they are a great excuse to bust it out!
Beer Cheese Dip OMG YES I said BEER CHEESE DIP. Be a hero and serve it with soft pretzels.
Try Shrimp Scampi Flatbread; it is a consistently popular recipe since 2018, and is easy to make for a crowd.
Where to Buy Duke's Mayonnaise
Since I was so adamant about the use of Duke's Mayonnaise, I figured you might want to know where to buy it. You should be able to easily find it at your local grocery store in the condiments aisle, and you can check the Where to Buy link on the Duke's website.
Yield:

makes about 30
Pigs in a Blanket with Biscuits
This easy appetizer recipe is the kind of dish that will make you notorious, in a good way. Pigs in a Blanket are baked in the easiest 3-ingredient drop biscuit dough, sprinkled with a little everything-bagel seasoning, and are served with the best Comeback Sauce!
Ingredients
For the Biscuits
1/2 cup Duke's Mayonnaise
1 cup milk
2 cups self-rising flour
For the Pigs in a Blanket
30 lil' smokies-type sausages
1 tablespoon everything bagel seasoning
Optional: Comeback Sauce for serving
Instructions
Preheat the oven to 400° F and line a baking sheet with parchment paper.
In a large bowl, whisk together the Duke's Mayonnaise and milk until frothy and smooth. Then add the flour.
Mix by hand until completely combined and then let the dough stand for 8-10 minutes (while the oven continues to heat). The dough will thicken while it's standing and will go from a thin consistency to a batter that is fluffy and easy to scoop.
Using a cookie scoop or small spoon, drop about 2 teaspoons of dough onto the parchment paper, about 2 inches apart. If you are using a standard (medium) cookie scoop, about half the scoop is plenty. If you have a small cookie scoop, that's the perfect amount, as long as the scoop is not heaping.
Place one sausage on top of each dropped biscuit on the pan. Then use the scoop or spoon again to drop another 1 1/2 - 2 teaspoons of the biscuit dough on top. Don't completely cover the sausage; you want them to peek out each side.
Sprinkle with everything bagel seasoning if using, and bake for 13-15 minutes.
Let the pigs in a blanket rest for a minute or two before removing to a wire rack to cool completely.
Best served the same day.
Recommended Products
As an Amazon Associate and member of other affiliate programs, I earn from qualifying purchases.