Celebrate! Blueberry Crumble Bars with Champagne have a shortbread crust, and can be made with fresh or frozen blueberries tossed in champagne!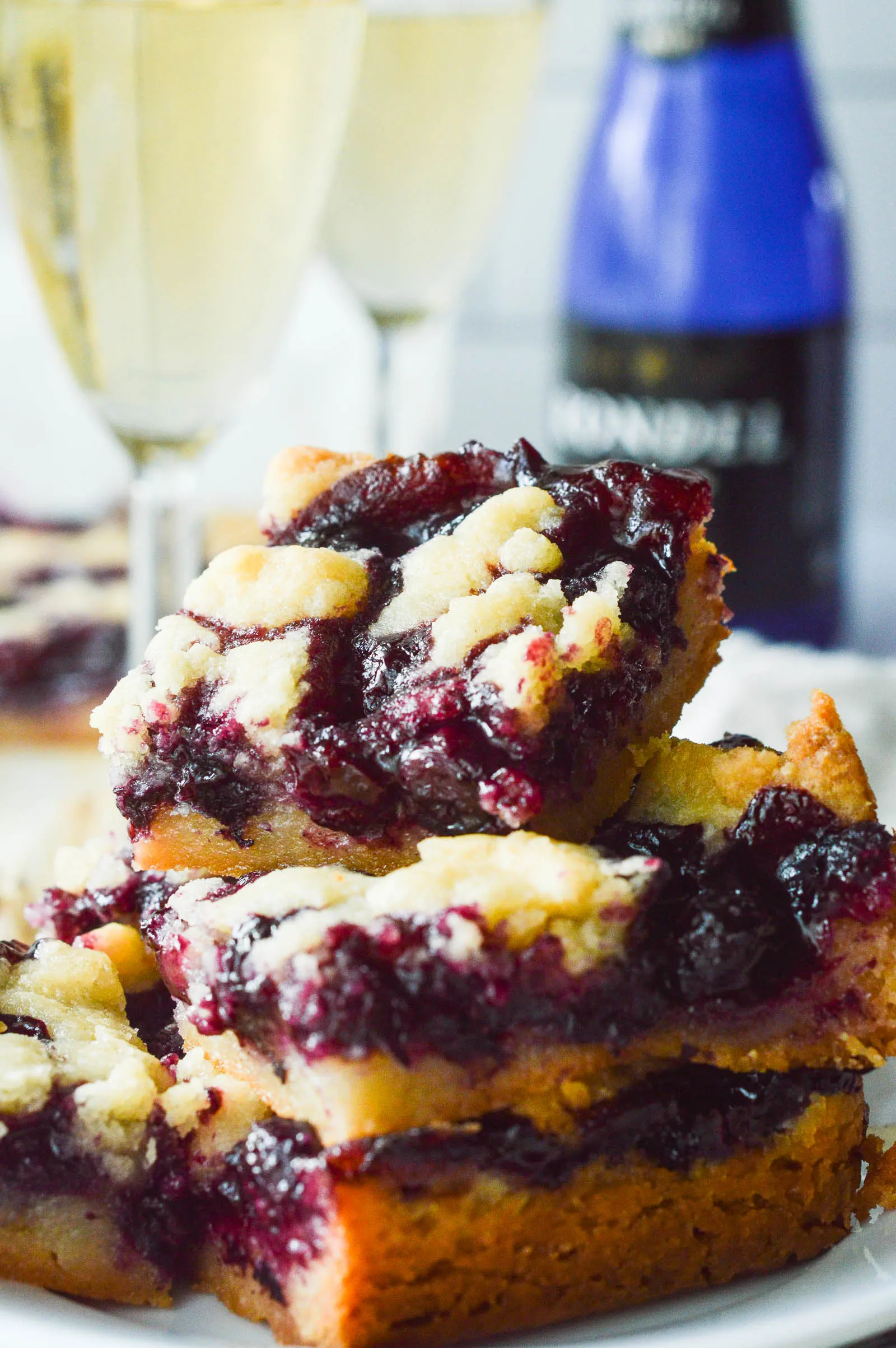 I am obsessed with these cookie bars.
OB. SESSED.
I made them to ship to a friend in Minnesota for a Thanksgiving cookie exchange we arranged at work, and the verdict is in: BLUEBERRY CRUMBLE BARS ARE GREAT FOR MAILING. Pinot Noir Brownies, on the other hand, are not. Something something, fudgy frosting …
Anyway, these almost did not make it out of here is what I am trying to tell you. If you are looking for a party cookie to put on a tray and stand out, or, who are we kidding, 2020 is devoid of parties GAH, you are just mailing them to send cookie love like me, you HAVE TO make these crumble bars. With champagne.
It's important.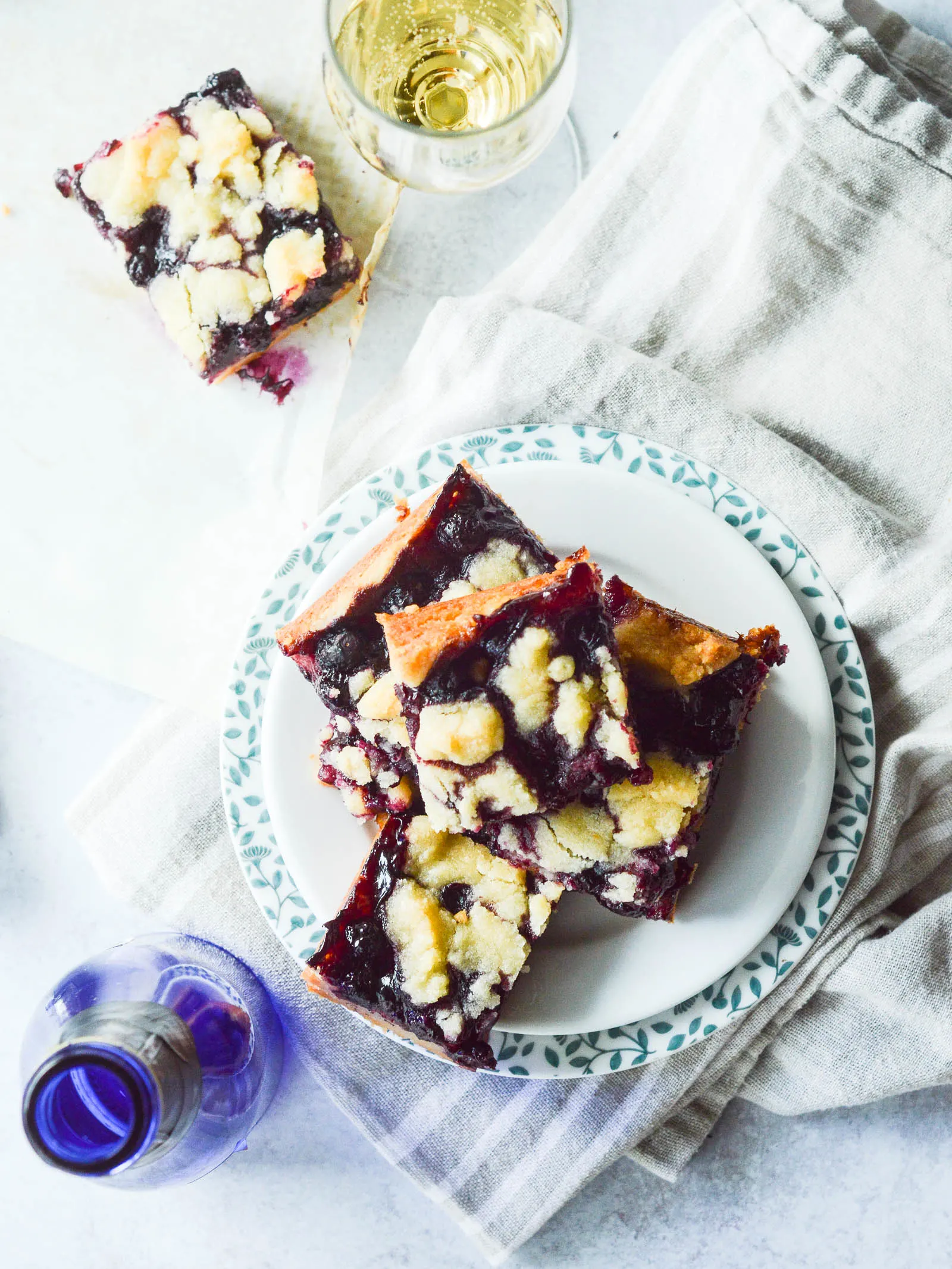 What do I need to make Blueberry Crumble Bars?
This ingredient list is so simple. I actually had everything handy which is honestly my favorite sort of baking and cooking. The sort that does not require me to plan. You will need:
butter (unsalted if you have it!)
powdered sugar
granulated sugar (yes, both kinds of sugar are necessary)
salt
vanilla
flour
blueberries
cornstarch
champagne
You only need a little bit of champagne (just 1/4 of a cup!) so I recommend using little split bottles. I ordered too many Rondel Brut Minis for a baby shower last year and so I still have a fun lil stash for Pink Champagne Cocktails and these cookies.
Can I use frozen blueberries?
Fresh or frozen blueberries work really well in this recipe. I used frozen because I am lazy and hate going to the grocery store. Remember when the grocery store was fun?
Ugh. I am feeling some kinda way today.
Anyway, fresh or frozen both bake up nicely.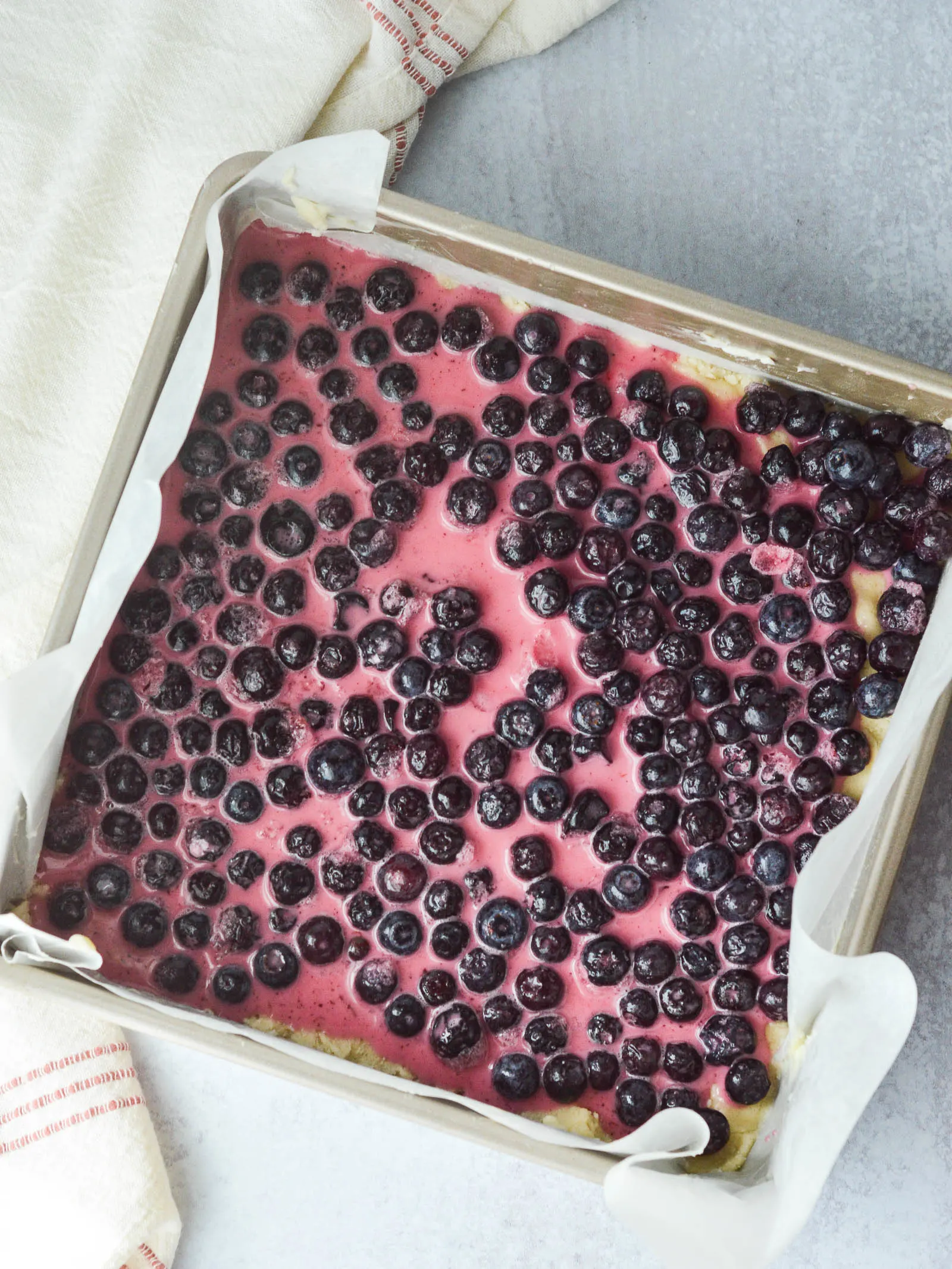 How to make the shortbread crust
The same shortbread is going on the bottom AND on the top of the blueberry champagne mixture. You'll notice there are no eggs in this recipe!
Start by preparing your pan. I used my favorite 9 X 9 Baking Dish here. My preferred way to prepare the pan for pretty much any brownie or bar cookie recipe is to butter the pan, press in parchment paper, and then butter the parchment. You can skip buttering the parchment paper for these Blueberry Crumble Bars though; shortbread is mostly butter so it's all good.
Mix together the butter, sugars, and salt until combined. Then add the vanilla. You'll have a fluffy, smooth, buttery batter.
Add the flour and mix until JUST combined – NO OVERMIXING!
Press about 2/3 of the crust into the prepared pan. Save the rest for the tops of the bars.
This comes together just like my Oatmeal Berry Crumb Bars, but those call for an earthier oatmeal crust. You should also try those!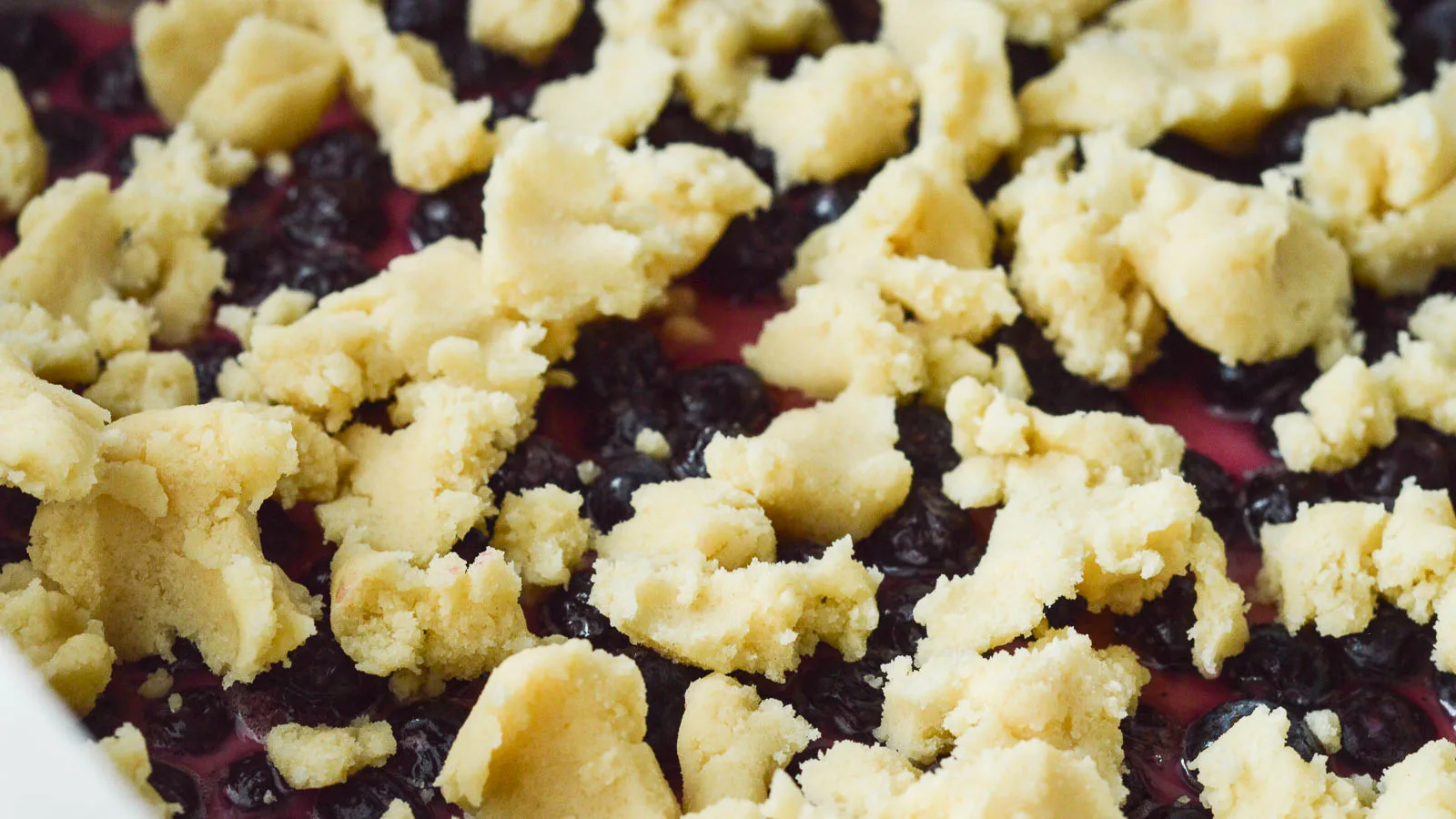 How to make the champagne blueberry filling
Did I mention these are literally the easiest treats to make like … ever? Because they are.
To make the filling you are gonna whisk together granulated sugar, cornstarch, and champagne. I like to use a large liquid measuring cup.
Add the blueberries, stir to coat them. and then pour over the crust.
Stupid easy.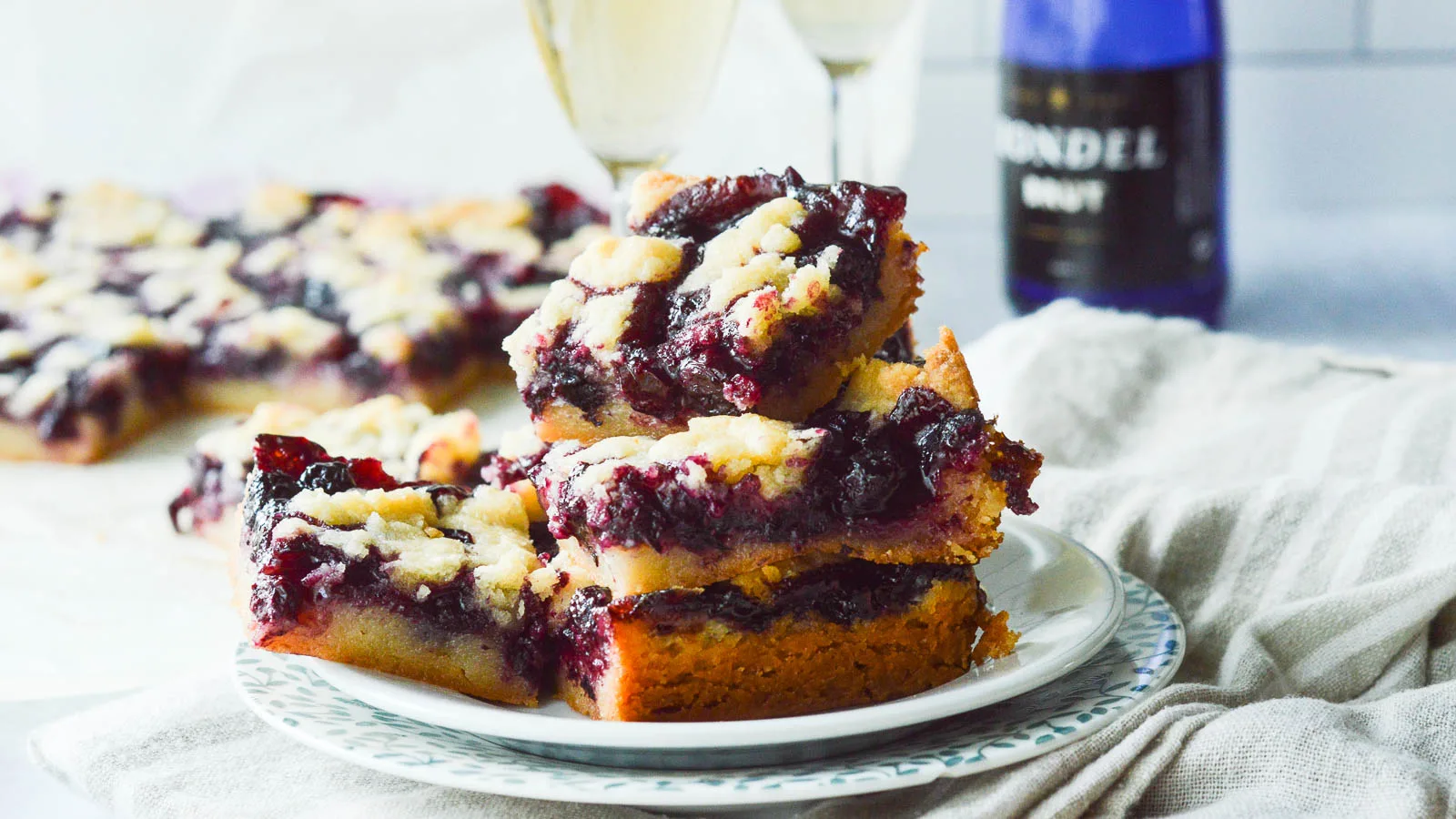 Love baking with spirits? Try these recipes, too!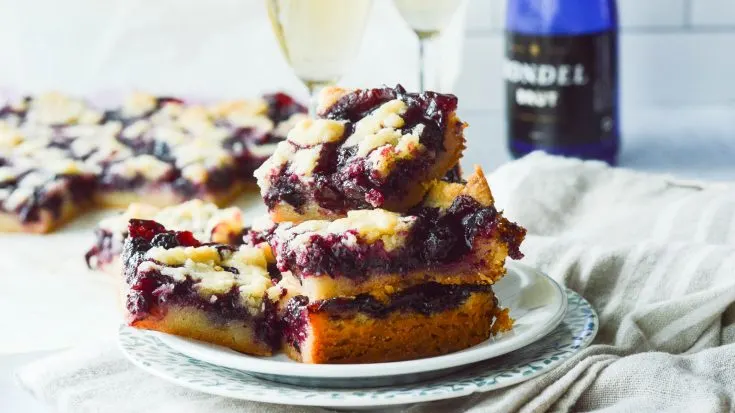 Yield:

16 servings
Blueberry Crumble Bars with Champagne
Blueberry Crumble Bars with Champagne are simple to make and easy to take! They have a buttery shortbread crust and a delicious champagne blueberry filling!
Ingredients
For the Crust
1 cup unsalted butter, softened
1/2 cup powdered sugar
1/3 cup granulated sugar
1/2 teaspoon table salt
1 1/2 teaspoons vanilla extract
2 cups all purpose flour
For the Filling
1/4 cup champagne
1/3 cup granulated sugar
3 tablespoons cornstarch
2 1/2 cups fresh or frozen blueberries
Instructions
Preheat the oven to 350°F. Butter a 9 X 9 (or 8 X 8) baking dish and then line with parchment paper. Set aside.
Using a hand mixer or a stand mixer fitted with the paddle attachment, beat the butter, 1/2 cup powdered sugar, 1/3 cup granulated sugar, and salt together until fluffy and smooth. Then add the vanilla and mix just 10-15 seconds more.
Add the flour and mix until JUST combined. Press 2/3 of the shortbread mixture into the prepared pan.
In a large liquid measuring cup (or a medium bowl), whisk together the champagne, 1/3 cup granulated sugar, and cornstarch. Add the blueberries and stir to coat. Pour over the crust.
Crumble the remaining shortbread mixture over the top of the blueberries. there will be gaps, but also it will spread as it bakes.
Bake for 45-55 minutes, depending on your pan size. The tops will be golden brown. You can go a little longer - up to 65 minutes - if you need to.
Let the crumble bars cool completely before slicing so that the blueberry filling sets up.
Slice into 9 or 16 bars.
Notes
You can use either a 9X9 or an 8X8 baking dish. The baking time for the 9X9 dish will be a little less because the crust will be just a bit thinner.
Blackberries, raspberries, or and version / combination of mixed berries work really well in this recipe. Use what you have on hand or try it with all three!
Recommended Products
As an Amazon Associate and member of other affiliate programs, I earn from qualifying purchases.