This recipe for Best Soft Chocolate Chip Pudding Cookies is a stand out! Simple to make, soft, and loaded with gooey melted chocolate chips.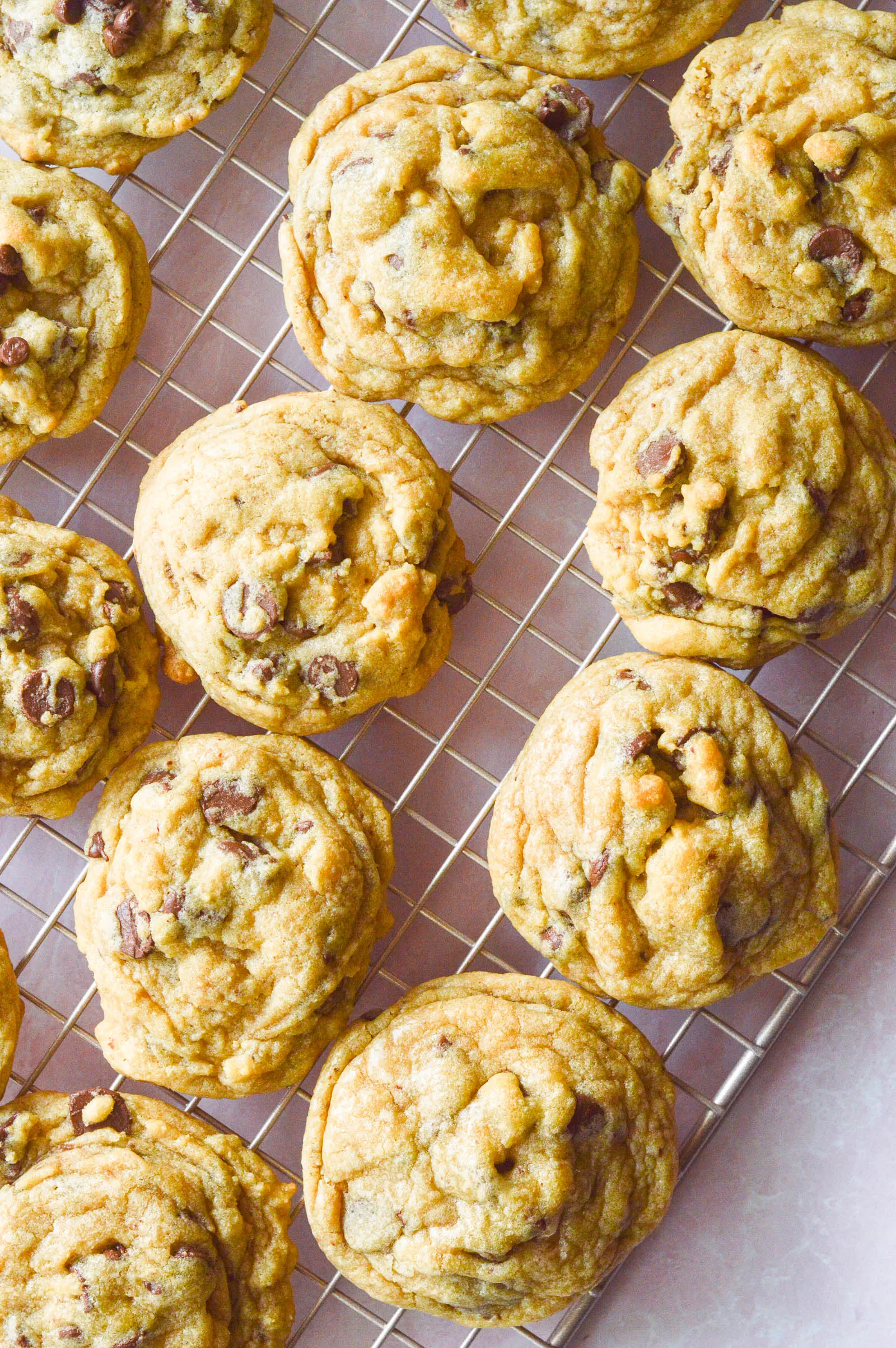 If there's one thing I can say about Sugar Dish Me readers it is that they are … ENGAGING.
Y'all have OPINIONS about things.
So do I though, so I suppose you landed in the exactly right place. This is a place where we can argue about coleslaw, and whether or not it warrants being called Carolina Style, people literally throw down about whether or not to make oatmeal with milk or water, and I get really heartfelt emails from people that relate to my story about popovers and going to Neiman Marcus with my dad as a little girl.
Awhile back we had a friend named Vicki that had a serious attitude about her ability to make Pistachio Pudding Cookies. Her terrible-baking-skills tirade sent me into a recipe testing tail spin, where I worked out all the things that she might have done wrong and put together a guide on How to Make Pudding Cookies. I'm not sure Vicki appreciated it, but I think it benefitted others.
It definitely benefitted me when I tested the first version of this recipe and felt like a failure.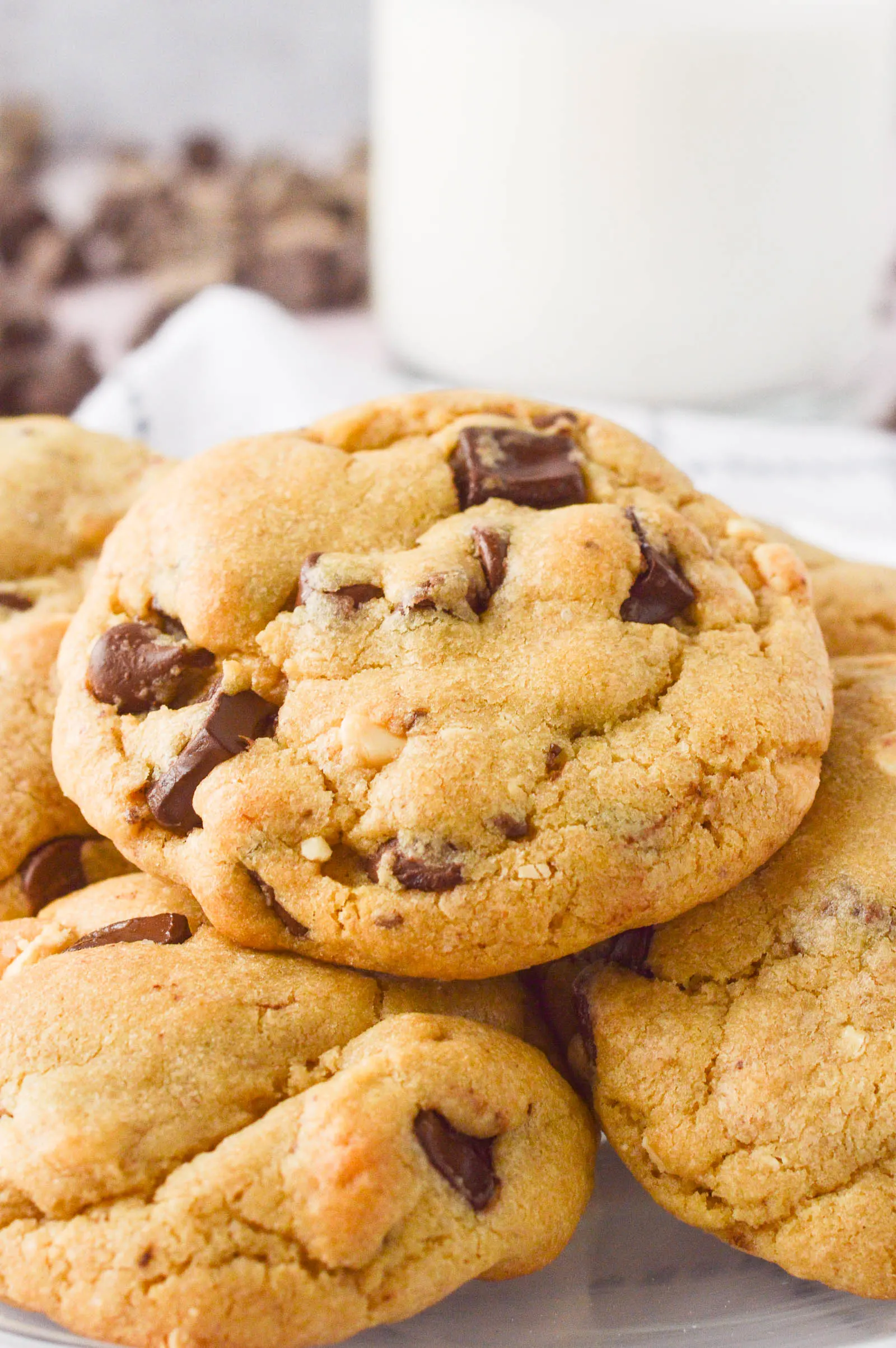 I've been doing this recipe swap thing with a few food blogging friends this year where we cook or bake from each other's sites. I both love it and dread it. Because honestly, every time I put my hand up to participate I am screaming in my head OMFG WHAT IF THEY FIND ONE OF THOSE TRASH ASS RECIPES FROM 2013 THAT I HAVEN'T RETESTED IN 7 YEARS AND IT IS ACTUALLY THE SUCKIEST THING EVER MADE??!!!!!!!!
The fear is real, dudes.
How to troubleshoot a cookie recipe
This month, I signed up to do a virtual cookie swap and was assigned the lovely blog of a friend named Kathleen who writes very lovely recipes at The Fresh Cooky.
Kathleen is a self-professed cookie snob, so I was pretty pumped to have her selection of cookie recipes to choose from. I almost went with these Lemon Shortbread Sandwich Cookies, but something about dumping a box of Jell-O pudding mix into my cookie batter really speaks to me (whatever that says about me … you decide). So, I decided to go with her Triple Chocolate Pudding Cookies.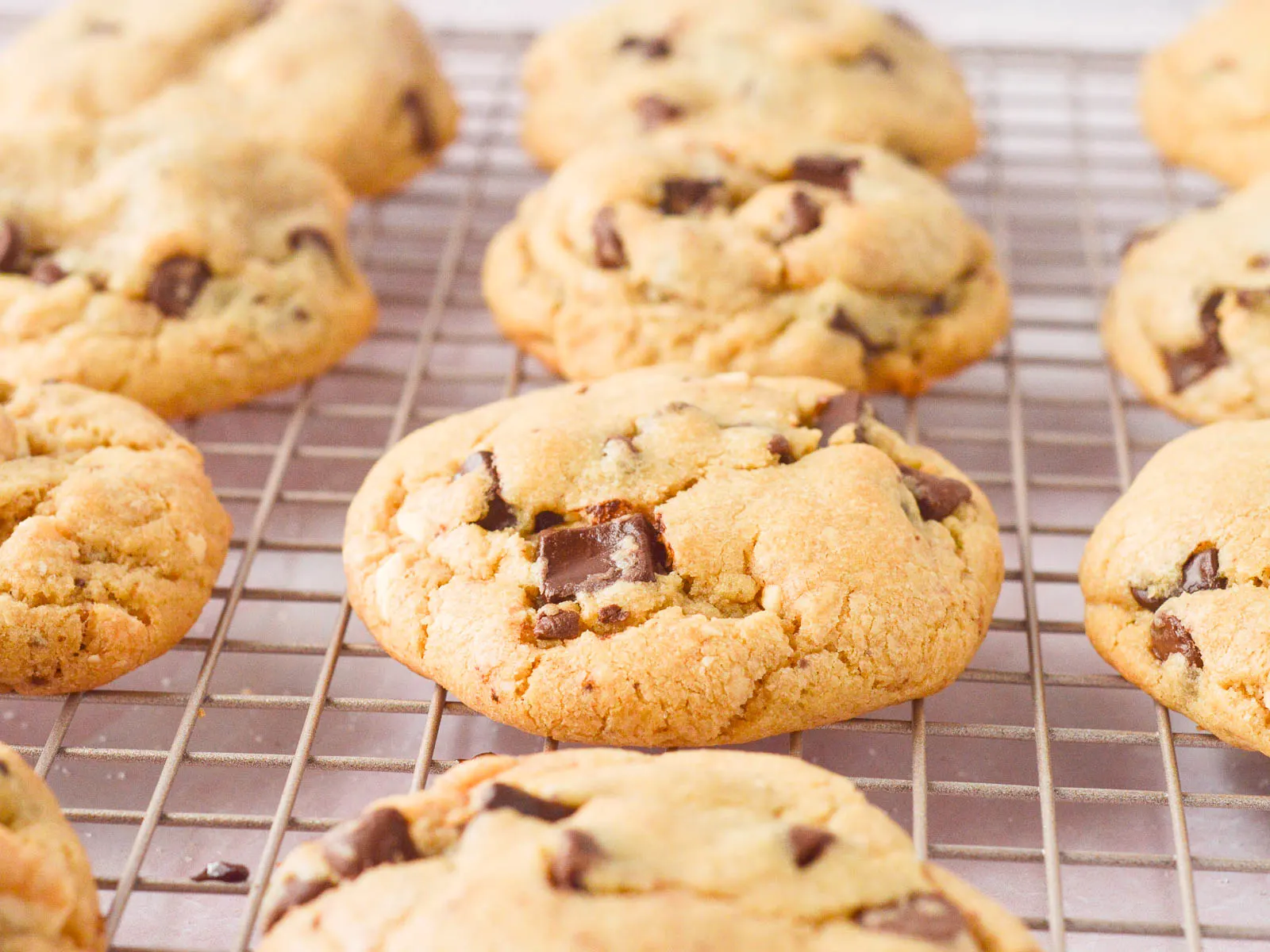 As lovely as these cookies look, MY COOKIES DID NOT LOOK LIKE KATHLEEN'S COOKIES. Hers are so pretty and melty soft looking! So here I was, feeling like our friend Vicki, trying to figure out where I went wrong.
The Order of Operations Matters
Baking is science. You have to put things together in a specific order, or things can go wrong. When a recipe tells you to mix things up in two separate bowls, it's for a reason. You can't add baking powder to eggs, or skip bringing ingredients to room temperature, if that's what your recipe calls for.
Cream butter and sugar. TIP: the butter MUST be soft. Not melted. Just room temperature.
Add the eggs one at a time, mix well between each addition, and scrape down the bowl using a sturdy spatula. I LOVE these spatulas from GIR for scraping cookie dough out of my stand mixer.
Then add the vanilla and mix until just combined.
NOW comes the pudding. The amount matters here. Pay close attention to the weight on the box. 3.4 ounces is all you need. Some generic brands are closer to 4 ounces.
Add the rest of your dry ingredients. You can whisk them together separately if you'd like, but I didn't find that necessary. This can totally be a one-bowl recipe.
Scrape down the sides, and if you are using a stand mixer, be sure there's no secret pocket of butter or flour in the well at the bottom. Mix until JUST combined. Medium to low speed works best here.
Stir in the chocolate chips.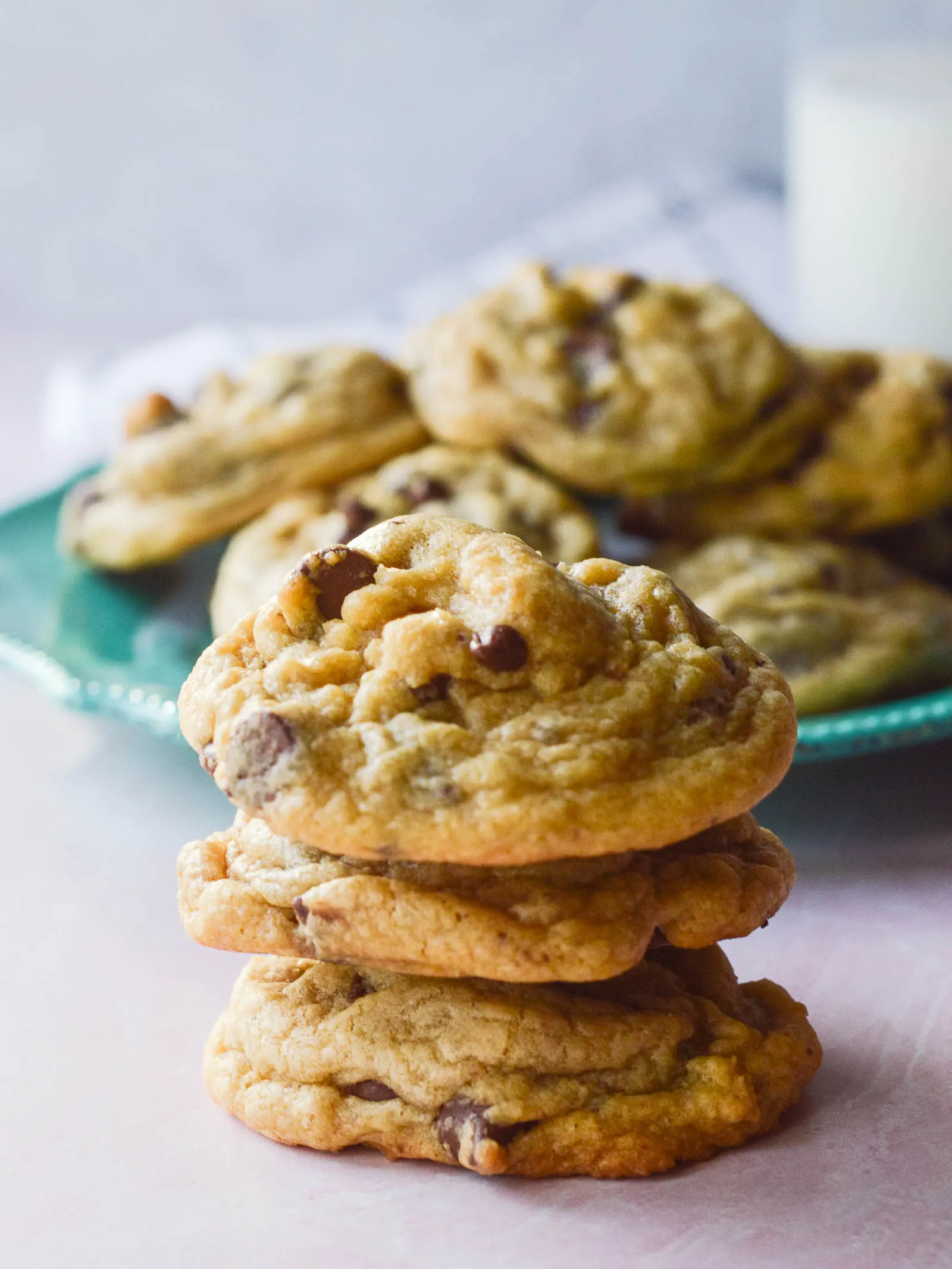 Make SOFT Chocolate Chip Pudding Cookies
Aside from the order of operations really mattering here, to get my cookies to have that same half-baked wrinkly pudding cookie texture as Kathleen's, I reduced the flour.
Kathleen called for 2 1/2 cups of flour. In her recipe she used 1/4 cup oat flour which is really fun, but was not the texture I was after here. I used 2 1/4 cups of flour in my subsequent tests and it gave me that soft texture I was after.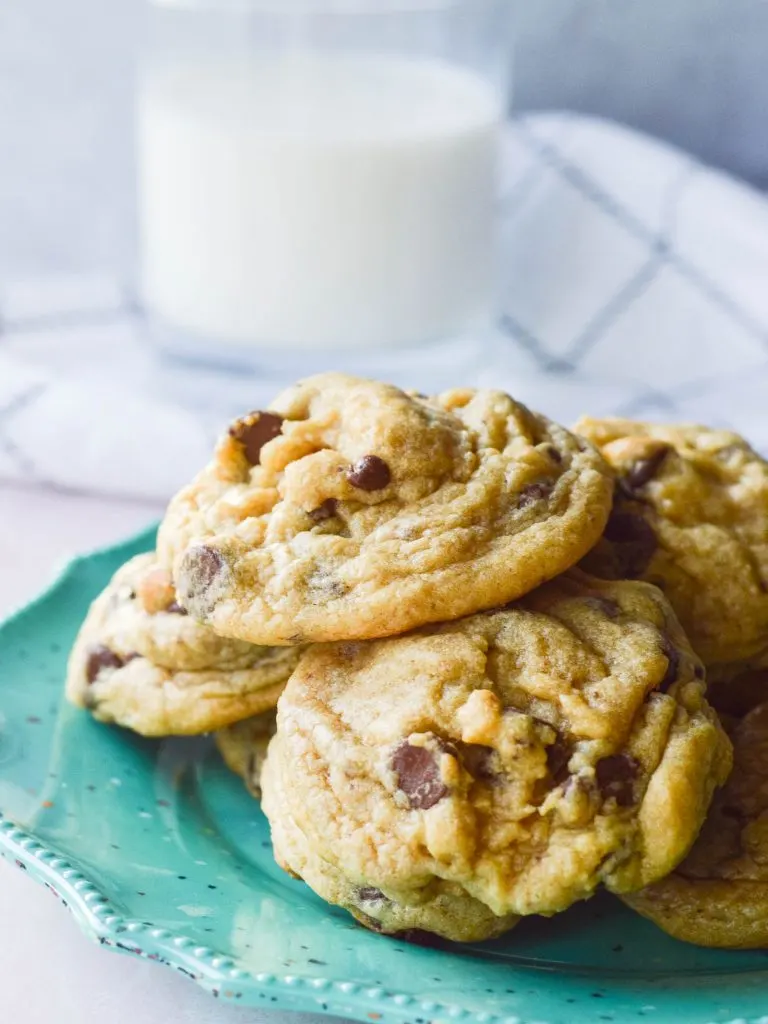 To make fatter, fluffier pudding cookies
By now you might have noticed that there are two very distinct sets of cookie photos in this post. If you like a fatter, fluffier cookie you will want to:
use 2 1/2 cups of flour
add the pudding to the batter just after you cream the butter and the sugar
MAKE BIGGER COOKIES! I portioned the fluffy batch of these cookies using almost twice as much cookie dough and baking a bit longer.
Cookie Exchange Recipes from friends!
If you are looking for more cookies to add to your holiday baking line up, here is a list of tried and tested recipes from other food blogs that participated in this fun virtual cookie swap.
Special thanks to Michaela at An Affair from the Heart for wrangling all of us to put this whole thing together, and to Kathleen for having a whole lovely website that was fun for me to explore. I am after these Salted Chocolate Graham Bites next!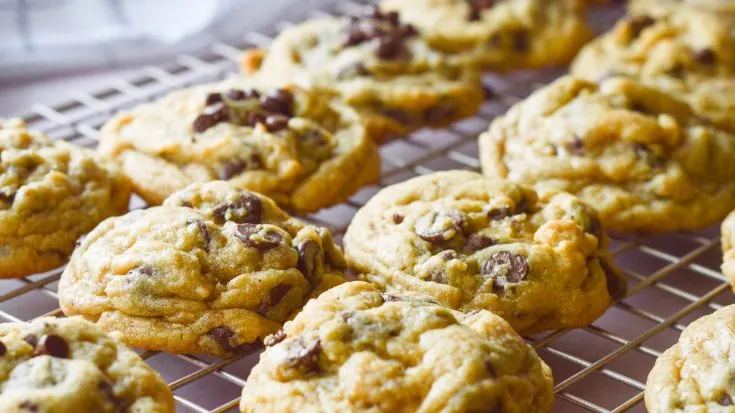 Yield:

30 cookies
The Best Soft Chocolate Chip Pudding Cookies
This recipe turns out THE BEST soft chocolate chip pudding cookies. They are chewy and have the perfect chocolate chip cookie texture, and are LOADED with 3 whole cups of chocolate chips!
Ingredients
1 cup unsalted butter, softened
1 cup packed light brown sugar
2 eggs
1 1/2 teaspoons vanilla
1 (3.4 ounce) package instant vanilla pudding
2 1/4 cups all purpose flour
1 teaspoon baking soda
1 teaspoon baking powder
1 teaspoon kosher salt or sea salt
3 cups semi-sweet chocolate chips
Instructions
Preheat the oven to 350°F and line a baking sheet with parchment paper.
In a large bowl or in the bowl of your stand mixer fitted with the paddle attachment, beat together the butter and sugar until light and fluffy.
Add the eggs one at a time, beating between each addition and taking care to scrape down the sides and bottom of the bowl. Then add the vanilla and mix until combined.
Pour in the pudding mix and mix on low.
Once the pudding mix is fully incorporated, add the remaining dry ingredients and mix until JUST combined. Be sure there are no dry bits in the bottom of the bowl, and gently mix to incorporate if there are.
Stir in the chocolate chips.
Portion the cookie dough by the heaping tablespoon full (or using a medium cookie scoop) and place the dough 2" apart on the prepared cookie sheet.
Bake for 9-11 minutes and let the cookies cool for 1-2 minutes on the sheet before moving to a wire rack to cool completely.
Notes
For fluffier cookies, increase the flour to 2 1/2 cups and add the pudding before the eggs. portion the cookies to almost twice the set amount and bake 2=3 minutes longer.
Any flavor pudding will work - chocolate, cheesecake, etc. Try them all!
You can use a variety of chocolate chips or chocolate chunks. In one of my tests I used chopped white chocolate, semi-sweet chocolate chips, and chocolate chunks and they were great!
Recommended Products
As an Amazon Associate and member of other affiliate programs, I earn from qualifying purchases.
Nutrition Information:
Yield:
30
Serving Size:
1
Amount Per Serving:
Calories:

205
Total Fat:

12g
Saturated Fat:

7g
Trans Fat:

0g
Unsaturated Fat:

4g
Cholesterol:

29mg
Sodium:

163mg
Carbohydrates:

25g
Fiber:

1g
Sugar:

16g
Protein:

2g