Reese's Peanut Butter Cheesecake Brownies start with a box of brownie mix! Swirled with peanut butter cheesecake and loaded with ALL the Reese's everything.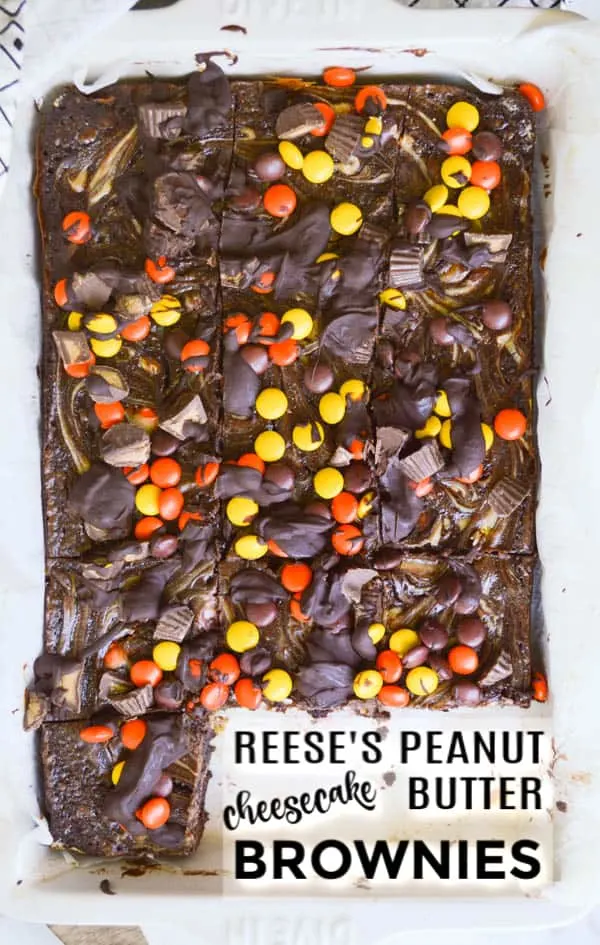 These brownies are so good that I almost don't quite know where to begin telling you about them. Like … I would tolerate a LOT of annoying things to enjoy a good brownie on most days. But these Reese's Peanut Butter Cheesecake Brownies are pretty much next level.
For these particularly amazing, rich peanut buttery, fudgey cheesecake brownies full of deliciousness I would:
wear socks all day (P.S. I HATE socks.)
clean the house without the TV on in the background OR sans ear buds (I'm not even sure I'm capable of this but I would so try it)
do my Insanity workout twice in a day (recent personal data shows that this is not necessary, but for a brownie I could make it happen)
eat creamed corn mussels (OKAY, so I really love a Reese's Peanut Butter Cheesecake Brownie, but I draw the line at creamed corn; I think I could do mussels – maybe just one)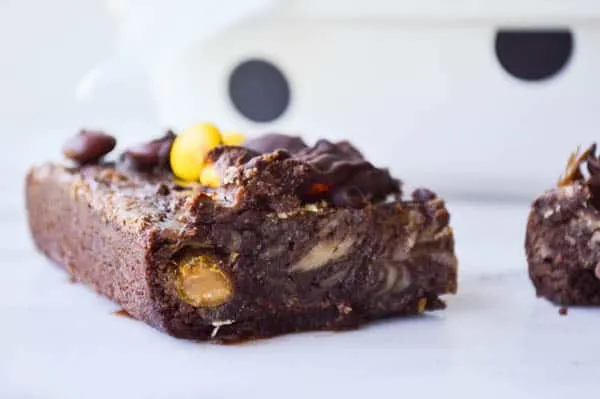 When I first brainstormed these brownies, I was going to make them for Chad's birthday. It's not until July.
Then, while grocery shopping, I spied a big bag of Reese's Pieces, and I wanted an excuse to buy them, so I tucked them in between two heads of lettuce and then discreetly steered the cart towards the baking aisle for!! Brownie mix.
Yes. A box. Of brownie mix.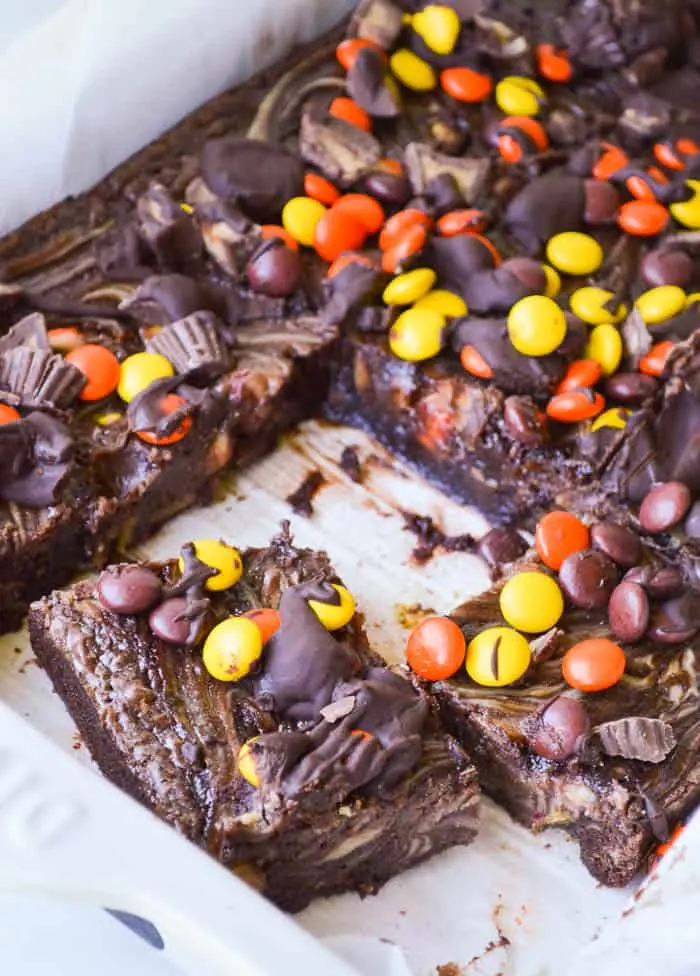 I suppose I could have made Best Basic Brownies, but chocolate chips (which that recipe calls for) are more expensive than brownie mix. What's that all about? Also – while I am VERY snobby about brownies, I should be clear that I am not at all opposed to brownie mix.
Brownie Bottom Ice Cream Pie and Everything but the Kitchen Sink Brownies are living proof that good things can come from boxes. The peanut butter cheesecake is not from a box, but it is crazy easy. It's swirled through the brownie batter so you have the perfect amount of peanut butter and chocolate in every bite.
Reese's Peanut Butter Cheesecake Brownies are topped with Reese's Peanute Butter Cups AND Reese's Pieces, but there's also a chocolate ganache.
I have a major problem with melting chocolate in the microwave. I want it to work… but it doesn't work [for me]. The chocolate is not melty enough, and then BAM! Burned chocolate. I stick to the stove, and I don't gamble with chocolate. So chocolate + heavy cream + saucepan = ganache. It goes on the brownies and sort of glues all the candy bits in place.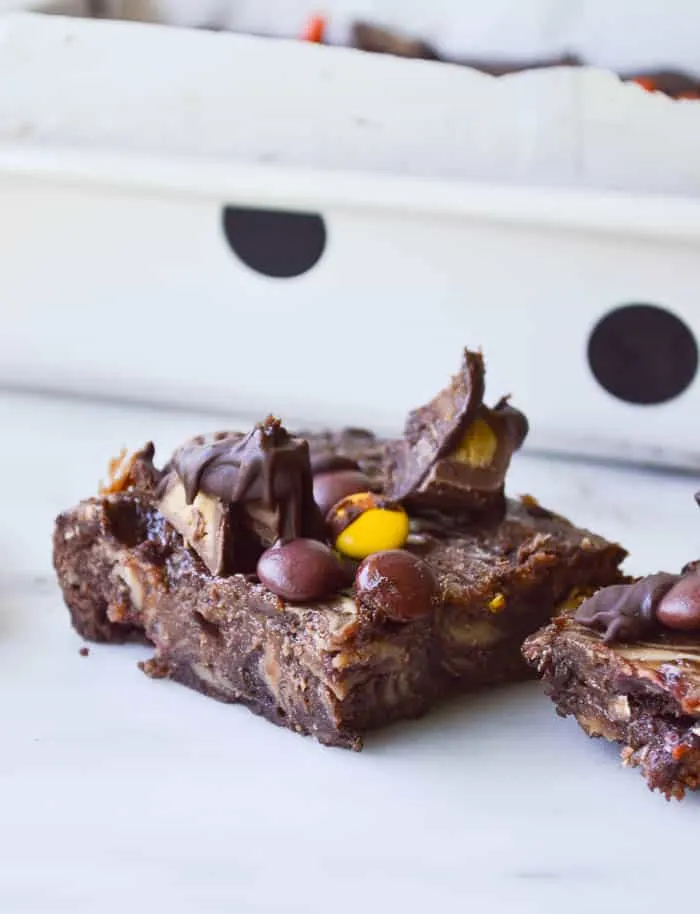 These brownies are best chilled because of the cheesecake, but I recommend slicing with a HOT knife (run it under hot water, wipe with a towel, slice, and repeat). I cut into the brownies before they'd cooled completely because I have no self control. I was just a teensy bit excited.
One morning I woke up and half a plate of brownies was missing from the fridge. So someone else around here was excited about brownies, too.
Need more brownies in your life? I got you.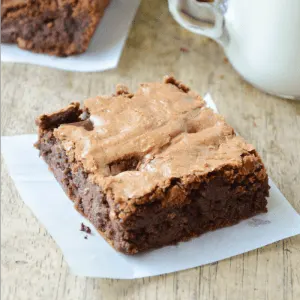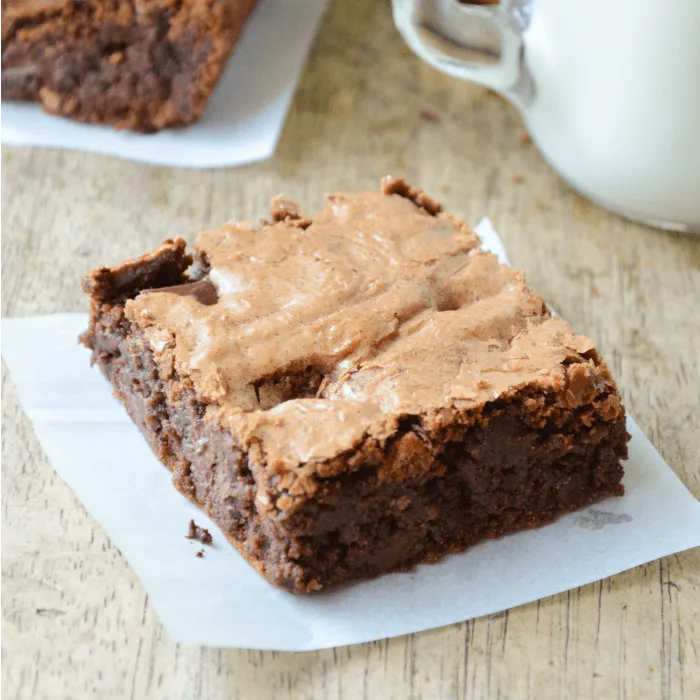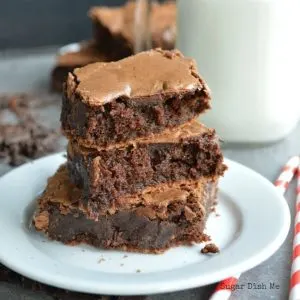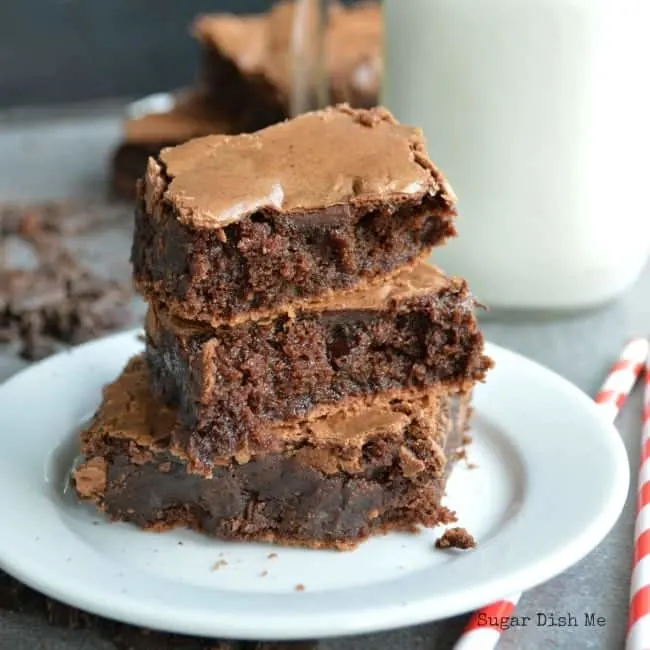 Copycat Starbucks Double Fudge Brownies probably top my list of best brownie recipes. They are the perfect density, and are a good cross between fudge-like and cake-like brownies. PLUS there's the perfect layer of crackle on top. They are must-try for sure.
Chewy Fudge Rolo Brownies. The Rolos melt into the brownies when they bake. Need I say more?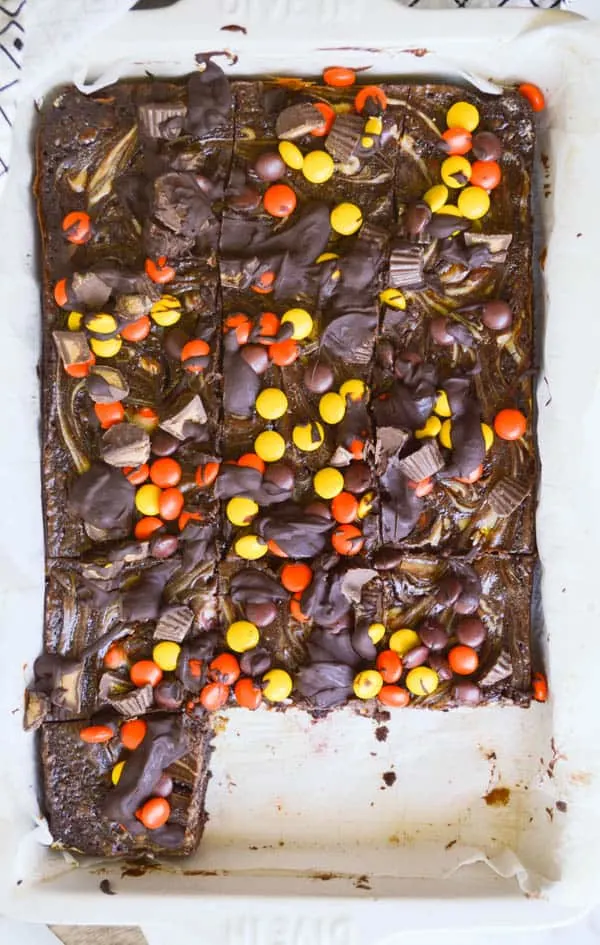 Yield:

12 - 20 brownies
Reese's Peanut Butter Cheesecake Brownies
Total Time:
1 hour
50 minutes
Reese's Peanut Butter Cheesecake Brownies are Reese's Peanut Butter Lover's Dream! Starts with a brownie mix and includes a layer of peanut butter cheesecake, Reese's Cups AND Reese's Pieces!
Ingredients
1 box of your favorite brownie mix, prepared according to package instructions
1 (8 ounce) package cream cheese, softened
1 (14 ounce) can sweetened condensed milk
1/2 cup creamy peanut butter
1 (12 ounce) package Reese's Pieces candy
1 (12 ounce) bag milk chocolate chips
3 tablespoons heavy cream
12 large Reese's Peanut Butter Cups, refrigerated and then coarsely chopped
Instructions
Pre-heat the oven to 350 and lightly grease a 9X13 baking dish.
Mix the brownies according to package instructions and spread evenly into the prepared pan.
Beat the cream cheese with an electric mixer until fluffy. Add the sweetened condensed milk and peanut butter and then beat until smooth.
Stir in the Reese's Pieces and then spoon the batter over the top of the brownie batter in the pan. Using a butter knife, swirl the cheesecake batter into the brownie batter
Bake for 35-40 minutes. The cheesecake layer will be set and golden brown.
Cool for 30 minutes (or completely) and then refrigerate for at least 30 minutes.
Melt the chocolate chips with the heavy cream (on the stove or in the microwave; pick your poison) and stir until you have a smooth chocolate sauce. Spread it over the cheesecake layer. Top the melted chocolate with the chopped Reese's Cups.
Refrigerate until the chocolate has set completely before slicing into squares.
Notes
I made these brownies in my initial test following the "cake-like" instructions. They had plenty of height, but the pictures you see are sans the third egg and using the "fudge-like" instructions.
Recommended Products
As an Amazon Associate and member of other affiliate programs, I earn from qualifying purchases.
Nutrition Information:
Yield:
12
Serving Size:
1
Amount Per Serving:
Calories:

304
Total Fat:

20g
Saturated Fat:

9g
Trans Fat:

0g
Unsaturated Fat:

10g
Cholesterol:

17mg
Sodium:

164mg
Carbohydrates:

27g
Fiber:

2g
Sugar:

20g
Protein:

7g
Adapted from an original recipe on Pip & Ebby