The Best Grilled Meatloaf Recipe is an easy, hearty recipe that is sure to please the crowd! Spicy ketchup and a smoky grilled flavor are a winning combo!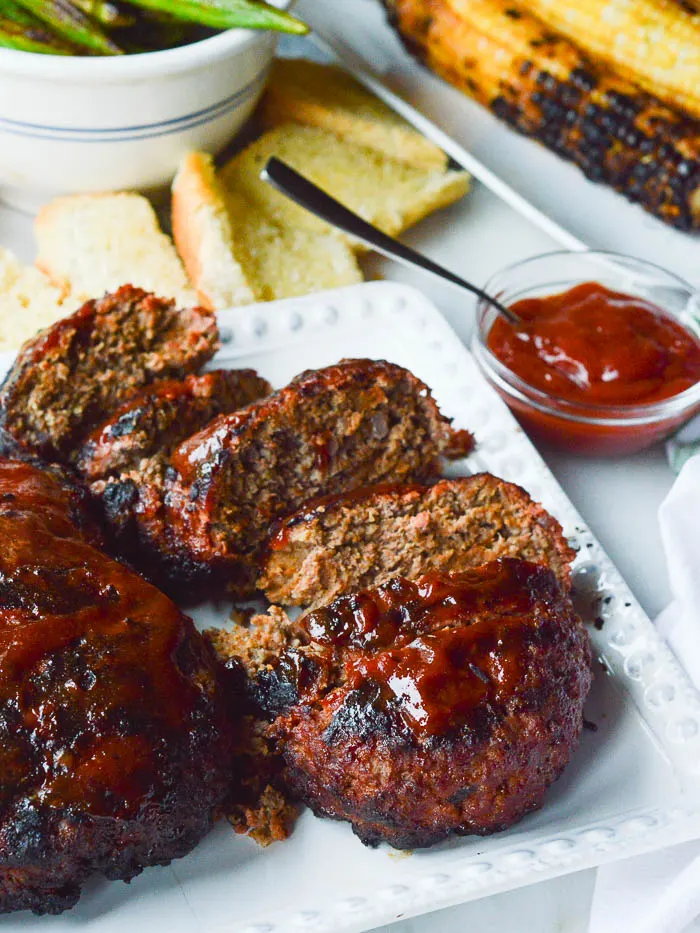 I am super excited to share this recipe, you guys. Mostly because it took me lots of tries to get it JUST right, and now it is the most perfect Grilled Meatloaf Recipe. And I am gonna teach you how to make it.
Meatloaf is like a fool-proof, fail-safe meal. It is forgiving in that you can substitute all sorts of things, and it'll still turn out fine, AND if you overcook it, you just douse it in ketchup and keep on moving.
Let me caveat this with: WE ARE NOT GONNA OVERCOOK IT! But just in case, ketchup is there for you.
How to Make the Best Meatloaf
There are a few key components to making the best meatloaf – I covered all the good details in my recipe for The Best Meatloaf Sandwich, but let's review.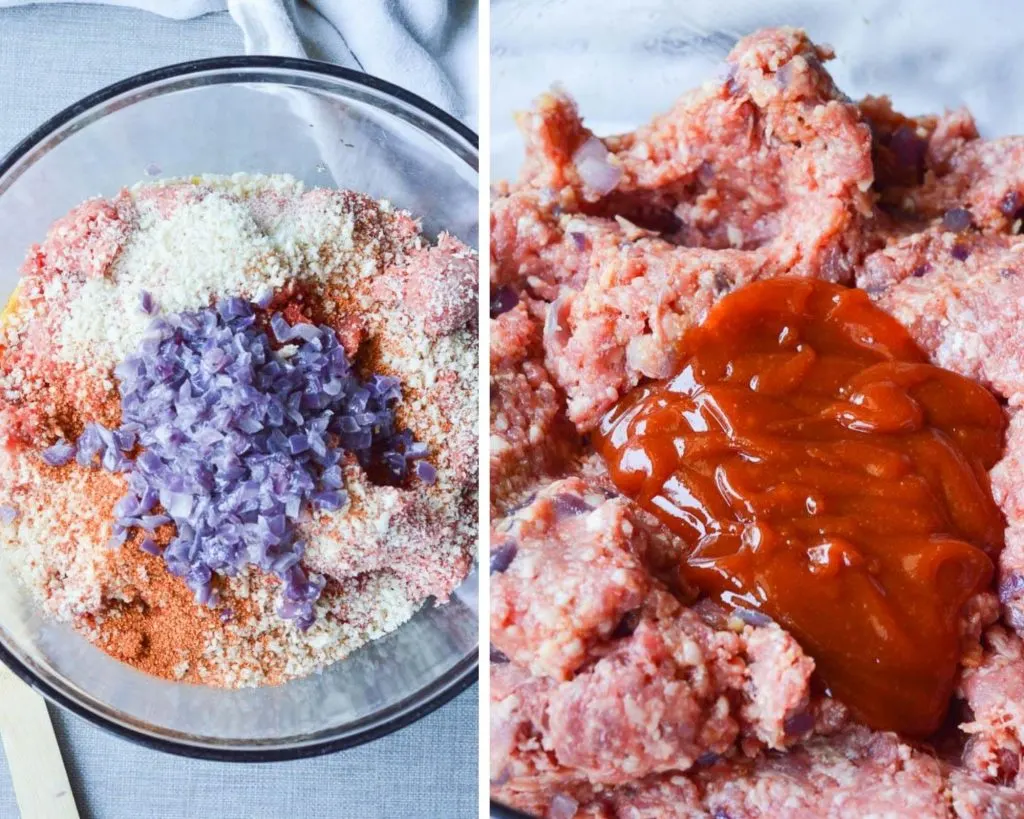 The best meatloaf has:
Sauteed onions – they add just a little sweetness and lots of flavor
Ritz cracker crumbs – you can use all sorts of things to bind, but Ritz crackers are IT
More than just ketchup!! In the Best Meatloaf Sandwich recipe I used apple butter and apple cider vinegar to make a sauce. In this Grilled Meatloaf Recipe I used Spicy Ketchup. Whatever you use, it needs a little OOMPH.
SEASONING. You gotta season.
It's also important to note that with meatloaf – and really with any ground meat – you don't want to over-mix it. Over-mixing makes the finished meatloaf tough.
So in order to mix things evenly, AND because it evenly distributes the spicy ketchup we are using, first I mix in all the stuff. Ritz cracker crumbs, egg, COOLED sauteed onions, and seasoning. I mix with my hands – it is the best way to incorporate all of it.
Once you have everything evenly incorporated, you can add in the ketchup.
The Secret to Grilling Meatloaf
I know I mentioned that I'd tested this recipe quite a bit, but the truth is that not all meatloaves were unharmed in the process.
It started maybe 8 or 9 months ago – my first attempt – and y'all.
That meatloaf fell all the way apart. It was like falling through the grates of the grill and the dogs DEFINITELY got some charred bits that were flying. I had to put what was left on a sheet pan and finish it in the oven because I hate wasting food.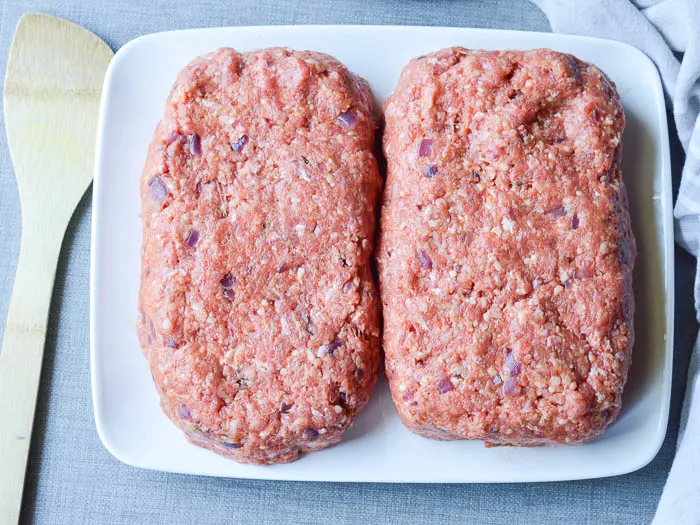 There were several other casualties over the course of the last few months. I was convinced that it had something to do with the moisture – all the sauce and eggs, but I didn't want to just put it in a pan and put the pan on the grill.
THAT'S BORING.
I wanted grilled meatloaf with grill lines and a smoky flavor, and I was DETERMINED. There are a few secret 'lil tips you need to get your grilled meatloaf to turn out great (without having to call it quits and finish it in the oven).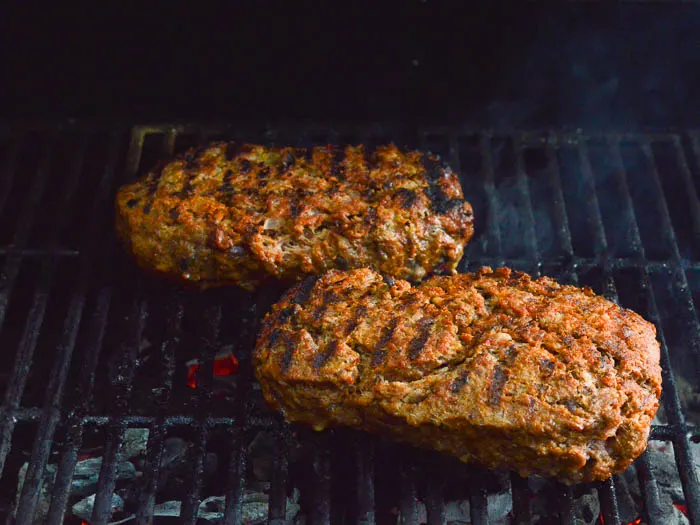 Don't make your loaves too thick. The traditional dome shape like you'd use in the oven (if baking with no pan) means you have crispy/overcooked ends, and the center takes too long to come to temp. You can see my loaves are uniform rectangles – or as close as I could get.
You need a HOT side of the grill (with direct heat) and a side with indirect heat. I use a charcoal grill so I just dump more hot coals on one side and scatter them across the other. I also will raise or lower the coals on either side if I need more (or less) heat.
PREHEAT the grill. After you throw the coals on there, or turn on the heat, close the lid and let your grates have time to heat up.
SEAR the outside of the loaves. When you first throw them on, you want to sear the outside, on both sides. This seals in the juices and keeps the meat tender. Most importantly, THIS is the crucial step to actually grilling meatloaf.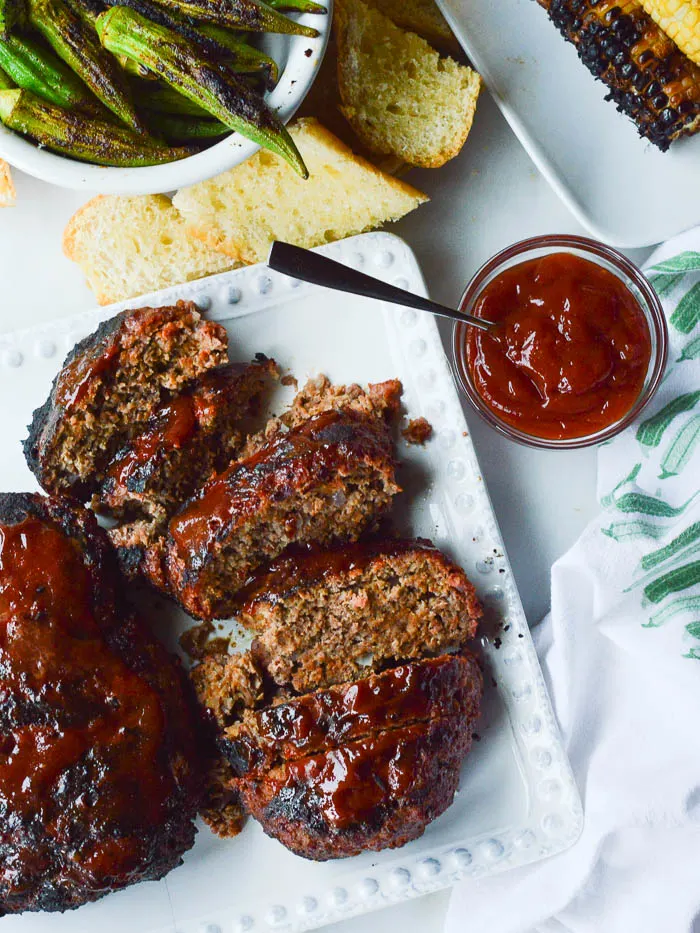 Y'all. We have been in the house a long time. Make your boring old meatloaf a little bit spicy and GRILL IT!
More Great Ground Beef Recipes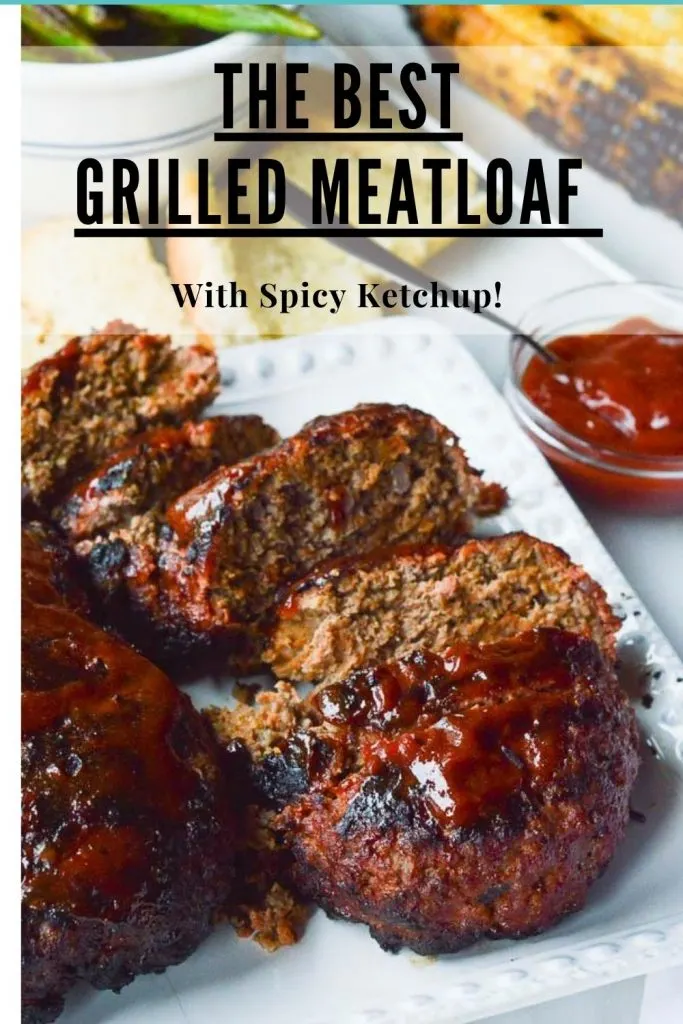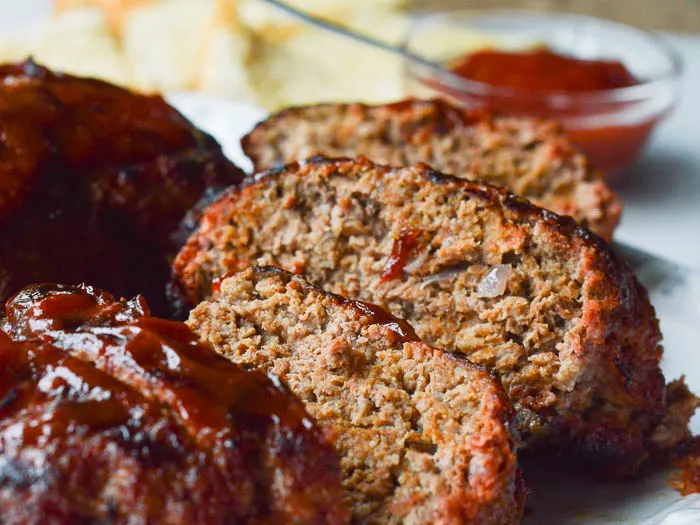 Yield:

serves 8
Grilled Meatloaf Recipe
Take your meatloaf up a notch and GRILL IT! The best Grilled Meatloaf Recipe is made with Ritz cracker crumbs to hold it together, a zingy, spicy ketchup, and sweet sauteed onions.
Ingredients
1/2 cup finely minced onion
1 tablespoon butter
1 teaspoon kosher salt
3/4 cup Spicy Ketchup
2 pounds lean ground beef
1 egg, lightly beaten
20 Ritz crackers, crushed into crumbs
Instructions
Heat the grill to 375°F. If you are using a charcoal grill, or a gas grill that allows you to have variable heat, you will want to have one VERY HOT side with direct heat for searing, and then a side that is indirect heat for cooking.
In a small skillet, heat the butter over medium, add the minced onion, sprinkle with the salt, and then sauté over medium heat until the onions are soft and translucent, about 10 minutes. Let the onions cool.
To a large bowl add the ground beef, egg, Ritz cracker crumbs, cooled sauteed onions, and seasoning. Mix with clean hands until everything is evenly combined. Then add half of the spicy ketchup and mix until combined. Do not over-mix.
Divide the mixture in half and form into two uniform loaves that are not too thick.
Place the loaves on the DIRECT HEAT side of the grill for about 3 minutes per side. You want to seal in all the juices and form a crust so that you can easily flip the loaves.
After you've sealed both sides, move the loaves to the INDIRECT HEAT side of the grill and close the lid. Cook for 15 minutes, flip the meatloaves, and then spoon the remaining ketchup over the top. Close the lid and grill for about 10 more minutes or until the internal temperature reaches 160°F.
Let the meatloaves rest for about 5 minutes before slicing. Serve with more spicy ketchup.
Notes
If you don't have Honey Habanero Seasoning you can spice your meatloaf using 1 teaspoon Honey Granules (Badia Honey Granules are available in most grocery stores) + 1/4 teaspoon ground cayenne pepper (add more or less to taste) + 1/2 teaspoon chili powder + 1 teaspoon kosher salt
Recommended Products
As an Amazon Associate and member of other affiliate programs, I earn from qualifying purchases.
Nutrition Information:
Yield:
8
Serving Size:
1
Amount Per Serving:
Calories:

355
Total Fat:

18g
Saturated Fat:

7g
Trans Fat:

1g
Unsaturated Fat:

9g
Cholesterol:

128mg
Sodium:

664mg
Carbohydrates:

13g
Fiber:

0g
Sugar:

6g
Protein:

34g