Smothered Cheesy Sour Cream Chicken is quick to prepare, easy to make on a busy weeknight, and is SO cozy delicious! Add this to your weekly menu and make the whole family happy.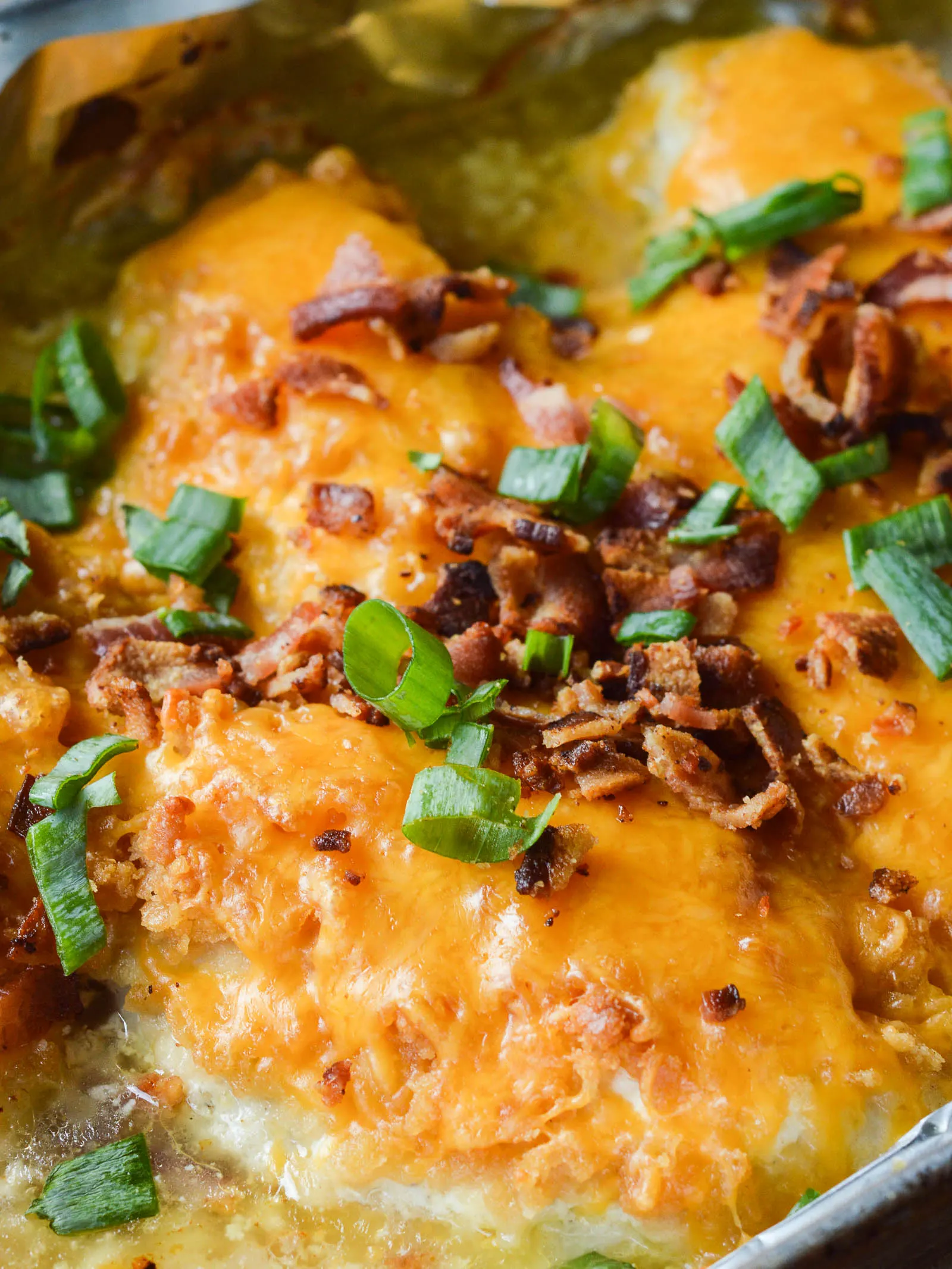 Do you need more easy weeknight meals? Are you longing for a few recipes that require not much work, that you can literally just shove in the oven and be done with?
SAME.
Dinner is a struggle, y'all. Side note: do you call it DINNER? Or SUPPER?
This is a point of contention in the south.
Whatever you call it, trying to figure out WTF to make for it is like … UGH. The worst. I love cooking but hate trying to figure out what to feed the rest of my fam after I've been working all day.
This week's solution to the problem is Smothered Cheesy Sour Cream Chicken.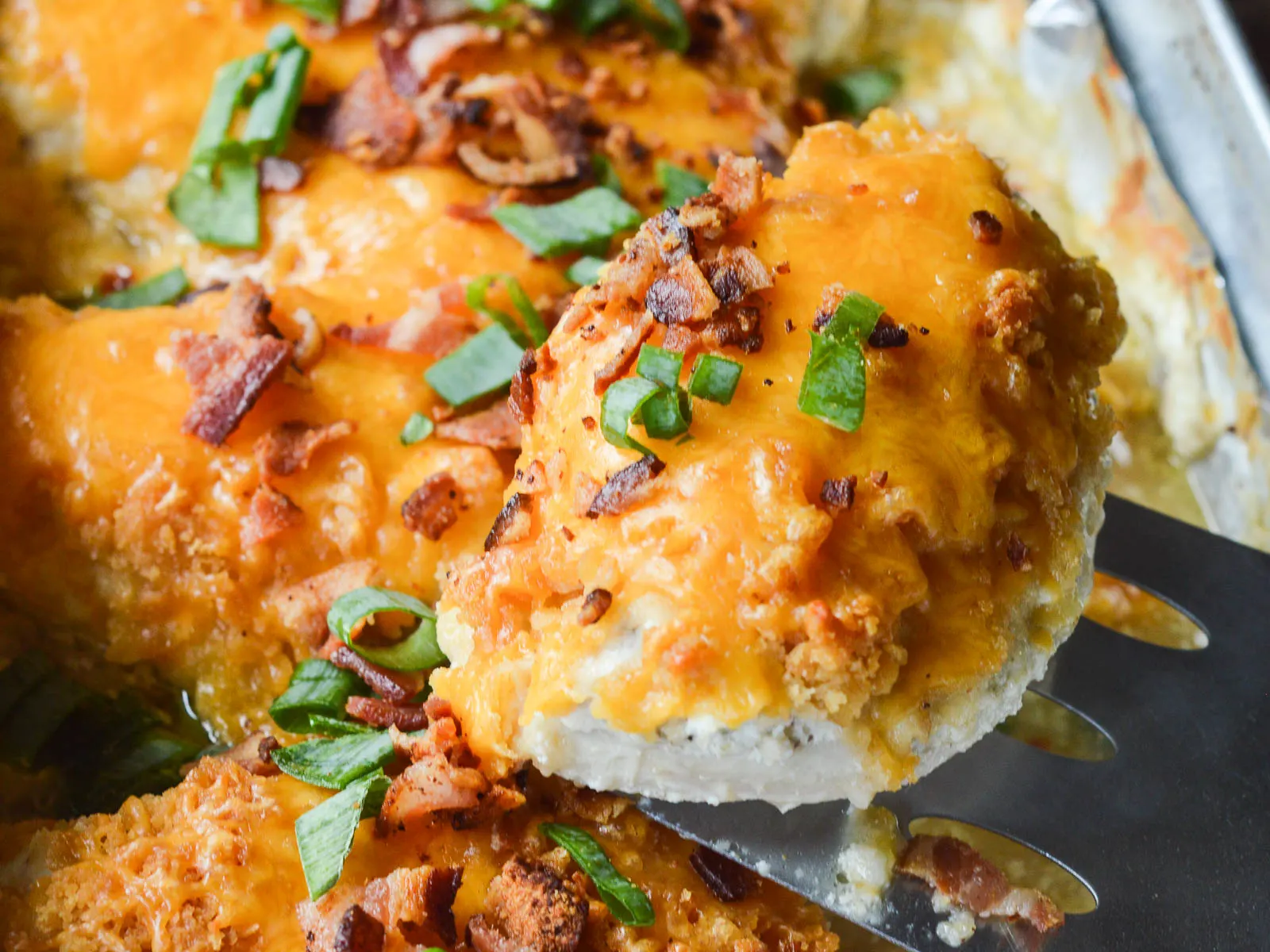 What Can I Add to Plain Chicken?
SOUR CREAM! Is my first answer, always. It adds moisture, bakes well, is easy to season, and generally improves most things you add it to, including Sour Cream Fudge Cake.
When I was a kid, my mom would make the PLAINEST plain chicken. Like … chicken breasts sprinkled with a tiny bit of salt and pepper and then baked, kinda plain. And, no shade to you, mom, but plain chicken tastes like dry nothing.
If ONLY she'd had this recipe for Sour Cream Chicken or, even better, Smothered Cheesy Sour Cream Chicken.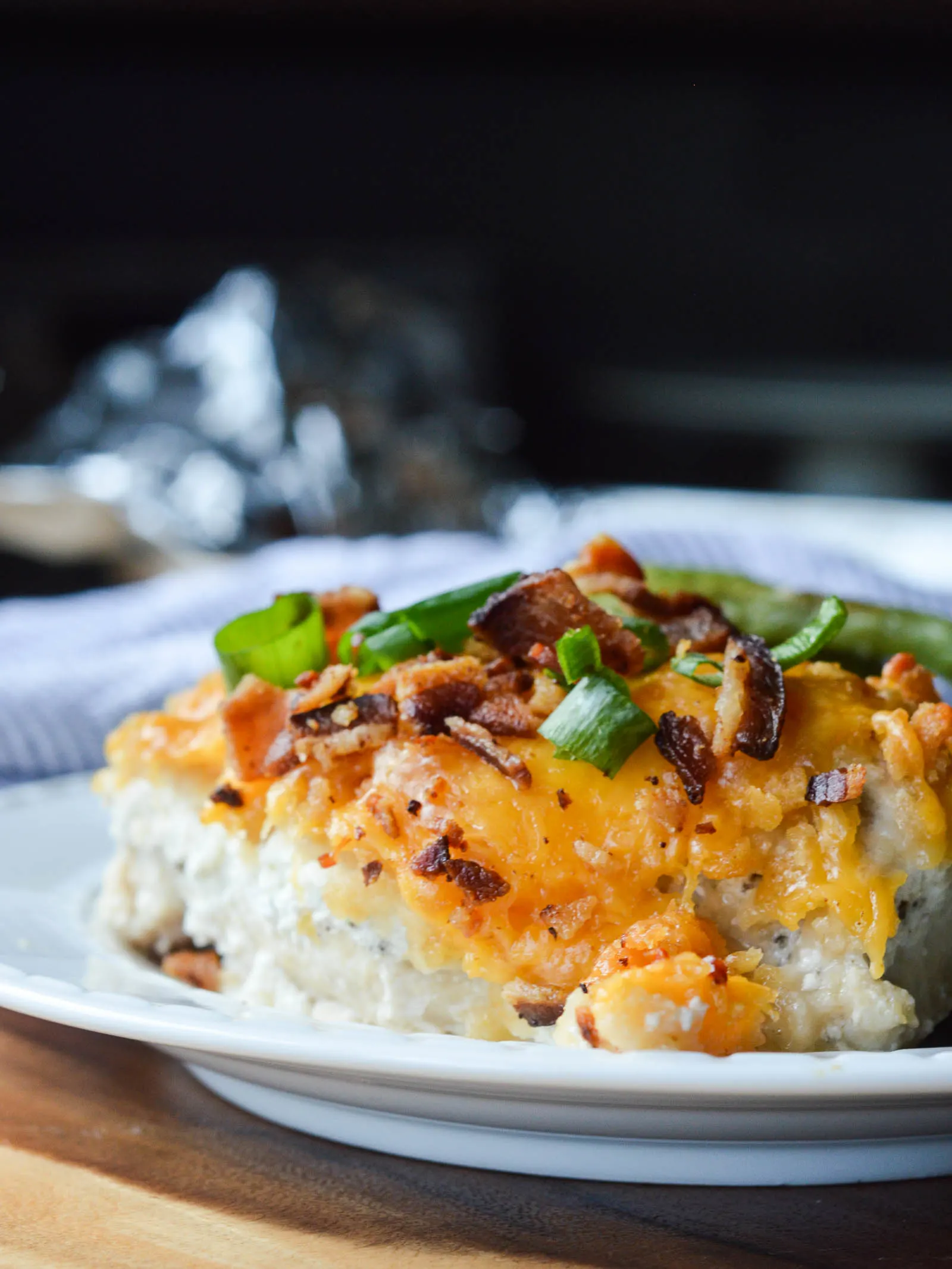 What do I need to make sour cream chicken?
This grocery list is easy and you probably already have lots of these things handy.
1 1/2 pounds boneless skinless chicken breast
1 cup sour cream (low fat or full fat – either is fine!)
1 sleeve of Ritz Crackers
Grated Parmesan Cheese
onion powder
garlic powder
butter
6 strips of bacon
1/2 pound shredded cheddar cheese
chopped green onions to garnish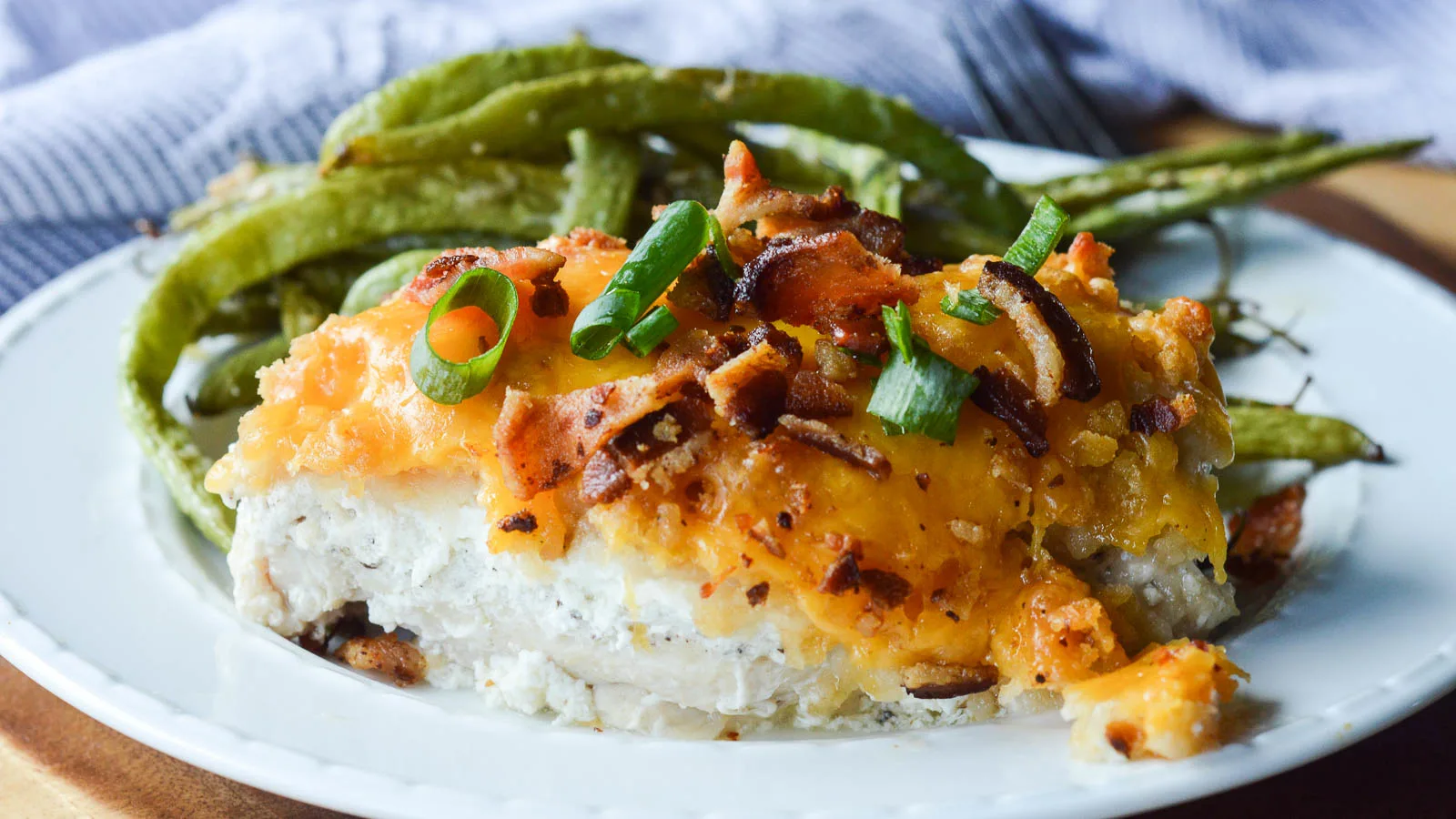 Tips for Easy Weeknight Cooking
There are a few things happening with this recipe, and so in order to get it all done with MINIMAL effort and clean up, I have a few tips.
FIRST! Don't skip lining the baking pan with foil. the chicken juices are real here, so be sure to go up all four sides of the pan with one sheet of foil if you can help it. You'll thank me later.
SECOND. Bake the bacon! Unless you are saving the bacon grease for another use, or you just love standing over popping hot bacon grease, trust me on this. You can bake the bacon on a sheet pan with sides right alongside the chicken and they will both be done at about the same time.
THIRD. Sides can be a whole other level of messy and time consuming. On busy weeknights, go with simple steamed veggies (in the bag, even!), something easy like sautéed green beans, Crispy Baked Green Bean Fries, or even this easy 5 Bean Salad that you can totally make ahead.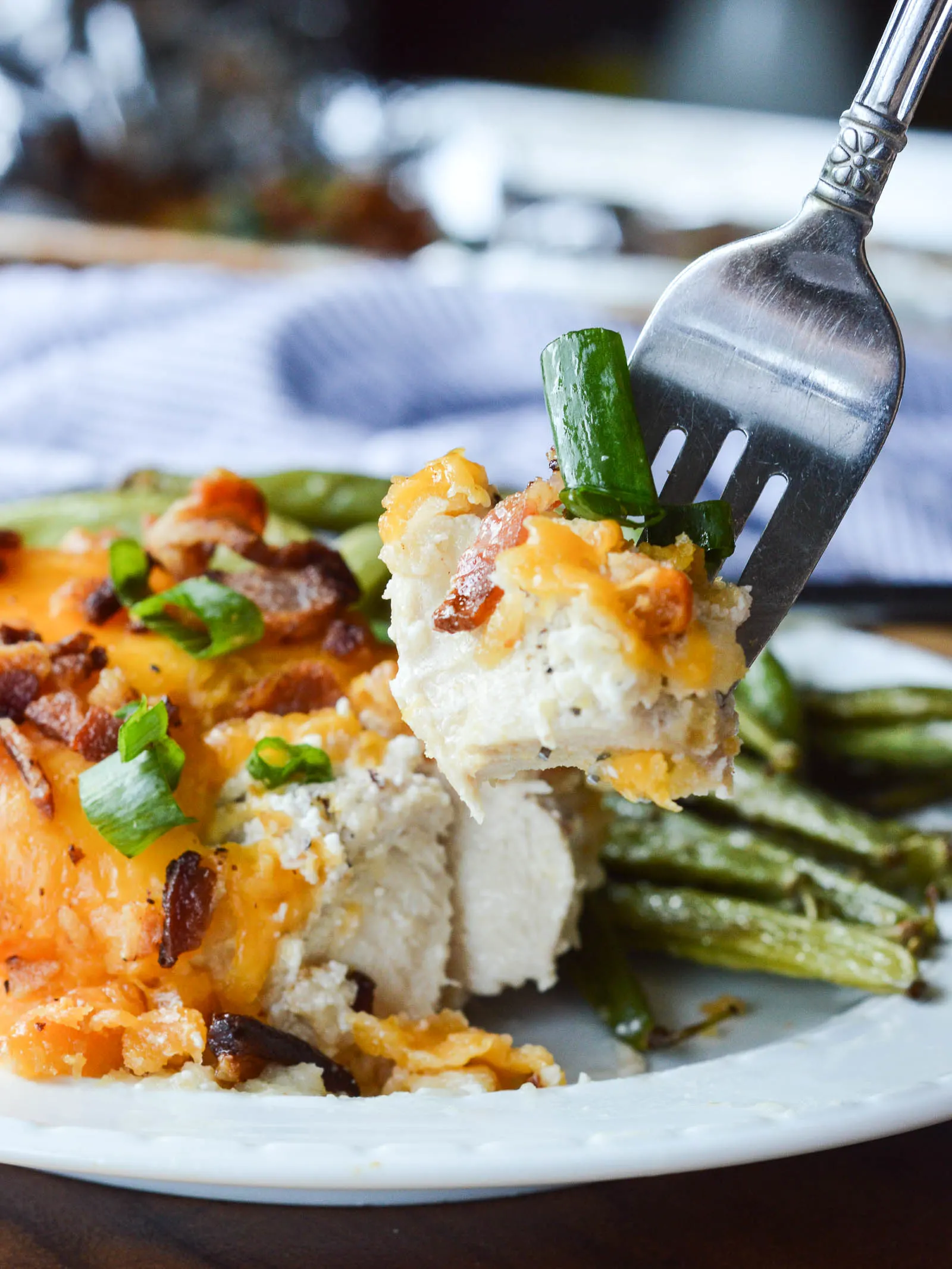 Other Easy Weeknight Chicken Recipes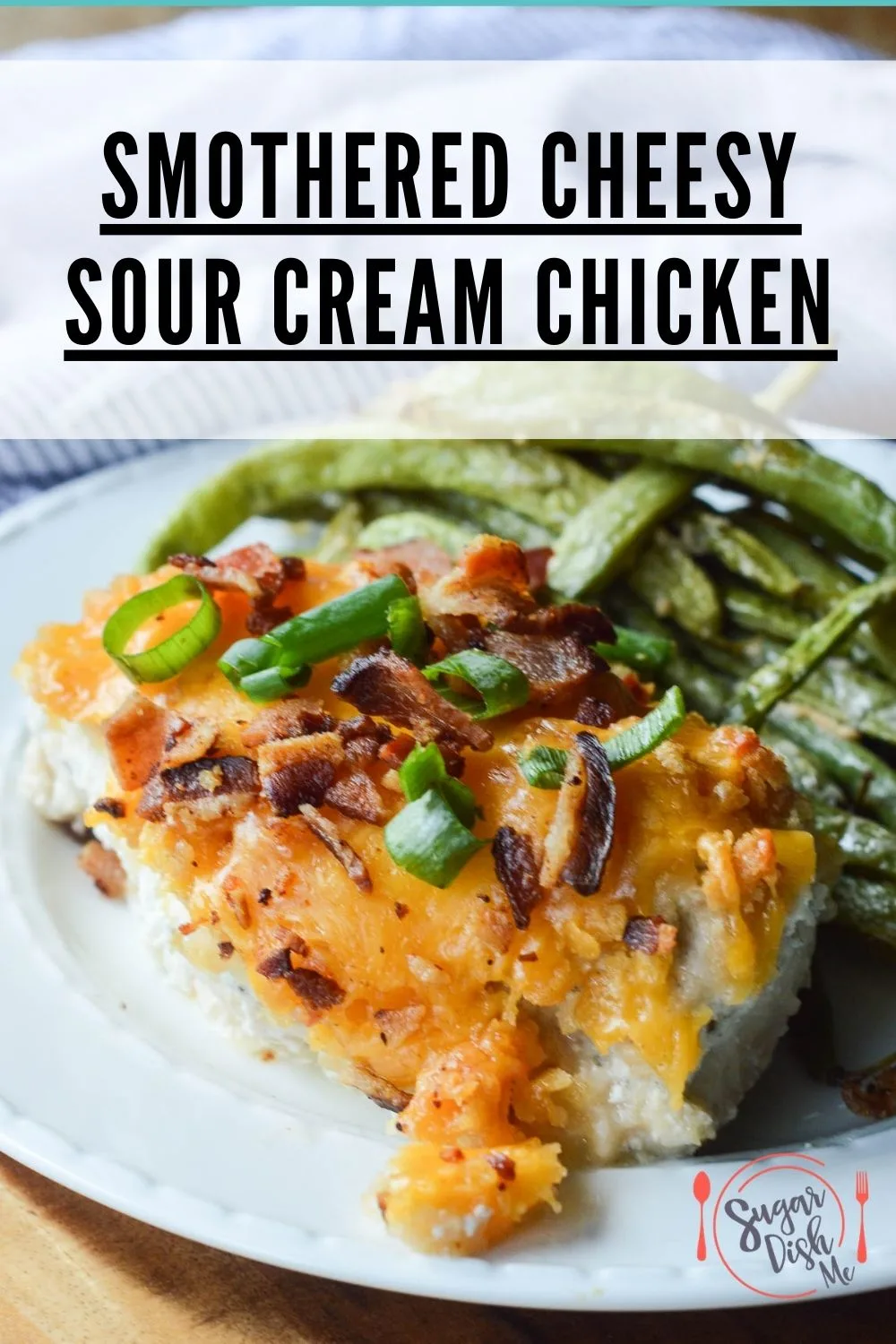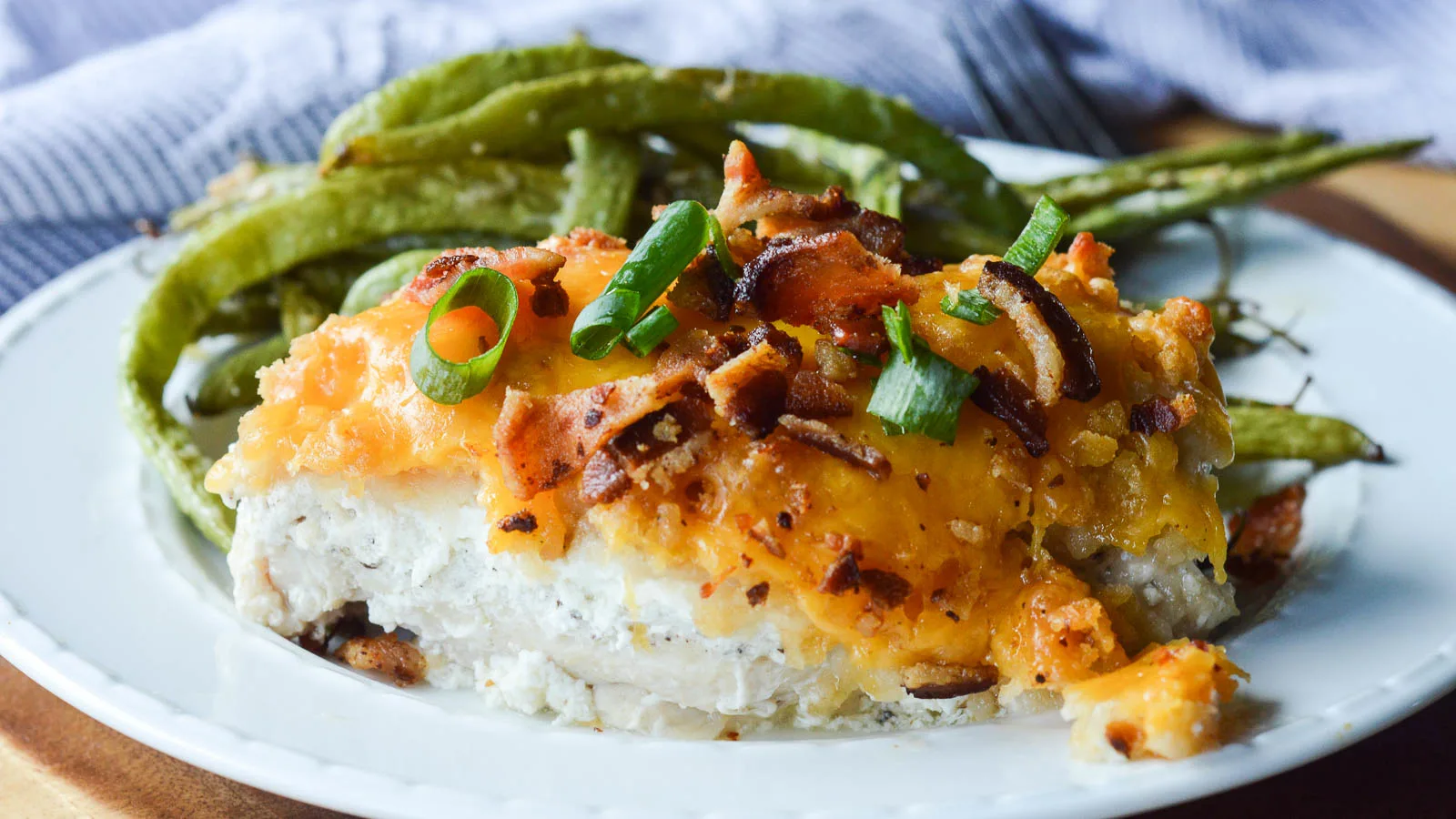 Yield:

serves 6
Smothered Cheesy Sour Cream Chicken
Smothered Cheesy Sour Cream Chicken is an easy, family-friendly recipe that'll jazz up that boring plain chicken!
Ingredients
1 1/2 pounds boneless, skinless chicken breasts
salt and pepper, to taste
1 cup sour cream
1/3 cup grated Parmesan Cheese
1/2 teaspoon garlic powder
1/2 teaspoon onion powder
1 sleeve Ritz Crackers, crumbled into coarse crumbs
3 tablespoons butter, melted
1/2 pound (8 ounces) shredded cheddar cheese (or a blend)
6 strips bacon
1/2 cup chopped green onions to garnish
Instructions
Preheat the oven to 375°F. Line a 9X12 baking sheet with foil. Also line a baking sheet with sides.
Lay the chicken breasts side by side in the prepared pan. It's okay if they touch. Sprinkle with salt and pepper. Then lay the bacon strips out side by side on the prepared baking sheet.
In a medium bowl, mix together the sour cream, grated Parmesan cheese, garlic powder and onion powder. Spread it evenly across the tops of all the chicken pieces.
Toss the crushed Ritz crackers with the melted butter until evenly coated, and then sprinkle over the sour cream mixture.
Place the chicken and the bacon in the oven on the middle rack. Check the bacon after 15 minutes. It typically takes 15-20 minutes, depending on the thickness. When the bacon is crisp, remove it from the oven and lift from the pan with a fork. Let it cool and drain on paper towels. Let the chicken cook for 10 more minutes.
Remove the chicken from the oven. By now the Ritz crackers should be a little crisp and golden. Cover the chicken with the shredded cheese.
Bake for another 10-15 minutes, or until the cheese is completely melted, the juices are running clear, and the internal temperature of the chicken is 165°F on an instant read thermometer. Crumble the bacon over the cheesy chicken, top with the chopped green onions, and serve immediately.
Recommended Products
As an Amazon Associate and member of other affiliate programs, I earn from qualifying purchases.