Winter Citrus Bars are sweet and slightly tart with all the flavors of my favorite winter citrus. Grapefruit shines in this recipe with hints of Meyer lemons and blood oranges for a treat that will brighten the grayest winter day.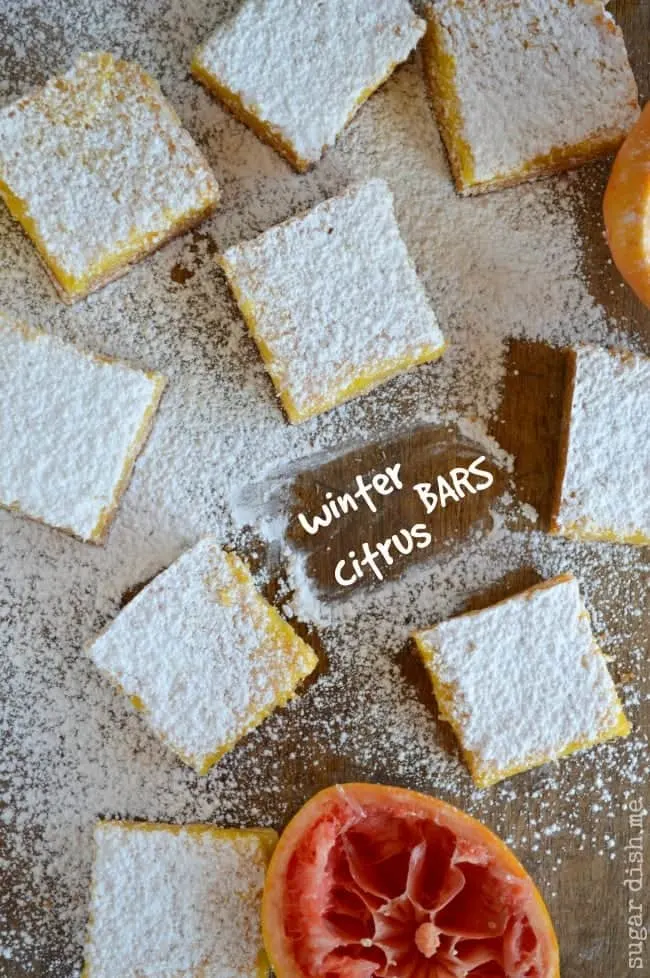 Citrus is the bright spot in all the winter gray. The color is vibrant, the flavor is vibrant, and doggoneit winter citrus is happy.
My favorite is grapefruit.
If I could tell you how many grapefruits Chad and I peel and eat each week you would be shocked, I'm sure. I can't give you an actual number because I have definitely lost count. It's that many.
In winter months especially (because that's when they are oh so perfectly tart and sweet), we peel and eat them for mid-morning breakfasts, or after we walk the dogs, and last week during one particular cold snap, we parked ourselves in front of the fireplace, fuzzy socks pulled over our chilled feet, and shared the best grapefruit I can ever remember eating.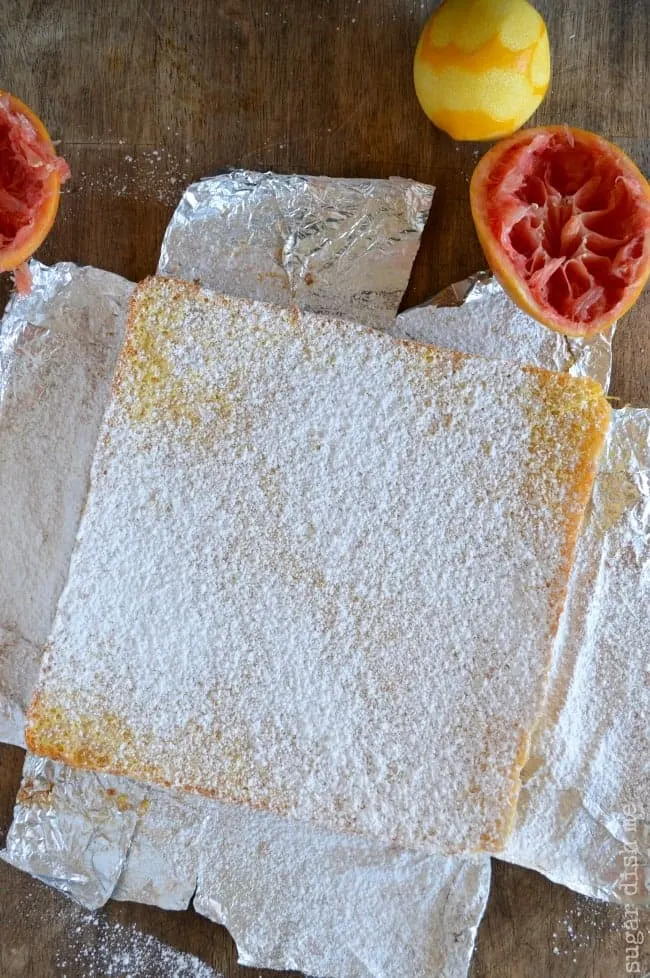 Ripe fruit is tricky to find this time of year, but Florida grapefruit is at its peak. So I thought it was high time to share with you one of my most favorite treats: Winter Citrus Bars.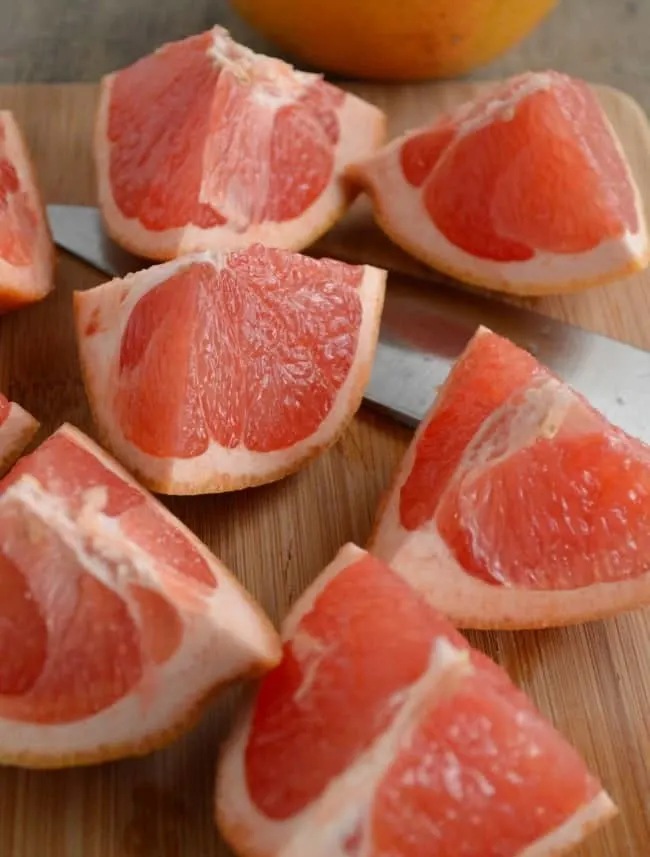 I based these on one of my favorite lemon bar recipes, but I swapped out lemon juice for the juice of one whole awesomely perfect grapefruit, complete with pretty pink chunks of pulp.
Instead of using the zest from a grapefruit though, since the skin can be slightly bitter, I paired that freshly squeezed grapefruit juice with the zested peels of two other winter citrus favorites: Meyer lemons and blood oranges.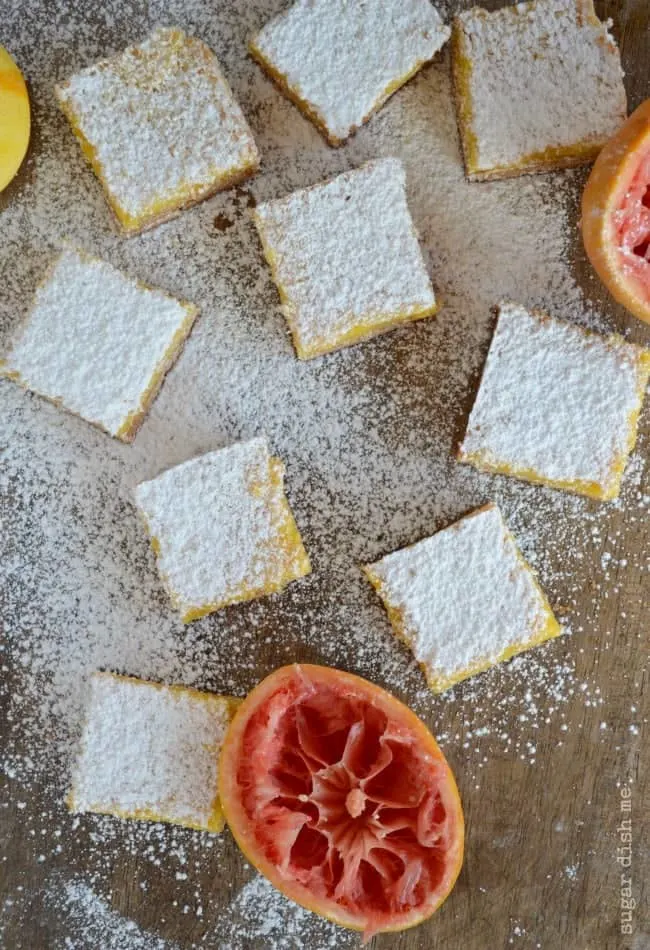 The result is a sweetly tart bar with a creamy texture on a buttery shortbread crust. The grapefruit flavor is more complex than plain old lemon. It's more sweetness than tartness with just the right amount of fruity tang.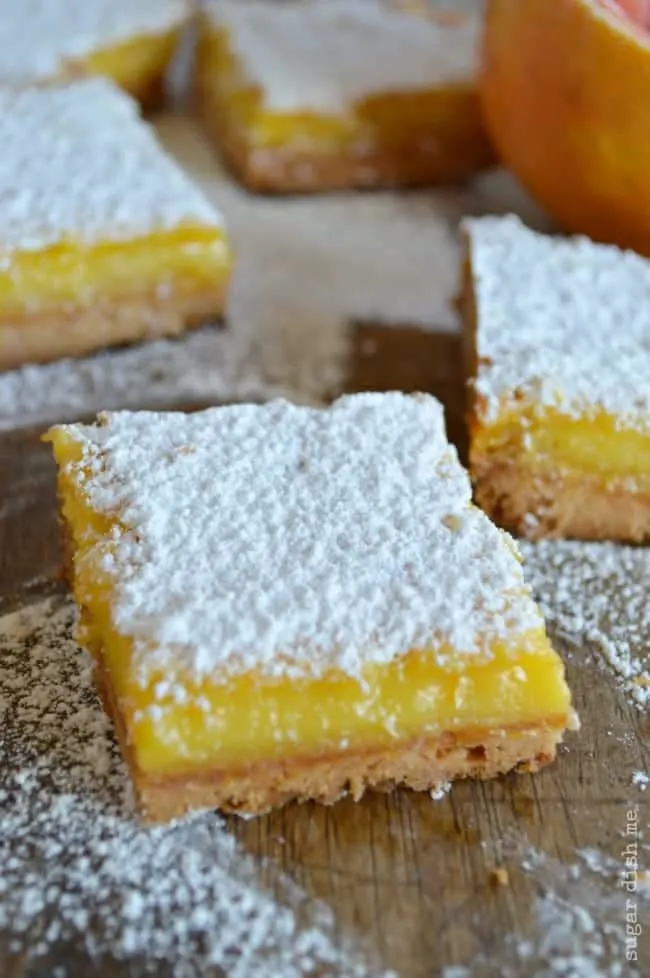 Florida's unique fertile soil and lush subtropical climate are what make Florida grapefruit the sweetest and juiciest variety of grapefruit in the world, but they can also take a toll on the outer appearance of the fruit, so when choosing a grapefruit for this recipe, don't judge a book by it's cover. The outside might not be smooth and unblemished like the skin of the meyer lemons, but the inside yields the prettiest pink, most flavorful flesh.
It's what makes these bars so awesome — the bright happy spot in a boring bleak day!
Love Lemon? You should also try…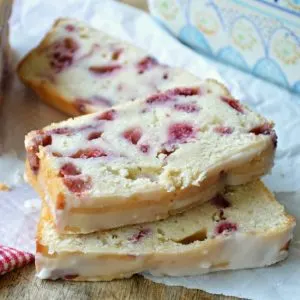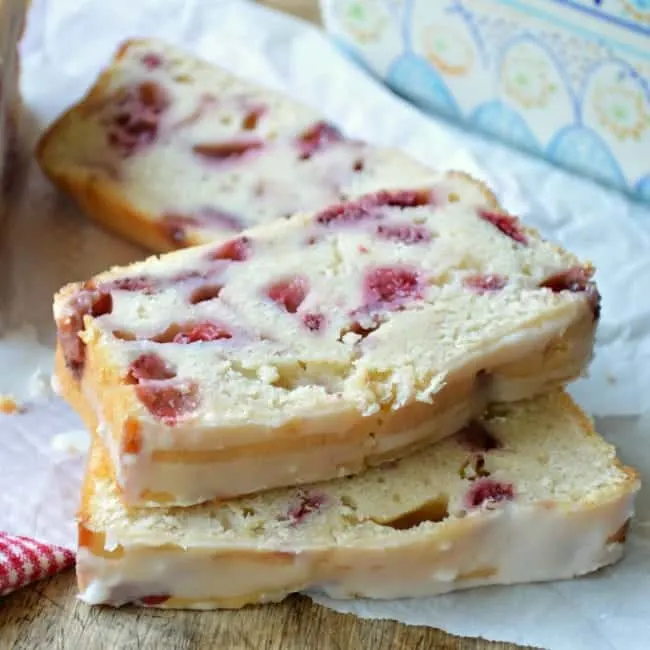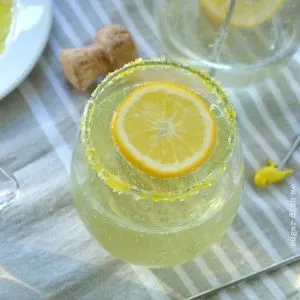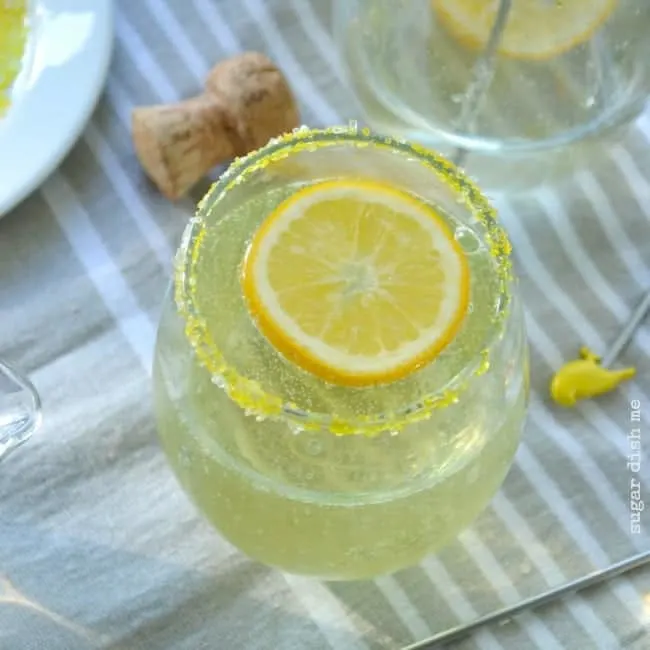 Strawberry Lemonade Loaf is a pound cake in a loaf pan! It's one of my very favorite cakes.
Meyer Lemon Mimosas. These are like boozy lemonade. You'll love 'em.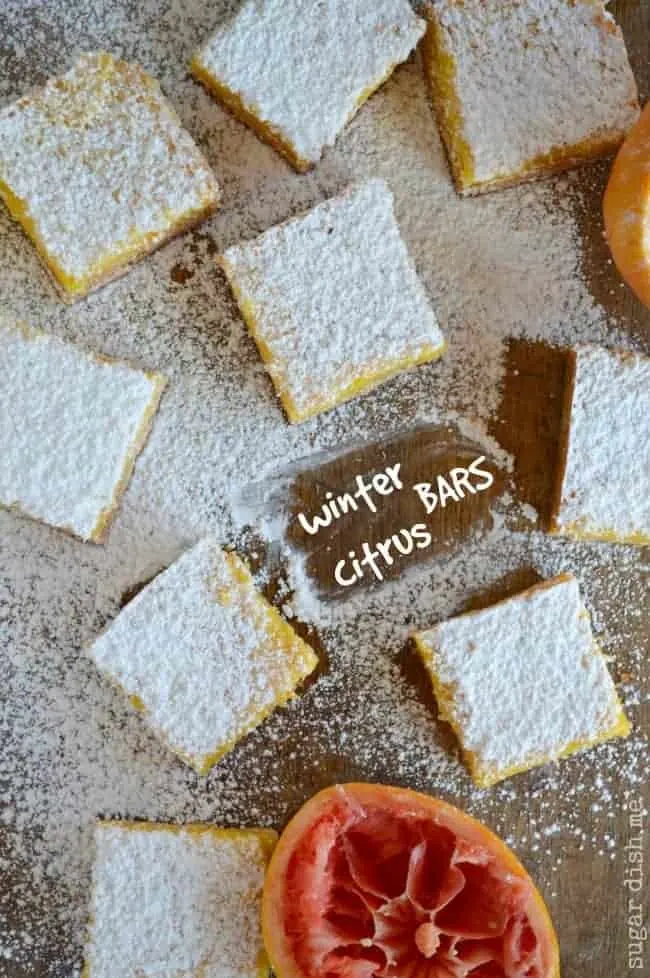 Yield:

16 bars
Winter Citrus Bars
Total Time:
1 hour
30 minutes
Sweet and tart, with a smooth, creamy texture and a buttery shortbread crust. Winter citrus bars are loaded with my favorite winter fruits: grapefruit, blood oranges, and Meyer lemons. Note that the prep time includes 30 minutes to chill the shortbread crust before baking
Ingredients
For the Crust:
1 1/4 cups all purpose flour
1/2 cup powdered sugar
1/2 teaspoon salt
8 tablespoons unsalted butter
For the Filling:
2 large eggs + 7 large egg yolks
1 cup + 2 tablespoons granulated sugar
2/3 cup freshly squeezed grapefruit juice (the juice of one whole medium red grapefruit)
1 tablespoon Meyer lemon zest
1 tablespoon blood orange zest
a pinch of salt
1/3 cup all purpose flour, sifted
Instructions
Butter a 9 X 9 baking dish, line it with parchment or foil, and then butter the parchment or foil.
To make the shortbread crust, whisk together the flour, powdered sugar, and salt. Cut the butter into the flour mixture using a box grater, two forks, or a pastry cutter, until coarse crumbles form and the mixture sticks together when you grab a fistfull and squeeze it. Press evenly into the bottom of the prepared pan. Refrigerate for 30 minutes.
Preheat the oven to 350°F. Bake the chilled crust for 20 minutes -- it will be nice and golden.
While the crust bakes, make the filling. Whisk together the eggs and yolks. Add the granulated sugar and keep whisking until frothy. Pour in the grapefruit juice (including any chunky bits of pulp!) and add the Meyer lemon + blood orange zest, and the salt. Continue whisking until combined.
Sift the flour into the bowl and stir until combined.
Pour the filling over the baked crust.
Reduce the oven to 300°F. Bake for 30 to 35 minutes (when you shake the pan the center should be set.
Let the bars cool completely before slicing. To slice, lift the parchment or foil from the pan and pull away from the sides of the baked bars. Cut into 16 squares.
I like my lemon bars best chilled! Store them in the fridge.
Notes
1. If you can't find blood oranges or Meyer lemons, just use regular lemons. Navel oranges, tangerines, mandarin oranges -- any will do!
2. I know it looks like these bars take FOREVER, but the active time is really very minimal! This recipe is really very easy.
Recommended Products
As an Amazon Associate and member of other affiliate programs, I earn from qualifying purchases.
Nutrition Information:
Yield:
16
Serving Size:
1
Amount Per Serving:
Calories:

171
Total Fat:

9g
Saturated Fat:

5g
Trans Fat:

0g
Unsaturated Fat:

4g
Cholesterol:

131mg
Sodium:

125mg
Carbohydrates:

18g
Fiber:

0g
Sugar:

7g
Protein:

5g
I adapted this recipe from the Cook's Illustrated recipe for Lemon Bars. The crust is the same but I changed up the filling and simplified it a little bit.