Bourbon Caramel Apple Shortcakes are MY FAVORITE! Fluffy little shortcakes topped with sweet cinnamon cooked apples, whipped cream, and bourbon caramel.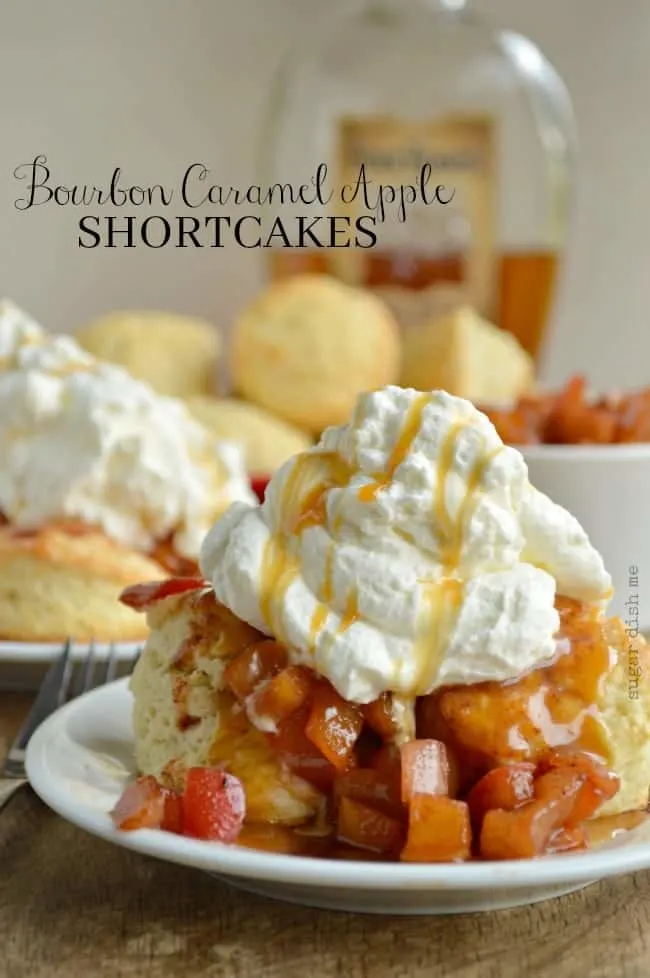 Ohhhh haaayyyy. This post dates back to September 2013. I re-photographed everything in 2018 and re-shared, and at the time we were fostering a mama + 9 puppies, so basically I was just trying really hard to keep my life together ?
Back in 2013, when I first made these Bourbon Caramel Apple Shortcakes, they were part of a collection of recipes dedicated to the significant others in our lives that tolerate the weirdness that is food blog authoring. If you scroll to the end there are tons of hilarious interviews plus the recipes that we feed the people that live with us.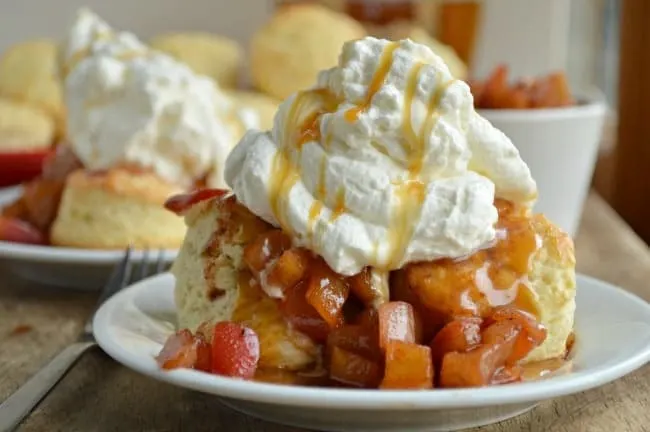 Example: Being a person that develops recipes as an actual job, you'd assume I have no shortage of home-cooked food hanging around. This assumption would be wrong. More often I have something like a stack of 35 Sweet Potato Pancakes and no actual dinner.
So at the writing of this post, we were really living life in the drive thru at Wendy's because we spent all night at my son's Christmas concert, no one wanted cold pancakes, and also, NINE PUPPIES. Anyway, we all love Jr. Bacon Cheeseburgers here so let's not waste our time with excuses.
There are three main parts to this recipe
The shortcakes
The spiced cooked apples
The bourbon caramel
You can make any and all of the three components ahead of time, so if you are planning for big 'ol dinner or holiday, this is one dish that you can check off at least a day in advance.
How to make amazing shortcakes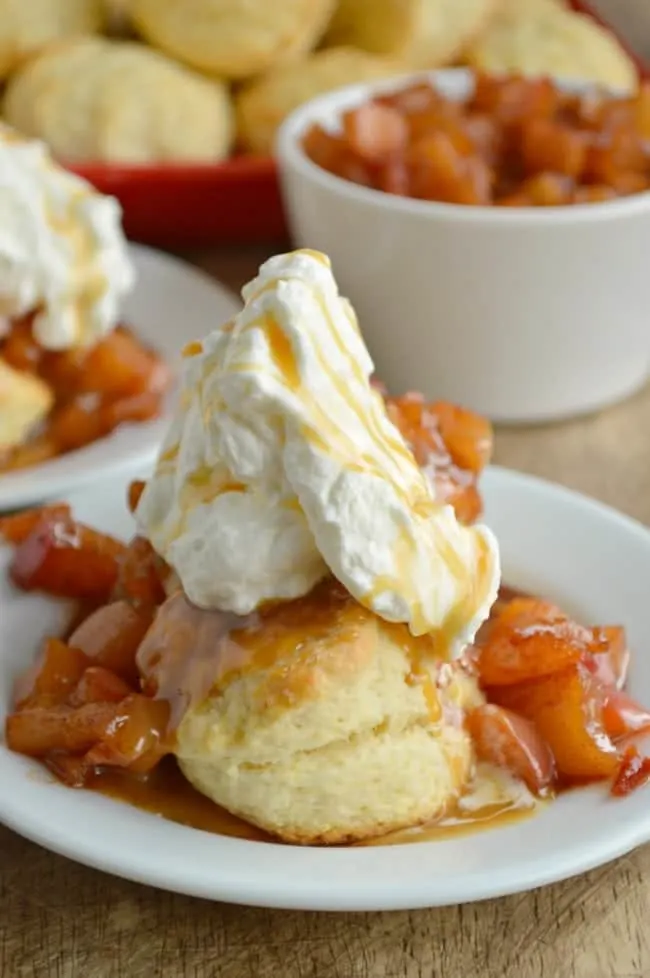 Making amazing shortcakes is a lot like making big fat fluffy biscuits. There are a few important tips that you need to keep in mind!
COLD INGREDIENTS! Cold butter, cold buttermilk, cold eggs! The cold ingredients lend to the tender fluffy texture.
Don't add all the liquid at once. Add half, mix, check the texture and then add the rest. You don't want to have dough that is too wet, and things like climate and humidity can affect how much liquid you actually need.
Don't over-mix! Over-mixing means tough shortcakes.
Shortcake Ingredients Needed
2 cups flour
3 tablespoons sugar, plus more for sprinkling
1 tablespoon baking powder
½ teaspoon salt
½ cup cold butter
1 egg, plus one lightly beaten egg white (for brushing the shortcakes)
½ cup + 2 tablespoons fat free buttermilk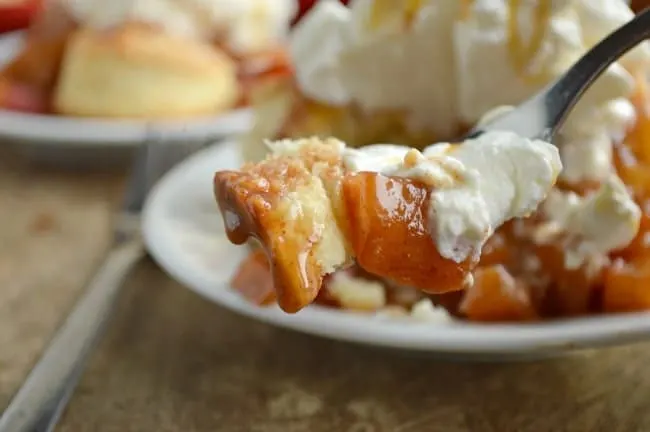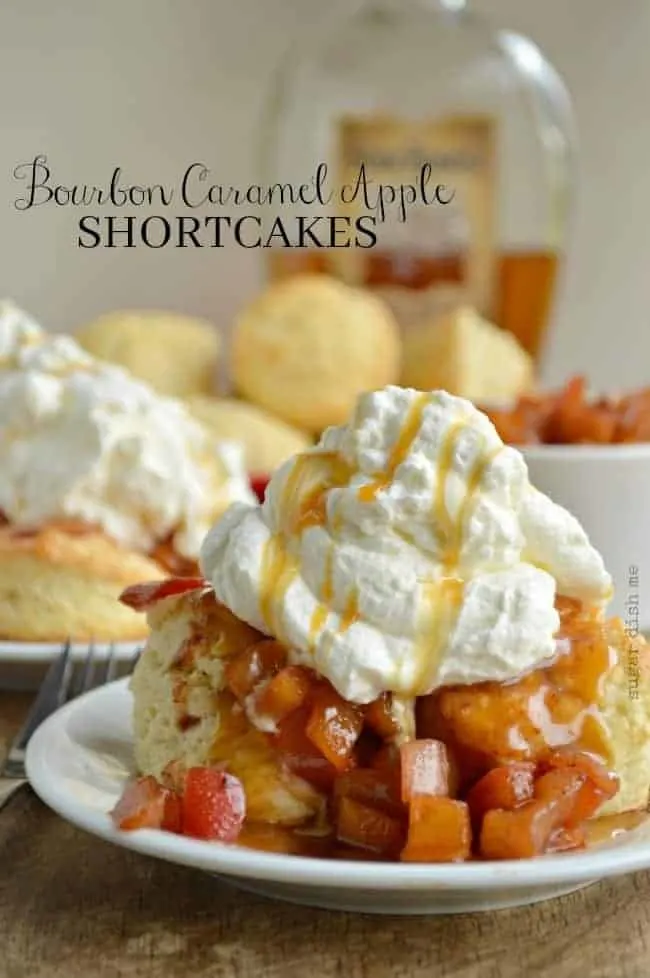 Yield:

serves 6-10
Bourbon Caramel Apple Shortcakes
Bourbon Caramel Apple Shortcakes are an excellent easy [boozy] dessert to serve a crowd and are great for holidays. Homemade shortcakes are covered in cooked cinnamon apples, bourbon caramel, and whipped cream.
Ingredients
Shortcakes:
2 cups flour
3 tablespoons sugar, plus more for sprinkling
1 tablespoon baking powder
½ teaspoon salt
½ cup cold butter
1 egg, plus one lightly beaten egg white (for brushing the shortcakes)
½ cup + 2 tablespoons fat free buttermilk
Apple Topping:
4 cups chopped apples
1/4 cup packed light brown sugar
2 teaspoons cinnamon
2 tablespoons lemon juice
1 tablespoon bourbon
Bourbon Caramel:
1/2 cup water
1/4 cup granulated sugar
1-2 tablespoons heavy cream
1 teaspoon vanilla
1 teaspoon bourbon whiskey
Fresh Whipped Cream:
1 cup heavy whipping cream
2-3 tablespoons powdered sugar (depending on how sweet you like it)
Instructions
Pre-heat the oven to 425°.
In a large bowl whisk together the flour, 3 tablespoons of sugar, baking powder, and salt.
Cut the cold butter into the bowl and then mix with your fingers until coarse crumbles form.
In a small dish (I like to use my liquid measuring cup), lightly beat together the egg and the buttermilk. Add it to the bowl and stir/fold with a sturdy spatula until just combined (Careful not to overwork the dough! That will make your shortcakes tough instead of tender.).
Turn the dough out onto a floured surface and gently knead it into a ball. Pat the ball out to about ¾" thick. Cut the dough using a small biscuit cutter (OR whatever you have handy). The size is really your preference but larger will change the bake time. Pictured here are 3" circles. Place your shortcake cut-outs onto an ungreased baking sheet about an inch apart.
Brush the tops of the shortcakes with the beaten egg white and then sprinkle with sugar.
Bake for about 10 minutes (more for larger shortcakes) - the bottoms will lightly brown and the tops will be golden from the egg wash. Remove them from the baking sheet, and let them cool completely.
To make the apple topping add the chopped apples, brown sugar, cinnamon, lemon juice, and bourbon to a medium saucepan. Stir the mixture and cook over medium heat, stirring occasionally until apples are softened but not mushy - about 13 minutes.
To make the bourbon caramel, pour the water in a small saucepan. Add the sugar in a little pile right in the center of the pan. Turn the heat up to medium high, cover and simmer (this will only take about 30 seconds). Remove the lid and let it continue to simmer for about 12 minutes. Sometimes it takes longer. You are looking for that pretty amber caramel color. Place the pan in the sink, add a tablespoon of the cream and stir it in. It will bubble and sizzle. Keep stirring until it's smooth. Stir in the vanilla and bourbon. If it seems too thick add more cream. You want it to still be sort of saucy as it cools (but I serve this caramel warm because it is DELICIOUS.).
To make fresh whipped cream, beat the heavy cream and powdered sugar together using the whisk attachment on a stand or hand mixer until stiff peaks form.
To assemble the shortcakes, place 1-2 shortcakes on each plate. Top with the apple mixture. add whipped cream. Drizzle with the bourbon caramel. Serve!
Notes
If you need to do this quickly, store-bought shortcakes will eliminate steps 1-7 and you can always buy whipped cream instead of making your own. Homemade Apple pie topping and bourbon caramel are the crucial elements to this recipe so don't skimp there! Those two steps on the stove will only take you about 20 minutes.
Recommended Products
As an Amazon Associate and member of other affiliate programs, I earn from qualifying purchases.
Nutrition Information:
Yield:
10
Serving Size:
1
Amount Per Serving:
Calories:

365
Total Fat:

20g
Saturated Fat:

12g
Trans Fat:

1g
Unsaturated Fat:

6g
Cholesterol:

73mg
Sodium:

354mg
Carbohydrates:

43g
Fiber:

2g
Sugar:

21g
Protein:

5g
Wanna know more about your favorite authors and their other halves? Check out these posts