Easy Shrimp Scampi comes together in just 5 minutes. Loads of buttery, garlicky goodness.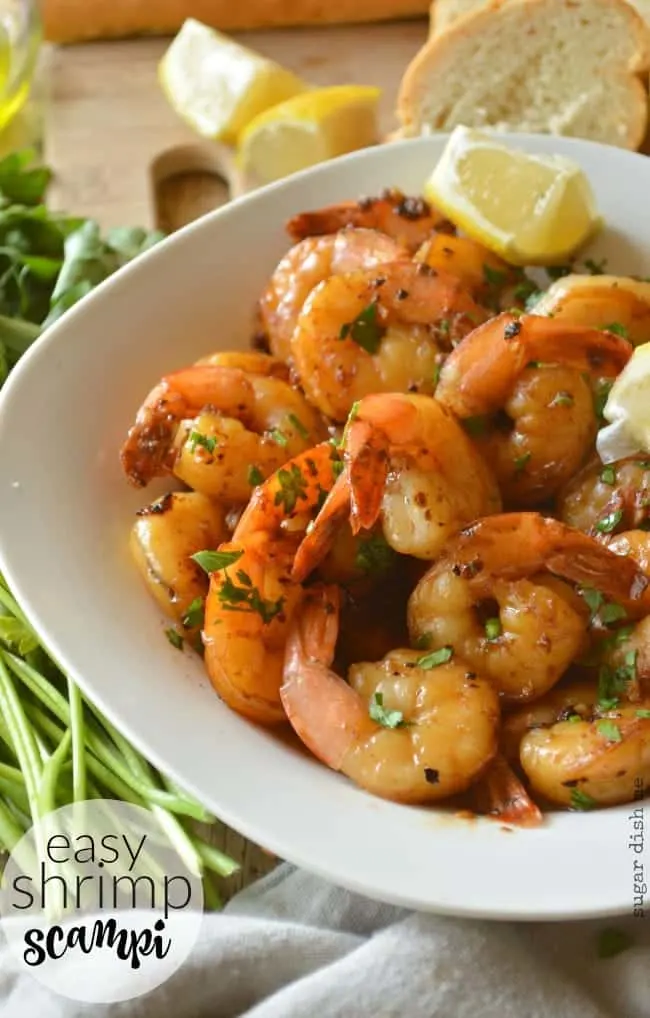 It only seems fair to ease in to the new year with a 5 minute recipe. You guys went bonkers over Shrimp Scampi Dip last year. You love Quick Garlic Shrimp, and you also liked Shrimp Scampi Flatbread (although there are a few readers that really like to lay on the thick snark about how to use tail-on shrimp – thanks for the tips *cough*).
So I thought we should at least one time make the real deal.
Actual shrimp scampi.
Easy Shrimp Scampi.
Staying true to myself here, I made us a dish loaded with butter and wine instead of a green smoothie or whatever. In truth? I don't love green smoothies. Annnd I don't understand smoothie bowls even a little bit. Like… is it basically just yogurt with toppings?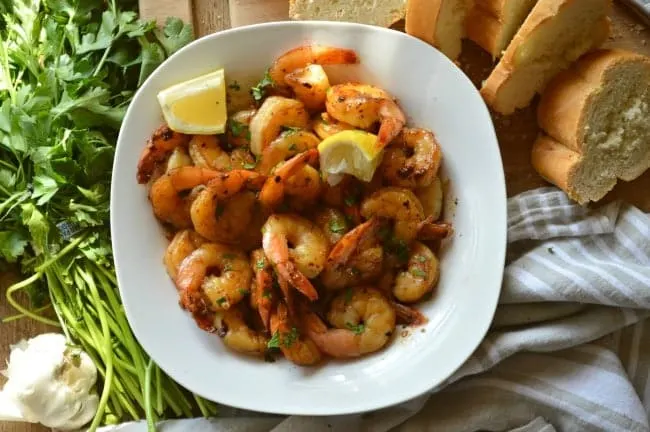 Can you still use a straw? WHAT IS THE REASON FOR THE BOWL AND THE SPOON?
Obviously I have resolved to do some deep thinking in 2017.
Have you all made resolutions? Do you do that? Or do you do make them in secret because having resolutions and then breaking them is completely cliché? I'm over here walking with feet in both camps.
I love the idea of new year, fresh start, let's break out the planner and get all the colored markers.
But I HATE when I screw it all up and get in that okay – tomorrow… okay wait – next week pattern. Resolutions are PRESSURE, man. So I don't like to start out saying that I will not eat cake this year, because we all know that's a bunch of foolish nonsense.
I did decide to start out this year with a few commitments to all of you (that I am keeping secret right now because of the pressure we talked about. Don't hate me), a promise to practice yoga everyday because it makes me feel human and also makes me feel less terrible about the amount of time I sit at my desk.
I've also promised myself that we will find a nice balance between butter, wine, cake, and salads. Bring it, 2017.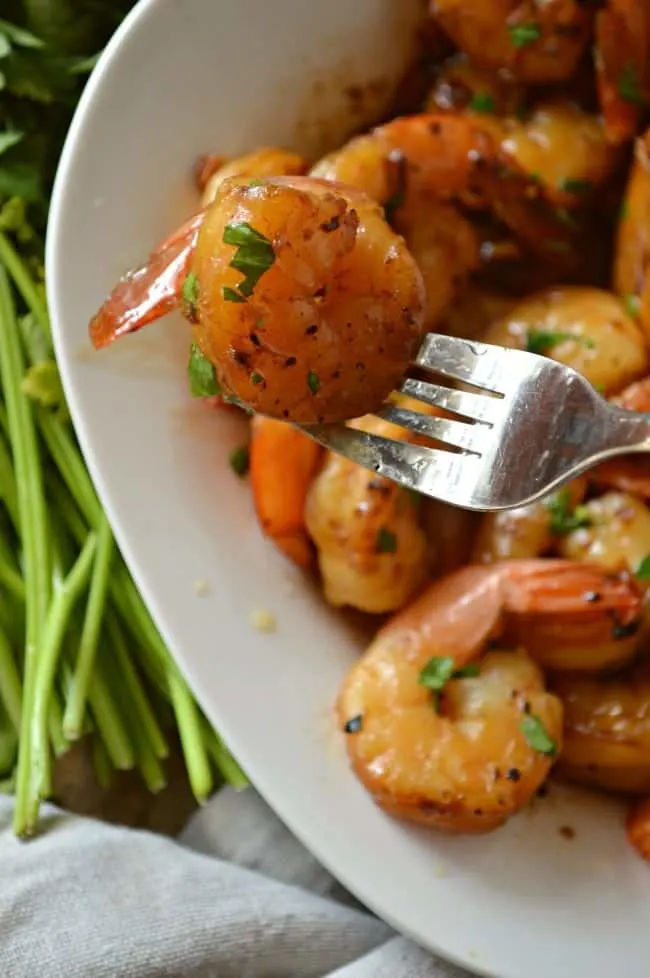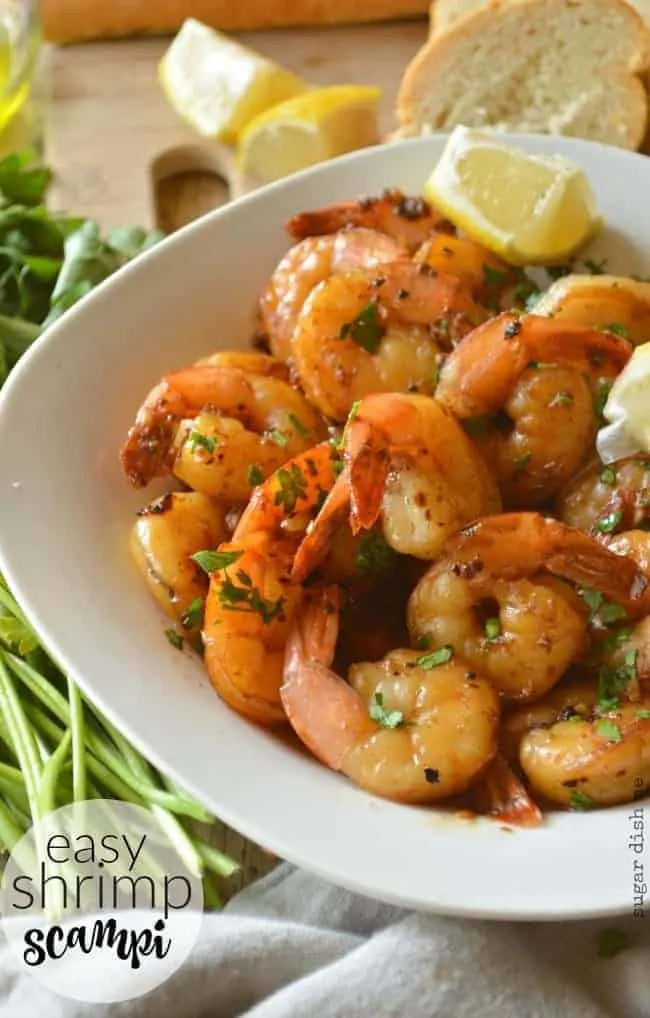 Yield:

serves 4
Easy Shrimp Scampi
Easy Shrimp Scampi comes together in just 5 minutes. Loads of buttery, garlicky goodness.
Ingredients
1 pound of raw, fresh shrimp, peeled and deveined, tails on
2 tablespoons of unsalted butter
2 tablespoons olive oil
4 cloves garlic, very finely minced
½ a cup of dry white wine
kosher salt and freshly cracked black pepper (to taste)
a pinch of crushed red pepper flakes (to taste)
1-2 tablespoons freshly squeezed lemon juice
¼ cup freshly chopped parsley.
Instructions
Melt the 2 tablespoons of butter and the 2 tablespoons of olive oil in a medium to large skillet, over medium high heat. Then add the garlic and saute it JUST until it's fragrant.
Pour in the wine and add the salt, cracked black pepper, and crushed red pepper. Let the sauce simmer until it has reduced by about half. This only takes 2-3 minutes.
Once the sauce has reduced, add your shrimp. Stir and toss in the sauce to coat. The shrimp is cooked when it turns pink; it only takes 2-4 minutes (depending on the size of the shrimp you chose). The tails should be red (or sort of a hot orange color.
Squeeze the juice of half a lemon (about 1 tablespoon) over the shrimp. Sprinkle the parsley over the top, toss, and you are ready to serve!
Serve over pasta or with a loaf of crusty bread.
Nutrition Information:
Yield:
4
Amount Per Serving:
Calories:

256
Total Fat:

13g
Saturated Fat:

5g
Unsaturated Fat:

8g
Cholesterol:

230mg
Sodium:

278mg
Carbohydrates:

3g
Fiber:

0g
Sugar:

0g
Protein:

28g
Love Shrimp? You'll also love…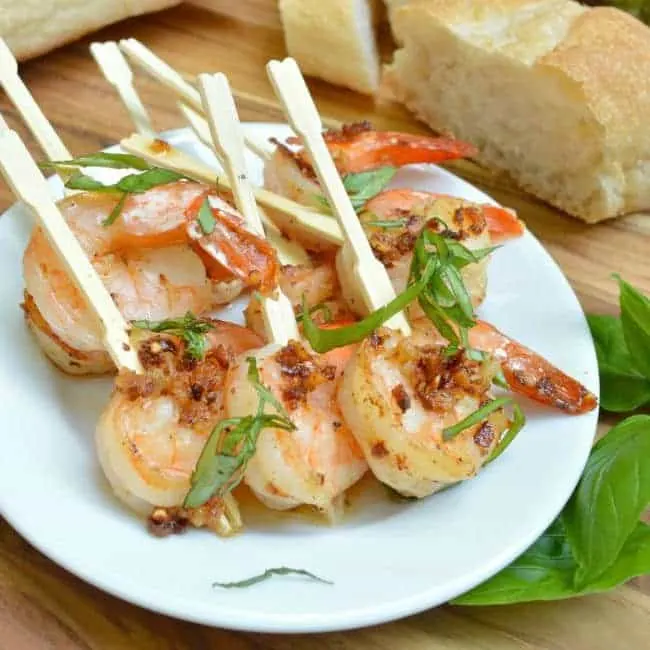 Garlic Shrimp and Easy Tapas Recipes