Lightened Up Broccoli Rice Casserole is the from scratch version of a holiday fave. It's good anytime though. No holidays required!
UPDATED 4-2017! This recipe is popular around every holiday, be it Easter or Thanksgiving, so I updated my old janky photos for you and refreshed this post a bit. Lightened Up Broccoli Rice Casserole is still a staple in our house at every big potluck meal. This version is a total win.
This is a holiday staple in my family.
I know it doesn't really look all that impressive because it's a casserole, and let's be honest– when served casseroles are kind of more sloppy than impressive– but this stuff is hearty and rich while still being light and full of veggies. Trust.
You've probably had a version of the broccoli rice goodness somewhere along the way. My mom's recipe HAS to be on the table at Easter, Thanksgiving, and Christmas. It's like an unwritten rule or something. It gets spooned onto my plate alongside the green bean casserole and in my mind it feels like a healthy choice because um… broccoli. But actually my mom's recipe calls for Minute rice and a whole jar of Cheez-Whiz so … it's basically the vegetable equivalent of brownies.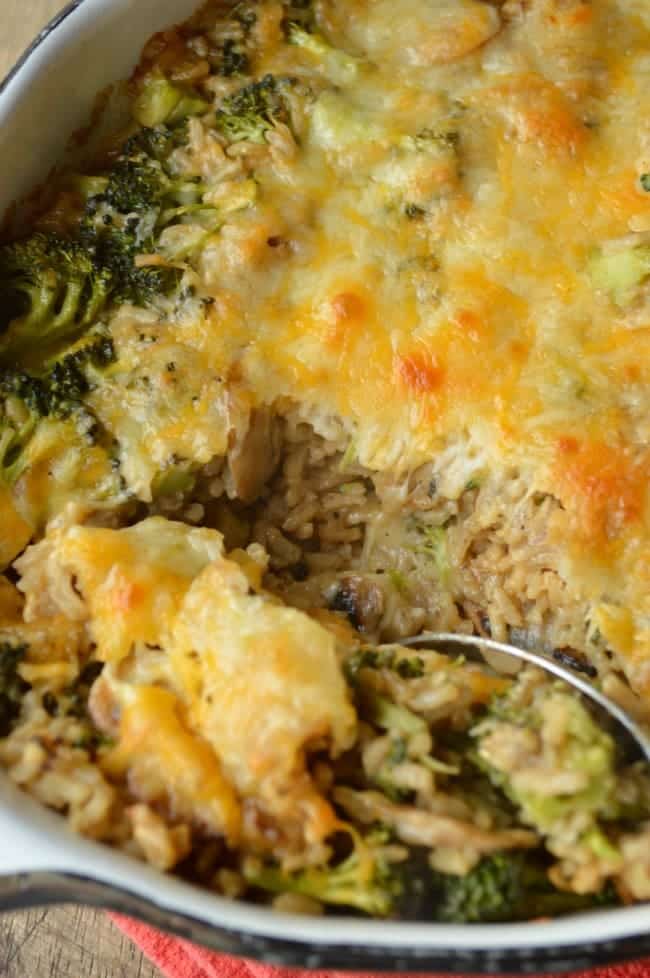 It's so important that mom's broccoli casserole makes it to our holiday table that one year she tried to turn it out while she was suuuuper sick. Like that head-floating-off-your-body-borderline-pneumonia kind of sick. And my mom gets sick like once every 10 years so she was trying to pretend that everything was cool while she cooked and wandered around in a Dayquil stupor. She took the broccoli casserole out of the oven and set it on the stove. My sister was admiring her thrice-yearly splurge, and thankfully she turned her back to the stove because the burner was on, and glass dishes don't really like hot burners. The broccoli rice casserole exploded all over the kitchen throwing cheese and glass shrapnel everywhere. My sister hit the deck.
Anyway.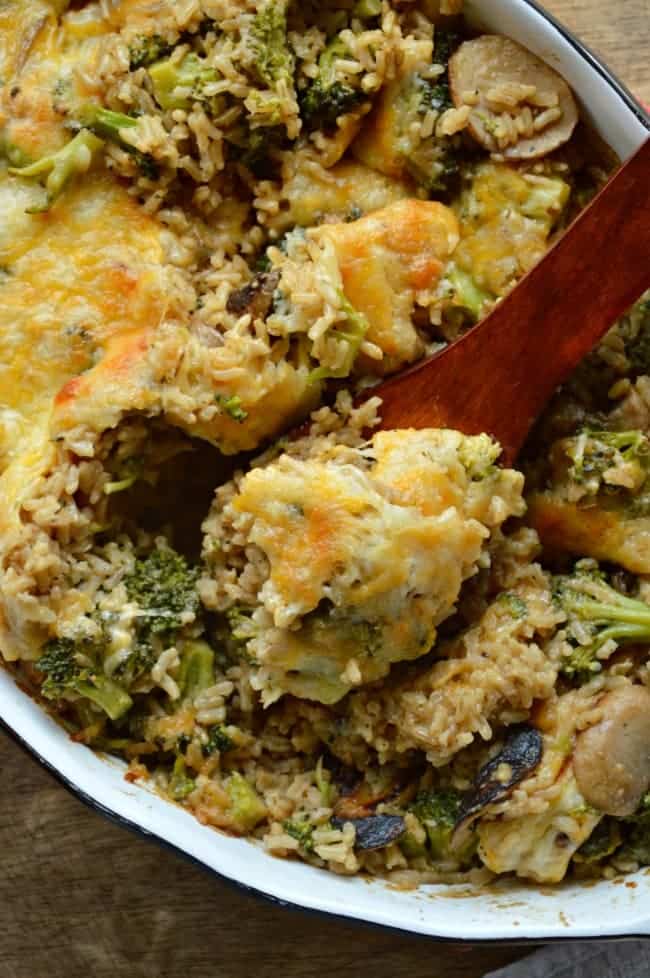 This version of broccoli rice casserole is full of good things like fresh broccoli and brown rice, because my theory is that the more good things you eat at your meal the more Easter candy it cancels out. My recipe starts with homemade cream of mushroom soup which actually deserved a post of it's own – someday I'll get to that. Please don't think I'm crazy for making my own cream of mushroom soup. It's so easy and calls for only the most basic of things like flour and milk. Plus it only takes 15 minutes.
You could buy the canned condensed soup too if that's more your speed. But the homemade was so fresh and creamy and I want to eat it for lunch every day this week.
So let's do broccoli and rice casserole for the Easter table. And let's do our best to not explode it all over the kitchen.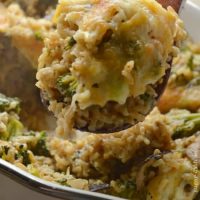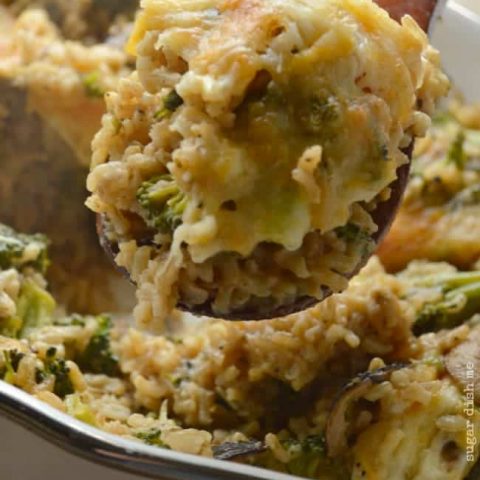 Lightened Up Broccoli Rice Casserole
Yield: serves 8-10

Prep Time: 45 minutes

Cook Time: 20 minutes

Total Time: 1 hour 5 minutes

Lightened Up Broccoli Rice Casserole has all the cheese and fresh broccoli but none of the Cheez Whiz. It's TERRIFIC.
Ingredients
Rice:
2 cups low sodium chicken broth
1 cup uncooked brown rice
Homemade Mushroom Soup:
1 tablespoon olive oil
1 1/2 cups chopped mushrooms
2 1/2 cups low sodium chicken broth
1 1/2 cups 2% or skim milk, divided
3/4 cup all purpose flour
1/2 teaspoon onion powder
1/2 teaspoon garlic powder
1/2 teaspoon black pepper
1/2 teaspoon salt
1/2 teaspoon parsley
Casserole:
1/2 cup onions, chopped
3 cups fresh broccoli florets, cut into 1-inch pieces
1 1/2 cups low-fat shredded cheese (I used a cheddar blend)
Instructions
Step 1

Preheat the oven to 350. Spray a 3 or 4 qt casserole dish with non-stick cooking spray.

Step 2

Bring 2 cups of the broth to a boil. Add the rice, cover, and reduce the heat. Simmer on low until all the liquid is soaked up-- about 30 minutes. Remove the rice from the heat and set aside.

Step 3

While the rice cooks, heat the oil in a medium saucepan. Add the chopped mushrooms and saute until golden, about 3 minutes. Pour in 2 1/2 cups of broth and 1/2 cup of the milk. Stir and bring to a slow boil (careful-- milk will bubble over if it gets too hot!). Reduce the heat to medium.

Step 4

Whisk together (I just mixed it all together in my liquid measuring cup) the last cup of milk, the 3/4 cup flour, the onion powder, garlic powder, salt, pepper, and parsley. Pour this into the broth mixture that is simmering on the stove and cook over medium high heat for 10-15 minutes, whisking occasionally. The soup will thicken as it cooks and more as it cools.

Step 5

In a large bowl mix together the cooked rice, 3 cups of the soup (this will be most of it-- add more as you see fit or save it for later), the onions, broccoli, and 1 cup of the cheese.

Step 6

Spread the mixture into the prepared dish and then sprinkle the remaining 1/2 cup of cheese over the top.

Step 7

Bake for 15-20 minutes, just until the cheese melts and the soup is bubbly.
Notes
SHORTCUTS!!!
1. Skip cooking the rice ahead of time and just use instant brown rice. No broth required. just mix the uncooked instant rice in before baking.
2. You can use canned cream of mushroom soup, but it's totally not as good.
Nutrition Information:
Yield: 10 Serving Size: 1
Amount Per Serving:Calories: 258 Total Fat: 12g Saturated Fat: 5g Trans Fat: 0g Unsaturated Fat: 5g Cholesterol: 25mg Sodium: 379mg Carbohydrates: 27g Fiber: 4g Sugar: 5g Protein: 14g


The cream of mushroom soup portion of this recipe is based on Homemade Cream of Chicken Soup by Lindsay at Pinch of Yum. Who knew the real stuff was so easy to make at home?
If you love casseroles you should also try…