Ground Chicken Lasagna is a cheesy, hearty, classic meal that makes a ton. It's perfect for feeding a crowd and leaves the most excellent leftovers.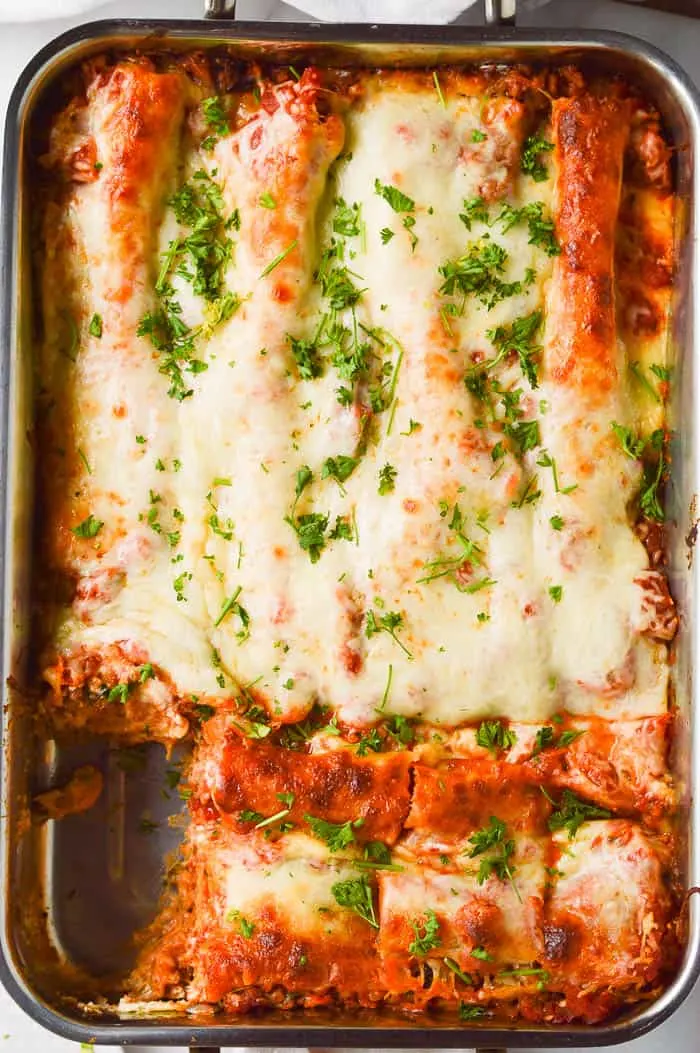 Are you looking for a hearty meal that will feed a small army or fill lunchboxes for a week? You found it!
Ground Chicken Lasagna is the answer.
I made this recipe before I was out of town for a week with the hopes that my family might eat less Burger King and … it worked! Like – major success, so I definitely wanted to be sure to share.
This chicken lasagna recipe is every bit as awesome as a more traditional lasagna with red meat. In fact, no one here missed it.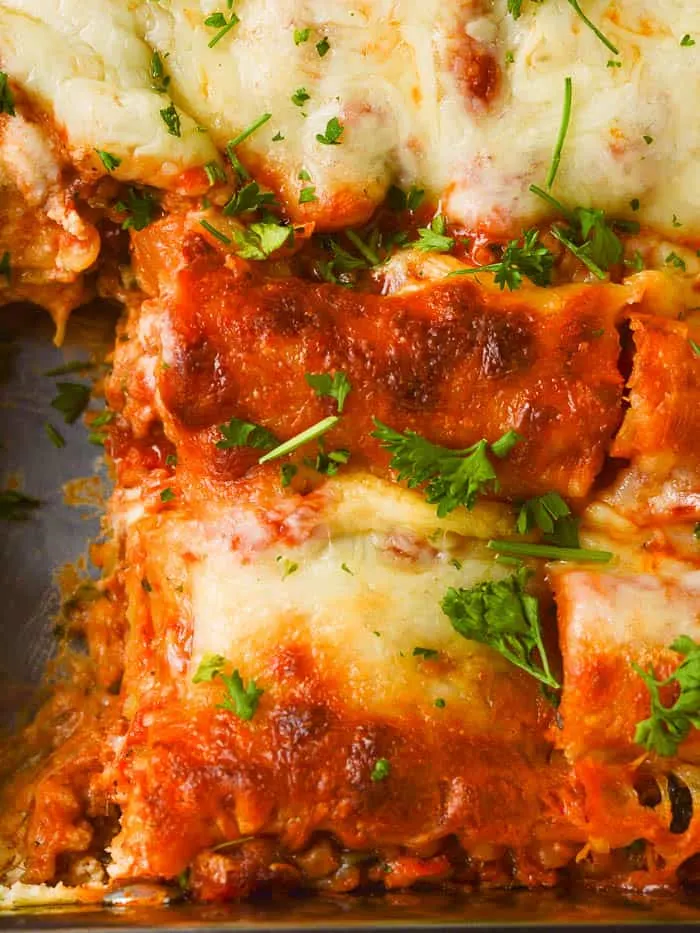 Can I Use Ground Turkey?
Absolutely! Ground turkey and ground chicken are pretty interchangeable here, especially since you are using the meat to make a meat sauce.
I find ground turkey to be a bit more dry than ground chicken, even when the fat content is the same. But since we are really saucing things up, it doesn't matter either way.
ONE MORE THING about the meat — I used 2 pounds of ground chicken.
I know! It seems like a lot. But lasagna pans are big, and I don't like serving wimpy pieces of lasagna. Lasagna should be big, and thick, and loaded with meats, cheeses, and all the good things.
What kind of pan is best for lasagna?
The pan I use is this Cuisinart Lasagna Pan. I love it – and it comes with a roasting rack! I have also had my eye on this All-Clad pan, mostly because I love their stuff, but also because it feels like a fancy upgrade. If I am being honest, I will probably just use that Cuisinart pan for all of eternity.
I've had people ask if you can cook lasagna in a baking tray and my answer is no.
I mean … if you have to make it work because of circumstances – like trying to cook in an AirBnB with substandard kitchen supplies, or like that time when I was 18 and had 2 things in my 1st apartment kitchen: a skillet that was not oven safe and a baking sheet – then OKAY FINE. But it's not best practice is what I'm saying.
Is it better to bake lasagna in a glass or metal pan?
Time for some truth: I have had a lot of really terrible and explodey experiences with glass baking pans. They always forsake me, y'all.
Glass pans distribute heat more evenly than metal pans (this is why box cake directions vary depending on the pan you use), and they also retain their heat better out of the oven, which keeps food hotter for longer. I find this great for casseroles, but not as great for lasagna where I want things to cool a bit before slicing so that my slices stay together.
In general I sort of avoid Pyrex like the plague, so my answer here is really to:
use what you have on hand
if you have both glass and metal, use what you tend to feel most successful with
if you are serving a group use the pretty one!
if this is your first lasagna rodeo and you have both glass and metal handy, my vote is metal. It's more forgiving.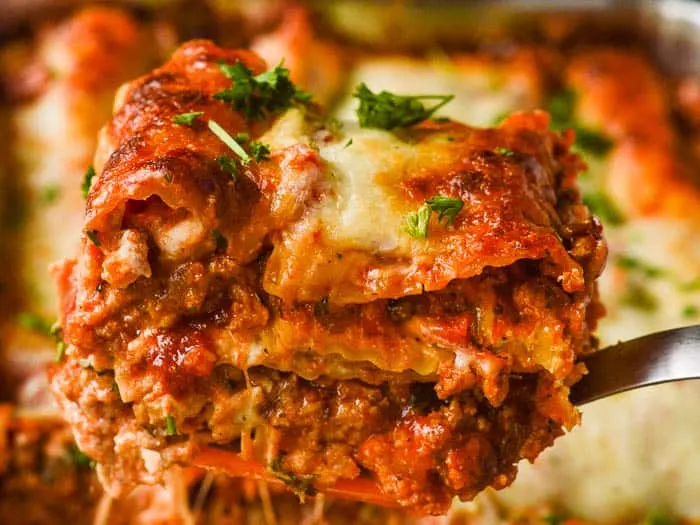 How do I keep my lasagna from falling apart?
This is one of the most important parts of cooking lasagna! One of my all time favorite lasagna recipes is this Kick Ass Chicken Lasagna. It has a white sauce, loads of cheese, mushrooms, and uses chunks of tender chicken breast instead of ground chicken. It stays together just as well though,and with either recipe you can successfully lift a cheesy slice out of the pan.
The secret is to GET RID OF THE EXCESS WATER.
You are probably thinking "what water?!"
There's water in all the things, so the trick is to cook things down enough that you retain all the moisture, but it's not too saucy. Here are my fun tips for a successfully sliced lasagna:
I don't cook the noodles. There's enough moisture in the cheese and sauce to cook them in the oven. You can parboil them (partially cook) if you don't trust me, but I swear you can totally skip that step.
Thicken the sauce. I use prepared tomato sauce in this recipe, y'all. DON'T YOU JUDGE ME. Even if you make your own sauce, it might be canned from earlier in the year, and it might need thickening. A couple of tablespoons of tomato paste can help. If you don't have that handy, just simmer the sauce on medium low heat until it's thick and not watery.
Use good ricotta cheese and don't skip the egg! Also get that cottage cheese right the hell outta here. No one needs that kind of negativity in their lives.
Let it rest. The cheese especially needs a little bit to cool after it comes from the oven. Don't worry – it will still be melty and stringy and wonderful. Leave yourself time for the lasagna to rest, though. Otherwise you will all need to hover over the pan and attack it with forks. Still delicious, but maybe not what you had in mind.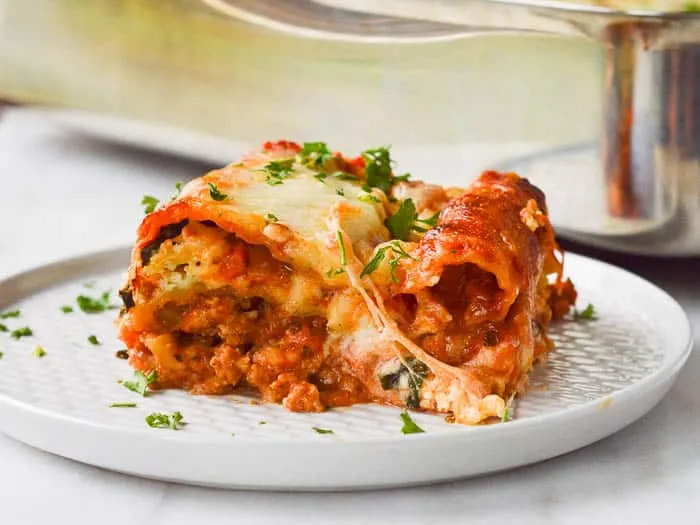 What do you serve with Chicken Lasagna?
My favorite thing to serve with lasagna is my Favorite Italian Salad. It's a little bit like an Olive Garden Italian Salad knock off, but so much better. It has the perfect amount of lemon in the dressing for a nice bright flavor, just enough sugar to cut the vinegar tang, and enough mayo to make it creamy.
I also HIGHLY recommend trying one of these three delicious and easy beginner bread recipes (if you can find the time!)
One Hour Bread – This classic bread with a soft middle and the perfect crust is one of my favorites AND it's the one I would recommend first if you are short on time and are new to bread baking. It never fails me.
Easy Cheesy Italian Bread – THERE'S CHEESE! 'Nuff said. Except! This one is really pretty and if you have guests it looks great on the table + will make people think you are fancy.
Sun Dried Tomato Breadsticks – another easy recipe if you want breadSTICKS instead of a loaf that needs slicing.
Last thing! Copycat Carabba's Herb Dip. You know that little plate of herbs they give you to pour olive oil over and then dip all your bread in? This is that but homemade with fresh herbs and you NEED IT. You can thank me later.
Other Noteworthy Pasta Recipes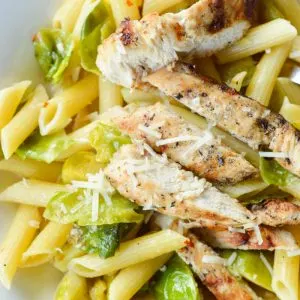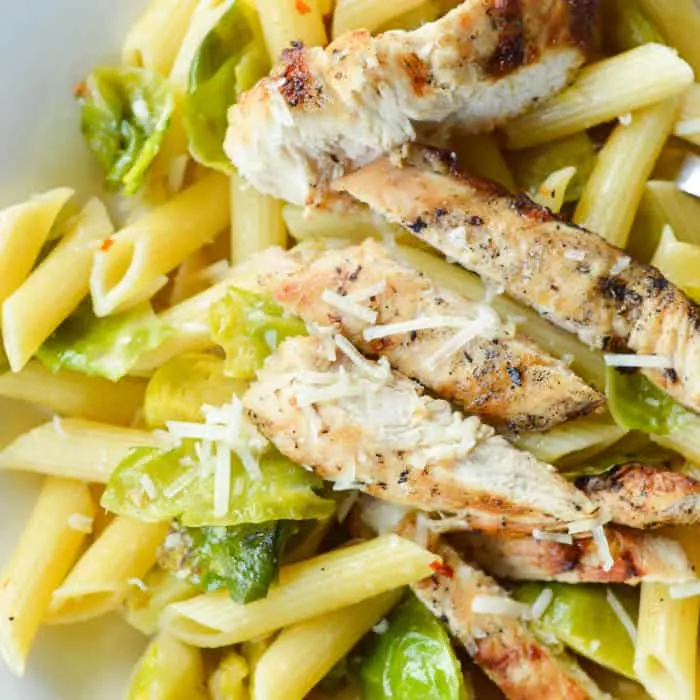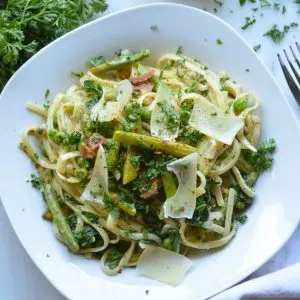 Penne with Grilled Chicken and Brussels Sprouts is a 30 minute meal that rings in at fewer than 500 calories per serving!
Eat Your Greens Linguine is LOADED with green veggie goodness. It doesn't actually call for Brussels sprouts, but they could be added easily for pasta that packs a veggie-power punch.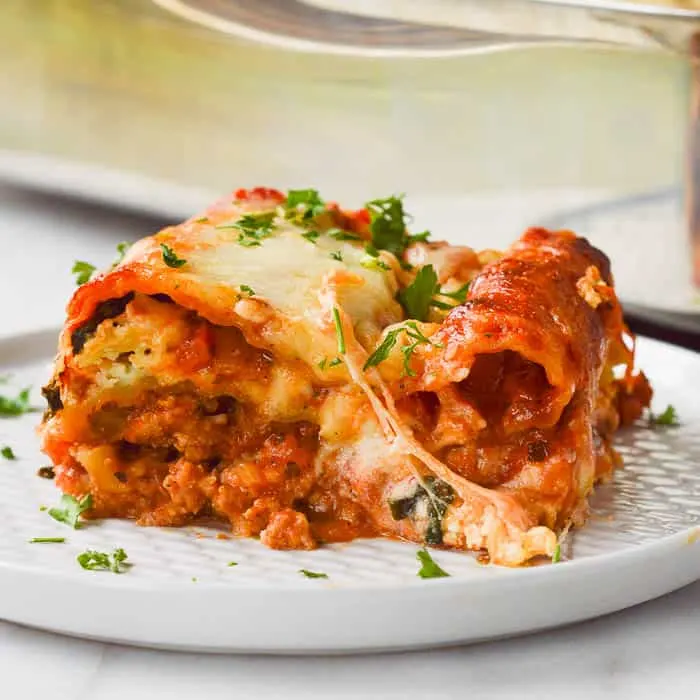 Yield:

24 large pieces
Ground Chicken Lasagna
Ground Chicken Lasagna is a simple, hearty, crowd-pleasing recipe! This easy recipe is full of tips and tricks for a successful pan of lasagna every time. Makes enough to feed a crowd and the leftovers are AMAZING.
Ingredients
1 1/2 tablespoons olive oil
2 pounds ground chicken
1 medium onion, finely chopped
3 cloves of garlic, minced
2 tablespoons Italian seasoning
1 teaspoon kosher salt
1/2 teaspoon black pepper
2 (15 ounce) jars prepared marinara sauce
15 ounces ricotta cheese
1 egg
3/4 cup grated Parmesan cheese
1 pound lasagna noodles
1 pound shredded low moisture part skim mozzarella
2 tablespoons chopped fresh parsley to garnish
Instructions
In a large skillet, heat the olive oil over medium high heat. Add the ground chicken and brown. Once the chicken has browned, push it to one side of the skillet and add in the onion and garlic. Reduce the heat to medium.
Sprinkle in the Italian seasoning, salt, and pepper, and cook for 1-2 minutes, until the onions are fragrant and soft. Pull the chicken back to the middle of the pan and mix with the onions and garlic.
Pour in the marinara sauce, reduce the heat, and let the sauce simmer. Taste and add more salt as needed. If you like crushed red pepper for a little heat, toss that in now. Preheat the oven to 375°F and prepare your lasagna baking dish. OPTIONAL: spray the dish with non-stick cooking spray.
While the sauce simmers, in a large bowl, mix together the ricotta cheese, egg, and Parmesan cheese.
Assemble! Spoon a thin layer of sauce across the bottom of the prepared pan. Cover with either uncooked or parboiled lasagna noodles to make a solid, even layer.
Spoon ricotta cheese over the noodles and use the back of your spoon to spread it evenly. Then add a layer of mozzarella cheese. Then a nice thick layer of sauce, noodles, the remaining ricotta, and mozzarella. Repeat with one more layer of lasagna (you should be nearing the end of the pound at this point), add any remaining sauce, and cover the top with mozzarella cheese.
Bake for 35-40 minutes. You want the sauce to be bubbly and the cheese to be completely melted and browned at the edges.
Let the lasagna rest for at least 15 minutes before slicing. Garnish with chopped fresh parsley and serve.
Notes
1. If your sauce needs help thickening up you can simmer it a bit longer OR! If you have tomato paste handy, you can stir in 1-2 tablespoons.
2. If you like a little heat, add crushed red pepper to the sauce in Step 3.
3. Let the lasagna cool completely before refrigerating to store.
It will keep, refrigerated, for about a week!
Recommended Products
As an Amazon Associate and member of other affiliate programs, I earn from qualifying purchases.
Nutrition Information:
Yield:
24
Serving Size:
1
Amount Per Serving:
Calories:

211
Total Fat:

12g
Saturated Fat:

5g
Trans Fat:

0g
Unsaturated Fat:

6g
Cholesterol:

69mg
Sodium:

345mg
Carbohydrates:

9g
Fiber:

1g
Sugar:

1g
Protein:

18g