Crispy Baked Green Bean Fries are simple, roasted, the perfect amount of salty, and excellently crisp. If you need a good alternative to fries made with potatoes, this easy recipe is it!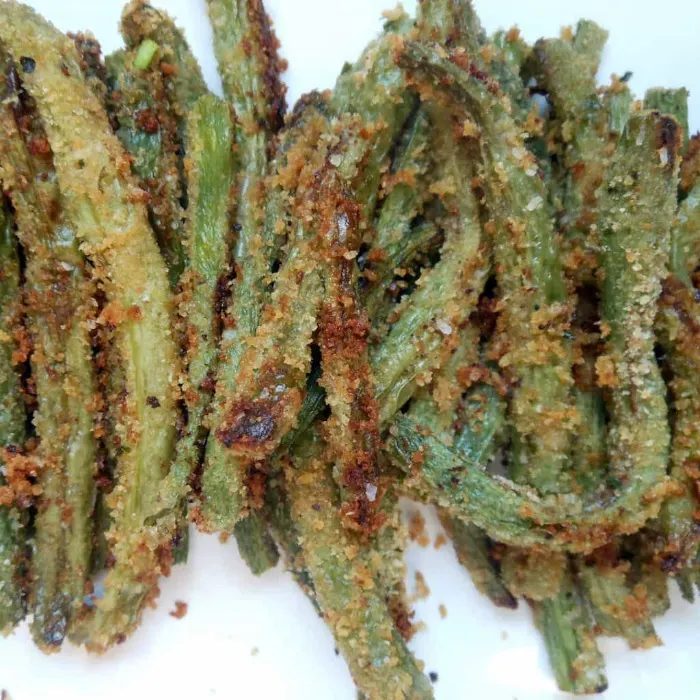 This is a 4-ingredient, 15-minute, healthy recipe. Short and sweet (except sorta salty). It's an oldie but a goody, and one I fall back on when I need a quick side dish, and is one of my very favorites when green beans are in season.
There are versions of this recipe that call for lots of dredging and flour and eggs, but this one keeps it super simple.
What do you need to make green bean fries?
fresh green beans
olive oil
kosher salt
seasoned bread crumbs
If you need this side dish to be vegan, opt for bread crumbs without Parmesan cheese.
I tend to look for every opportunity
Can I make green bean fries in the air fryer?
Yes yes double yes.
I love
my air fryer
for all sorts of things, but it really does wonderful crispy good things to green beans.
If you go the air fryer route with your Crispy Green Bean Fries, 370°F is the right temperature and 7-9 minutes will give you the best crisp.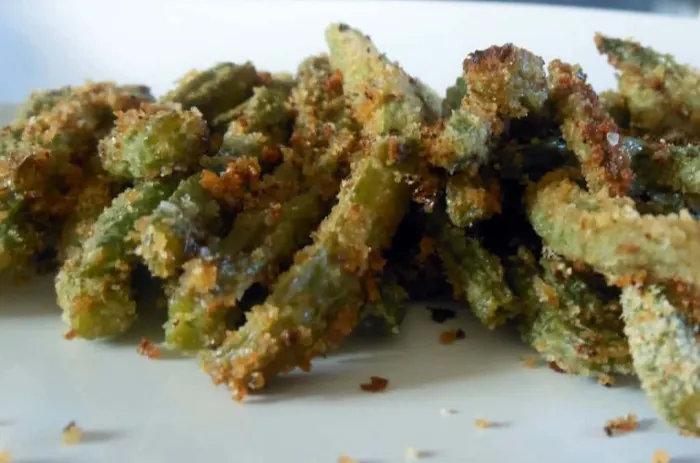 Is this recipe good in a pinch?
Completely. I know from experience.
Because initially, when I developed these easy green bean fries, actually sharing them got put on the back-burner so-to-speak. What had happened was…
Evan and Chad were rough-housing. Because that's what boys do, even the adult kind, apparently. I was ten minutes from putting my favorite veggie sliders on the table, homework was done, and it was shaping up to be a pretty nice evening.
Until there was a crash.
And my laptop fell victim to the rough-housing.I was pretty flipping upset, to put it mildly.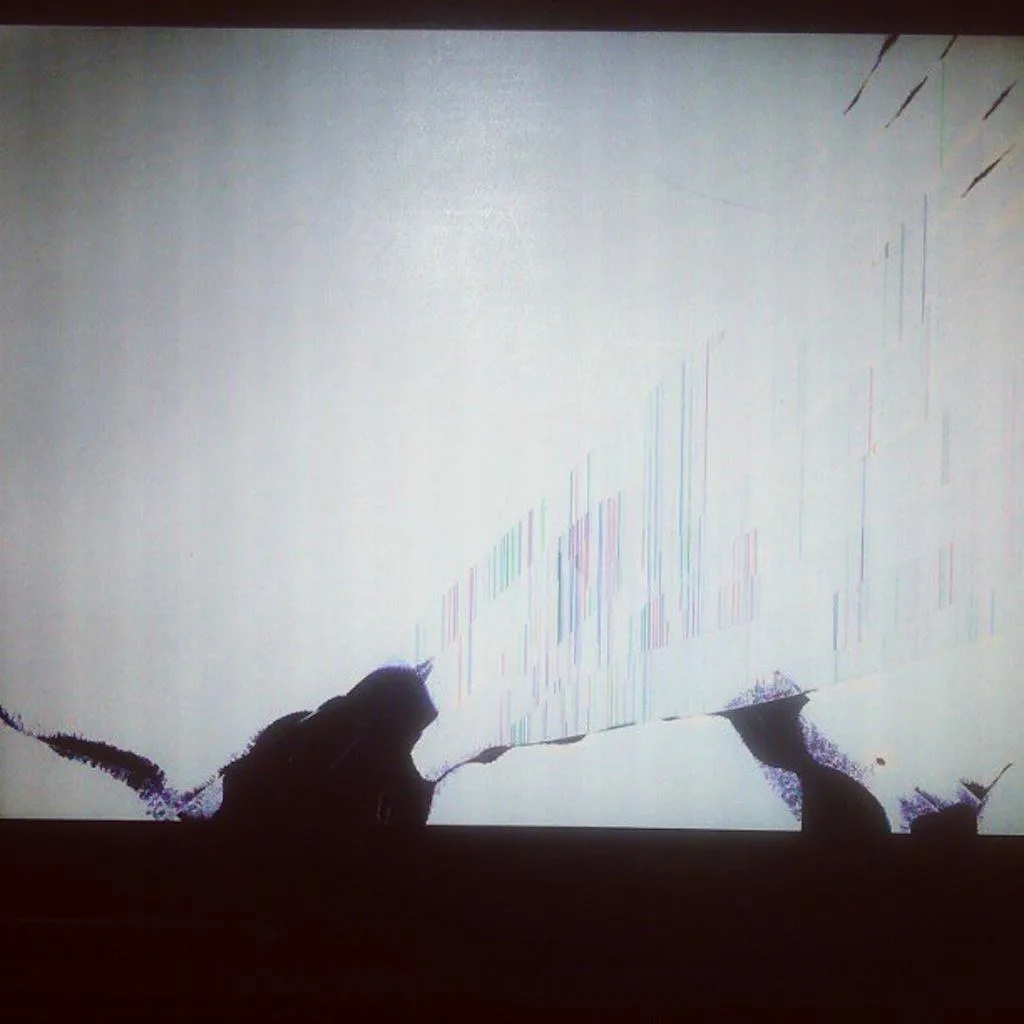 So I topped off my very nice glass of red wine, threw these green beans in the oven to get good and crispy, put dinner on the table, and straight up sulked for the rest of the evening.
Evan was pretty distressed because it was his crazy running away that dragged my laptop sideways into the floor. Chad felt really extra bad because it was his crazy chasing that provoked Evan's crazy running… but ultimately it was a pretty freak accident and wasn't anyone's fault in particular.
I had to give Evan a big squeeze to calm his little worries.
And the whole ordeal gave me one more reason to add to my steadily growing list of reasons for why we need to move someplace bigger and better.
Fortunately, I live with a pretty clever and technology-savvy fix-it kinda guy. He ordered a new screen and life resumed, and all the green bean fries got eaten, with only a short interlude of me working with a completely rigged setup involving my laptop being plugged into the desktop monitor while I sit all sideways and weird in this kitchen chair at the desk and try to type.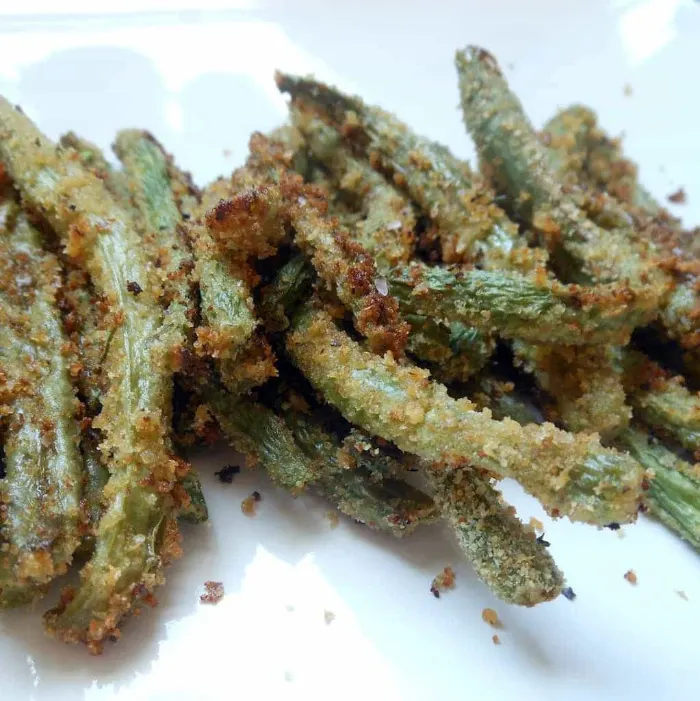 Need a few more quick and easy green bean recipes?
Try the Best Easy 5 Bean Salad – it calls for canned green beans, wax beans, garbanzo beans, and kidney beans, and is really simple to make ahead.
Summer Vegetable Soup can be made in the slow cooker or on the stove top and you can use fresh OR frozen green beans.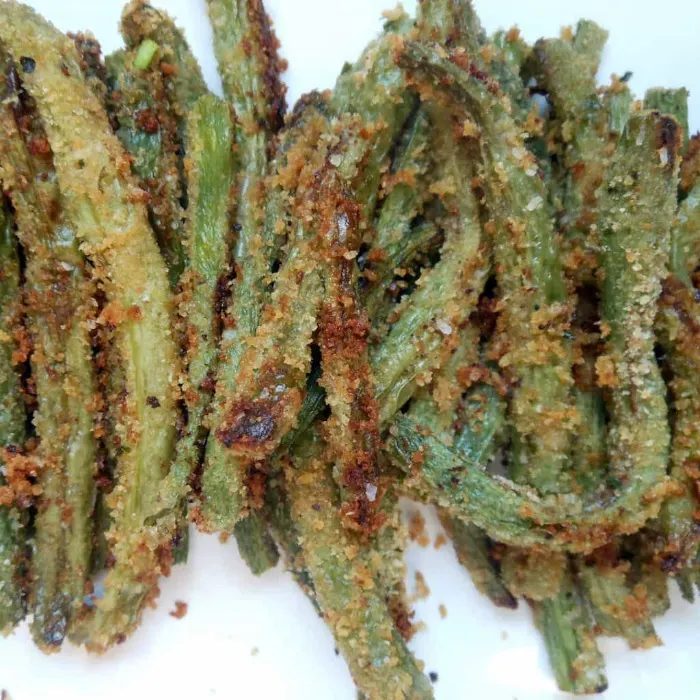 Yield:

4-6
Crispy Baked Green Bean Fries
Crispy Baked Green Bean Fries are simple, savory, and are the perfect side dish for just about anything!
Ingredients
1 pound fresh green beans, washed and trimmed
2 tablespoons olive oil
1 teaspoon kosher salt
1/2 cup seasoned bread crumbs
Instructions
Pre-heat the oven to 375.
Toss the green beans in the olive oil to coat evenly.
Lay them out in a single layer on an ungreased baking sheet.
Sprinkle the bread crumbs evenly over the green beans (see note).
Bake for about 15 minutes, stirring the green beans around on the baking sheet halfway through to get color all the way around.
Notes
To prepare these quickly, sprinkle the bread crumbs over the green beans as stated in the instructions. If you want a more uniform, all-over crisp to these and have a few extra minutes, place the bread crumbs in a bowl and dip each green bean in to coat evenly. Shake off the excess and bake as directed.
Nutrition Information:
Yield:
4
Serving Size:
1
Amount Per Serving:
Calories:

152
Total Fat:

8g
Saturated Fat:

1g
Trans Fat:

0g
Unsaturated Fat:

6g
Cholesterol:

0mg
Sodium:

736mg
Carbohydrates:

18g
Fiber:

4g
Sugar:

5g
Protein:

4g