The Best Easy 5 Bean Salad is perfect for potlucks, cookouts, and picnics. It's inexpensive to make, easily feeds a crowd, and if you have leftovers it's better the next day!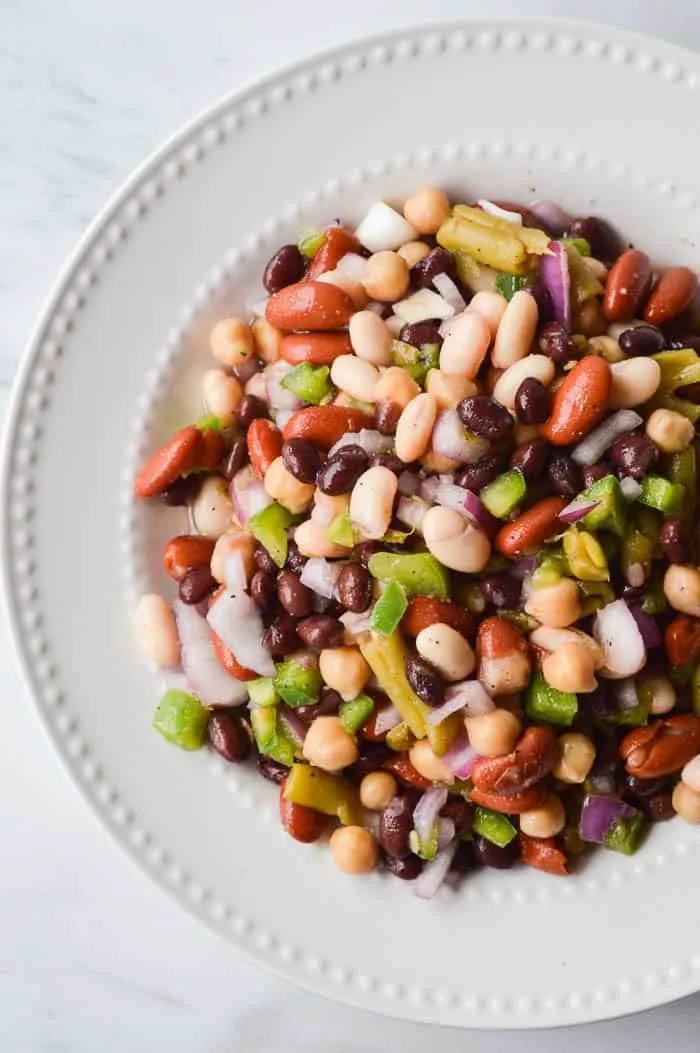 This 5 bean salad is probably the most requested thing I make, which seems ridiculous because it's stupid easy (literally chopping some things and opening cans), and comes together SO FAST. But whatever, I'll take that win.
And I'll share it with you! You're welcome.
I have toted this easy side dish along with me to:
potlucks
cookouts
fancy holidays where I have no idea what else is being served
not-fancy holidays where I have no idea what else is being served
picnics
occasions where I have no idea about the dietary restrictions of others
etc…
5 Bean Salad works with everything! It's vegetarian, vegan, naturally gluten-free, low carb, and if you care about none of these things, it goes great with BBQ, grilled chicken, burgers, ham – it's like a fool-proof side dish.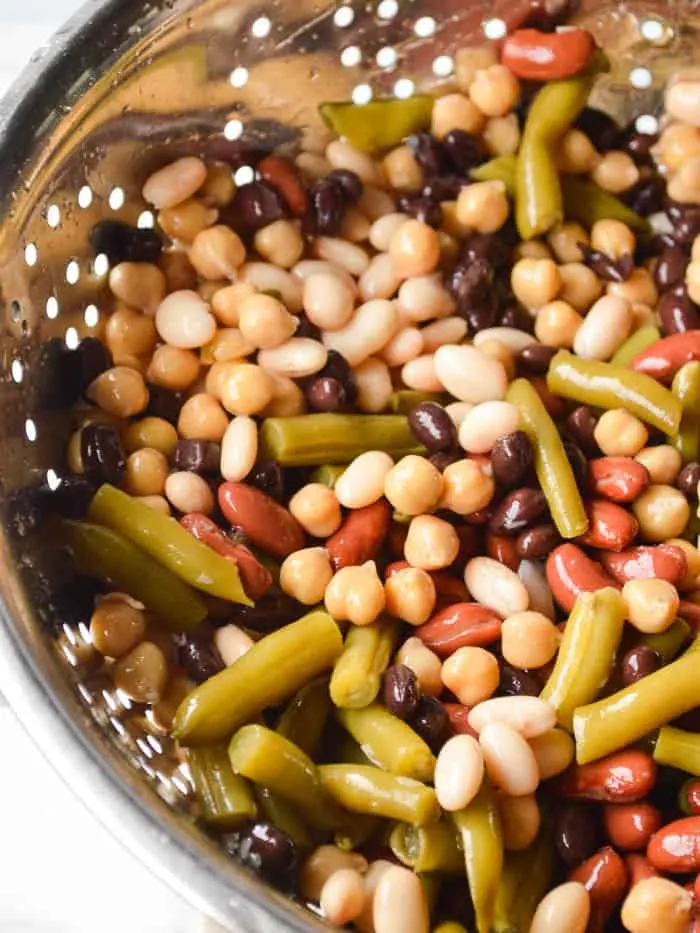 What Kind of Beans Do I Need for 5 Bean Salad?
For this bean salad recipe you will need a 15 ounce can of each:
green beans
wax beans
black beans
garbanzo beans
If you can't find (or just don't have one of these handy) you can definitely substitute more of one or the other. Wax beans in particular can sometimes be elusive at the grocery store. Wax beans are snap beans, and they taste similar to green beans, but are yellow in color. Sometimes I'll grab a can of mixed green and wax beans when I can't find the stand alone wax beans at my grocer.
Do You Need to Cook Canned Beans?
Nope. You definitely do not. Remember when your grandma would cook canned beans all day long and add even more salt until they were basically a pile of salty mush and that's why we all thought we hated vegetables until we were well over the age of 13? Anyway – don't do that.
Canned beans are ready to eat, but the liquid they are canned in can be pretty salty, so I always drain and rinse them. To make this easy bean salad you really just need to open the cans, drain the liquid, and rinse them off.
Then you will chop up a few onions, peppers, and celery, toss it all with a simple oil and vinegar dressing, and serve.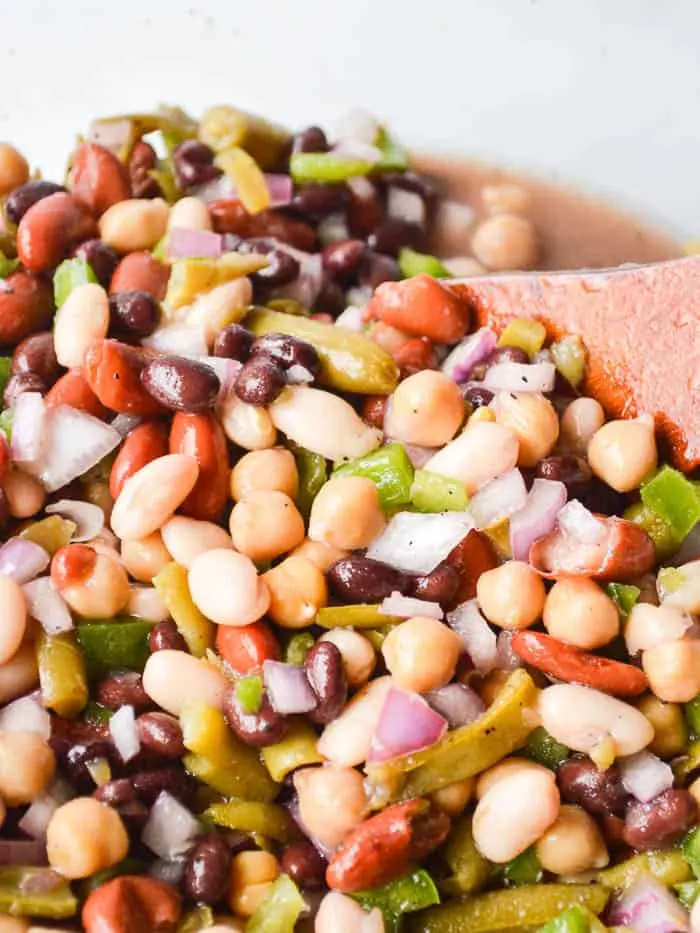 Is Bean Salad Good for You?
Yes! Not that this is a health-conscious food blog or anything, but I do think it's nice to know that if you have a side of bean salad with your grilled chicken, you can feel good about your choices. You can also save room for a slice of Pig Pickin' Cake.
I pared down the serving size here since this is the sort of thing meant to put on a plate with bites of lots of other delicious dishes, and it's ringing in at just 78 calories and 3 grams of protein. If you are just serving this as a side dish with a more typical meal, you'll get about 12 servings at a little over 150 calories and 6 grams of protein each.
Not too shabby!
How Long Does Bean Salad Keep in the Fridge?
Wrapped and refrigerated, it'll keep for 3-5 days. Truth be told I like it best on day 2 and never have leftovers past day 3. Vinegar is a natural preservative which helps to keep this salad all good; you just need to be sure the onions and peppers are still crisp.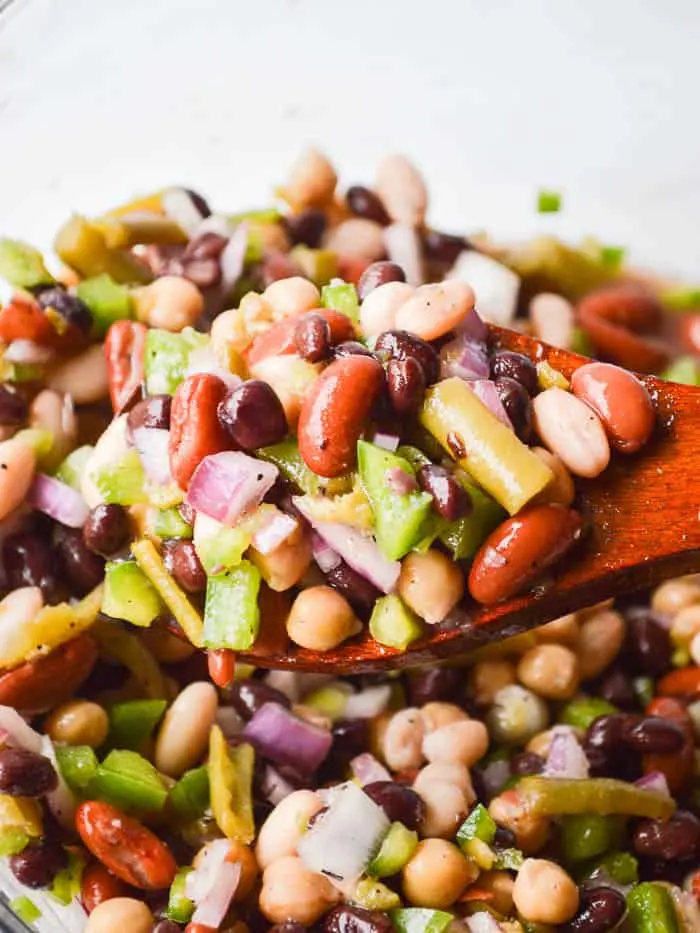 Recommended to serve with the Best Easy Bean Salad
Carolina Style Burgers are a summer staple around here. Topped with my favorite easy chili for hot dogs and hamburgers, a simple slaw, and cheese, with a sesame seed bun, you really can't go wrong.
My fave Barbecue Grilled Chicken Sandwich is smothered in cheese, BBQ sauce, and sauteed mushrooms. Def one to try.
This easy recipe I wrote on How to Grill Brussels Sprouts is still one of the most popular recipes on Sugar Dish Me. If you are heating up the grill anyway, it's a recipe so simple you won't wanna miss it.
There are really a zillion recipes I could have listed here to go with bean salad, but in spot #4 I decided to dig up my old Buffalo Turkey Sliders Recipe. No grill required and always good. If you like a little spice this is a good one. I also HIGHLY recommend these Spicy Grilled Chicken Wings (and if you have a Traeger Grill, she has more Traeger recipes than you will know what to do with. Need another salad-ey side? I REALLY recommend this Corn Edamame Salad with Balsamic Vinaigrette.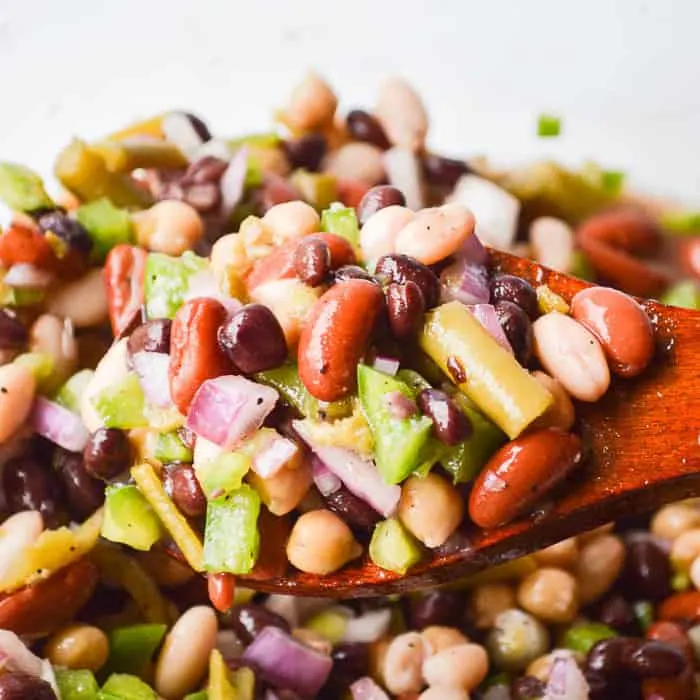 Yield:

serves 20-24
The Best Easy 5 Bean Salad
The Best Easy 5 Bean Salad is a delicious and budget-friendly recipe that's perfect for all your picnics, cookouts, BBQ's and potlucks. It's vegan, naturally gluten free, easy to make ahead, and is always a hit!
Ingredients
1 (14.5 ounce) can green beans
1 (14.5 ounce) can wax beans
1 (14.5 ounce) can garbanzo beans
1 (14.5 ounce) can black beans
1 (14.5 ounce) can kidney beans
1/2 a large red onion, diced
2 large stalks of celery, diced
1 green bell pepper, diced
1/2 teaspoon salt
1/2 teaspoon ground black pepper
1/4 cup granulated sugar
1/2 cup red wine vinegar
1/4 cup olive oil
Instructions
Step 1

Drain and rinse the 5 cans of beans.

Step 2

Toss together the beans, red onion, celery, and green pepper in a large bowl.

Step 3

In a smaller bowl, whisk together the salt, pepper, sugar, and red wine vinegar until the sugar is dissolved. Then gradually pour in the oil, whisking constantly until it all comes together.

Step 4

Pour the dressing over the beans and veggies, and toss to coat. Cover and refrigerate, before serving. For best results, refrigerate at least 4 hours or overnight.

Step 5

Toss the bean salad with the dressing once more before serving.
Notes
If you don't have, or are unable to find one of the 5 kinds of beans you can swap out more of one of the other types listed.
Recommended Products
As an Amazon Associate and member of other affiliate programs, I earn from qualifying purchases.
Nutrition Information:
Yield:
24
Serving Size:
1
Amount Per Serving:
Calories:

78
Total Fat:

3g
Saturated Fat:

0g
Trans Fat:

0g
Unsaturated Fat:

2g
Cholesterol:

0mg
Sodium:

166mg
Carbohydrates:

11g
Fiber:

3g
Sugar:

3g
Protein:

3g