The cookies belong to the chewy-molasses-cookie family, but are full of surprises! Double Ginger Molasses Cookies are also studded with chocolate, rolled in sugar, and are ready to celebrate.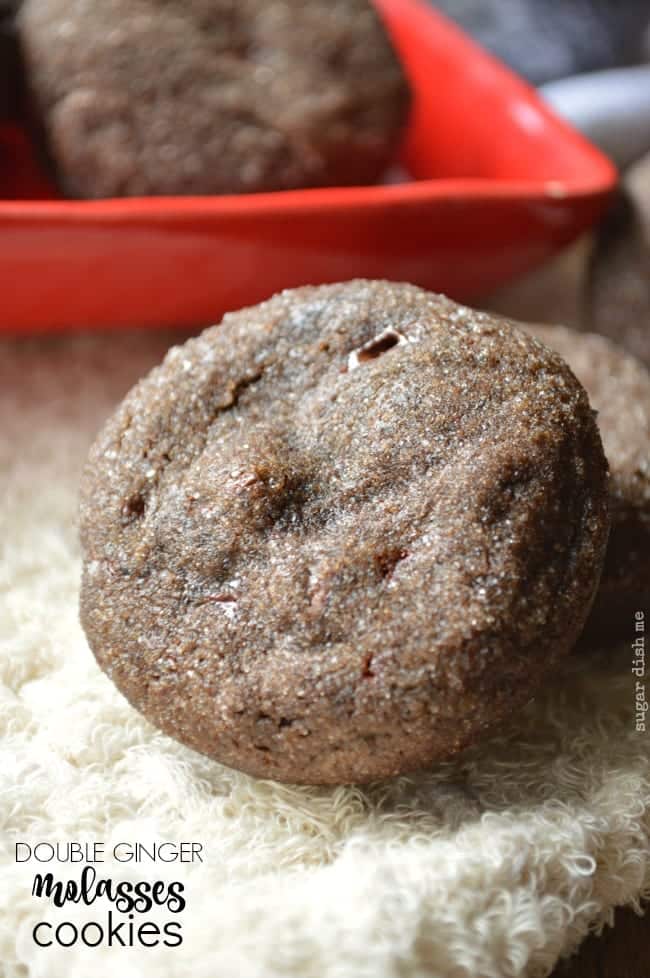 For the last few years I participated in a cookie swap to support Cookies for Kids' Cancer. The concept was easy: share cookies and brands like OXO will donate. In years past I made Peppermint Hot Chocolate Cookies and these Pistachio Pudding Cookies. This year went down a little differently, though.
Cookies for Kids' Cancer was founded by two OXO employees who were inspired by their son's battle with pediatric cancer [a disease which claims the lives of more children in the US than any other disease]. It's an easy way for all kinds of people to get involved with the fundraising efforts of such an important cause. This year, the inspiration came from a new cookbook, Dorie's Cookies, written by Dorie Greenspan.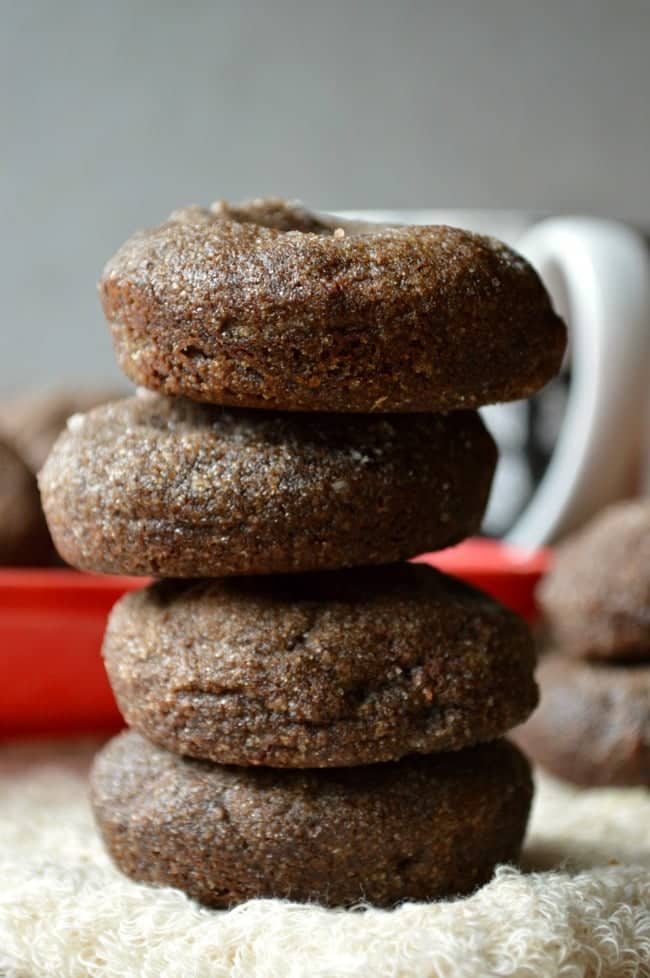 Instead of me pulling a cookie recipe out of thin air, I got to test out one of the recipes from Dorie's newest book (there are 200+ recipes, guys. The choice was NOT easy). I went the ginger molasses cookie route, because it's been since I made these Chewy Ginger Cookies with Sweet Orange Glaze that I shared anything even sort of similar.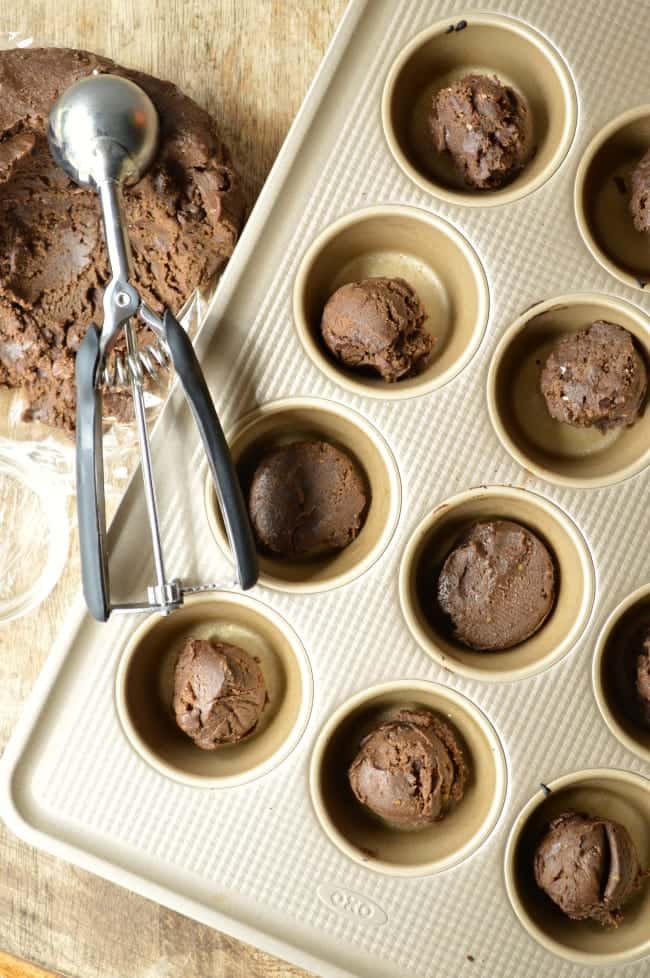 They were so fun!
You make the dough ahead and chill (you know, kind of gingerbread-style. Then you use a cookie scoop to portion out the dough. Each portion gets rolled in sugar, and then you bake them in a muffin tin! The results are thick, chewy, and studded with chocolate plus spice. The thickness and texture actually reminds me of a brookie, except with all that ginger/molasses richness.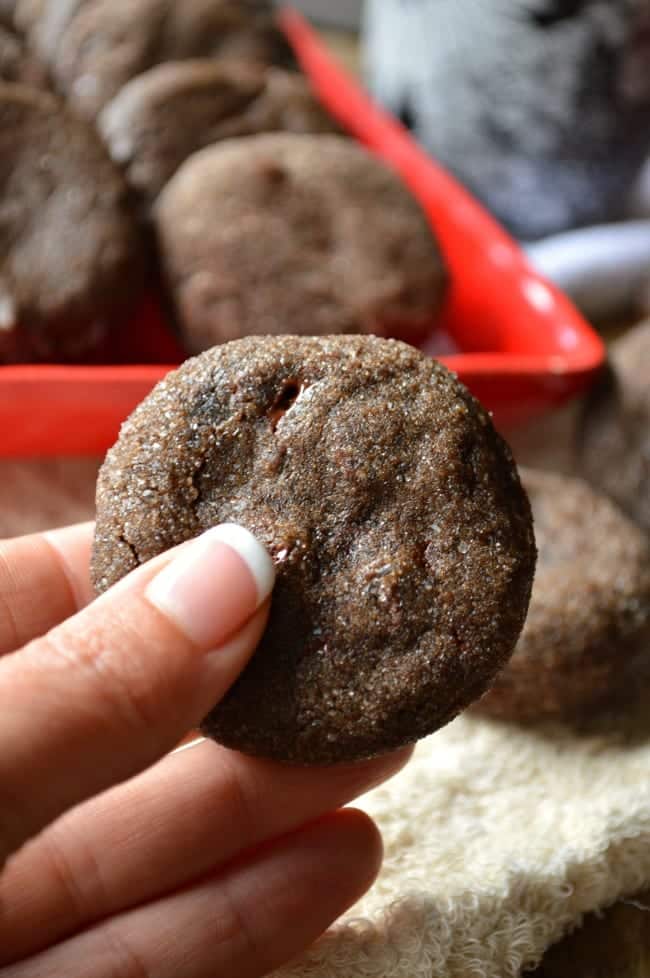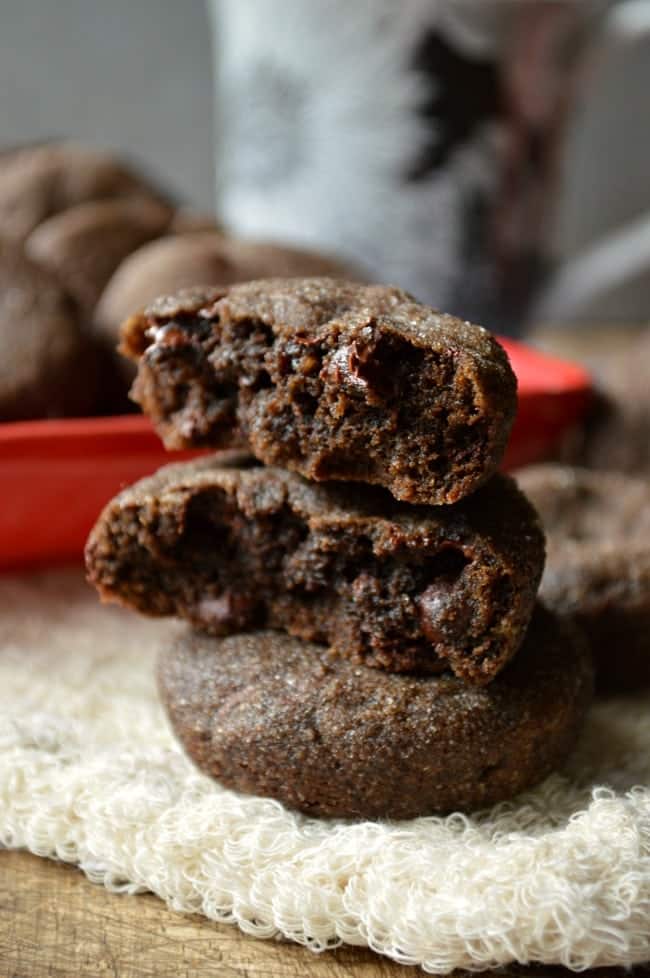 For every blogger that posted a recipe from Dorie's book as a part of this campaign, OXO is donating $100 (up to their $100,00 commitment). The timing here is also relevant, because it's Pediatric Awareness Month. In addition to the generous monetary donation that OXO puts forth in an effort to support their OXO family and help stamp out pediatric cancer, they also very generously donated the kitchen tools you see in this post (and those I used in the creation of this recipe). I used:
It really makes me proud to be able to not only share with you products I love, but also products that come from a company committed to doing good work.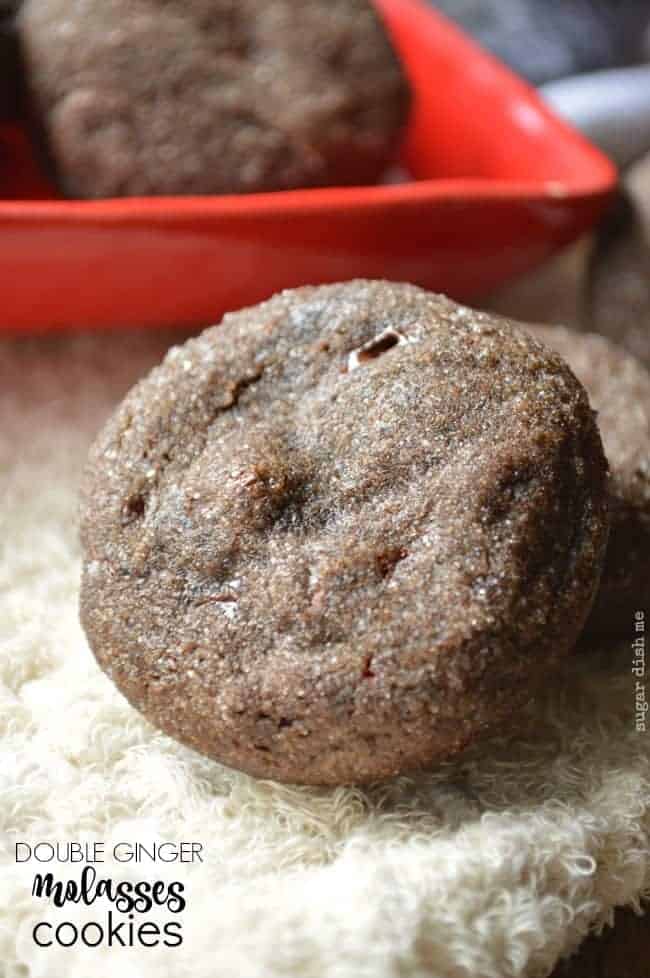 Yield:

30-36 cookies
Double Ginger Molasses Cookies
Total Time:
2 hours
28 minutes
Ingredients
2¼ cups all-purpose flour
2 tablespoons unsweetened cocoa powder
2 teaspoons instant espresso
1½ teaspoons ground ginger
1 teaspoon ground cinnamon
¼ teaspoon ground cloves
½ teaspoon baking soda
½ teaspoon fine sea salt
3/4 cup unsalted butter, cut into chunks, at room temperature
1⁄3 cup granulated sugar
1⁄3 cup packed light brown sugar
1 large egg yolk, at room temperature
½ cup unsulfured molasses
1½ teaspoons pure vanilla extract
1⁄3 cup chopped crystallized ginger
7 ounces semisweet or bittersweet chocolate, chopped chip-size
Instructions
Whisk the flour, cocoa, espresso, spices, baking soda and salt together.
In a large bowl, beat the butter and both sugars together on medium-low speed for about 3 minutes, scraping the bowl as needed, until fully blended.
Add the yolk and beat for 1 minute, then add the molasses and vanilla, beating until smooth. Turn off the mixer, add the dry ingredients all at once and pulse the mixer until the risk of flying flour passes. Working on low speed, mix the dough until the flour is almost but not completely incorporated.
Add the crystallized ginger (or the sugared fresh ginger) and chocolate and mix until the dry ingredients disappear into the dough and the ginger and chocolate are evenly distributed. If you've got bits of dry ingredients on the bottom of the bowl, mix them in with a flexible spatula.
Gather the dough into a ball, flatten it and wrap it in plastic. Refrigerate for at least 2 hours.
Getting ready to bake: Position the racks to divide the oven into thirds and preheat it to 350° F. Butter or spray regular muffin tins or, if making free-form cookies, line two baking sheets with parchment paper or silicone baking mats.
Have a medium cookie scoop at hand. Alternatively, you can use a rounded tablespoonful of dough for each cookie. If you're using tins, find a jar or glass that fits into them and can be used to flatten the dough; cover the bottom in plastic wrap. Spoon some sugar into a wide shallow bowl.
For each cookie, mold a scoop or spoonful of dough into a ball between your palms, then turn it in the sugar to coat and put in a muffin cup or on a baking sheet, leaving 2 inches between each ball of dough. If using tins, use the jar or glass to flatten each ball until it almost reaches the sides of the cup. If it's free- form, press to flatten to about 1⁄2 inch thick.
Bake the cookies for about 13 minutes, rotating the tins or sheets top to bottom and front to back after 7 minutes. The cookies should be lightly set around the edges and softer in the center. Transfer the tins or sheets to racks and let the cookies rest for 15 minutes before unmolding them and/or placing them on racks to cool completely.
If you're baking in batches, make certain to start with cool tins or baking sheets.
Notes
A word on crystallized ginger: Crystallized, or candied, ginger is sliced fresh ginger that is cooked in syrup, dredged in sugar and dried. You can usually find it in the supermarket alongside other dried fruits or in the spice section. If the ginger isn't moist and pliable, steam it before using: Put it in a strainer over a saucepan of simmering water, cover and let warm and soften for about 5 minutes; pat dry, chop and use. If you can't find crystallized ginger, you can omit it or mix 2 tablespoons minced fresh ginger with 2 teaspoons sugar and let stand for about 10 minutes, until the ginger is syrupy.

Storing
You can refrigerate the dough for up to 3 days. You can also scoop out the dough, shape into balls and freeze the balls on baking sheets; when they're firm, pack them airtight and keep frozen for up to 2 months. Remove the dough from the freezer and let the balls sit at room temperature for at least 15 minutes, then roll in sugar and bake. The baked cookies can be kept in a sealed container at room temperature for up to 4 days. They'll get a little drier and a little less chewy, but that will make them even better for dunking.


Recipe from Dorie's Cookies by Dorie Greenspan
or 2 tablespoons minced fresh ginger mixed with 2 teaspoons sugar (see note) Sugar, for rolling
Recommended Products
As an Amazon Associate and member of other affiliate programs, I earn from qualifying purchases.
Nutrition Information:
Yield:
36
Serving Size:
1
Amount Per Serving:
Calories:

140
Total Fat:

7g
Saturated Fat:

4g
Trans Fat:

0g
Unsaturated Fat:

3g
Cholesterol:

21mg
Sodium:

58mg
Carbohydrates:

17g
Fiber:

1g
Sugar:

8g
Protein:

2g