Moist quick bread with a tender crumb that's packed full of fruit and flavor. Healthy Pumpkin Banana Bread uses applesauce, bananas, and pumpkin in place of butter and has only 1/2 cup brown sugar in the whole recipe!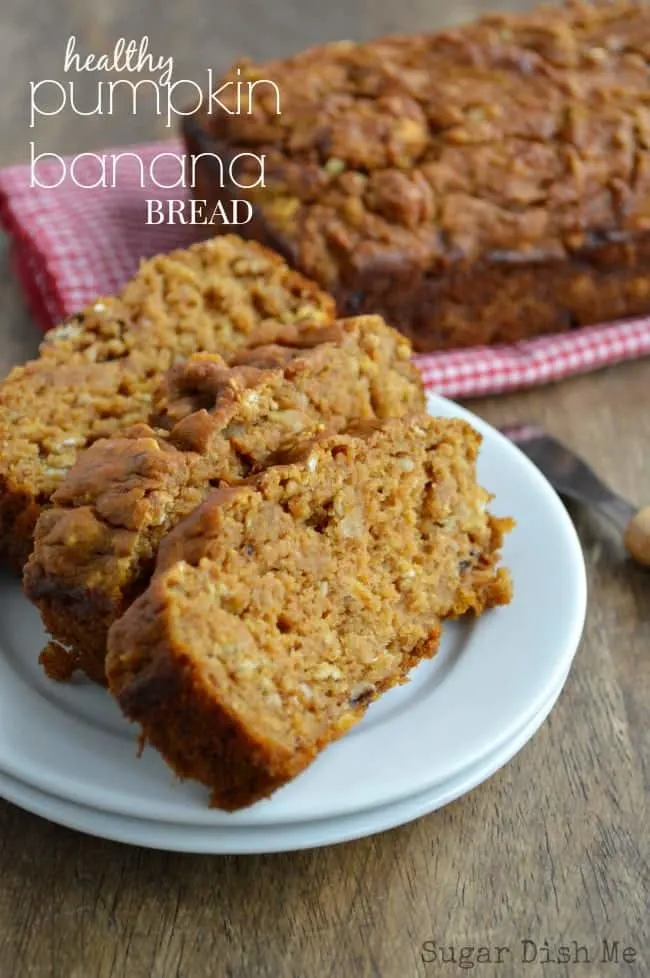 Can you even believe this is the very first pumpkin recipe I've put out this fall?
I can't.
I've been stockpiling pumpkin for at least 2 months, and at one point I had a million great ideas, but I didn't write them down. and then there were just soooo many gorgeous pumpkin recipes all over the internets that my ideas flew right out of my head.
It's a job hazard.
So this Healthy Pumpkin Banana Bread was actually Healthy Peach Banana Bread that I made for my friends at Food Fanatic.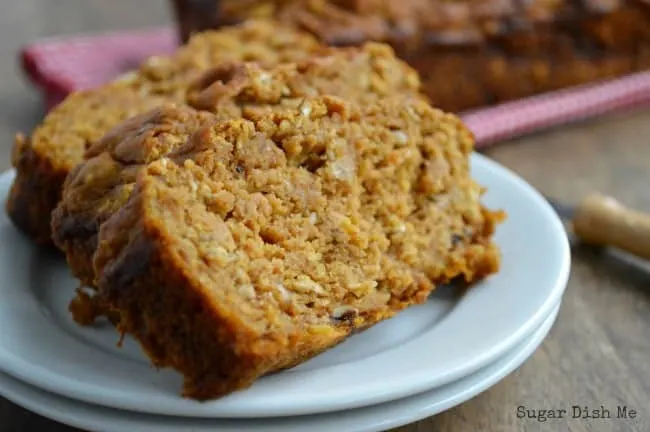 But before we talk about delicious quick breads and things, can we just take a second to talk about The Walking Dead? I need to talk about it. Because that premiere on Sunday was so serious.
I was on the couch like a huge ball of stress with my phone in my hand, both afraid to be interrupted and totally eager for #TheWalkingDead live tweets.
I swear twitter is what keeps the networks in business, because without it who in their right mind would sit through all those commercials? Commercial breaks are for reading commentary from people 10000 X wittier than I could ever be.
Also I never ever watch anything when it actually airs. This show is a major exception. And last night Chad, who never actually has the patience to watch any series in the history of the world (he quit on me 3 episodes before the end of Breaking Bad, you guys), said to me last night, "I can't wait till Sunday!"
Yup. It's like that.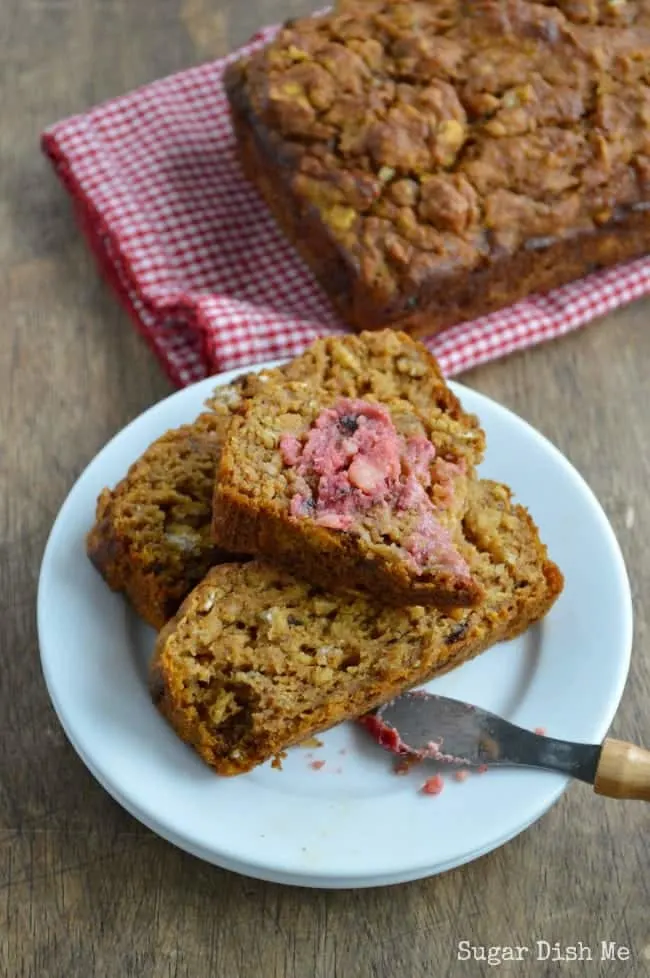 Okay back to the bread. THIS BREAD!!!
There's NO BUTTER. Only applesauce, bananas, and pumpkin puree. I added oats and used just 1/2 cup of brown sugar in the whole recipe. THAT MEANS that this bread clocks in at just under 90 calories a slice. It makes a perfect breakfast on-the-run or afternoon snack.
It's easy to make [I based it on my very first recipe I ever made by myself when I was a kid] and I looove it.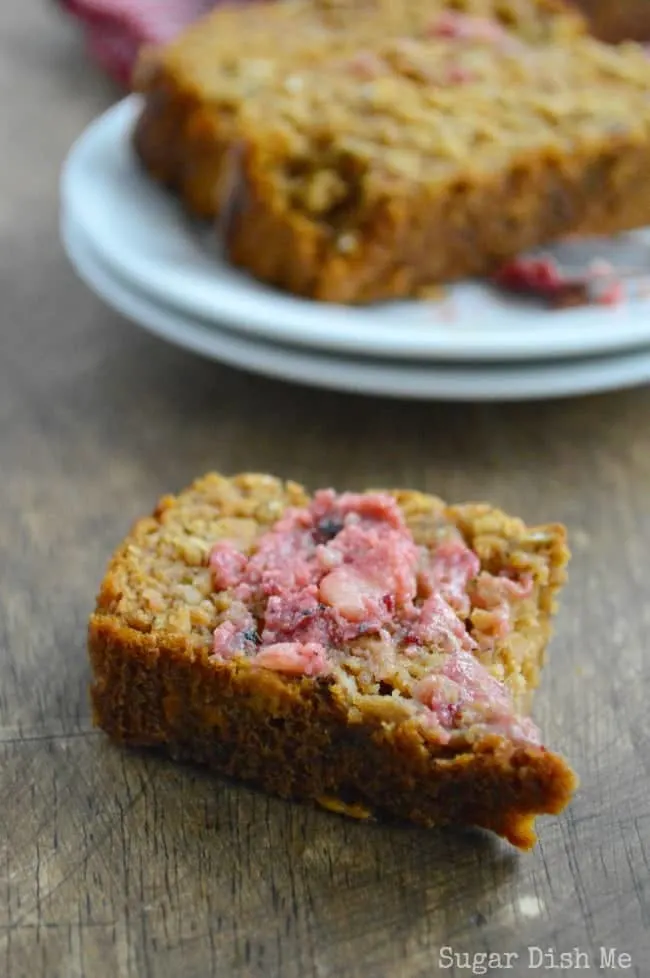 To make this Healthy Pumpkin Banana Bread you're going to…
… follow the recipe below EXACTLY, but you will swap the 1 medium peach for 3/4 cup of canned pumpkin puree. And I definitely added 1/2 cup chopped walnuts.
You also might want to try this decidedly unhealthy but super delicious cranberry butter.
And then you are going to talk to me all about how much we loathe gum-chewing guy and how Carol has definitely redeemed herself, but also where is Beth???!!!
If you love a good fall quick bread, you'll also love…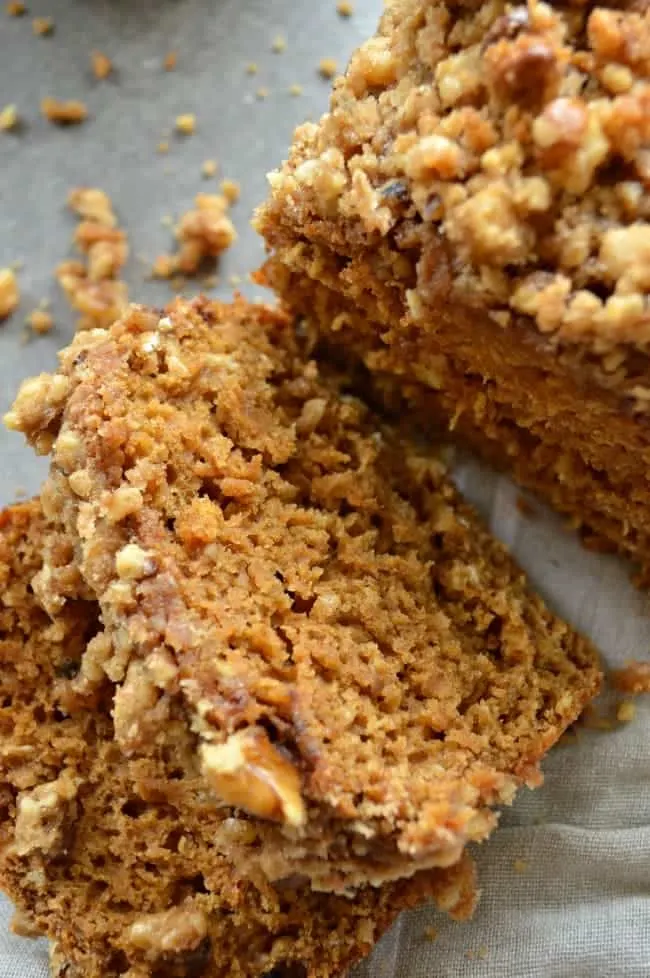 Healthy Sweet Potato Crunch Bread