Love a good muffin but not totally into baking from scratch? This post is for you. How to Make Box Muffins Better is loaded with all my best tips and tricks for turning out gorgeous muffins with a perfectly tender crumb, using a box mix.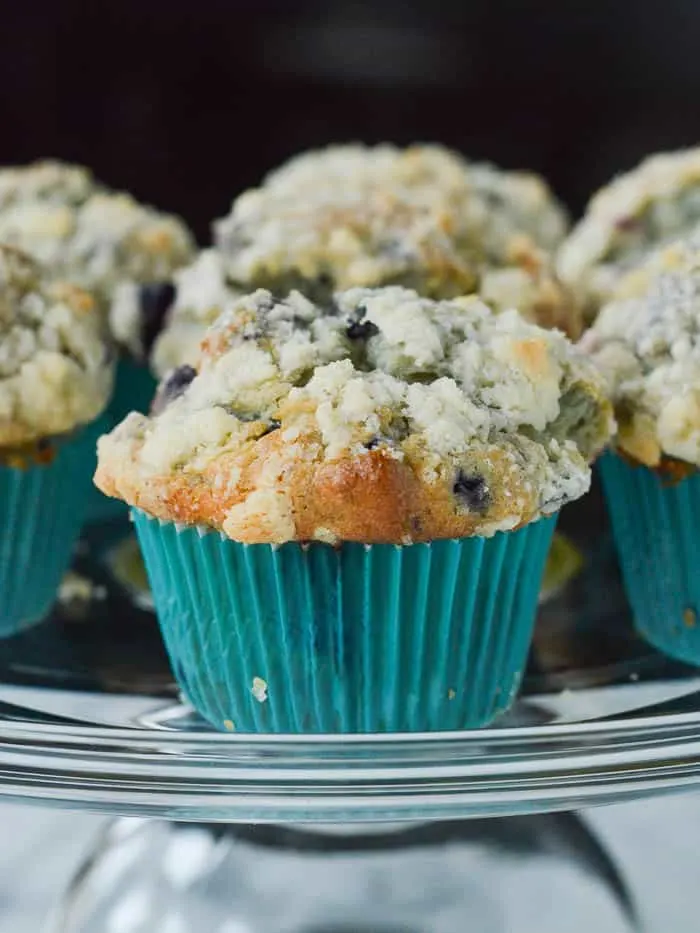 MUFFINSSSSSS. From a ~gasp~ box mix.
Just kidding. I am totally not above using a box mix. I love them for cakes, I love them for cookies, and honestly, those little 98 cent packages of muffin mix you can grab at the store? They are totally delicious. But! If you are serving them up at a breakfast or brunch, and you want your box mix muffins to look the part, I have loads of tips for impressing guests whith a cheap box mix.
Can I tell you a secret? Your favorite coffee shop muffins probably come from a mix.
How to Make Box Muffins Better – Baking Tips
Mixing up your box mix is the first place you are going to start, and to get those high-domed bakery-style muffins, there are a few tricks you need to have handy right away. The very first thing I need you to do though, is to PREHEAT THE OVEN TO 425°F.
I know the box says 375° or 400° in most cases. But the initial burst of heat is going to help our box mix muffins rise. The high heat creates steam that gives your box mix muffins rapid rise. So after you run through the rest of these tips, know that AT LEAST those first 4-5 minutes will be at 425°F. If your box mix instructions STATE 425°F, it's all good.
If your instructions call for a lower baking temperature, reduce the heat after the first 4-5 minutes WITHOUT opening the oven.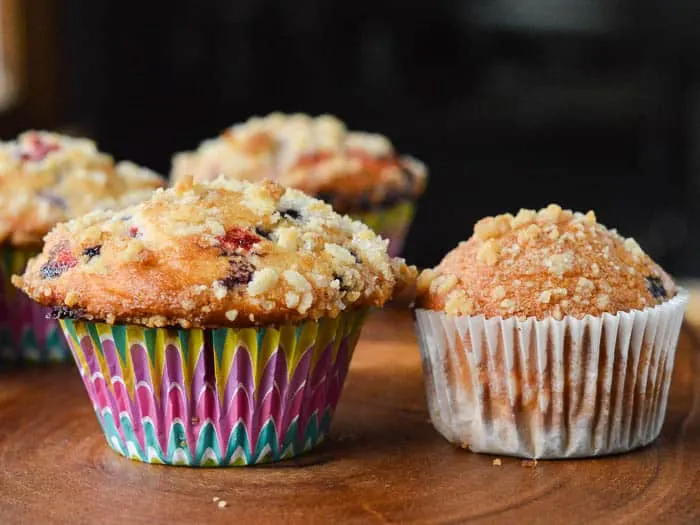 Can I Use Milk in Place of Water?
You technically can, but it's not recommended. MUFFINS AND CUPCAKES ARE NOT THE SAME! If your box mix calls for water, it's probably because adding milk will make them TOO MOIST. Have you ever had your muffins just totally stick to the paper liner? So they look great and taste great, but when you go to unwrap them and eat them, you are like WTF half my muffin is stuck to the paper.
We want to avoid that and the weird eating gymnastics involved with getting said muffin off the paper.
A tender crumb is good. Too much moisture is not.
All of this said though, if your muffin mix calls for milk, USE MILK! Martha White Just Add Milk is one of my favorites.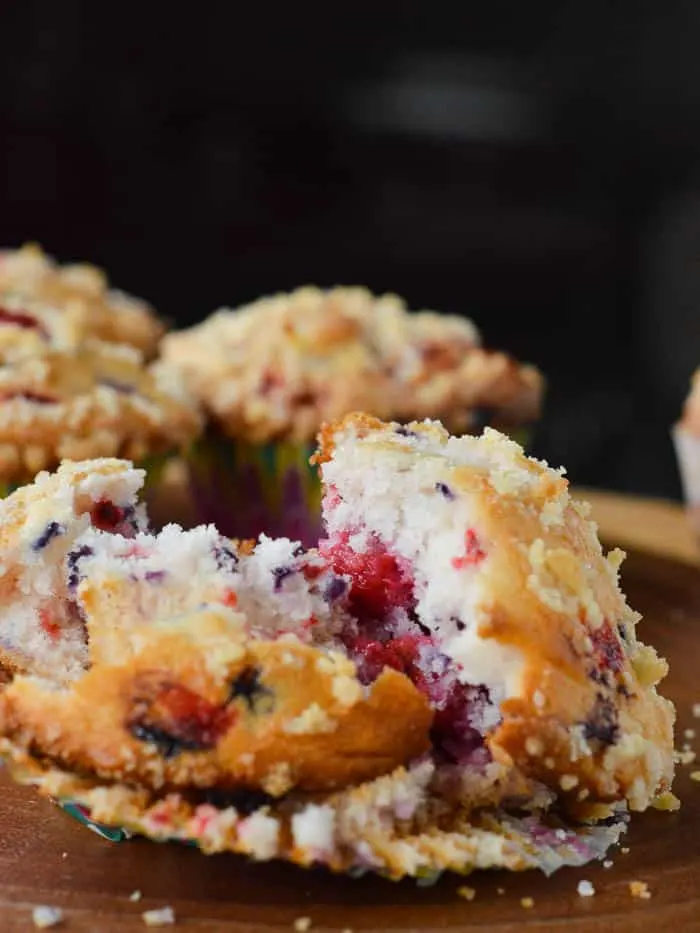 Don't Overmix!
Have you ever made box muffins and they taste fine but they have just … the WRONG texture? Rubbery or tough muffins are because you got a little crazy with your mixer. My muffin preference is to whisk them up by hand. I like this OXO Balloon Whisk.
Too much egg can also throw you off here. We aren't changing the actual science of what's going on with your muffin mix. We are just helping it along a little.
Box Muffin Add-Ins
I have LOADS of suggestions on what to add in to your muffins, and could basically go on here for days. But here are a few of my favorites:
Add fresh or frozen berries! Your berry muffin mix will definitely have some berries included, but the more the berrier. Sorry. I am a nerd.
add zest! Zest a lemon, an orange, or a lime and stir the zest into the batter for a burst of citrus
fill with cream cheese! To make a quick cream cheese filling just beat together 8 ounces of cream cheese + 1/4 cup granulated sugar
fill with jam or fruit curd! No special tips here. Just keep in mind that jam and jelly are not the same.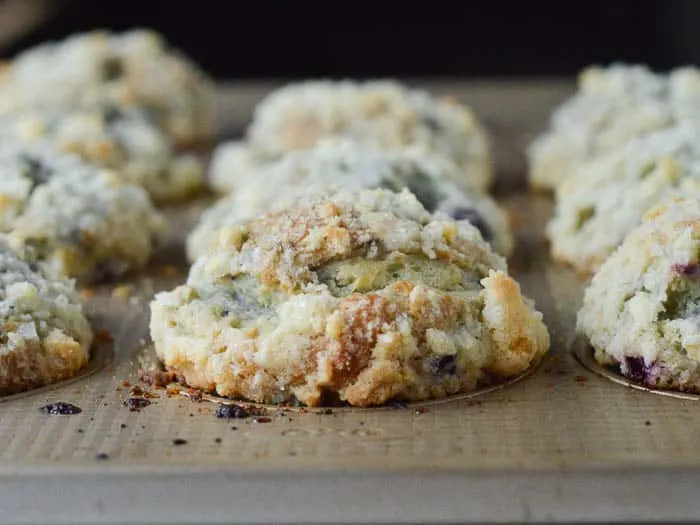 Fill the Muffin Cups ALMOST to the Top.
This is important. Most box directions will have you stop at the halfway mark. But if you want big, tall, high-domed muffins, halfway won't cut it. 3/4 of the way full will give you a nice tall dome. ALMOST to the top will give you a muffin top.
PRO TIP: If you think you'll have muffin tops (the good kind), you should spray the whole top of the muffin pan with non-stick cooking spray.
Toppings for Bakery-Style Box Muffins
These are the details that will make your bakery-style muffins shine! You always notice what's on top first.
Make Streusel Topping
This is actually my very favorite way to jazz up muffins whether I made them from scratch or not. Streusel topping is so easy and it adds buttery sweetness, and makes your muffins look very profesh. To make streusel topping you need:
3 tablespoons soft butter
3 tablespoons granulated sugar
1/2 cup all purpose flour
Mix it up to a crumby consistency (I totally use my fingers for this) and sprinkle over the top of your muffins. These Blueberry Lemon Muffins are NOT from a mix; it's a from-scratch recipe. But it calls for the same streusel and they are DELICIOUS.
Other Favorite Toppings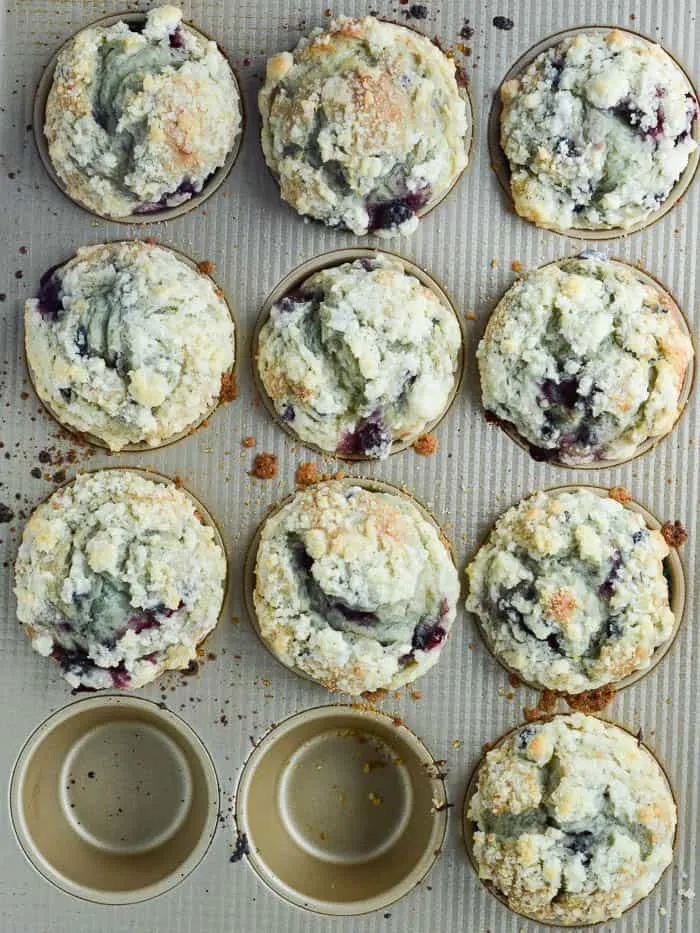 What are your favorite muffin-making tips?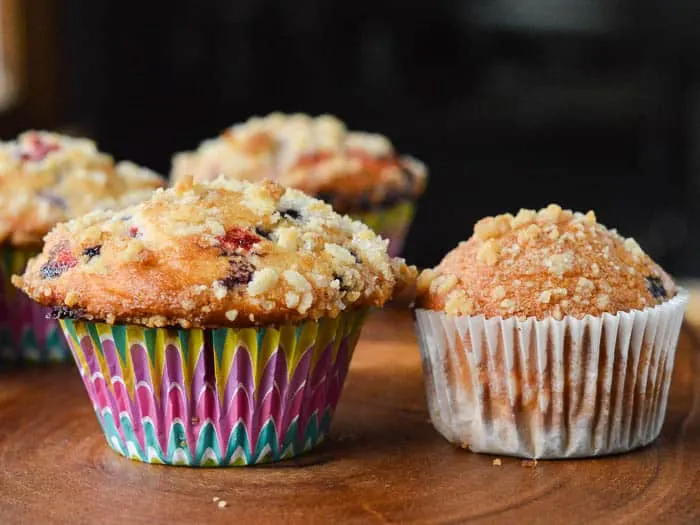 Yield:

Makes 12 large Muffins
How to Make Box Muffins Better
Love muffins but no time for scratch baking! You can make bakery style muffins with a box mix! How to Make Box Muffins Better is a fool proof recipe with lots of tips and tricks to turn out better box muffins every time!
Ingredients
1 package muffin mix of your choice
additional ingredients according to package instructions (milk, water, oil, egg, etc)
add-ins such as fresh or frozen berries or lemon zest
toppings such as streusel or sparkling sugar
Instructions
Preheat the oven to 425°F and line a standard muffin tin with paper liners. Spray the whole pan (the flat top as well!) with nonstick cooking spray. this prevents your muffin tops from sticking.
Use milk or water according to package instructions. Don't substitute.
Mix the ingredients together by hand, and be careful not to over mix!
Mix in additional berries or zest.
Fill the muffin cups 3/4 of the way up. This might mean you have fewer muffins than your package instructions call for.
Top with streusel or turbinado sugar, etc.
Bake. If your package instructions called for a baking temperature BELOW 425°F, reduce the heat after the first 4-5 minutes of baking time to the recommended temperature. DO NOT OPEN THE OVEN. Bake for the time your package states.
Recommended Products
As an Amazon Associate and member of other affiliate programs, I earn from qualifying purchases.