Blueberry Cinnamon Oatmeal is healthy, hearty, and so easy to make! This simple homemade oatmeal comes together on the stove top in just a few minutes and can be made with fresh or frozen blueberries.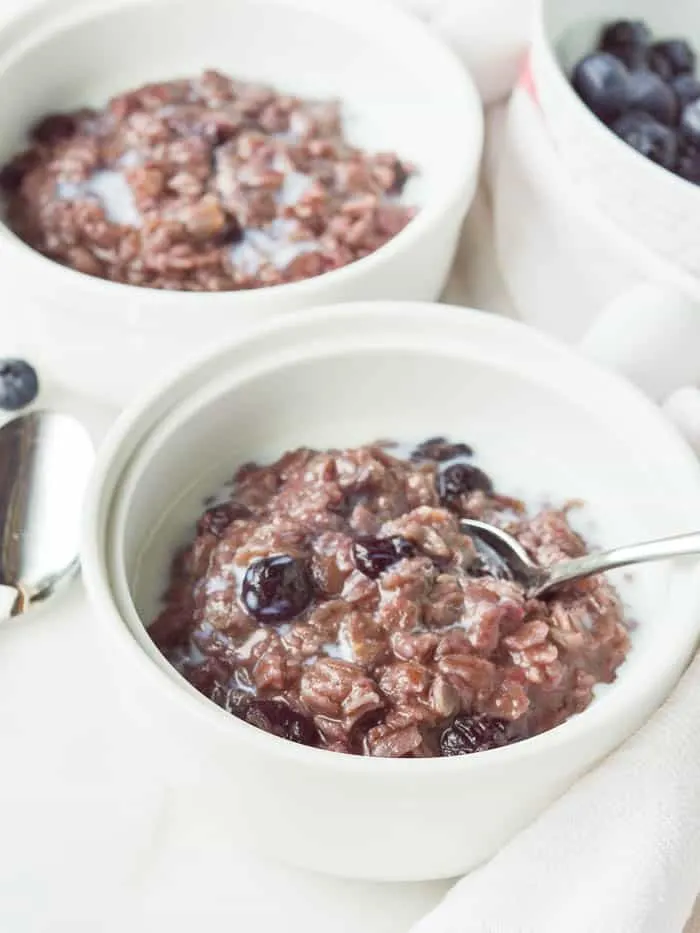 My new fave breakfast thing is BLUEBERRY CINNAMON OATMEAL.
This recipe is easy, hearty, and despite my always making it on the stovetop, it's quick!
We threw my sister a baby shower today, and I ran outta the house at 9:30 am to help set up. The drive is about an hour, and halfway there I realized I'd not had breakfast.
In anticipation of the buffet of cupcakes, chicken fingers, cookies, and bottomless mimosas that I knew lay ahead, I decided to try to eat SORTA good – like as good as can be managed while driving up I-85 and in a time sensitive situation.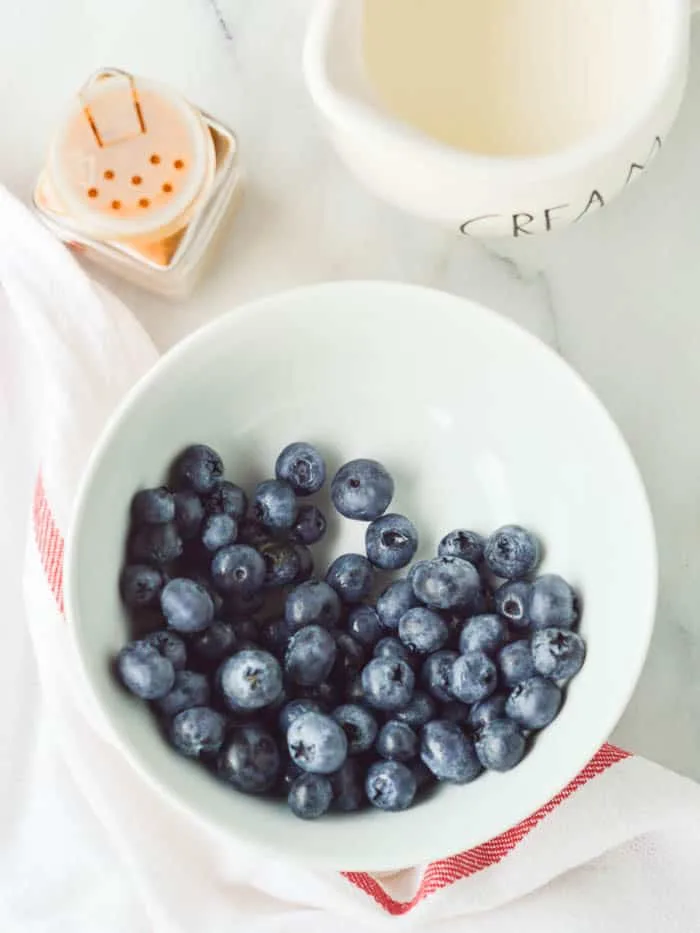 So I went to Starbucks, and gambled that going in would be faster than the drive thru and I was dead wrong.
I feel like a lot of my recipes start with me being annoyed about something, and Blueberry Cinnamon Oatmeal is no different. I waited a solid 10-15 minutes for my Starbucks Blueberry Oatmeal and dirty chai latte – like they TOTALLY forgot about me – and when I raced back out to the car and hit the road with blueberry oatmeal and espressoed tea in tow, I was UNDERWHELMED.
It was fine, but it was none of the things I wanted it to be. So I fixed it.
Once upon a forever ago I made this Apple Cinnamon Oatmeal and it got REALLLYYYY popular. That was in 2012 and you guys are still making that oatmeal and tagging me on Instagram, which is basically my favorite. That recipe is very similar to this one! And the technique is identical.
Here though, I broke it down just a little bit.
Do I Make Oatmeal with Milk or Water?
A point of contention!

Awhile back I also wrote a recipe called Perfect Stove Top Oatmeal. If you sort through the comments there, people have a LOT of feelings about whether you should make oatmeal with milk or water.
Most of the people voting for milk are in the UK, and I don't actually think either way is really right or wrong, they are just different.
I make my oatmeal with water. Here's why.
Milk scalds. It's harder to bring milk to a simmer without it scalding just a little, and it sticks to the pan. That annoys me.
I don't actually like that much milk. Really. GIVE ME ALL THE CHEESE AND ICE CREAM. But just plain milk – I only dig it in small amounts. Personal preference for sure.
Adding cold milk to finish cools it down.
Less milk = fewer calories. Just keeping it real, and that does matter (to me; I save my calories for brownies)
Does Cinnamon Go With Blueberries?
Fine Cooking says yes, and I feel like they know some stuff. ALSO all of my crumble and cobbler recipes also say yes. (Peach Berry Crumble <<<—– MAKE IT!)
How to Make Blueberry Cinnamon Oatmeal Vegan or Gluten Free
Making this oatmeal recipe gluten free is easy. You just need certified gluten free oats.
Making this recipe vegan just takes a tiny bit of adjusting. Coconut oil works well in place of the butter. And obviously you can just do without the milk, OR switch it up for almond milk, oat milk (one of my new favorites), soy milk, etc.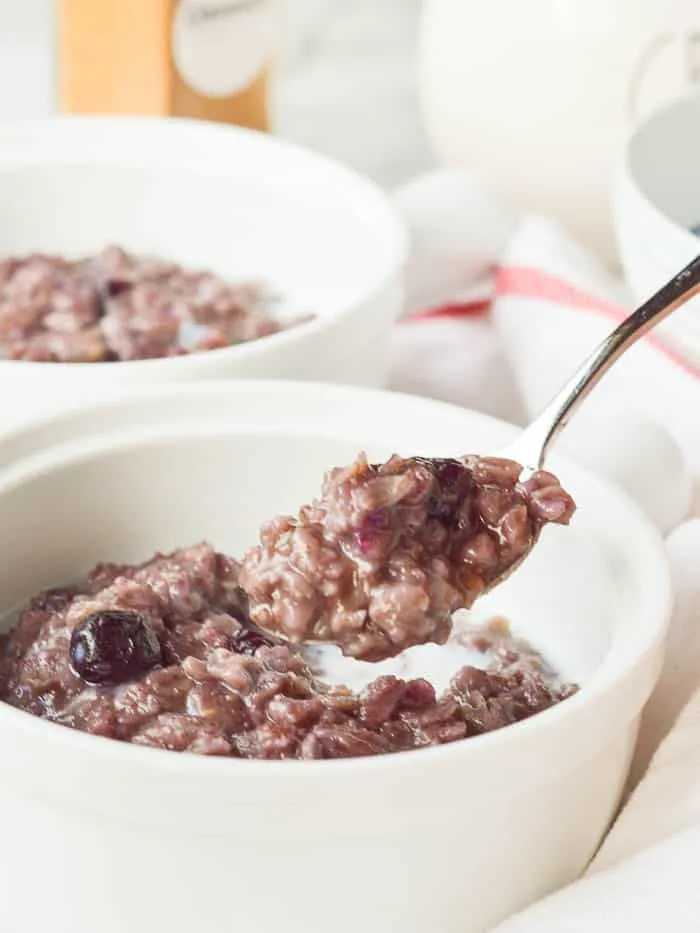 This recipe is not at all underwhelming. the berries – fresh OR frozen – are perfectly spiced so that your breakfast tastes a lot like dessert, but it's heart -healthy and there's no baking. Skip the Starbucks drive thru. You totally have time to make breakfast.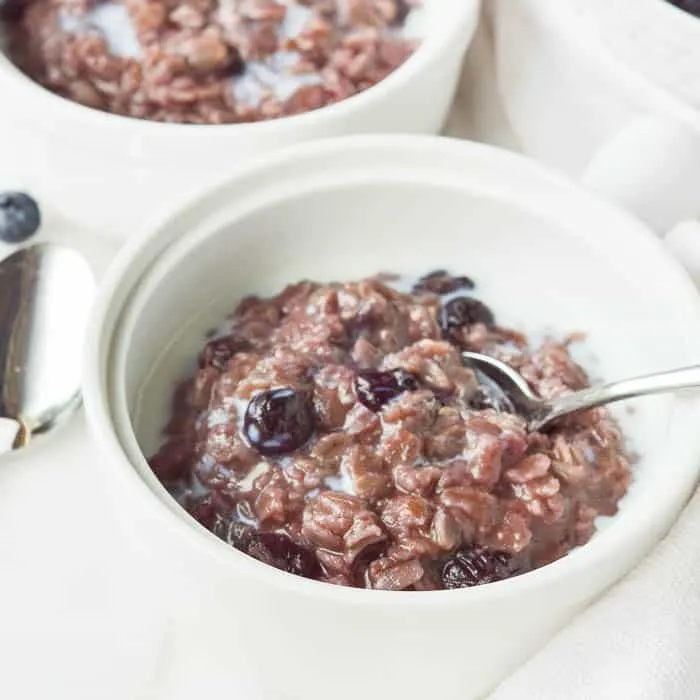 Yield:

2-3 servings
Blueberry Cinnamon Oatmeal
Blueberry Cinnamon Oatmeal is simple, hearty, healthy and delicious! Make this easy breakfast with fresh or frozen blueberries.
Ingredients
1/2 tablespoon unsalted butter
1 1/2 cups fresh or frozen blueberries
2 tablespoons brown sugar
1 teaspoon cinnamon
1/4 teaspoon ground ginger
1/4 teaspoon ground nutmeg
pinch of salt
2 cups water
1 cup old fashioned oats
Instructions
In a medium saucepan, melt the butter over medium high heat. Add the blueberries, brown sugar, and sprinkle in the spices and salt. Cook for 2-3 minutes until the blueberries are softened.
Pour in the water, turn the heat up to high, and bring to a low boil. Add the oats and reduce the heat to medium/medium high. Cook, stirring occasionally for 3-5 more minutes.
Continue cooking until most of the liquid is absorbed. Serve with milk or cream if desired.
Recommended Products
As an Amazon Associate and member of other affiliate programs, I earn from qualifying purchases.
Nutrition Information:
Yield:
3
Serving Size:
1
Amount Per Serving:
Calories:

151
Total Fat:

4g
Saturated Fat:

2g
Trans Fat:

0g
Unsaturated Fat:

2g
Cholesterol:

5mg
Sodium:

54mg
Carbohydrates:

26g
Fiber:

3g
Sugar:

7g
Protein:

4g