Mint Oreo Buttercream Frosting is a fluffy basic buttercream loaded with crushed Mint Oreo Cookies. If you love mint and chocolate, this frosting really takes the cake.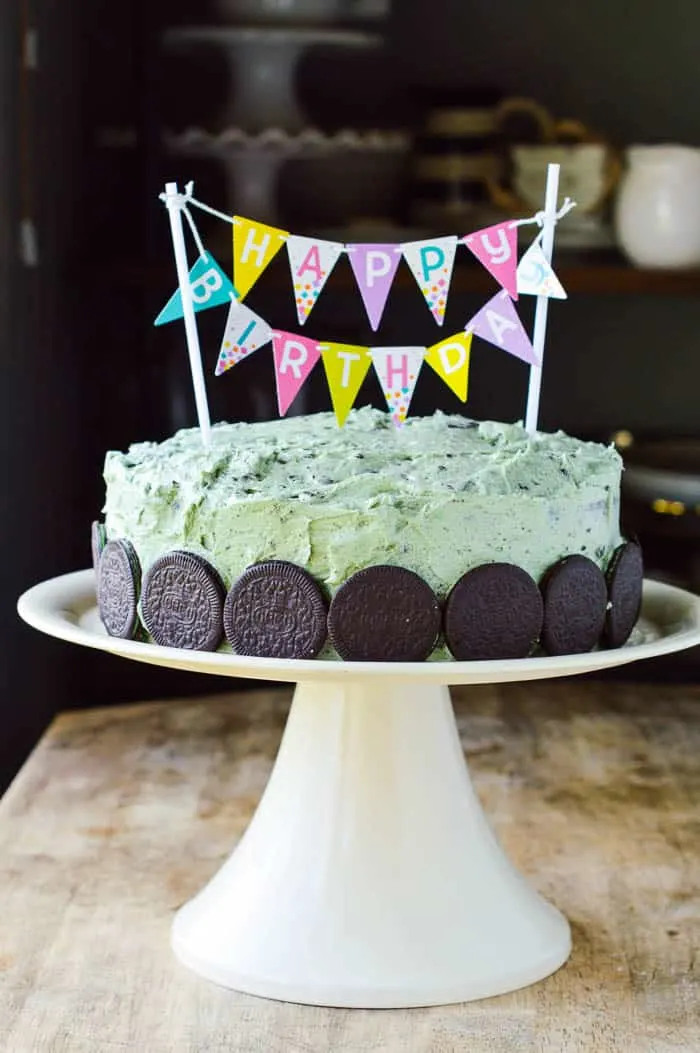 I make a lot of birthday cakes around here.
We don't do fancy parties or extravagance, and we don't even really invite friends (noting that I should probably find more friends that are down with 7+ dogs joining the festivities). What we DO have is bomb-ass birthday cake.
Just a few favorites are my Funfetti Cake from Scratch, this Birthday Cake Oreo Birthday Cake, and my absolute fave – Sour Cream Fudge Cake.
It's the Sour Cream Fudge Cake that I made this Mint Oreo Buttercream Frosting for. That cake is dense and rich; the sour cream makes the crumb ultra tender and fudge-ey. Usually I make it with a classic fudge frosting.
On birthdays I have always taken a page from my mom's playbook – you get to request whatever cake you want.
When my kids were small they used to request things crafted from cake like as if that's a skill I have hiding in my back pocket (it's not). Now that they are bigger though, they request things that just TASTE amazing.
Which is how we ended up with a Mint Oreo Cake. Sour Cream Fudge Cake topped with not Fudge Frosting, but with Mint Oreo Buttercream.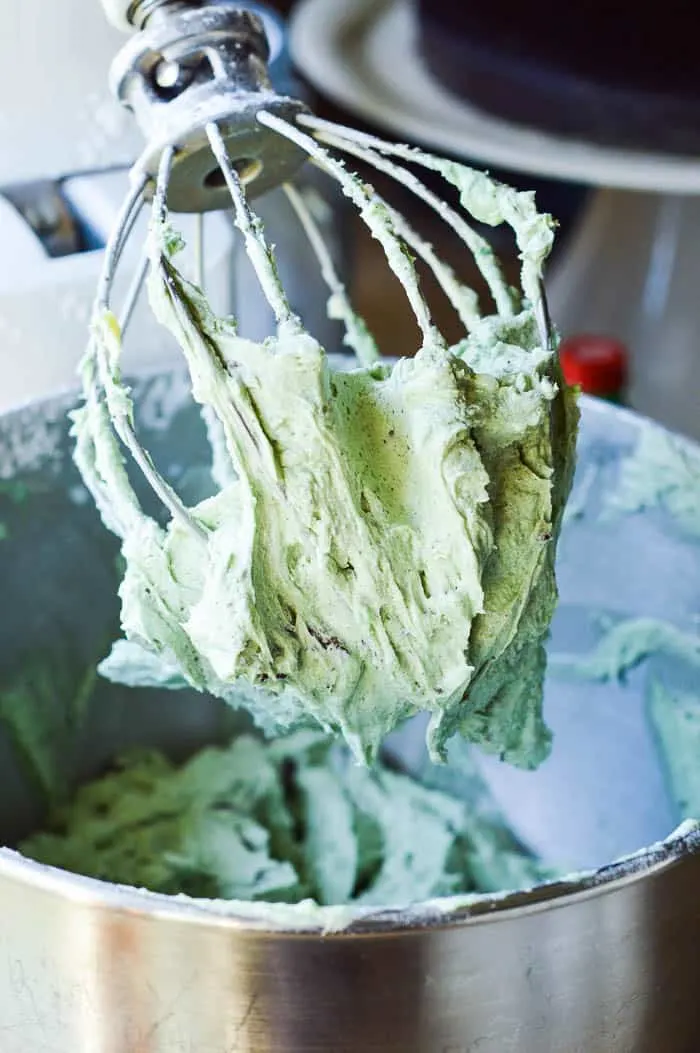 How to make basic buttercream
It's crazy easy. You only need a few ingredients to make basic buttercream:
butter (duh)
powdered sugar
milk or cream
vanilla
salt
Everything else is an add-in. So for this frosting, I started with the basics, and I added a little mint extract, 20 Mint Oreos, crushed, and a few drops of green food coloring.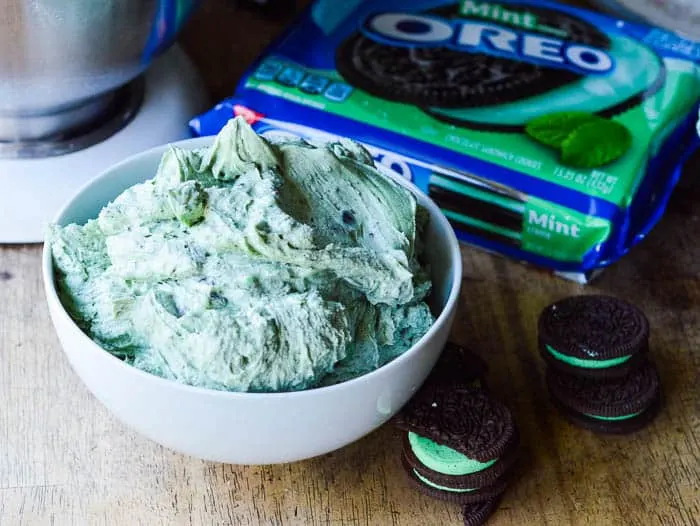 Can I Make Buttercream with Milk?
Yes. The consistency will be a bit different, but YES. It will totally work.
Heavy cream is $$$$ and if you have everything else handy and don't feel like running out to buy a container of heavy cream, go for milk. I'll caveat that though.
The higher the fat content, the better off your buttercream will be. Whole milk would be my 1st choice and I'd probably not . go below 2%.
Don't use something crazy like almond milk and then try to leave a comment saying that this recipe is trash. Almond milk is heavier and the results will not be the same.
Heavy cream turns out the fluffiest butter cream because it creams as you beat air into the frosting. Heavy cream makes whipped cream ?so adding heaving cream to powdered sugar and butter gives dreamy, fluffy results. Just keep that in mind if you are considering substitutions.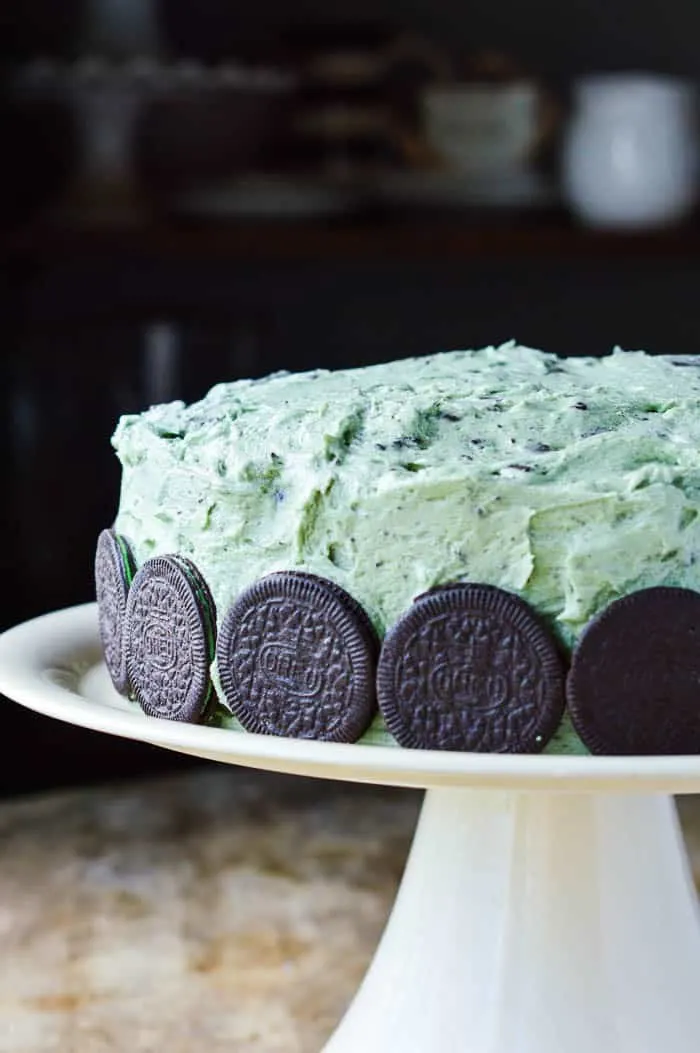 Frosting with Mint Oreo Buttercream
I used an offset spatula to frost this cake. But you need to be prepared that this frosting does not go on smooth. The offset spatula make it easy to grab up a big scoop and then work it around evenly.
Leaving the cookie bits a little bit bigger gives you better color and delicious texture, especially for the pieces of Oreo that end up wedged in the middle of the two cake layers.
If you are looking for a smooth picture-perfect frosting though, this one is not for you. If you like pretty cakes that required zero skill in decorating (see: Oreo cookies on the side of the cake), then this is perfect and i will add it to the list of reasons why we are friends.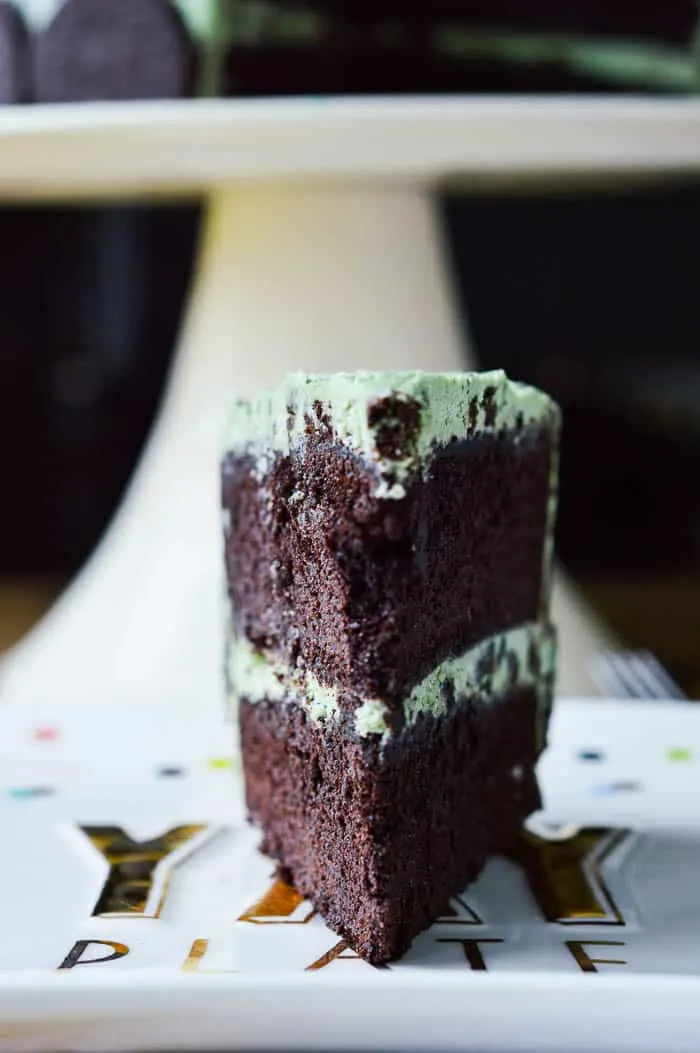 Eat more cake.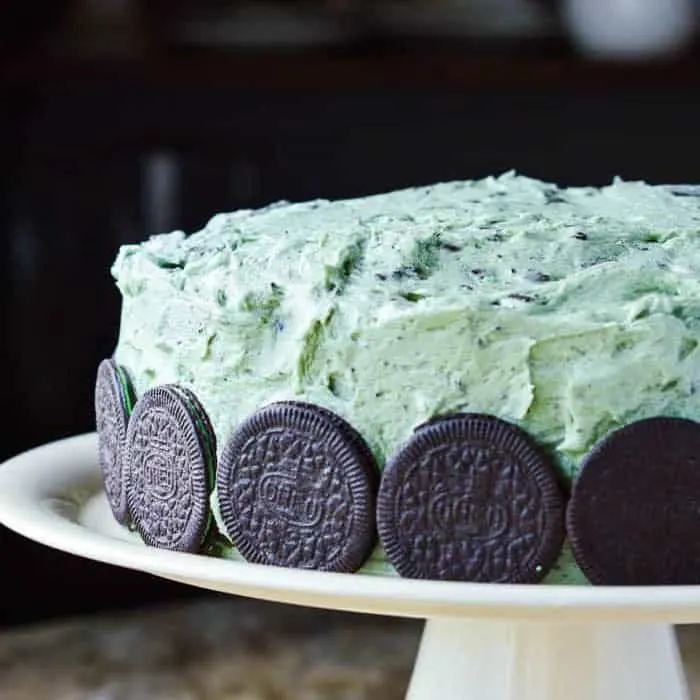 Yield:

Frosts 1 Double Layer Cake
Mint Oreo Buttercream Frosting
Ingredients
1 cup unsalted butter, softened
4.5 cups powdered sugar
1/2 cup milk or cream
1 teaspoon vanilla
1/2 teaspoon mint extract
1/2 teaspoon kosher salt
20 crushed Mint Oreo cookies
4 drops green food coloring
Instructions
In the bowl of a stand mixer fitted with the whisk attachment, OR in a large mixing bowl using a hand mixer with the whisk attachment, beat the butter for about a minute, and then gradually start adding the 1st 2 cups of powdered sugar.
Add about half of the milk or cream and mix until combined. Then add the remaining sugar and the extracts.
Add in enough of the milk or cream to reach your desired consistency, and then add the salt, crushed Oreos, and the green food coloring.
Whip the frosting until it's fluffy and the cookie bits are well combined. Frost your cooled cake immediately.
Notes
If you make this frosting in advance you will need to place plastic wrap right on top of the buttercream and refrigerate until you are ready to use. it will take a couple of hours to "thaw" to room temperature after refrigerating before the consistency is right for frosting a cake.
You'll have the best results frosting the same day, and then refrigerating the frosted cake.
Recommended Products
As an Amazon Associate and member of other affiliate programs, I earn from qualifying purchases.
Nutrition Information:
Yield:
16
Serving Size:
1
Amount Per Serving:
Calories:

254
Total Fat:

13g
Saturated Fat:

8g
Trans Fat:

0g
Unsaturated Fat:

4g
Cholesterol:

33mg
Sodium:

82mg
Carbohydrates:

35g
Fiber:

0g
Sugar:

33g
Protein:

1g