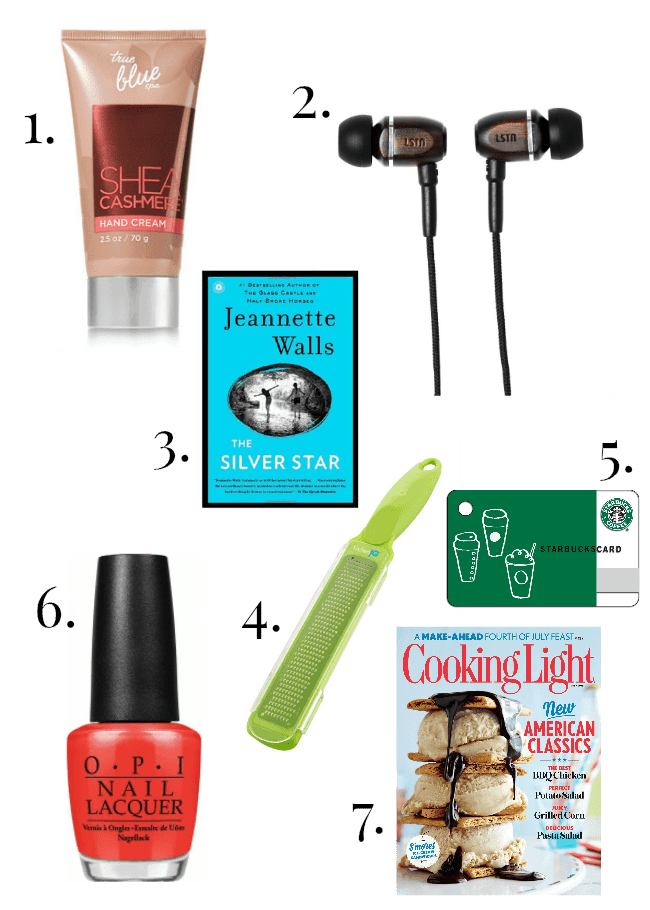 It's summer!!! Like full-on-in-the-middle-a-July SUMMER.
And still, while you all are vacationing and swimming and ball-gaming and flip flopping, you all find the time to come here and read.
So. I thought it would be fun if I gave away a prize FULL of my most favorite things. Because you are awesome. Each and every one of you landed on this funny little food blog somehow, supporting me and my odd choice of careers in ways you don't even realize. You pin and tweet, you open emails and share recipes on Facebook. You follow behind the scenes stuff on Instagram, and you don't unfollow when I post one too many photos of Norma Jean or dogs.
You guys leave the nicest comments about recipes you've tried, post suggestions for fun add-ins or add-ons, and message me with suggestions on what to make next. I could not ask for a better bunch, so this giveaway is coming straight from me to you.
1. Bath & Body Works True Blue Spa Shea Cashmere Hand Cream – So many words for such a small container. But OH I swear by this stuff. As a person that spends an unreasonable amount of time with her hands in dishwater, good hand cream is a must. Shea Cashmere lives in my purse and on my bathroom counter. Bonus! It smells delicious and every time I have it on people ask me what I'm wearing.
2. LSTN Sound Co. Ear Buds – Okay so this is the only part of this giveaway that I'm not coming out of pocket for, and that is because LSTN Sound Co. is infinitely awesome. I bought my son a pair of their headphones earlier this year and I steal them on a really regular basis. The sound quality is amazing, the craftsmanship is on point, and each pair is made of real wood. But that's not even the best part. With every pair of headphones LSTN sells, they help restore hearing to a person in need. I only get my work done on the daily because of the constant stream of Pandora radio + audio books + podcasts being delivered to my brain via LSTN Sound Co. Ear Buds. They. Are. The Best.
3. The Silver Star, by Jeanette Walls – My favorite author! I've read The Glass Castle no less than 4 times. Half Broke Horses is wonderfulllll. And then last year for my birthday my little sister stood in line to get me an autographed copy of The Silver Star. I love it, I've read it 3 times this year because I am a nerd, and recently loaned it to my mom who called me raving about how much she loved this book. I love it so much I'm gonna buy you a copy.
4. V-Etched Better Zester from Kitchen IQ – This kitchen tool makes life so easy. If you spend any time trying to zest lemons, limes, oranges, or grapefruit because you always have a taste for Citrus Bars and Tequila Lime Cupcakes, you gotta have this handy.
5. Starbucks Gift Card – $15 to Strabucks! Because duhhhhh #starbucks4life Go get your self a frappuccino or 3.
6. O.P.I. Nail Laquer – Every couple of weeks I go get a pedicure because I live in flip flops. Sometimes on Mondays my friend and I eat tacos, drink margaritas, and then go get pedicures. It is my favorite. I love a true red color on my toes, but in the summer I like red with just a hint of orange. This color is called My Paprika is Hotter Than Yours. It felt appropriate. One bottle for you! I also highly recommend finding a friend to have tacos and tequila with.
7. Cooking Light – My favorite cooking magazine! When I am not making my family eat the same roasted chicken 3 times in a week for recipe testing purposes, Cooking Light is my favorite source for dinner inspiration. Easy, light, FAST recipes are the best. You get a subscription for a year!
Cheers to a happy summer! Enter below.