Unicorn Cake Mix Cookies are an easy way to make soft, chewy, sweet cookies and are a fun way to use cake mix without baking a cake!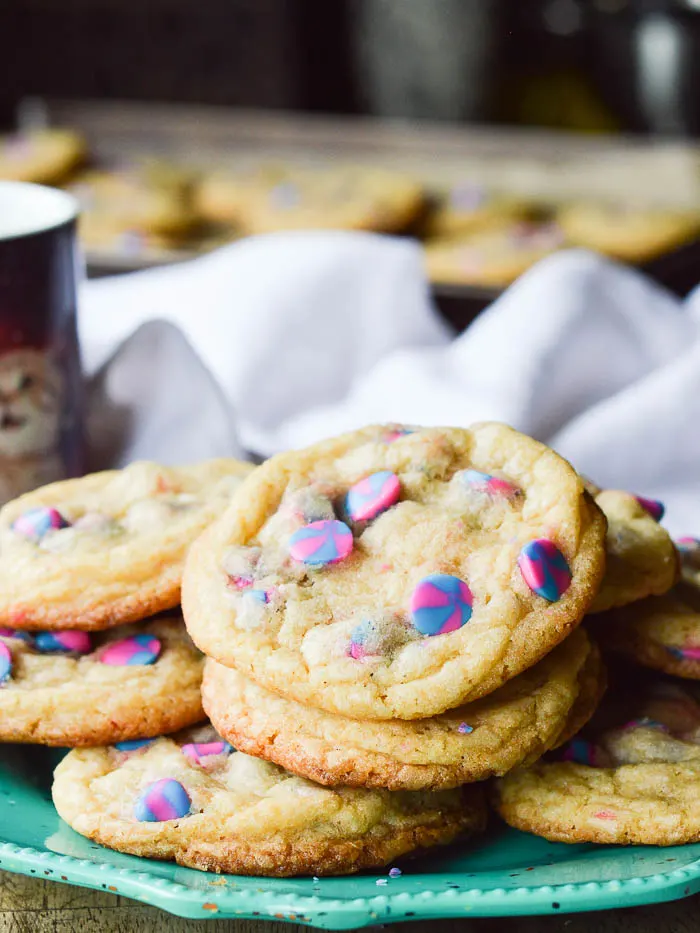 I feel like I should preface this recipe with a disclaimer: I don't have small children.
When I started this blog I did though, and my now-grown kids are totally down with whatever cookies I throw at them, but I made these Cake Mix Cookies all on my own, without a 6 year old to prompt me.
It all started with an impulse buy: Nestle Tollhouse Unicorn Pink & Blue Swirled Vanilla Chips ??I found them at Walmart but you know Amazon has 'em.
And I will let you in on a secret: I actually fully intended to make this a pudding cookie recipe. These Pistachio Pudding Cookies prompted me to put together an easy tutorial on How to Make Pudding Cookies, and we were totally going that route here, UNTIL I realized that I am out of instant vanilla pudding ?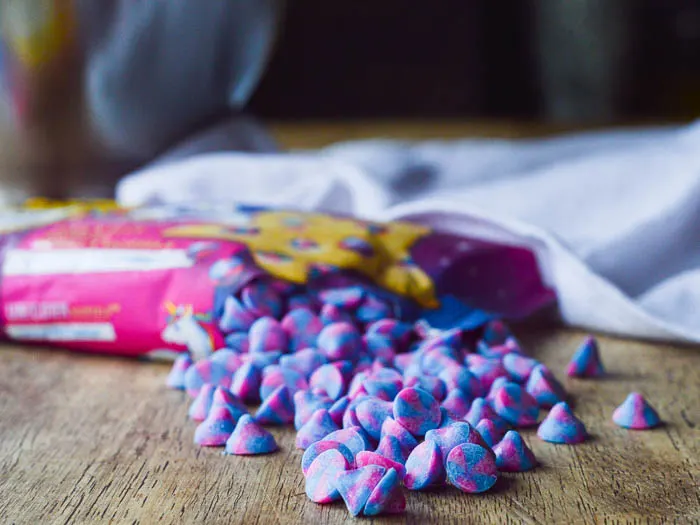 So I am going to preface ALL of my cake cookie making instructions with some words of assurance: EVEN IF YOU ARE OUT OF STUFF, I GOT YOU.
Why Cake Mix in Cookies?
Cookies are probably my favorite thing to bake (and eat) and I am pretty powerless over them. They are also SUPER versatile. Adding cake mix to cookies changes the texture a bit, and it can make them a little sweeter.
I think one of my favorite things about adding cake mix to cookies though, is that like pudding, it makes your cookie softer.
Remember when I ran out of vanilla pudding? My very next go-to was a box of white cake mix. Cake mix is made with shortening and shortening is the thing that makes my very favorite cookies (these Peppermint Hot Chocolate Brownie Cookies) into my favorites.
Shortening is what makes cookies soft on the inside with a little bit of crisp on the outside. So while I love butter to infinity forever, Shortening and cookies are pretty dreamy.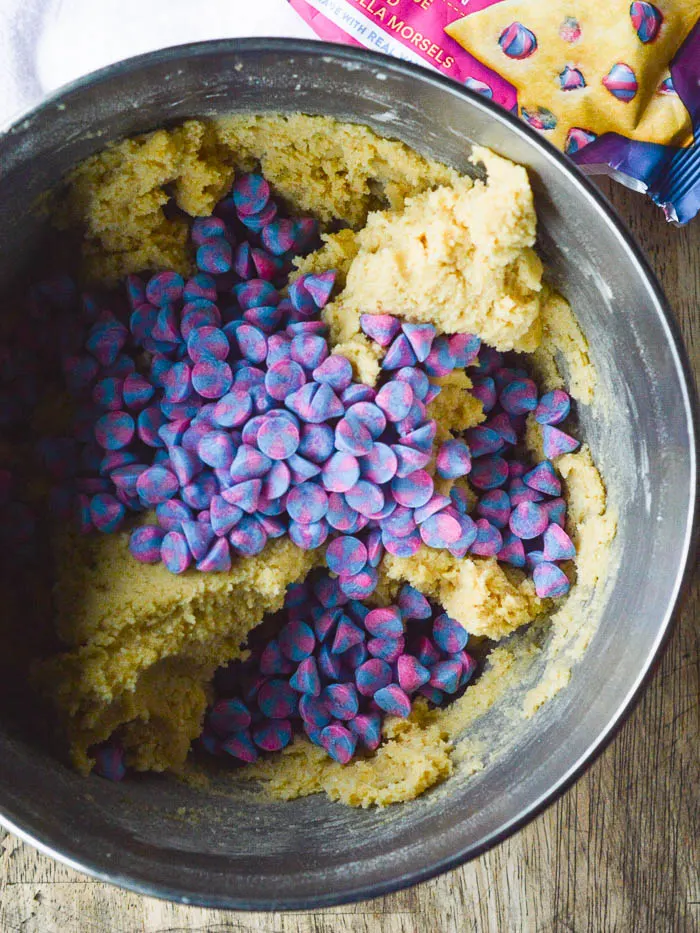 What kinds of cake mix can I use?
For these cookies I used Duncan Hines White Cake Mix because it's what I had in the cabinet, no doubt because I bought it on sale some time or another. Because the Unicorn Baking Chips are vanilla (and because they VERY BRIGHT) you want to go with a vanilla or white base for these cookies.
any white cake mix (even with pudding in the mix!)
any yellow cake mix
butter golden
french vanilla
blue velvet (omg wouldn't that be fun?!)
any Betty Crocker Super Moist Cake Mixes are good, too!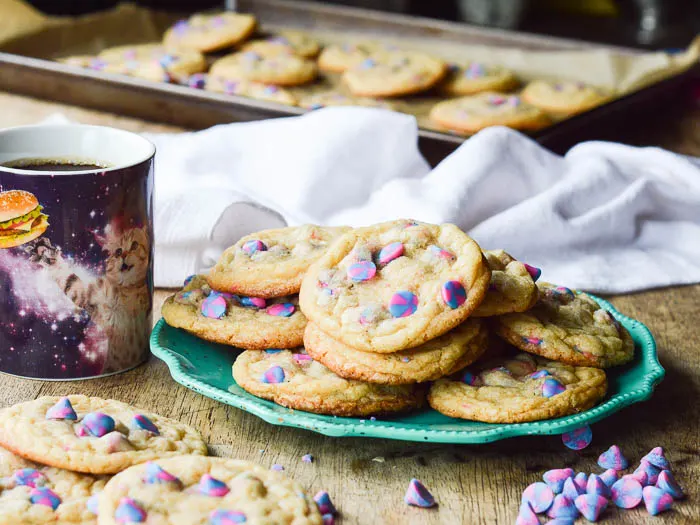 The Process
This recipe follows the exact same process as my pudding cookie recipes. Because like I said, I was actually going to make pudding cookies. So if you find yourself with a pantry full of vanilla pudding instead of white cake mix, you know what to do ?
The process here matters, because if you don't follow it you will be like, "HEATHER THESE COOKIES ARE _insert annoying rude adjective__," and I will be like, "DON'T WRITE ME RUDE EMAILS, MAN," and then no one will be happy or have any cookies.
What I'm saying is, follow directions ?
Beat together the butter and sugars until fluffy
Add the egg and vanilla. YES. JUST ONE EGG. Mix until combined.
Dump in the flour, cake mix, and salt, and mix until JUST combined. Be super careful not to over mix!
Stir in the Unicorn Baking Chips
Portion the dough out about a tablespoon at a time onto an ungreased baking sheet, about 2″ apart.
MAKE TALL COOKIES! Instead of making a ball, make an oval and stand the portions of dough end on end. This lets the cookies "puddle" when they bake and gives you the thicker chewy center + crisp edges.
What else can I do with cake mix?
Make these Hot Cocoa Cookies!
Try this Slow Cooker Boozy Peach Cobbler! OR Slow Cooker Blueberry Coconut Cobbler.
OR!!! This Pig Pickin' Cake Roll. Y'all. It's the most delicious good fun.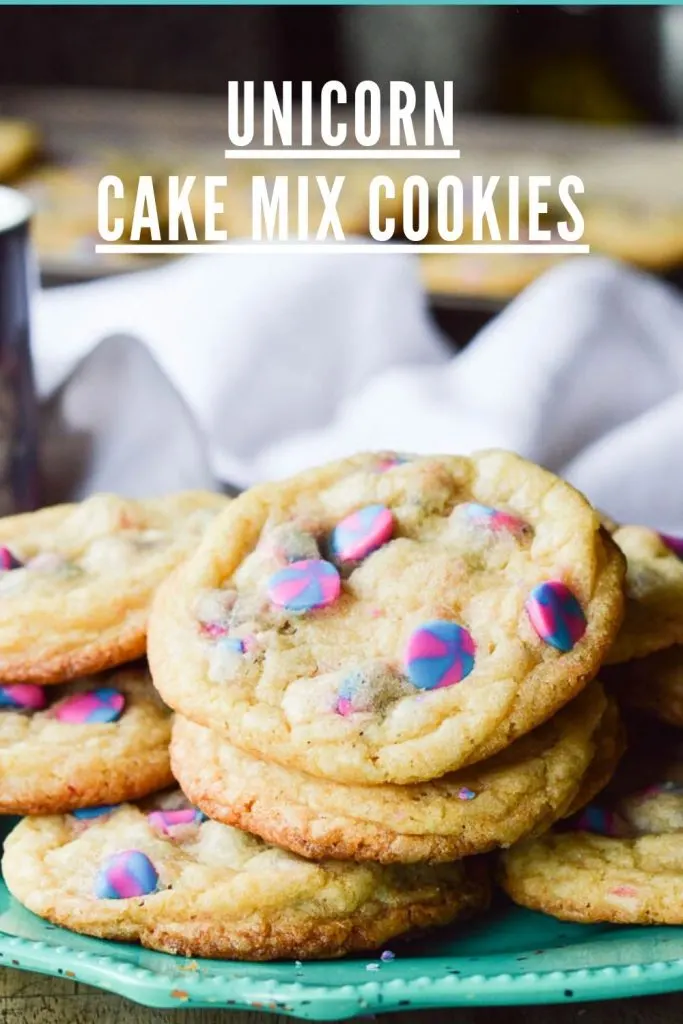 Oh! One more thing. I always get questions about where I got my fave little space kitty coffee mug. this isn't where I originally bought it, but I found it for you here!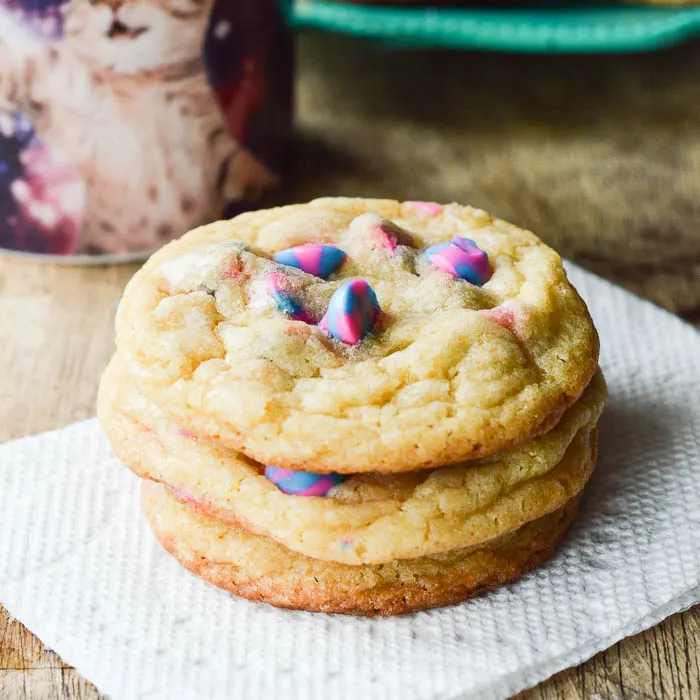 Yield:

36 cookies
Unicorn Cake Mix Cookies
Cake Mix Cookies with the prettiest pink and blue swirled vanilla chips make for festive and fun Unicorn Cake Mix Cookies! They are soft, chewy, and super easy to make for adults and kids alike!
Ingredients
¾ cup unsalted butter, softened
¾ cup packed light brown sugar
¾ cup granulated sugar
1 tablespoon vanilla
1 egg
1¾ cups all purpose flour
3 1/4 ounces white cake mix
2 teaspoons baking powder
1/2 teaspoon salt
1 (10 ounce bag) Unicorn Pink & Blue Swirled Vanilla Chips
Instructions
Preheat the oven to 375.
In a large bowl beat together the butter and sugars until fluffy. Add the vanilla and egg and beat until just combined.
Mix in the flour, cake mix, baking powder, and salt. Continue mixing until the dough *just* comes together.
Stir in most of the Unicorn Chips, reserving about 1/4 cup to top the cookies before they go in the oven. Don't over-mix.
About a tablespoon at a time, portion the dough out onto an ungreased baking sheet, spacing the cookies about 2" apart. Add a few chips to the top of each cookie.
Bake for 9-11 mins (9 minutes is always perfect for me). Your cookies might look slightly under-cooked - it's ok!!! They are done. Over baking takes away the chewy texture.
Let them cool for a few minutes before removing to a rack to cool completely.
Recommended Products
As an Amazon Associate and member of other affiliate programs, I earn from qualifying purchases.
Nutrition Information:
Yield:
36
Serving Size:
2
Amount Per Serving:
Calories:

103
Total Fat:

5g
Saturated Fat:

3g
Trans Fat:

0g
Unsaturated Fat:

2g
Cholesterol:

15mg
Sodium:

73mg
Carbohydrates:

15g
Fiber:

0g
Sugar:

9g
Protein:

1g