Barbecue is a holiday favorite in the south. We are celebrating with this Mustard Glazed Blade Pork Roast cooked in the oven low and slow. You don't need a fancy smoker to enjoy a good plate of barbecue!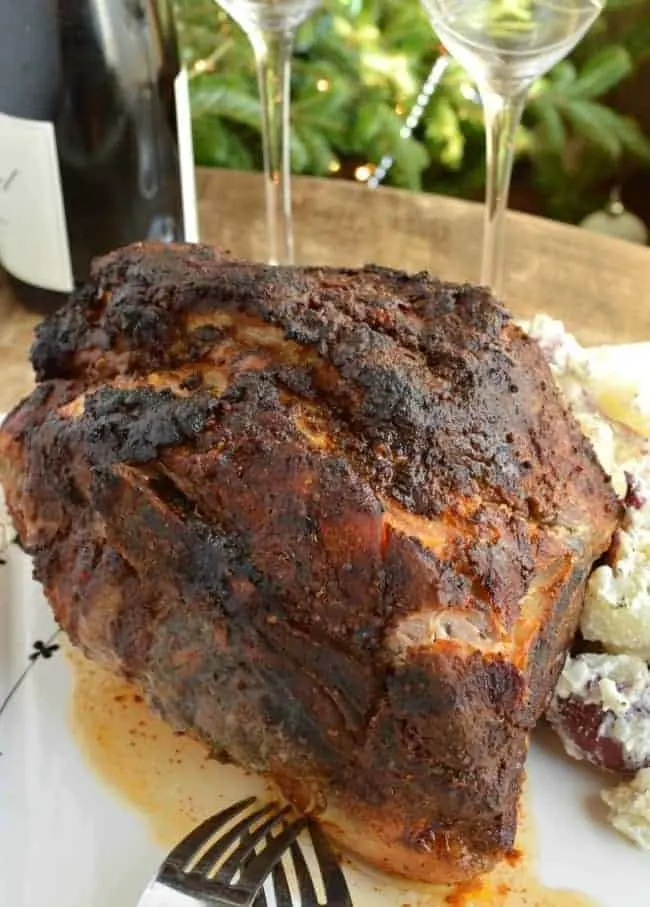 This post is sponsored by the National Pork Board as part of their Porksgiving program with the One2One Network. Original recipe, opinions, and photos are all my own. Thanks for supporting the brands that support Sugar Dish Me!
Just before Thanksgiving and all the way through New Years where we live, you can order a Blade Pork Roast (most people here call it a Boston Butt) to serve for your holiday parties. They are smoked low and slow by a bunch of guys that bundle up and park overnight in lawn chairs, drinking steamy mugs of coffee while they monitor the coals and watch the temperature.
The results of their sleepless nights are amazing! But sometimes I forget to order. Sometimes they sell out. Sometimes Blade Roasts are on sale at the grocery store. And so I decided we needed a low maintenance make-at-home option that would match the flavor of a purchased cut of barbecue.
This Low and Slow Mustard Glazed Blade Pork Roast is it!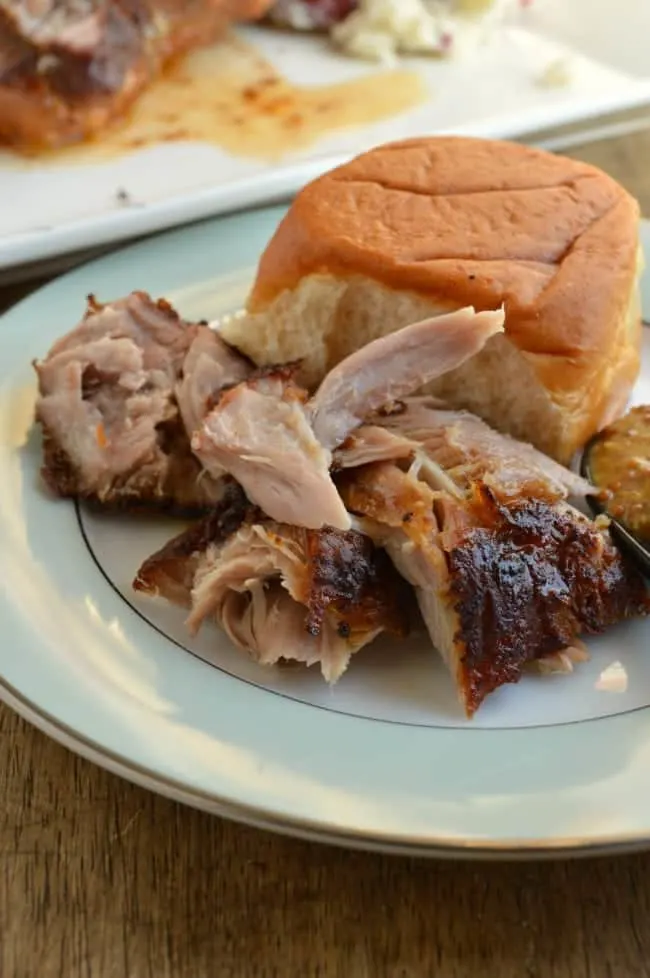 I think typically when I buy a Blade Roast (or any other kind of pork roast) I toss it in the slow cooker and shred it for sandwiches or tacos. I even have a really great Apple Butter Pulled Pork Recipe that I then put all over a Pulled Pork Pizza! The options are pretty endless. I was determined for this recipe to be a little different though. Something that felt like a celebration. Simple but still fitting for a holiday.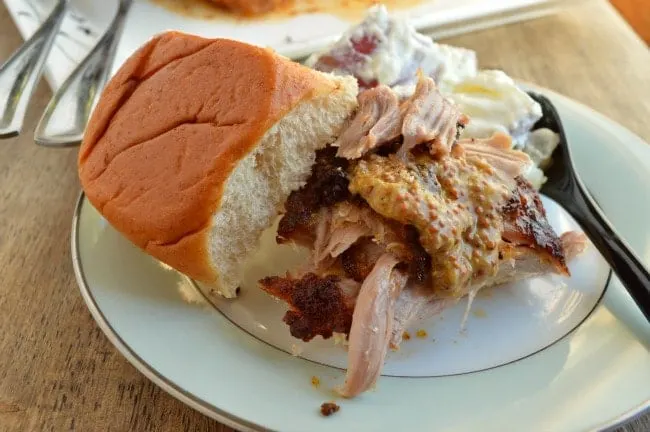 The National Pork Board is doing something awesome through the end of the year – celebrating Porksgiving! During the Porksgiving the goal is to celebrate friends and families. It's to let those we care about know how much they are appreciated, and to thank those who give back with a home-cooked meal made with pork!
What I came up with is super simple, requires just a few pantry staples, and the active time is MINIMAL. Pretty much an all-around win.
The mustard you use is going to be crucial for the flavor of this pork roast. It's not a yellow mustard recipe, ya'll. I went with a really seedy mustard option – dark and speckled with stone ground goodness. After I rubbed the pork all over with the mustard I made a rub with brown sugar, salt, pepper, garlic, and paprika. When you coat the pork with the rub on top of the mustard you end up with a paste that coats the meat.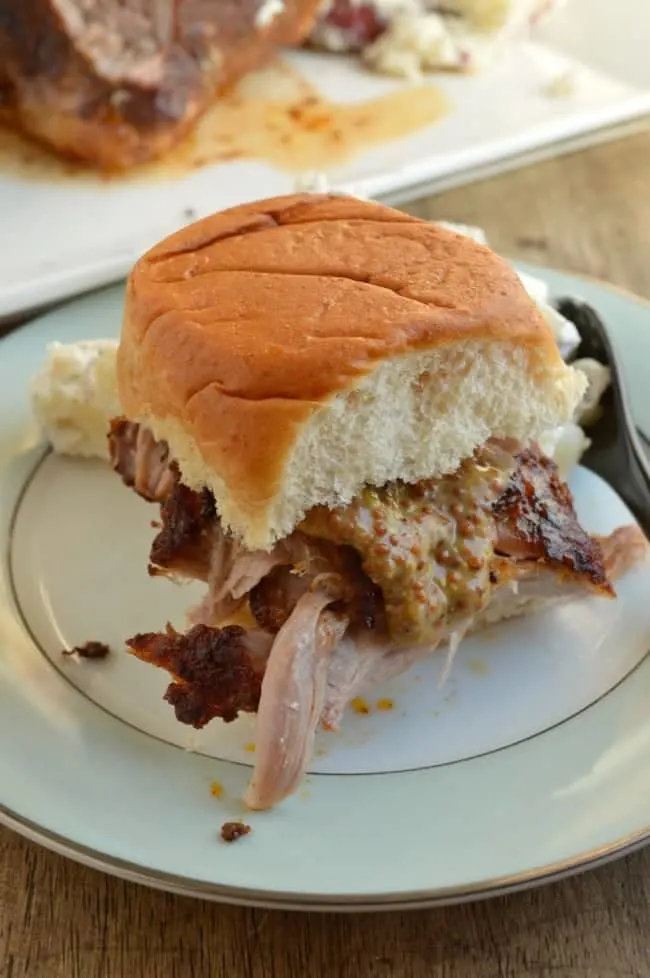 Normally with a pork roast I like to sear them after seasoning to hold in juicy tenderness and moisture (like in this Garlic and Herb Roast Pork). With a Blade Roast, there's enough fat to keep everything extra tender. No searing necessary. I just wrapped it tightly in foil and placed it in a roasting pan with the oven set to 250°F.
Cook's Tips:
Line your roasting pan with parchment paper or more foil for easy clean up. Even though your pork is tightly wrapped in foil, some juices can seep out while cooking.
You can use a roasting rack to keep the roast lifted out of the pan for more even heating. I just used the same rack I use for roasting whole chickens and turkeys; I set the rack into the prepared pan and placed my seasoned, foil-wrapped Mustard Glazed Blade Roast right on the rack.
Leave the oven door closed! 250F is a low temperature so you don't want the heat to escape.
You will check your finished roast for an internal temp between 145 degrees F (medium rare) and 160 degrees F (medium), with a 3 minute rest
After about 5 hours of roasting, take off the foil and crank the heat up to 350F. Drain any excess liquid and let the oven work more magic. The results are amazing!
You will end up with a super tender, flavorful cut of pork that is gorgeous for slicing and great for serving a crowd. I love to put out soft potato rolls so when guests load their plates up they can make little sandwiches at the table. Dudes love that stuff.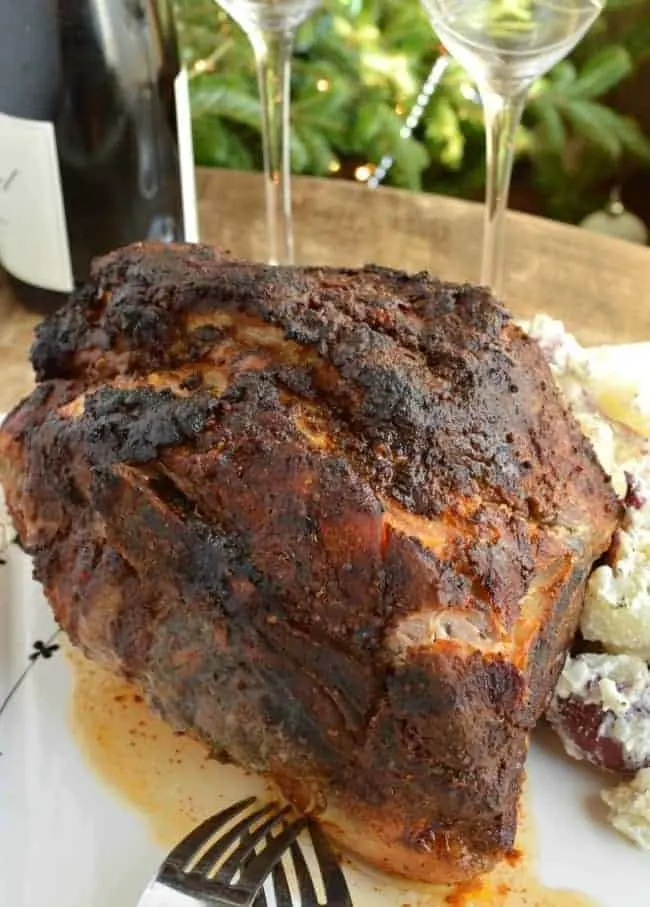 Yield:

serves 12-14
Low and Slow Mustard Glazed Blade Pork Roast
Cook Time:
6 hours
30 minutes
Mustard Glazed Blade Pork Roast (also known as a Boston Butt Roast) is cooked in the oven low and slow. You don't need a fancy smoker to enjoy a good plate of barbecue!
Ingredients
8-9 pound Blade Pork Roast (also called a Boston Butt Roast)
1/3 cup stone ground mustard
1/3 cup brown sugar
1 tablespoon paprika
1 teaspoon kosher salt
1 teaspoon ground black pepper
1 teaspoon garlic powder
You Will Also Need:
Instructions
Preheat the oven to 250F. Line a roasting pan with foil or parchment paper. If you have a roasting rack, place that in the pan on top of the lining.
Place your Blade Pork Roast in a large bowl. Using clean hands, rub all sides with the mustard to coat.
In a smaller bowl mix together the brown sugar, paprika, kosher salt, ground black pepper, and garlic powder. Sprinkle the dry mixture ALL OVER the pork and then rub it in to create a paste with the mustard that coats the roast completely.
Wrap it tightly in foil and place on the roasting rack (if using).
Let the pork cook for 5 hours. Remove the foil, drain any excess liquid from the pan, and place the roast back in the oven, bumping the temperature up to 350F.
Cook for another 1 1/2 hours until pork is tender.
Let the meat rest for about 20 minutes before slicing or shredding.
Serve as-is or with your favorite BBQ sauce. I love this with a mustard-based sauce!
Nutrition Information:
Amount Per Serving:
Calories:

0
Cholesterol:

0mg
Sodium:

0mg
Carbohydrates:

0g
Fiber:

0g
Sugar:

0g
Protein:

0g
This Low and Slow Mustard Glazed Blade Pork Roast is dressed to impress! You could also try these
Caramel Apple Pork Chops
or wander over to
PorkBeinspired.com
/Porksgiving for tons of ideas and inspiration! Don't pigeon-hole your holiday dinners! Be a little daring (and slightly southern), give thanks, and BBQ it up.
Love Pork? You should also try…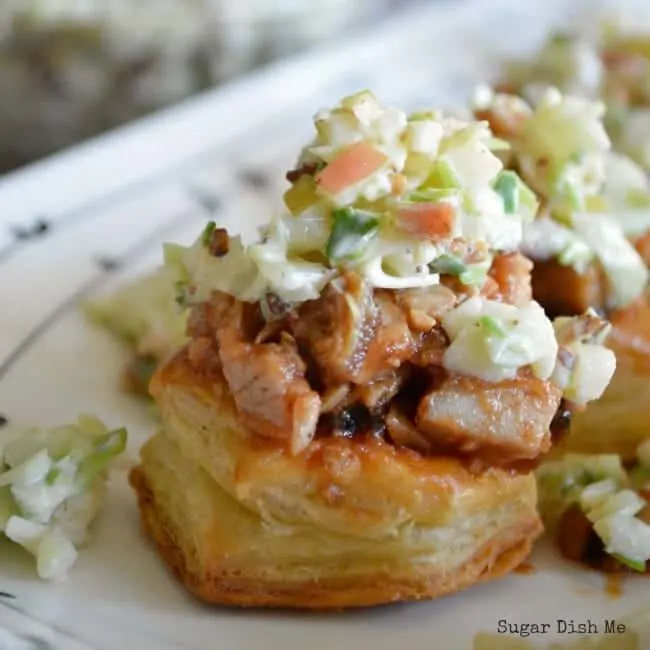 BBQ Bites with Apple Bacon Slaw