Spiced Rum Cheesecakes are little 4-bite treats laced with spiced rum and smothered in a homemade boozy caramel studded with pecans. This dessert is perfect for dinner parties, holidays, and for all the spiced rum lovers in your life.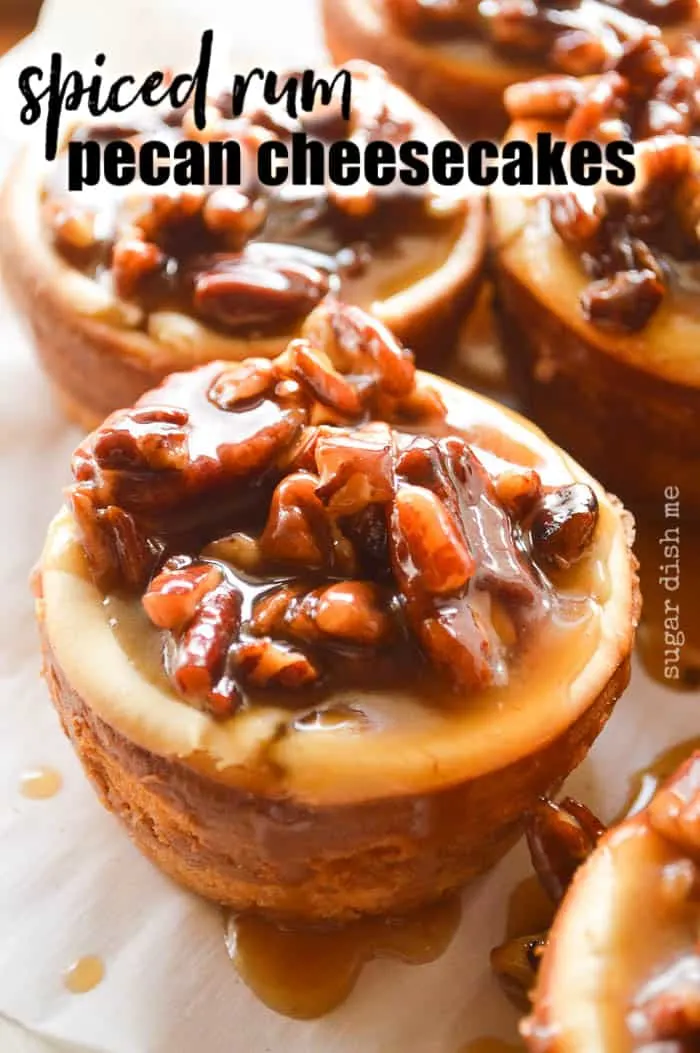 CLICK HERE TO PIN THIS RECIPE AND SAVE FOR LATER
Remember that time I made Spiced Rum Cupcakes with Boozy Buttercream and they were your actual favorites for like two whole years?
I'm sort of hoping you feel the same way about these cheesecakes. Spiced Rum Pecan Cheesecakes are definitely loveable.
I pulled this recipe from several places, and all of them have booze, so if baking with the liquor (side note I spell that word wrong on the first try EVERY TIME) cabinet is not your thing, I invite you to make this Lemon Yogurt Pound Cake. That recipe is also a keeper.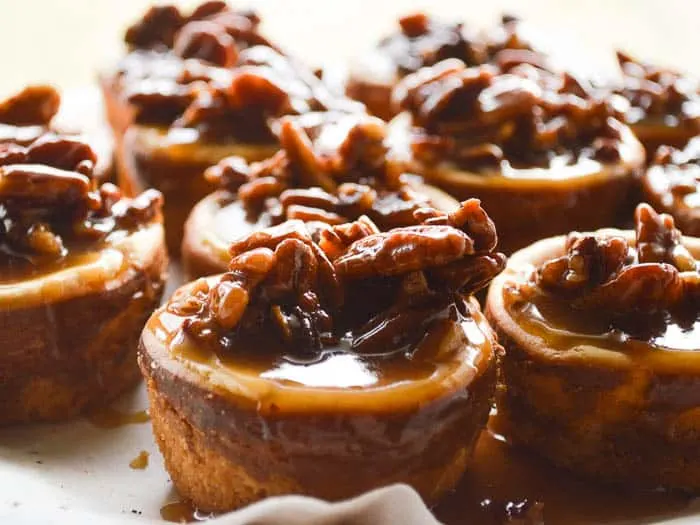 Okay soooo. Spiced Rum Pecan Cheesecake has a shortbread crust. I actually borrowed the crust here from my Bourbon Cheesecake with Boozy Chocolate recipe. The filling is very similar too, but there are differences. The sour cream in this recipe makes the cake a little silkier.
And, if I am being quite honest, THIS recipe is a little lighter on the alcohol content.
There's brown sugar here which I think really complements the spice in the rum, and the pecans as well.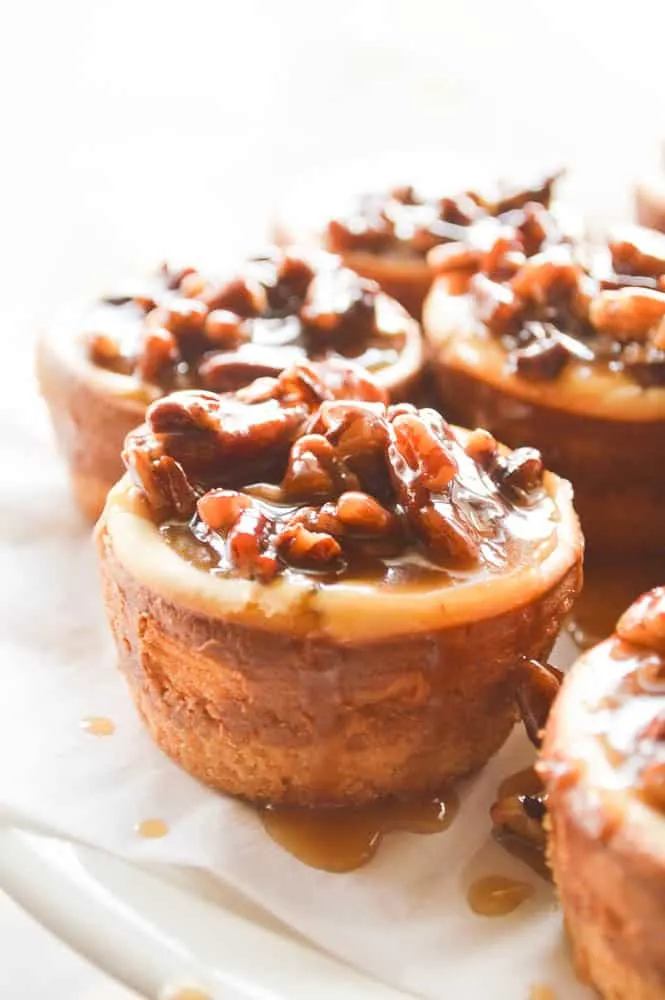 The first time I tested this recipe was like … right before last Father's Day, y'all. Annnd I tested it with bourbon.
I think I had some grand ideas about a Father's Day dessert, but then I was busy, and there are 9 dogs here to chase around, and I did that thing where I was like YASSSSS NEW BLOG POST, and then I saved the photos and promptly lost the scrap of paper that I wrote the recipe on in a stack of magazines on my desk.
Or behind my desk.
If your desk is fastidiously organized we are probably not real life friends. One day I'll show you a photo so we can keep it real and also be embarrassed together.
Fast Forward. To the fall. It was for sure cool outside, and I was planning to attend my sister's wedding but also how to get my hair like Cruella de Vil for Halloween [mission accomplished] because priorities. And I found the scrap of paper when I was having a moment of must-clean-my-desk sanity.
I was not long-lived, but IT DID remind me that y'all needed cheesecake. So I tested this recipe again, but I was out of bourbon.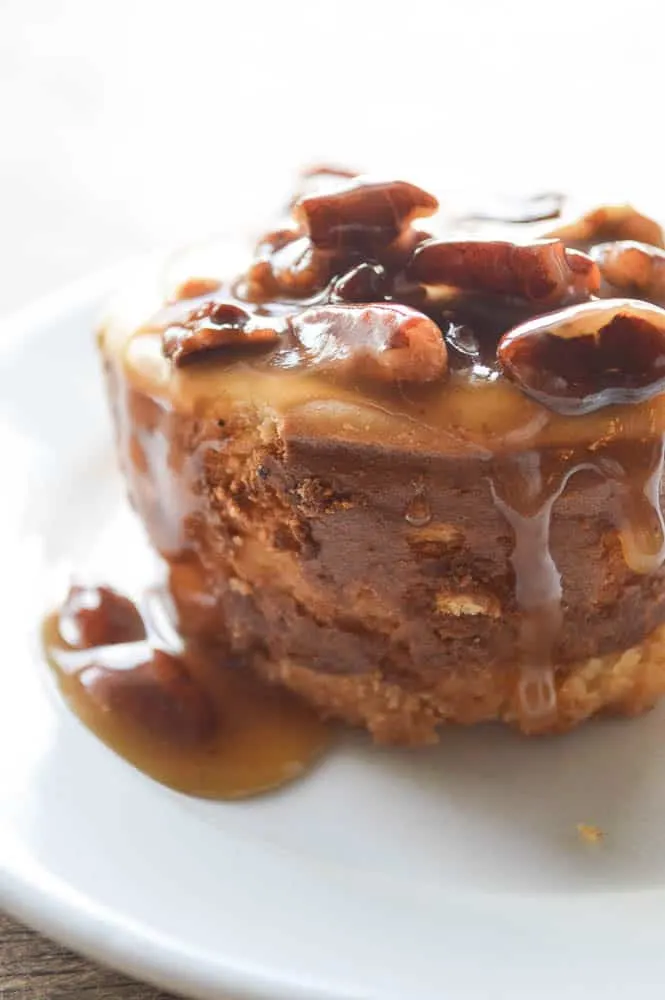 Enter the spiced rum. We can all thank my scatter brained organization as well as my local rum distillery for this.
The topping is based on the bourbon caramel that I used in Bourbon Caramel Apple Shortcakes. <<<—- MAKE THOSE
What I am saying here is that Spiced Rum Pecan Cheesecakes are good for Valentine's Day. They're good for Father's Day. Make 'em for a dinner party and for sure serve them at Thanksgiving. This is a recipe that's a total crowd-pleaser, and even though I really LOVED this with spiced rum, you can also make it with bourbon.
It's been tested and re-tested and who can turn down tiny cheesecakes?!!!
Definitely not me.
Looking for more Spiced Rum Desserts? Look no further.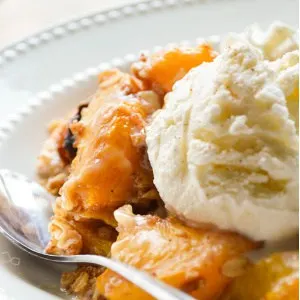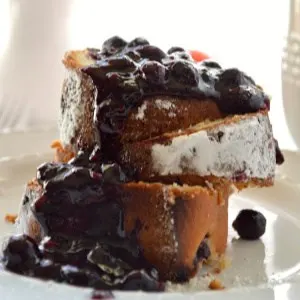 Slow Cooker Boozy Peach Cobbler is a great summer recipe, but also works with frozen peaches! It calls for cake mix and has a blueberry counterpart with coconut, and you will definitely love it.
Blueberry Peach Pound Cake with Boozy Blueberry Sauce is just a REALLY PRETTY CAKE. But also delicious. A pound cake recipe that you can file away and serve without the booze. Or with. You know. Whatever works.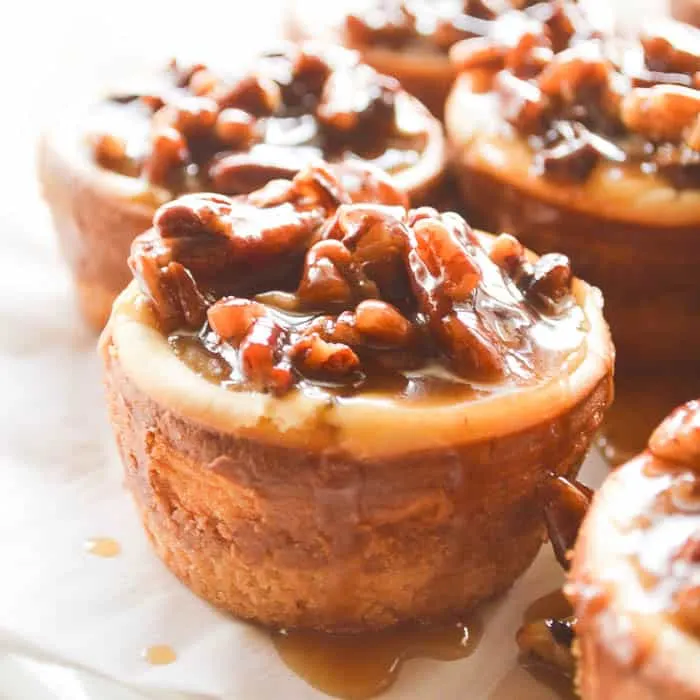 Yield:

12 - 15 mini cheesecakes
Spiced Rum Pecan Cheesecakes
Cook Time:
1 hour
5 minutes
Total Time:
2 hours
20 minutes
Spiced Rum Cheesecakes are little 4-bite treats laced with spiced rum and smothered in a homemade boozy caramel studded with pecans. This dessert is perfect for dinner parties, holidays, and for all the spiced rum lovers in your life.
Ingredients
Shortbread Crust
1/2 cup unsalted butter, softened
4 tablespoons granulated sugar
1 cup all purpose flour
For the Cheesecake
4 (8 ounce) packages cream cheese, softened
1 cup packed brown sugar
1 cup sour cream
4 large eggs
1 teaspoon vanilla
1/4 cup spiced rum
Spiced Rum Topping
½ cup water
¼ cup granulated sugar
1-2 tablespoons heavy cream
1 teaspoon vanilla
2 teaspoons spiced rum
1 cup pecan halves, very coarsely chopped
Instructions
Preheat the oven to 400°F. Spray a standard muffin pan with non-stick cooking spray.
To make the crust, combine the 1/2 cup butter, 4 tablespoons of sugar, and 1 cup flour until a smooth ball of dough forms. You may have to use your fingers to press it all together.
Divide the dough and press it across the bottom and barely up the sides of the prepared muffin pan. Gently prick the dough across the bottom of the pan with a fork several times. Bake for only 5 minutes. Remove from the oven and set aside.
Reduce the oven temperature to 350.
To make the filling, beat together the cream cheese and brown sugar until fluffy. Then add the sour cream.
Mix in the eggs 1 at a time, beating well between each addition. Stir in the vanilla and rum, and pour the batter over the prepared crust.
Bake at 350 for 20 minutes. Reduce the heat to 275 (I like to open the oven door for just a minute to help the temperature drop) and bake for 20 more minutes. Turn the oven off and let the cheesecakes cool IN the oven. CHILL FOR AT LEAST AN HOUR BEFORE SERVING.
To make the spiced rum topping, add the water to a small saucepan. Add the sugar in a little pile right in the center of the pan. Turn the heat up to medium high, cover and simmer (this will only take about 30 seconds). Remove the lid and let it continue to simmer for about 12 minutes. Sometimes it takes longer. You are looking for that pretty amber caramel color.
Place the pan in the sink, add a tablespoon of the cream and stir it in. It will bubble and sizzle. Keep stirring until it's smooth. Stir in the vanilla and spiced rum. If it seems too thick add more cream. You want it to still be sort of saucy as it cools. Stir the pecans in to the warm caramel sauce and spoon over the cheesecakes.
Recommended Products
As an Amazon Associate and member of other affiliate programs, I earn from qualifying purchases.
Nutrition Information:
Yield:
12
Serving Size:
1
Amount Per Serving:
Calories:

440
Total Fat:

30g
Saturated Fat:

14g
Trans Fat:

0g
Unsaturated Fat:

13g
Cholesterol:

125mg
Sodium:

125mg
Carbohydrates:

35g
Fiber:

1g
Sugar:

25g
Protein:

6g