My favorite lemon recipes to make your day brighter all in one place! You'll find sweet cakes and tarts, and savory sauces for pasta or chicken. Something for everyone!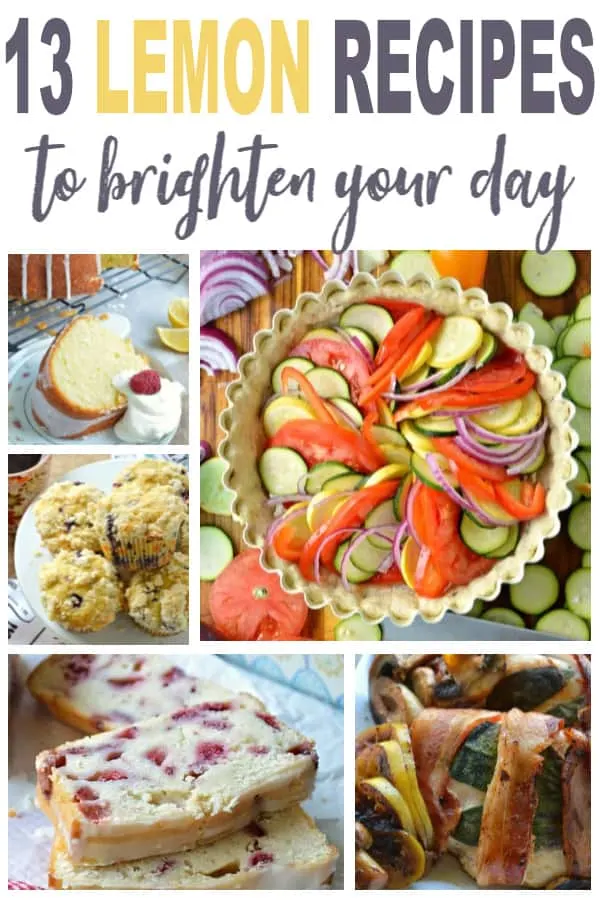 CLICK HERE TO PIN THESE RECIPES FOR LATER
So here's the real reason I needed to share all my favorite lemon recipes: IT WILL NOT STOP RAINING.
I love a good rainy day, y'all. Really. Rainy days are a great excuse to wear stretchy pants and socks (aside from every other day I mean; on rainy days this is probably appropriate attire) and bake bread from scratch. Binge on Netflix. Make soup.
Rainy days are fabulous every now and then.
But 2019 in North Carolina has been like monsoon season. Everything is muddy, my dogs are losing their ish and think the living room is their new wrestling ring, and my body is crying out for some vitamin D. I need sunshine, you guys. So we are gonna fake it until we make it.
These are my very favorite lemon recipes, and the color + flavors have been enough to get me through. They are all simple, and there's definitely something for everyone. Cakes? ✅15 minute dinner recipe? ✅A tart that looks like the sun and has a saltine cracker crust? Yup? ✅
13 Lemon Recipes to Brighten Up Your Day
I love lemon! Lemon Recipes are always good for making things brighter. So whether you are looking for a savory sauce to pour over pasta, or a sweet and salty pie that tastes like sunshine and summer, or you want to make mimosas that taste like lemonade, there's definitely something here for everyone.