Apple Cinnamon Breakfast Braid is a sweet and simple breakfast pastry loaded with pie spiced apple slices and made out of refrigerated cinnamon rolls!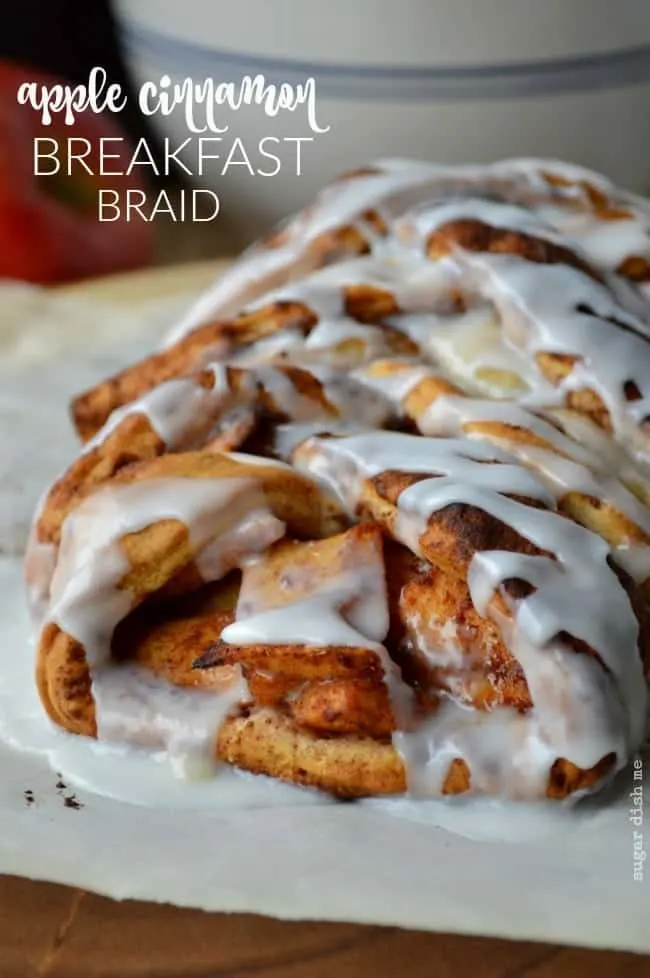 Hi, Tuesday. I see you and I raise you a breakfast braid recipe.
Half of last week I was working from Fort Lauderdale, FL, where the weather was insanely perfect and I didn't even mind that the humidity multiplied the size of my hair five times. When I returned to southwestern NC to be greeted by torrential downpours and weirdly warm temperatures.
I know you guys don't care about my weather because in the grand scheme of blizzards and ice storms and general terrible winter things (we don't have those here), but I am writing this to say, "Cheers, Florida – I finally get you." And I'd like to come back.
Ironically, I actually made this Apple Cinnamon Breakfast Braid on our snow day here. Then I wrote about all my snow-in-the-south milk sandwich woes.
Do you know about the milk sandwiches? Or just the obsessive food hoarding that happens in the south when they are calling for weather? I usually opt out of buying all the milk and break and head to the liquor store so I can be assured that Bourbon Spiked Hot Chocolate is a thing that can happen. Anywho.
How to Make a Breakfast Braid
What you need to know about this Apple Cinnamon Breakfast Braid is JUST HOW EASY it is to make. You only need a few things, primarily refrigerated cinnamon rolls and apples – oh and some spices. But seriously, get ready to make people think you are a rockstar when really you just sliced and apple and popped a can of refrigerated treats.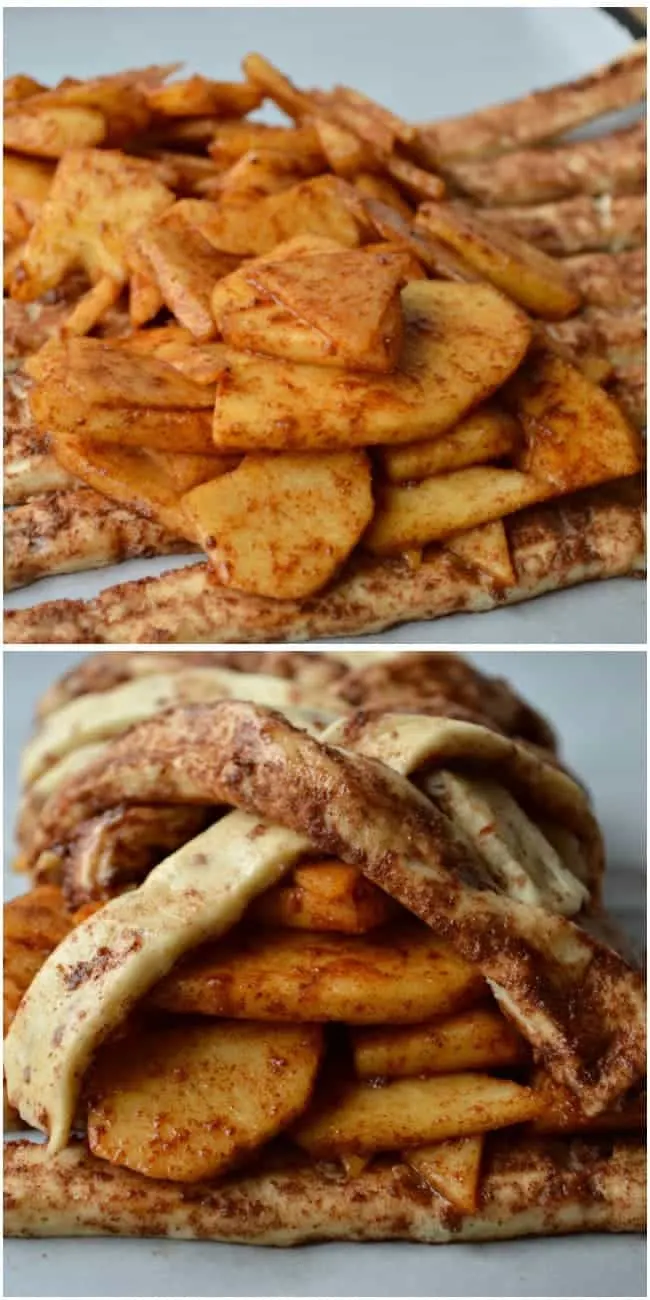 Ingredients Needed
The list of spices here is long but if you don't have all this ish handy you can just swap out all the spices for 2 teaspoons of prepared apple pie spice. You'll need:
refrigerated cinnamon rolls
1 medium apple, thinly sliced (a firm, tart apple like Granny Smith is best!)
lemon juice or orange juice
brown sugar
cinnamon
cloves
ginger
nutmeg
cardamom
I you are using all the spices, don't skip the cardamom! I fell in love with cardamom when I made this Apple Chai Cake with Maple Cream Cheese Drizzle. It adds something special. I mean, if you don't have it, don't panic. Your braid will still be awesome. But if you do have it handy? Go crazy. And by crazy I mean use 1/8 of a teaspoon.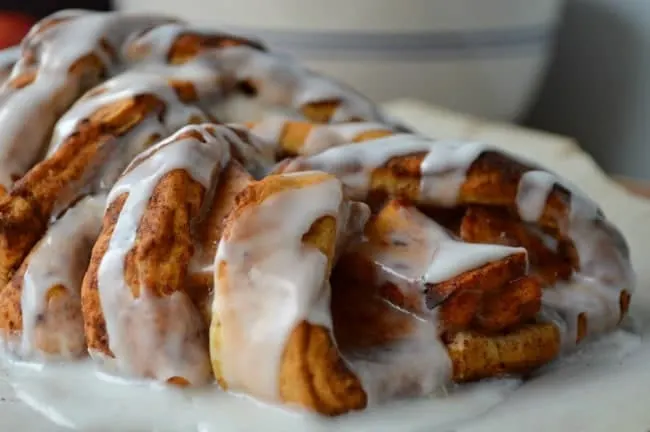 The Method
Preheat the oven to 400°F and line a baking sheet with parchment paper.
Don't skip the parchment paper. You're going to drizzle the cinnamon roll frosting over everything after it has baked, so protecting your baking sheet from the inevitable mess will matter. Then turn the baking sheet so that the short side is closest to you.
Open the cinnamon rolls and set aside the frosting package. Unroll the cinnamon rolls and then lay them across the baking sheet; the will hang over the edges and there should be just a small gap in between each piece. You want them close enough that they will grow together once they expand and bake.
Toss the apples with the lemon or orange juice and then add your brown sugar and all the spices. Toss to coat, and then put the apple mixture down the center of the cinnamon roll pieces you have laid out. NEXT! Start braiding.
Pull each strip towards the other side in a criss cross fashion, alternating each side. Tuck the end pieces back towards the center. Then Bake! 20 minutes should do the trick. the top should be nice and golden brown. Drizzle with the resereved icing, slice, and serve warm.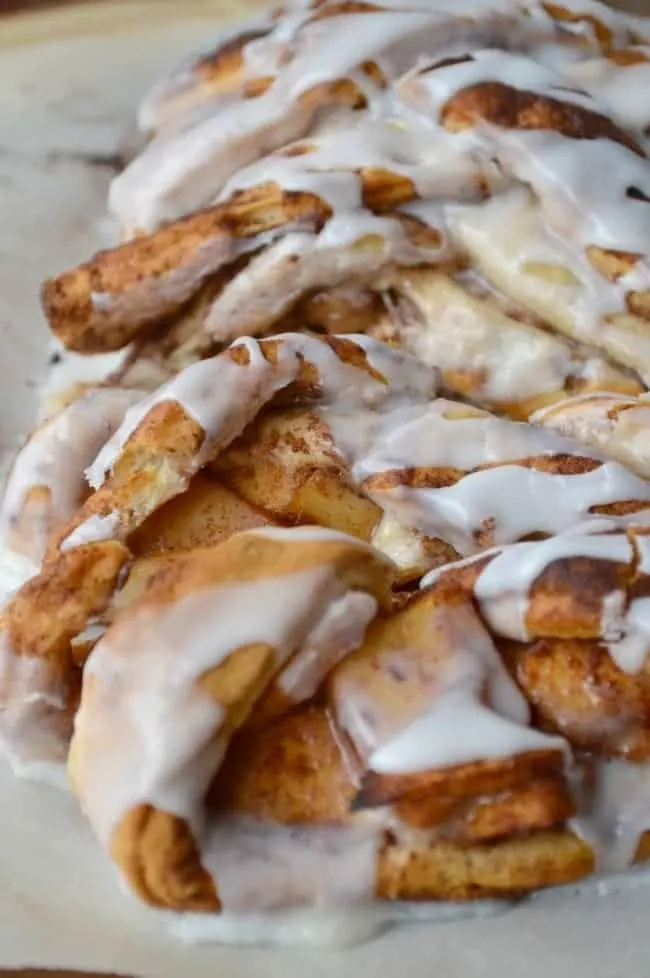 Other Apple Breakfast Recipes to Try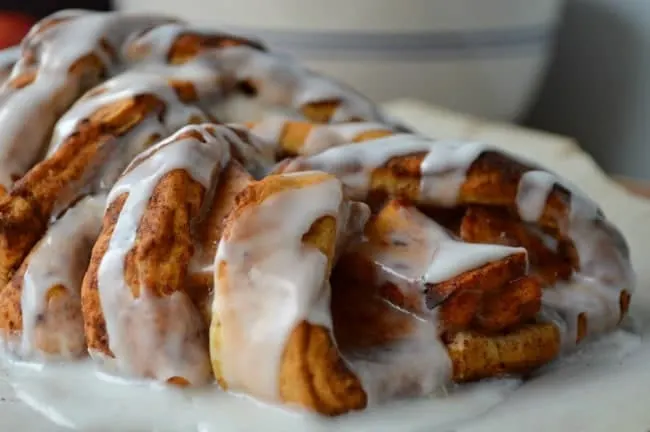 Yield:

8 servings
Apple Cinnamon Breakfast Braid
Jazz up your favorite can of refrigerated cinnamon rolls with this Apple Cinnamon Breakfast Braid! Spiced apples are wrapped in cinnamon roll dough and baked into a pretty breakfast treat.
Ingredients
1 (12.4 ounce) can Refrigerated Cinnamon Rolls, With icing
1 medium Apple, Peeled, cored, and thinly sliced
1 tablespoon Fresh Lemon Juice, Or orange juice
2 tablespoons Brown Sugar
1 teaspoon Ground Cinnamon
1/4 teaspoon Ground Ginger
1/4 teaspoon Ground Nutmeg
1/8 teaspoon Ground Cloves
1/8 teaspoon Ground Cardamom
Instructions
Preheat the oven according to your cinnamon roll package instructions (standard is 400°F). Line a baking sheet with parchment paper.
Open the cinnamon rolls and set aside the frosting package. Unroll the dough. Turn the prepared baking sheet so that it's vertical in front of you and lay the strips out horizontally across it, with just a small gap between each
Toss the apples with the lemon (or orange) juice. Then add the brown sugar and spices. Toss to evenly coat.
Spread the apple mixture down the center of the cinnamon roll dough strips. Then start to pull the strips towards the other side, alternating in a criss cross fashion.
Bake for 20 minutes.
Drizzle your baked breakfast braid with the icing, slice, and serve.
Notes
You can use 2 teaspoons prepared apple pie spice in place of the individual spices.
Recommended Products
As an Amazon Associate and member of other affiliate programs, I earn from qualifying purchases.
Nutrition Information:
Yield:
8
Serving Size:
1
Amount Per Serving:
Calories:

95
Total Fat:

2g
Saturated Fat:

1g
Trans Fat:

0g
Unsaturated Fat:

1g
Cholesterol:

0mg
Sodium:

97mg
Carbohydrates:

19g
Fiber:

1g
Sugar:

13g
Protein:

1g