Olive Oil Bundt Cake with Pecan Streusel is a layered cake with a tender crumb that has a light hint of lemon, and goes great with tea or coffee.
Are you baking all of your feelings right now? Cause I certainly am.
So I had a soup recipe all keyed up and ready to share today; it was healthy and delicious, but also called for chicken which is weirdly scarce right now ?, and I'd like to pretend I switched to cake with that in mind, but REALLY I AM JUST BAKING ALL THE TIME.
"Baking is my happy place" feels like one of those arbitrary things that you are supposed to type as a food blogger, and truth be told, I do love to bake. Currently though, I think the process of reading directions and following them, while not thinking about anything else, is giving me some much-needed zen.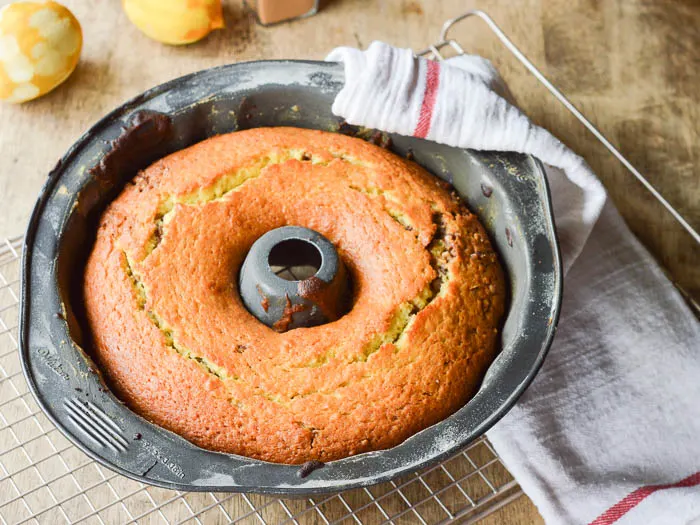 Awhile back my good friends at Cabot Cheese sent a box of goodies (because they are the nicest nice people), and one of the things in the box was Antoni Porowski's book, Antoni in the Kitchen. This book was already on my list of books to buy because I adore Antoni as well as his approach to cooking, so I was thrilled to receive it. If you need something happy to binge-watch right now, and you haven't watched Queer Eye on Netflix, stop reading and GO TO THE TV NOW.
If you don't already own this book, buy it. I've made quite a few things from it already; so far the Pomegranate-Walnut Chicken Stew (Fesenjan) is my favorite. This cake we are making here is based on Antoni's Olive-Oil-Pecan Streusel Bundt Cake with Brown Butter Glaze, but I tweaked it a little.
I feel like these last 2 paragraphs were sort of excessively bossy, so sorry. This is where we are now.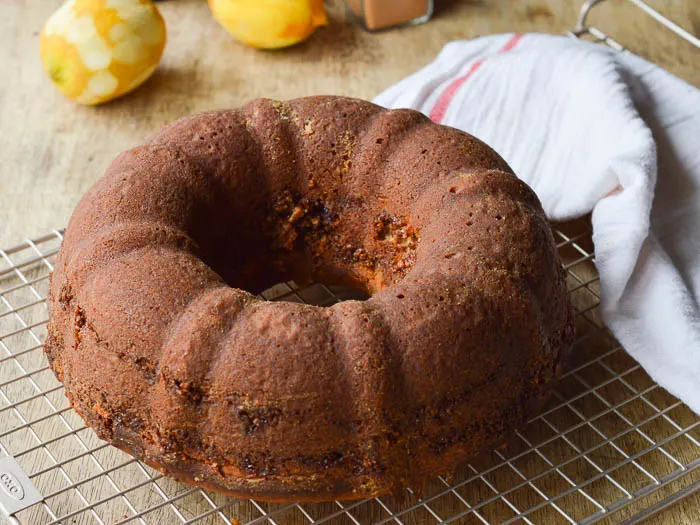 Tools You'll Need for this Lemon Cinnamon Bundt Cake
Y'all know I love a recipe that comes together easily and without a bunch of fussy tools. This olive oil cake DEFINITELY falls into the approachable-to-make category. I've listed out for you the tools that you need, but also a few that will just make your life easier.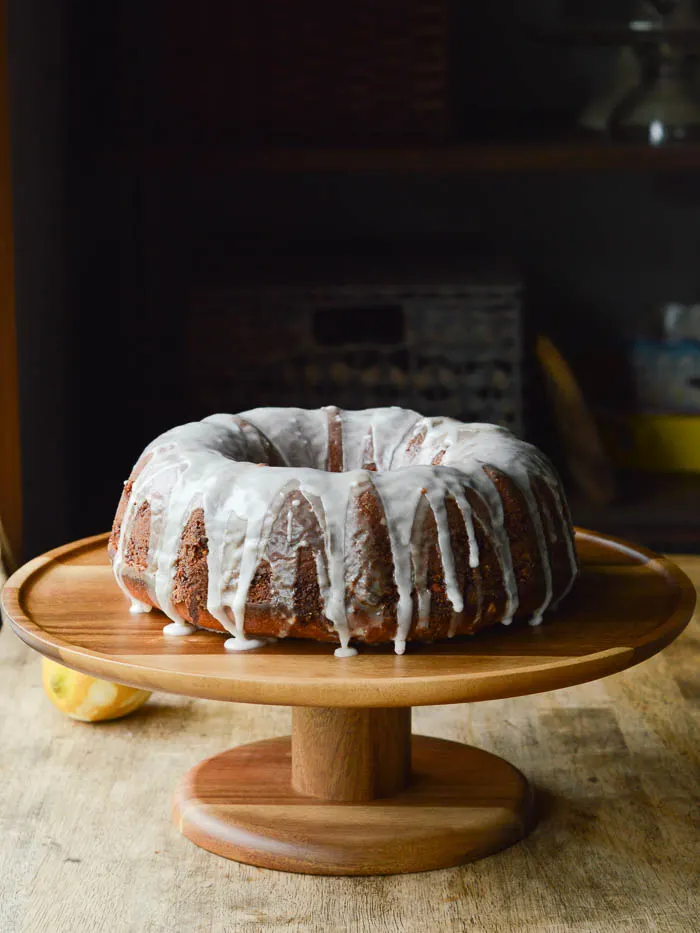 Real talk: if you don't have a food processor, YOU CAN STILL MAKE THIS RECIPE. You'll just need to either buy chopped pecans (which can be more expensive), or grab a good knife and chop them yourself.
Baking sheets, mixing bowls, measuring cups and spoons, and spatulas are just good kitchen staples, so hopefully you have those handy. And the bundt pan. It's required, obviously.
Zester Grater. Okay so, IF YOU DO NOT HAVE ONE and can't buy one (I get that, I do), you can use a vegetable peeler and a sharp knife. It's more cumbersome and you really can't get the bits of zest super small, but in a pinch, it works.
Ingredients for Olive Oil Bundt Cake with Pecan Streusel
1 1/2 cups finely chopped pecans
brown sugar (light or dark is fine! I used light brown sugar)
ground cinnamon
kosher salt
butter – just 3 tablespoons! This is an olive oil cake
all purpose flour
baking powder
granulated sugar
3 large eggs
1 1/2 tablespoons finely grated lemon zest
1 whole cup extra virgin olive oil
2/3 cup Greek yogurt or sour cream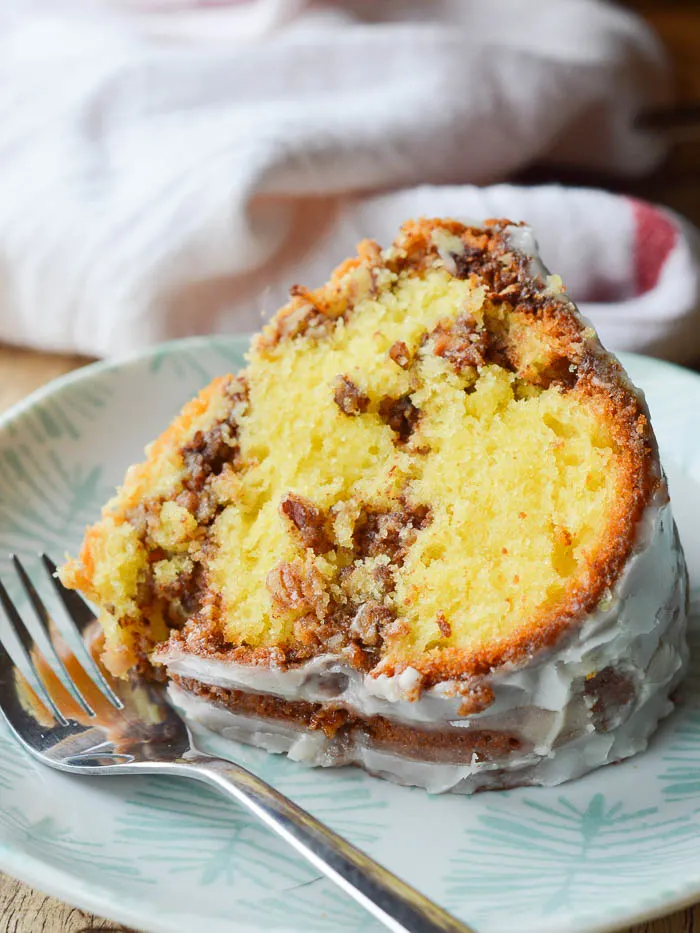 See? Mostly pantry staples. You've got this.
One thing I did do is get a little boujee with my olive oil. It was an impulse buy. I was at the grocery sore about a week ago (so in North Carolina is was still mostly pre-apocalypse) and I spied Meyer Lemon Olive Oil. As soon as I bought it I knew I was gonna use most of it in an olive oil cake. It was a great decision, I have to say, but it does make this a pricey cake.
You can use the discount E-vee-oh-oh (I am hearing Rachel Ray in my head right now) from Aldi and you will still love this cake.
This is also a cake where you can try flavored olive oils from those fun little specialty oil and vinegar stores. Anything that might complement lemon and pecans.
Cake Tips
First things first! Don't skip toasting the pecans. It gives them an extra nutty flavor and they really stand out in the streusel.
I used Greek yogurt instead of the sour cream that the original recipe called for. That swap was mostly because I more often have plain Greek yogurt handy than I do sour cream, but you should note that the sour cream will have a "richer" result. Using reduced fat Greek yogurt didn't change the cake in any meaningful way (I tried it!), so if that's what you have on hand, go nuts.
BUTTER AND FLOUR YOUR BUNDT PAN WELL. No one wants to put forth all the effort of making a cake only for it to look like garbage when you turn it out of the pan.
The eggs need to be room temperature! You can bring them to room temperature quickly by placing the un-cracked eggs in a bowl of hot water while you work through the other steps.
This is a lemon + cinnamon cake. If you are a lover of lemon cakes I have two that turn out every time. This Meyer Lemon Bundt Cake is small and will totally hit the citrus spot. If you are looking for a more traditional pound cake, this Lemon Yogurt Pound Cake is AMAZING.
The original recipe here called for a brown butter glaze. I love brown butter, y'all. But I did not get the thick white glaze results that I expected, so I used the glaze recipe from my Emoji Donuts recipe, which is really just a reliably good cake doughnut recipe.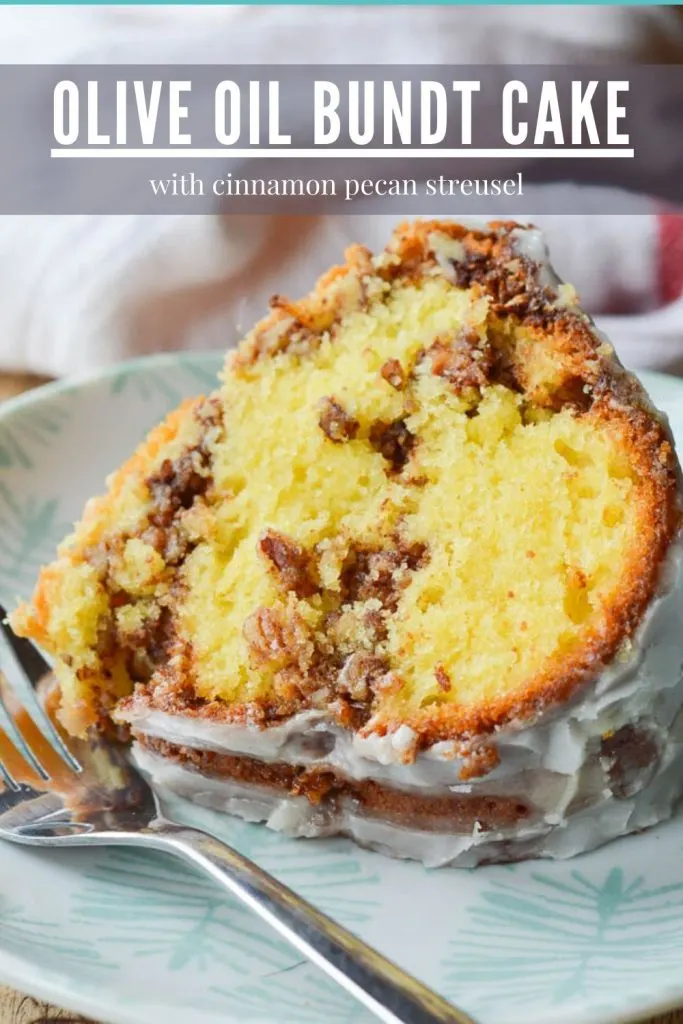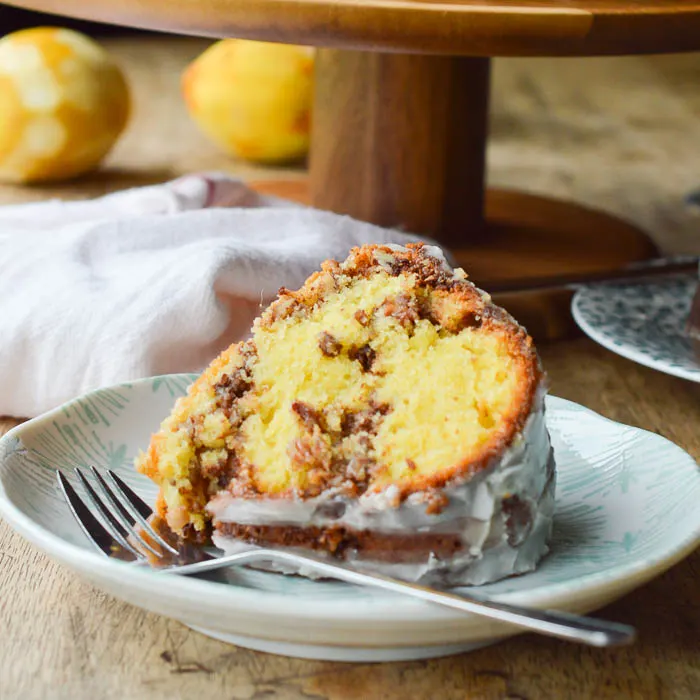 Yield:

serves 16
Olive Oil Bundt Cake with Pecan Streusel
Total Time:
1 hour
10 minutes
Olive Oil Bundt Cake with Pecan Streusel is a rich coffee cake with a tender crumb. It's a little bit lemony and has perfect threads of pecan streusel running through it. You'll love it for dessert and it's also perfect for brunch!
Ingredients
For the Streusel
1 1/2 cups pecans, finely chopped
1/2 cup packed brown sugar (light or dark)
1 tablespoon ground cinnamon
1/2 teaspoon kosher salt
3 tablespoons melted butter
For the Cake
2 cups all purpose flour
2 teaspoons baking powder
1 teaspoon kosher salt
1 1/4 cups granulated sugar
3 large eggs, at room temperature
1 tablespoon lemon zest
1 cup extra virgin olive oil
2/3 cup Greek yogurt (or sour cream)
For the Glaze
2 cups Powdered Sugar
2-4 tablespoons Milk
2 teaspoons Pure Vanilla Extract
Instructions
Make the streusel. Preheat the oven to 350°F and make sure the oven rack is positioned in the middle. If you have halved or more coarsely chopped pecans, pulse them in the food processor a few times so that they are finely chopped. Alternately you can use a cutting board and a good sharp knife. Lay the pecans out in a single layer on an un-greased baking sheet and toast for 5 minutes. Let the pecans cool.
In a medium bowl, combine the pecans, brown sugar, cinnamon, kosher salt, and melted butter. Mix to combine until the butter is evenly coating everything.
Leave the oven on and make the cake batter. Prep a 9 or 10 inch bundt cake pan by buttering and flouring well. In a medium bowl, whisk together the flour, baking powder and salt.
In a large bowl, or in the bowl of your stand mixer fitted with the paddle attachment, beat together the sugar, eggs, and lemon zest until the mixture is frothy. Scrape down the sides of the bowl and add the olive oil and Greek yogurt.
When the wet mixture is smooth and the olive oil and yogurt are well-combined, and in the flour mixture and slowly mix or stir until JUST combined. DO NOT OVERMIX.
Pour 1/3 of the batter into the prepared pan and top with half of the streusel mixture. Tap the pan on the counter to help everything settle and then repeat with another 1/3 of the batter, the other half of the pecan streusel, and the final 1/3 of the batter. Tap the pan on the counter one last time.
Bake for 45-50 minutes, turning the pan halfway through baking. The cake should have started to pull away from the sides and will spring back to the touch. Let the cake cool in the pan until the pan is cool to the touch. Then gently turn it out onto a wire rack to cool completely.
Make the glaze. Mix together the powdered sugar, 2 tablespoons of the milk, and vanilla. Add additional milk a little at a time to reach the desired consistency. 3 Tablespoons is about perfect for a thick white glaze. Be sure to mix until smooth - no lumps in the sugar!
Recommended Products
As an Amazon Associate and member of other affiliate programs, I earn from qualifying purchases.
Nutrition Information:
Yield:
16
Serving Size:
1
Amount Per Serving:
Calories:

422
Total Fat:

24g
Saturated Fat:

4g
Trans Fat:

0g
Unsaturated Fat:

19g
Cholesterol:

41mg
Sodium:

297mg
Carbohydrates:

49g
Fiber:

2g
Sugar:

35g
Protein:

5g