This Perfect Stovetop Oatmeal Recipe is simple and satisfying. Learn how to turn out perfect oats every time with these handy tips and tricks.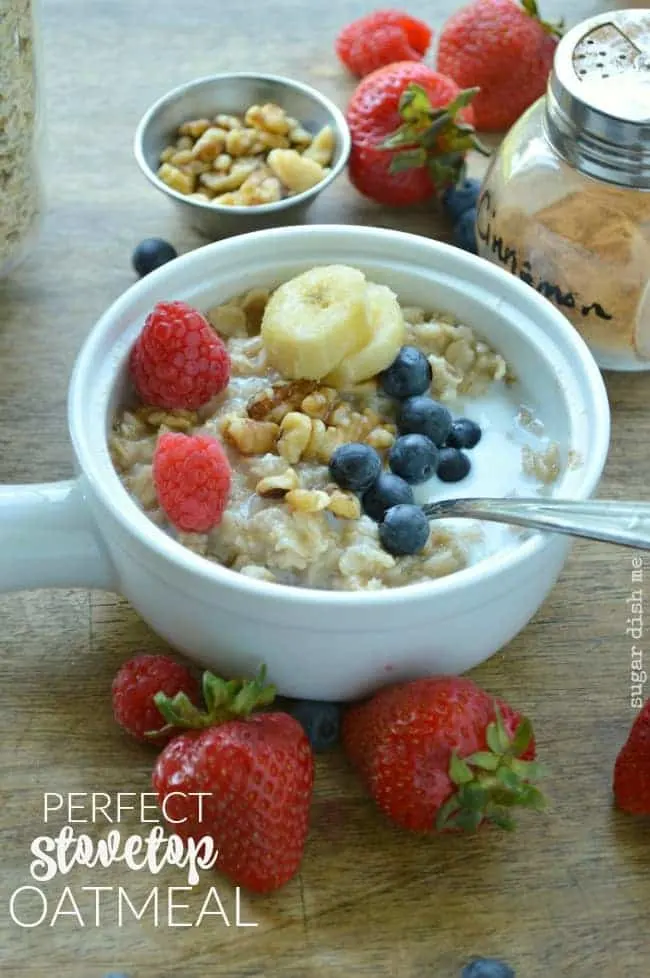 Making oatmeal from scratch is almost as simple as opening an envelope of the instant stuff. It's not much more time consuming, but it is SO much more satisfying! This recipe for Apple Cinnamon Stovetop Oatmeal is one of the most popular here on Sugar Dish Me.
And since people love THAT, I thought it would be fun to share the "good bones" of how to make stovetop oatmeal like a pro. So here's how to achieve perfect stovetop oatmeal.[side note: Google keeps correcting the word "stovetop" and I am just ignoring the red squiggle spelling error line because IT IS A WORD]
Favorite Oatmeal Add-Ins
We all know that I typically prefer my oats in cookie form (like with these White Chocolate Blueberry Oat Cookies). But a good bowl of oatmeal goes a long way in the morning and I love playing around with add-ins and toppings. Some favorites:
Dried cranberries or raisins

Sliced apples or peaches

Chocolate chips + bananas

A spoonful of peanut butter + honey

Maple syrup + brown sugar

Almonds, pistachios, or walnuts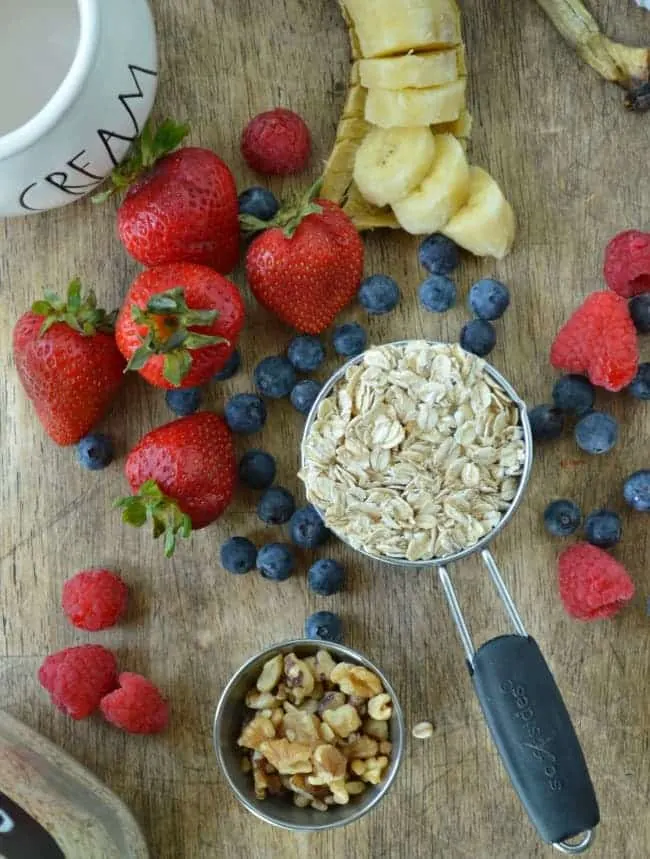 Tips on How to Make Stovetop Oatmeal
Once you have made some decisions about what's going IN your oatmeal, you can focus on technique. I have a few tips:
Old Fashioned Oats will give more texture; Quick oats will be creamier and will cook a little faster.

If you buy the old fashioned oats and decide you prefer quick cooking oats, a pulse in the blender or food processor gives you quick oats in less than a minute!

If your oats threaten to bubble up and over the sides of the pan when you add them to the hot water, you need to reduce the heat.

Your oats need a dash of salt to be perfect.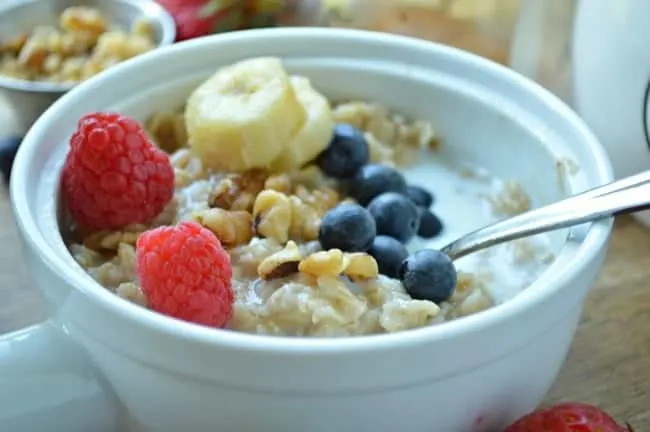 Let's talk about this salt things really quick. Once upon a time Chad tried to get cute and make me oatmeal. Annnnnd he added salt.
But he salted my oatmeal like you would salt your pasta water. So instead of enhancing the flavors of anything else we might have added, I just had to scrape my bowl of oatmeal into the trash #hotmess
This is on your list of oatmeal things to NOT do.
On the list of oatmeal things TO DO, however, is to cook it in WATER, not milk (the milk comes later). You want simmering water, not boiling water. Boiling water will turn your oats into sticky glue. You want to bring the water just to a boil, and then reduce the heat to a simmer before adding your oats. Stirring occasionally, just to prevent sticking is how you get that perfect oatmeal texture.
Should I Make Oatmeal with Water or Milk?
Okay so I know I JUST said you need to make oats on the stove with water, but that's because I learned how to make oatmeal in the US.
There are some super contentious comments at the end of this post – y'all are passionate about oatmeal – that are also slightly hilarious, and most of the fuss is about whether you should cook oats in milk or water. So let's lay out the reasons for water, which is what this recipe calls for.
Milk scalds. It is very tricky to simmer milk to the correct temperature for cooking oats and not have it burn, Burnt milk is gross.
You can have really creamy oats by cooking in water! If creamy is the goal, you don't need to cook the oats in water. You can just follow this recipe.
Water is lower in calories. I prefer to save my calories for cookies.
I don't love milk that much. I developed this recipe and while I do love all things dairy, I don't love cow's milk. So I guess this is a little bit because I say so.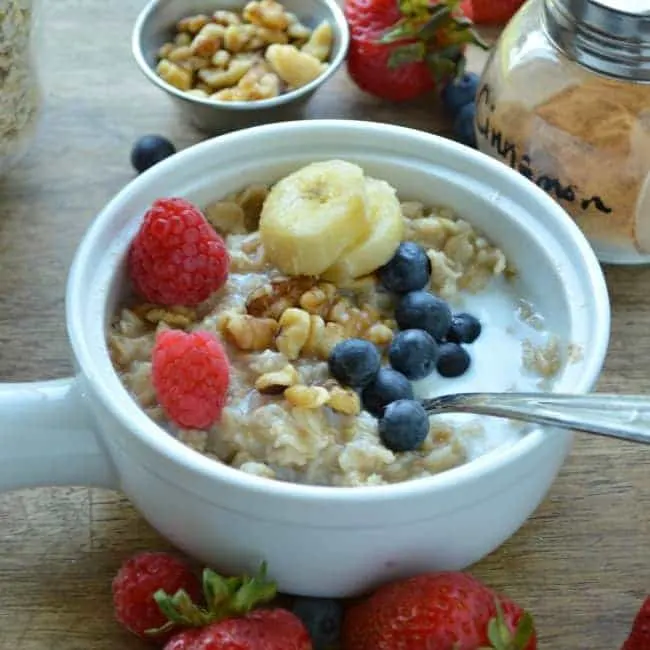 Love Oatmeal? You should also try…
Banana Oat Pancakes – the oatmeal is in the pancakes! They are also loaded with bananas and chopped pecans, are super fluffy, and they will not disappoint.
Oatmeal Berry Crumb Bars – one of my oldest recipes and still a favorite! A layer of cooked berries are sandwiched between a brown sugar crust and a crumbly oatmeal topping. You'll love them.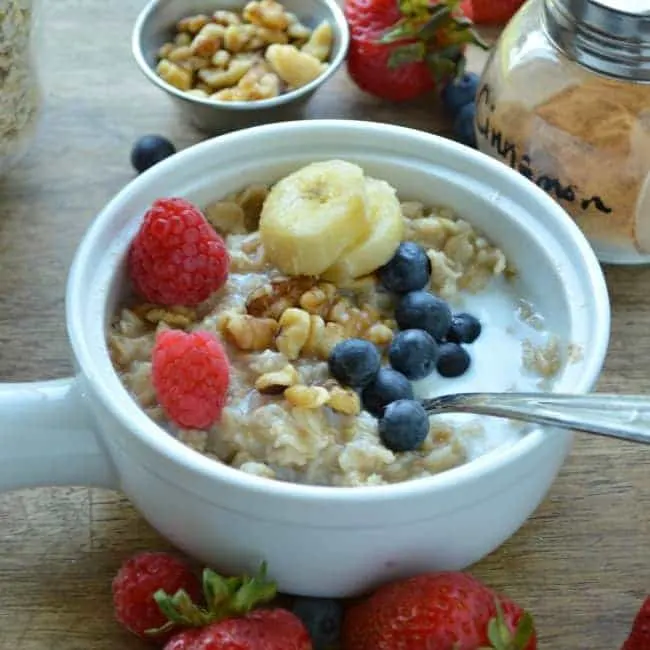 Yield:

1 serving
Perfect Stovetop Oatmeal Recipe
Learn how to make oatmeal on the stove with this super easy recipe!
Ingredients
1/2 cup Old Fashioned Oats
1 cup Water
dash of Salt
1/4 cup Milk
Toppings and Add-Ins
Instructions
Bring the water to a boil and then reduce the heat to simmer.
Gently stir in the oats. If the water starts to bubble over, reduce the heat even further.
Cook for about 4 minutes, stirring occasionally.
Stir in the dash of salt, and scrape the oatmeal into a bowl.
Float the milk across the top and add your favorite add-ins and toppings.
Recommended Products
As an Amazon Associate and member of other affiliate programs, I earn from qualifying purchases.
Nutrition Information:
Yield:
1
Serving Size:
1
Amount Per Serving:
Calories:

185
Total Fat:

4g
Saturated Fat:

1g
Trans Fat:

0g
Unsaturated Fat:

2g
Cholesterol:

5mg
Sodium:

199mg
Carbohydrates:

31g
Fiber:

4g
Sugar:

0g
Protein:

7g