This easy Breakfast Strata with Sausage is great for weekends, holidays, and serving a crowd! It comes together simply using day-old bread, crumbled sausage, bell peppers and onions.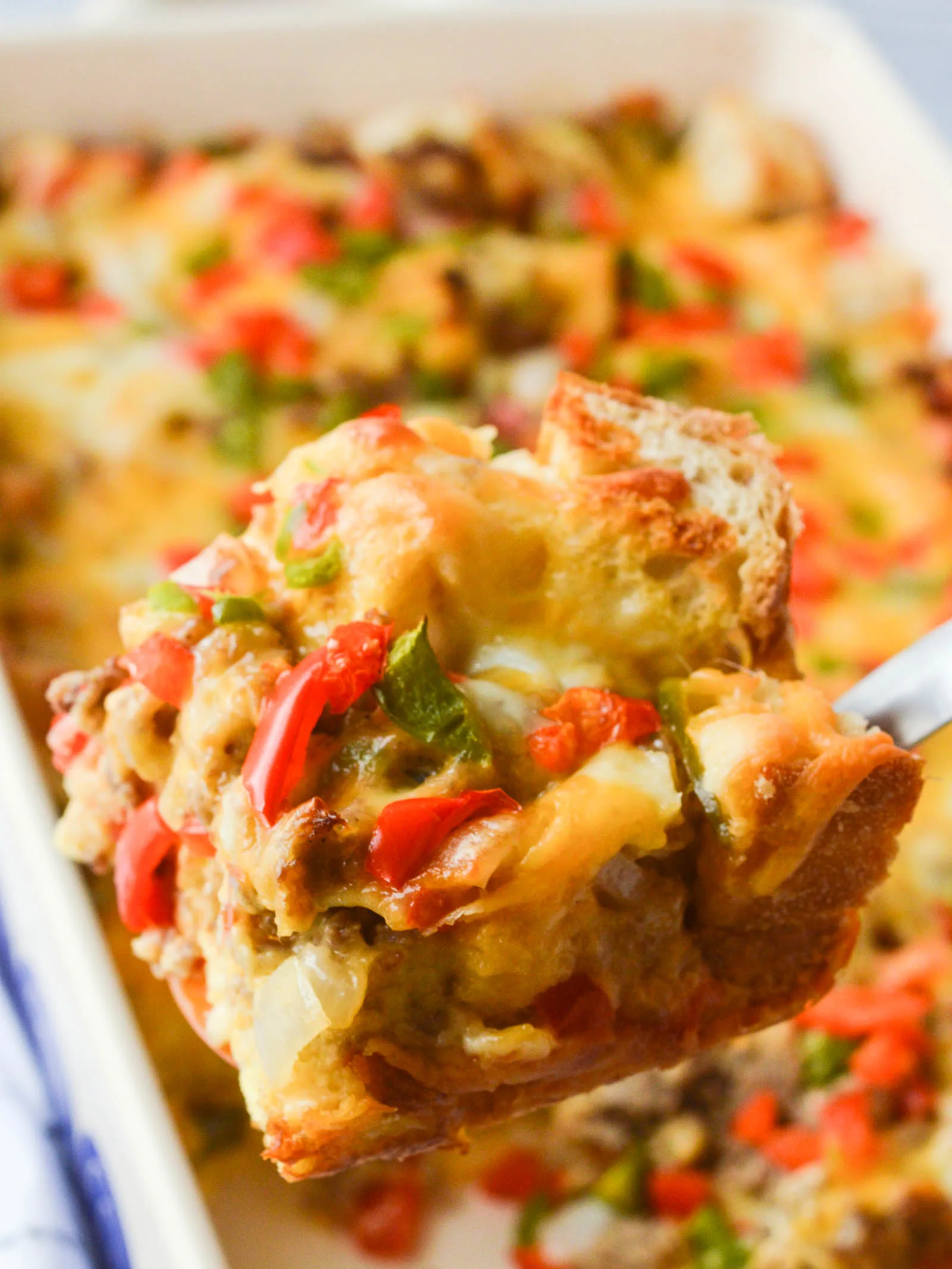 Hi Hi Hi – welcome back after the long Thanksgiving weekend! Was it great? Did you cook? Did you eat until stretchy pants were required?
I did all of the above. #noregrets
This time of year puts me firmly in the mood for three things:
Are you with me? Cool. Feels like we are on the same team.
My all-time favorite breakfast casserole is one I call Christmas Morning Casserole. That, along with Giant Cinnamon Rolls, is a holiday tradition around here.
This recipe here though, this Breakfast Strata with Sausage, is made with leftover bread. Or bread you bought expressly for this. Either way. But I find that when we have a feast, I always buy too much bread and then it's a mad dash to make 42 tons of croutons lets I have to throw it away.
So, instead of croutons as far as the eye can see (another day maybe), I just cubed up the leftover loaf and covered it with all the makings of my favorite omelet.
Still with me? I knew you would be.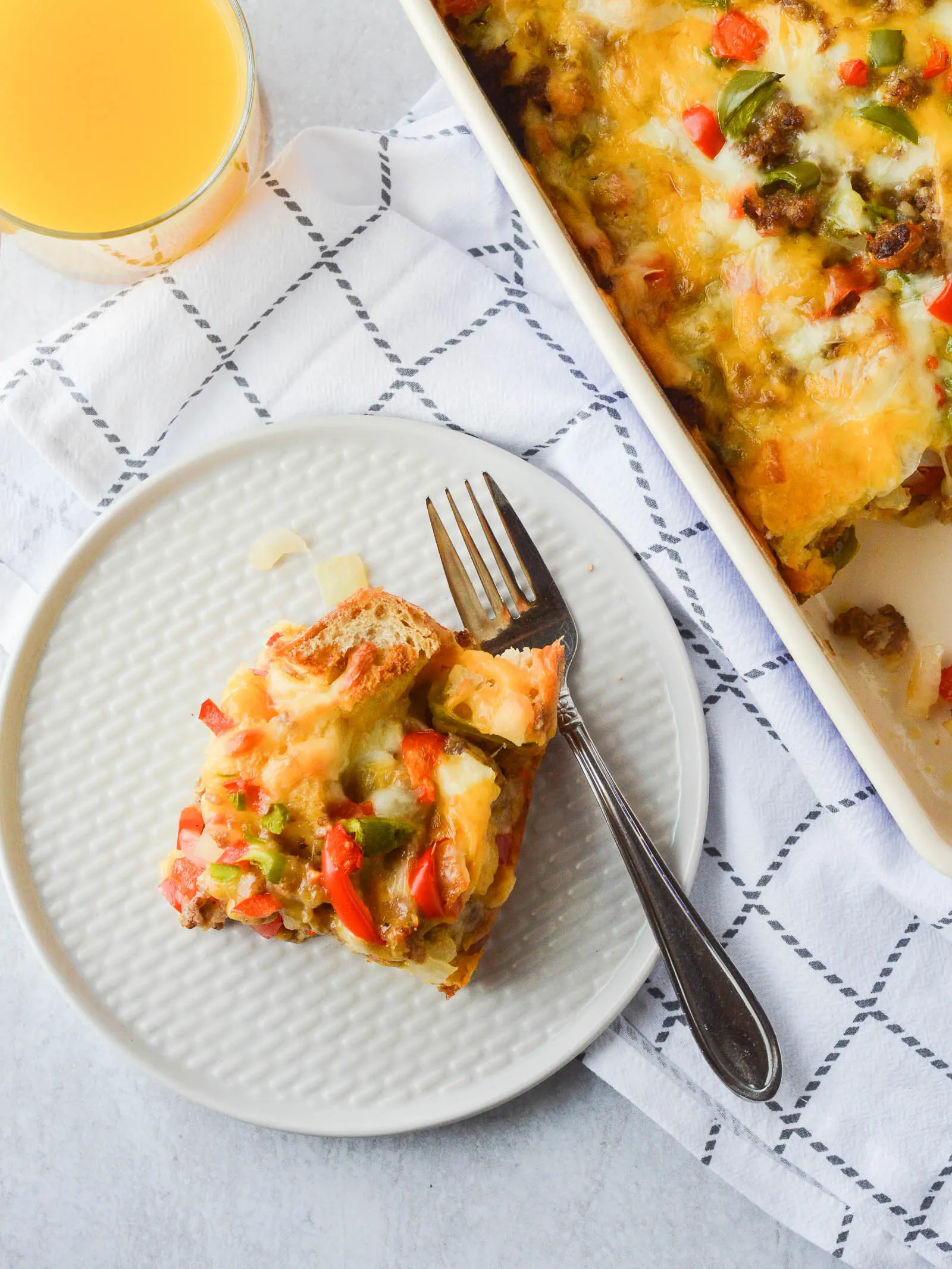 Ingredients for the best Breakfast Strata recipe
The ingredients here are simple, and so, as with all simple recipes, quality is key. You will need:
Thick crusty bread, preferably a day old so that it will soak up all the egg + milk mixture and remain sturdy (instead of soggy). If you are feeling ambitious, OR are just looking for a really amazing and easy bread recipe, this One Hour Bread – a classic and crusty dinner loaf – is perfect.
Quality sausage! You'll notice that I do not call for draining the sausage. If you have low quality, greasy sausage, you will need to. I love buying local when I can, and I made this recipe with sausage from Hickory Nut Gap Farm. NC friends – definitely buy this sausage (not even an affiliate link! Just really great.)
Peppers and onions because they go so well with sausage. You could also opt for mushrooms here. Or spinach. I am an equal opportunity vegetable eater.
Cheese. So important! I used Cabot's 4-cheeseMexican Shredded Cheese. It's rustic cut, so the shreds are big and hearty. It consists of Monterey Jack, Queso, Asadero, and Cheddar. You can really use whatever shredded cheese you like, but this blend is my breakfast strata go-to.
Milk – probably not soy or almond, etc. Using non-dairy milk can really change the texture of things. I love my almond milk in smoothies, but here I used 2%. I haven't tested this with a dairy alternate so proceed at your own risk if you try it.
You'll notice that I don't call for any additional seasoning or salt in the recipe. You can add salt and pepper to taste, and even a little fennel seed and Italian seasoning can be fun. I am obsessed with Spiceology's Greek Freak seasoning. It's great on everything.
Anyway, good sausage is typically salty and seasoned. Paired with the onions and peppers, and the salt in the cheese, it is plenty. If you do add extra, I recommend sprinkling it over the onions and peppers as they cook in the skillet.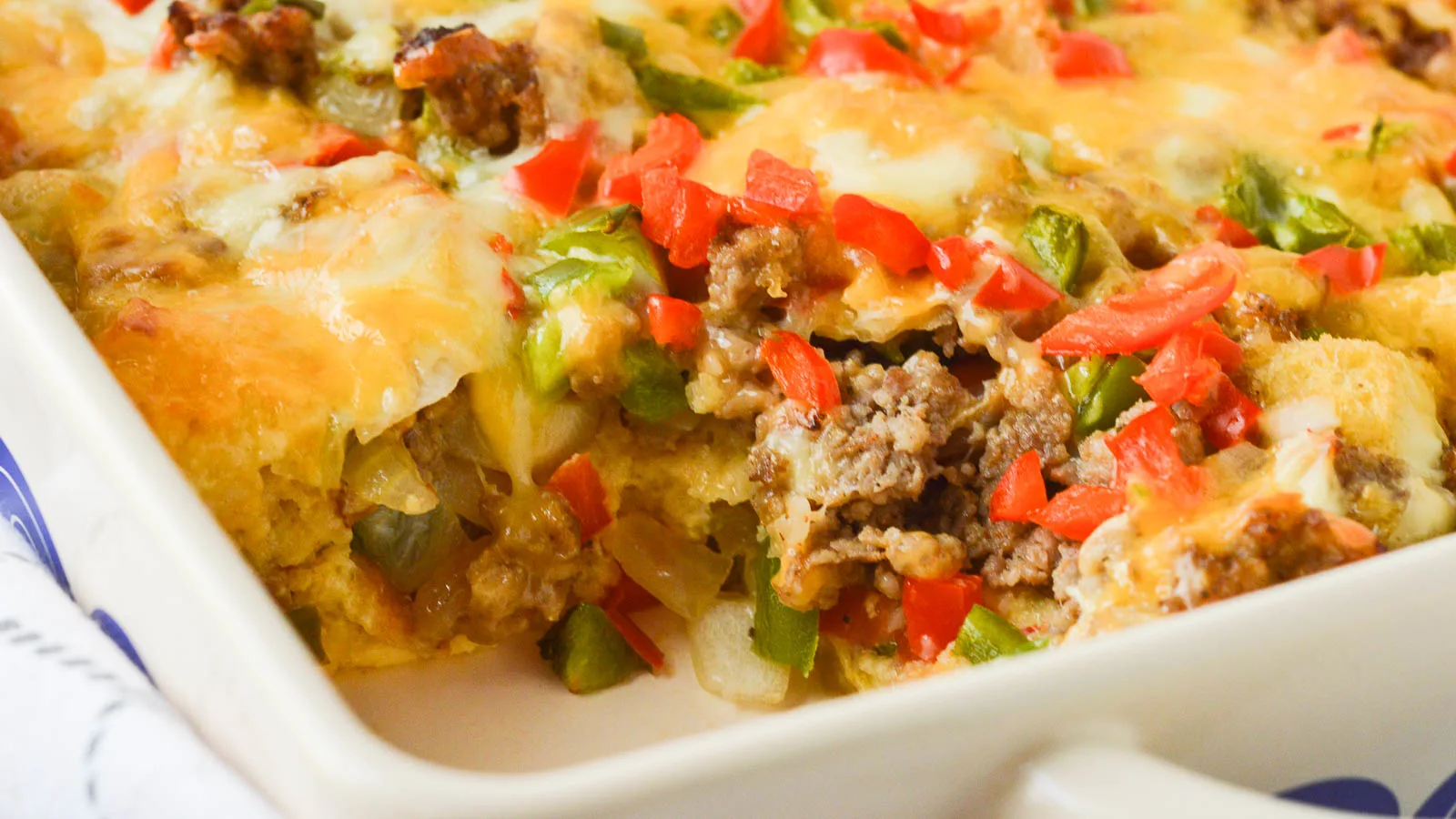 Can I make this breakfast casserole ahead?
You can make this breakfast casserole ahead! I'd only aim for about a day ahead though, if you are a planner. You don't want the already day-old and now sliced and refrigerated bread to get too wrecked.
Traditional strata recipes call for them to sit overnight WITH the egg + milk mixture so that the bread soaks it up. Then you get a soufflé-like texture when you bake. My preferred way to make breakfast strata ahead is a little different, though.
When I make this ahead I like to prep everything except the eggs + milk. Then I mix those up and pour them over the top just before baking. You'll see notes in the complete printable instructions below on how to prepare everything through Step 4. Then you can refrigerate and move to Step 5 just before baking.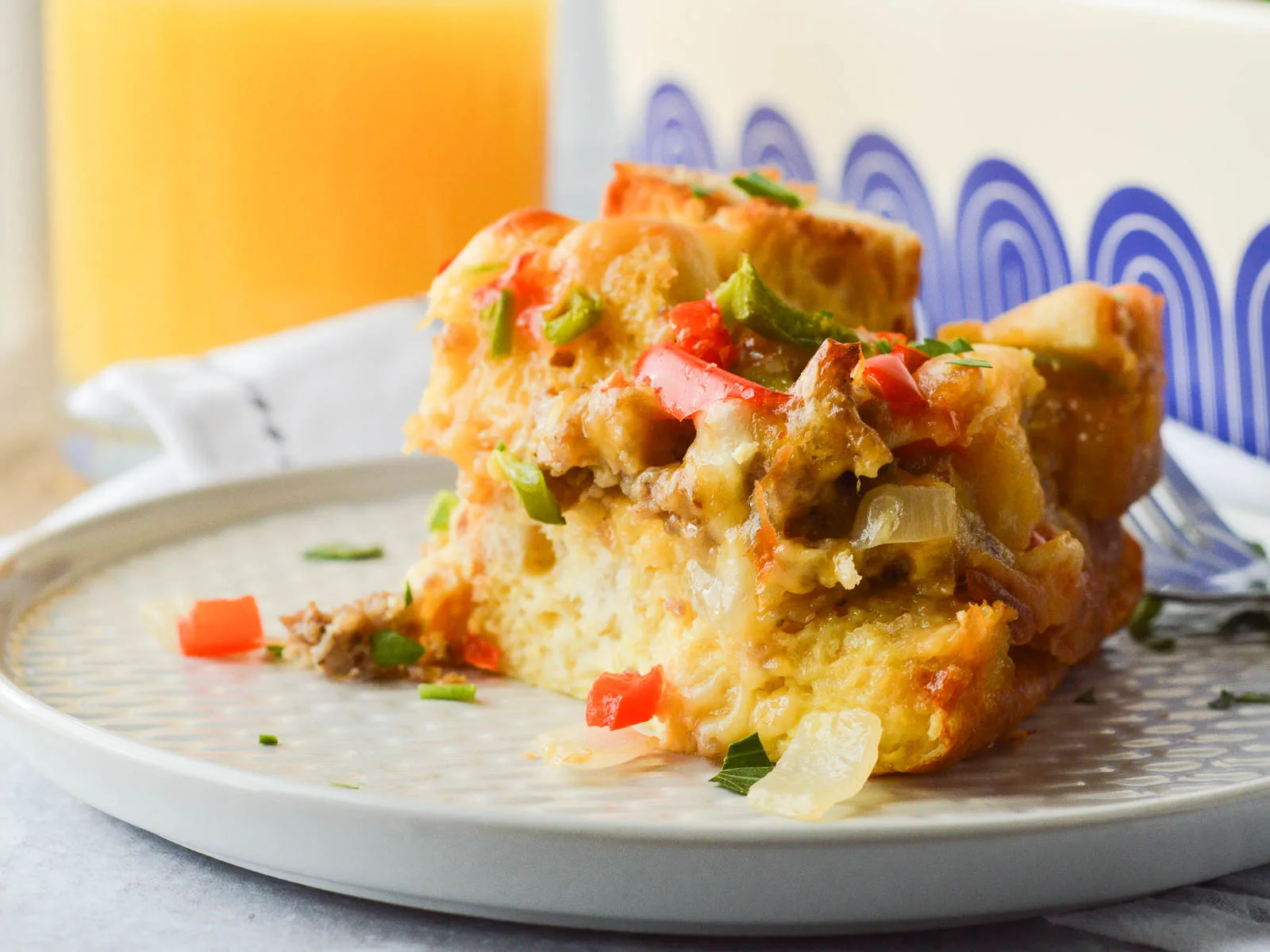 Other Breakfast Casserole Recipes you'll love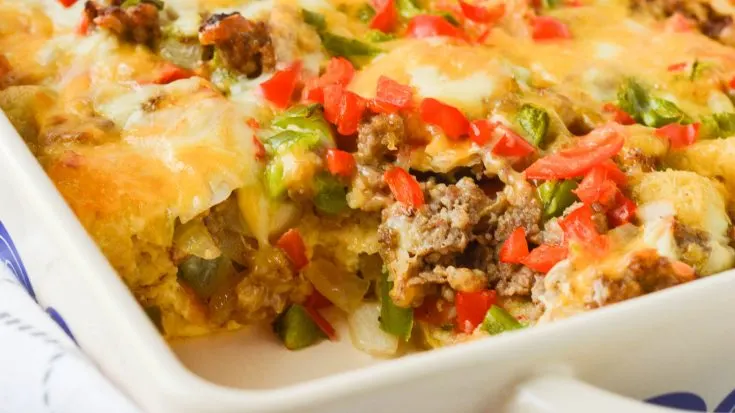 Yield:

12 servings
Breakfast Strata with Sausage
This easy sausage breakfast casserole is made with day-old bread, and is loaded up with sausage, peppers, eggs, and cheese. A crowd-pleaser that is perfect for weekends and holidays alike!
Ingredients
8 heaping cups of hearty bread cut into 1" cubes
12 ounces breakfast sausage
1 cup diced red bell peppers
1 cup diced green bell peppers
1 cup diced onion
8 ounces shredded cheddar cheese (or a cheese blend)
6 eggs
1 1/2 cups milk
Instructions
Spray a 9 X 13 casserole dish with nonstick cooking spray. If you are baking this right away, preheat the oven to 350°F.
Fill the prepared dish with the cubes of bread.
In a medium to large skillet, cook and crumble the sausage. Once it's browned, move it to one side of the pan and add the onions and bell peppers. Reduce the heat to medium or medium low and cook for about 6 minutes, until they are soft. Mix the onions, peppers, and sausage together as they cook.
Spread the sausage + onions and pepper mixture over the top of the bread. Cover with the shredded cheese. If you are making this casserole ahead, let the sausage mixture cool completely before adding the cheese. Then cover and refrigerate until you are ready to bake. Save Step 5 until just before baking.
Whisk together the eggs and milk and pour over the casserole.
Bake for 35-45 minutes. You want any exposed bread to be toasty, the cheese to be melted, and the eggs to be cooked all the way through.
Recommended Products
As an Amazon Associate and member of other affiliate programs, I earn from qualifying purchases.
Nutrition Information:
Yield:
12
Serving Size:
1
Amount Per Serving:
Calories:

243
Total Fat:

17g
Saturated Fat:

7g
Trans Fat:

0g
Unsaturated Fat:

8g
Cholesterol:

139mg
Sodium:

423mg
Carbohydrates:

8g
Fiber:

1g
Sugar:

2g
Protein:

15g