Buttery little bites made with fresh oranges and raspberries, topped with Tate+Lyle® Organic Turbinado Raw Cane Sugar and a dash of cinnamon, for the perfect amount of sweet crunch. Raspberry Orange Tea Bites are perfect for pairing with your afternoon tea, and are especially perfect for sharing with friends.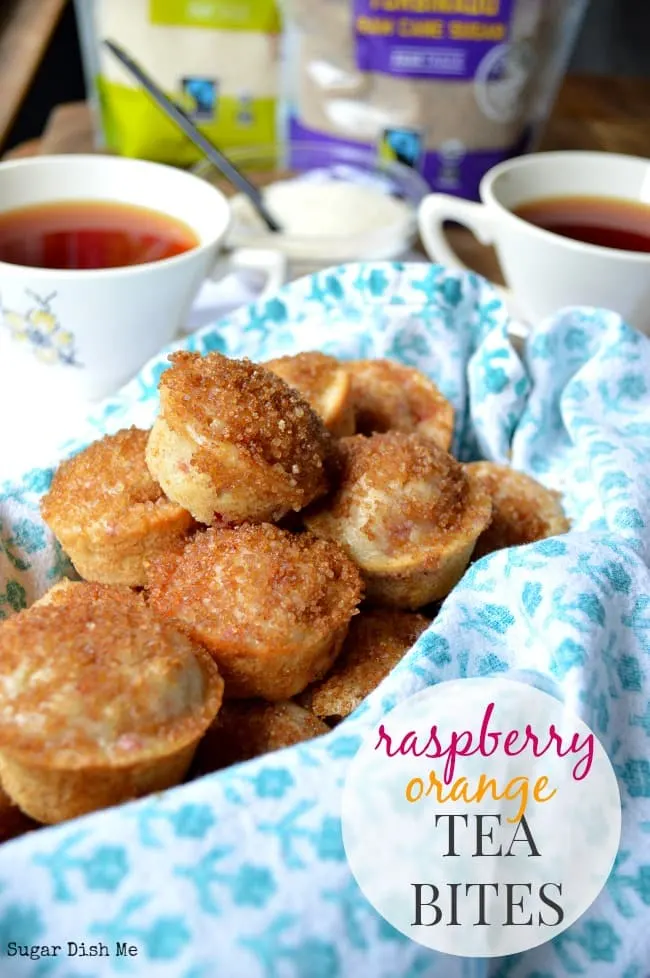 I was compensated for this post by Tate+Lyle® Sugars, but all opinions and content are my own. I only recommend products that I actually use in my own kitchen and am careful in selecting brands I trust.
Blogging is totally interesting for lots of reasons, but one of my favorite favorite favorite reasons is how I am able to connect with people from all over the place. Readers and other bloggers turn into this amazing tapestry of friends that are supportive, and complementary, and in truth–they just GET it, you know? I mean, you're here, so you do know. Puffy friend hearts all around!!! Anyway.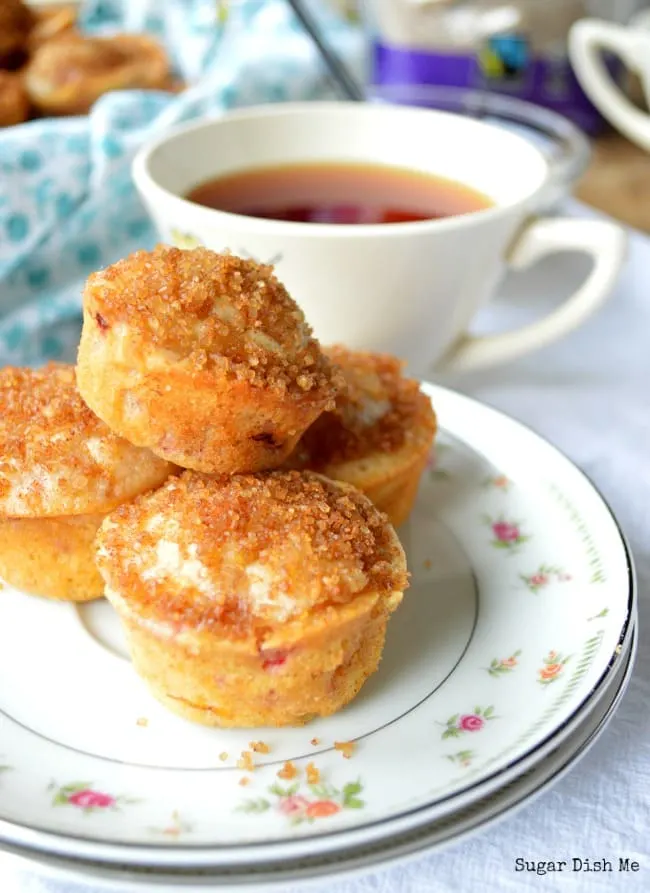 One of the very first friends I made with Sugar Dish Me was Rachael. I don't even remember how I found her, or she found me — just that we landed in the same invisible internet spot communing over a delicious pasta or something sweet. Rachael is English–an elementary teacher–and when we first started corresponding she was living in Spain, teaching there for a bit. We became pen pals, which is honestly the very coolest thing. I love getting REAL mail!!!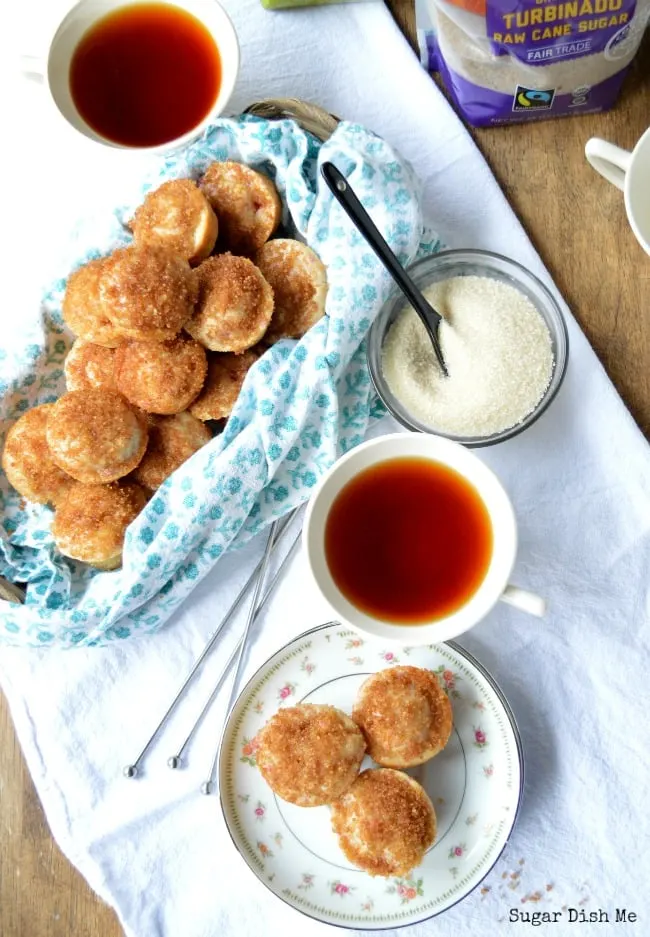 She is an artist so when Rachael sends mail she sends the most thoughtful handmade things. Once she sent me English Trifle Christmas ornaments. I haven't had a pen pal since I was like 12 or something, so corresponding with someone in a real, tangible, non-internet-y way has been really great. We regularly disagree on things like biscuits (because my biscuits look like this, and Rachael's biscuits look like this) and bananas (I say yay, she says nay), but I can't wait for the day that we can hash those things out over a happy cup of tea.
Every month I mail treats to friends and share them with you, but this batch of treats is special because I'm sending it to Rachael in England, so we can maybe have a little virtual tea party. Or snail mail tea party. (Maybe she will send me REAL tea!!)
What's super fun though, is that I used Tate+Lyle® Sugars to make these little Raspberry Orange Tea Bites. For over 130 years, Tate + Lyle® Sugars have graced Britain's finest tables. My table is probably not that fine, but Tate + Lyle® Sugars are now available in the U.S. (I found them at Walmart!!) so I can use them too!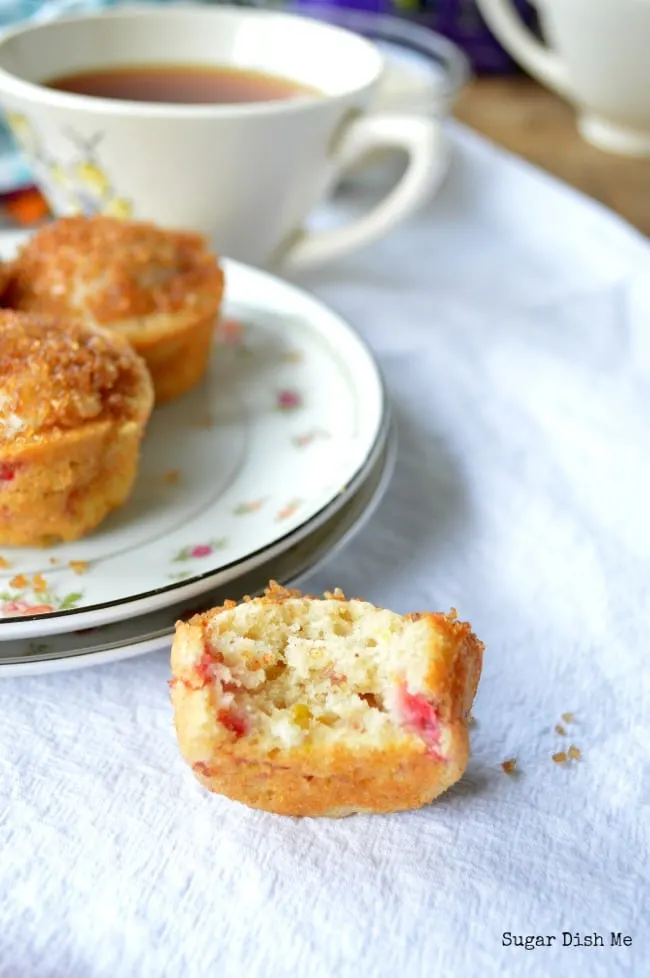 I used 2 of their 3 available varieties to make these Raspberry Orange Tea Bites. I tossed the fruit in the Organic Pure Cane Sugar before adding it to the batter, and the top of these bites… OMG. I used the Organic Turbinado Raw Cane Sugar for the topping by tossing it with cinnamon, dipping the tops in a little melted butter, and then sprinkling it all over. Sweet Crunch. But not too sweet. It's perfect.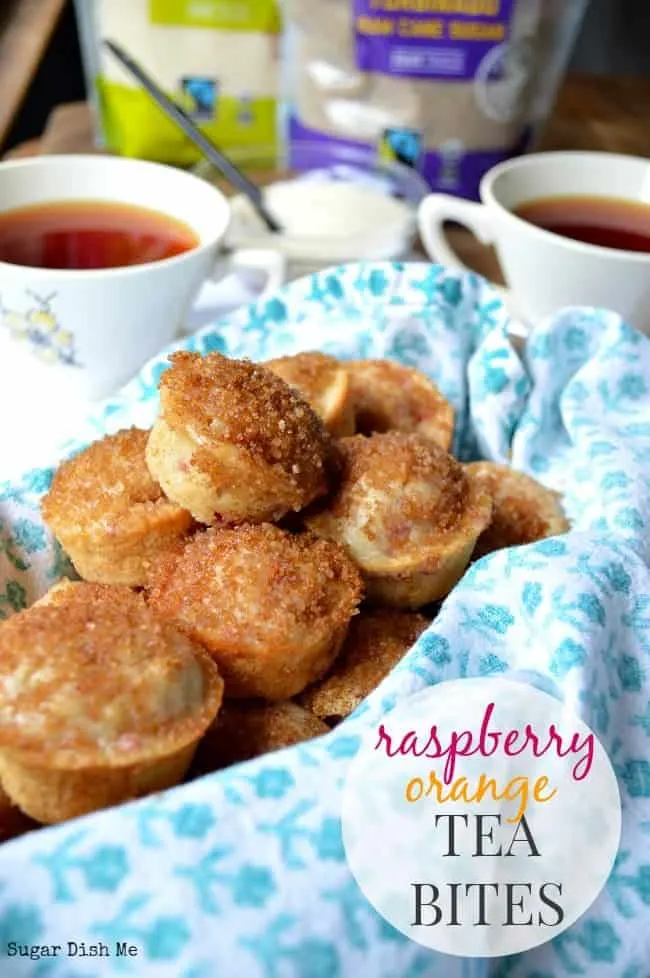 Yield:

2 1/2 dozen
Raspberry Orange Tea Bites
Raspberry Orange Tea Bites are buttery little muffins made with fresh oranges and raspberries, topped with organic turbinado sugar for an extra special sweet crunch on top.
Ingredients
1 1/2 cups all purpose flour
1 3/4 teaspoons baking powder
1/2 teaspoon salt
1/2 teaspoon ground nutmeg
1/2 cup cold butter
1/4 cup milk
1/4 cup fresh orange juice
1 egg
1 teaspoon almond extract
6 ounces fresh raspberries
1/2 cup sweet orange slices, peeled and coarsely chopped (choose a small variety like mandarin or clementine)
1/4 cup Tate + Lyle® Organic Pure Cane Sugar
For the Topping:
1/4 cup melted butter
1/3 cup Tate + Lyle® Organic Turbinado Raw Cane Sugar
1/2 teaspoon ground cinnamon
Instructions
Preheat the oven to 350°F and butter a mini muffin pan or line it with paper liners.
In a large bowl, whisk together the flour, baking powder, salt, and nutmeg. Cut in the cold butter until coarse crumbles form.
In a liquid measuring cup combine the milk, orange juice, egg and almond extract. Lightly beat the egg to mix it all together, and then add the wet ingredients to the dry.
Stir until it just comes together.
Toss the raspberries and oranges with the 1/4 cup organic pure cane sugar. Gently stir them into the batter.
Fill each muffin cup to about 2/3 full. Bake for 15-18 mins, or until a pick inserted into the center comes out clean.
Let the tea bites cool for at least 5 minutes before removing.
To make the topping combine the organic turbinado raw cane sugar with the cinnamon. Dip the top of each tea bite in the melted butter and then sprinkle with the cinnamon sugar to coat.
Recommended Products
As an Amazon Associate and member of other affiliate programs, I earn from qualifying purchases.
Nutrition Information:
Yield:
30
Serving Size:
2
Amount Per Serving:
Calories:

127
Total Fat:

5g
Saturated Fat:

3g
Trans Fat:

0g
Unsaturated Fat:

2g
Cholesterol:

19mg
Sodium:

104mg
Carbohydrates:

20g
Fiber:

1g
Sugar:

14g
Protein:

1g
Tate + Lyle® Sugars are also Fair Trade Certified which I aim for whenever possible. I'm one of those people that likes to use the power of purchase to speak my mind, and Fair Trade Certified products always top my shopping lists. Like their Facebook Page and
join their email list
for inspiring
recipes
and special offers from Tate+Lyle® Sugars. Now available at Walmart. Plus, this fall, look for their new Tate+Lyle® Gourmet Flavored Beverage Syrups that are coming soon! What would you like to bake using Tate + Lyle® Sugars?
Love tea time? You'll also love…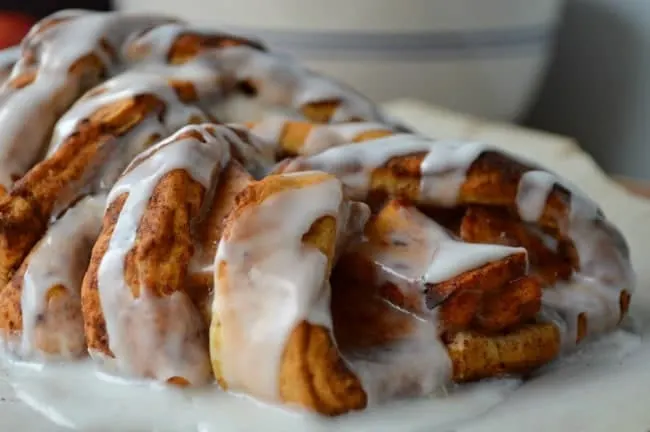 Apple Cinnamon Breakfast Braid