Sweet Creme Lemon cake is a great way to use up excess egg yolks! Coffee-mate creamer adds flavor and moisture for the perfect slice to accompany your coffee.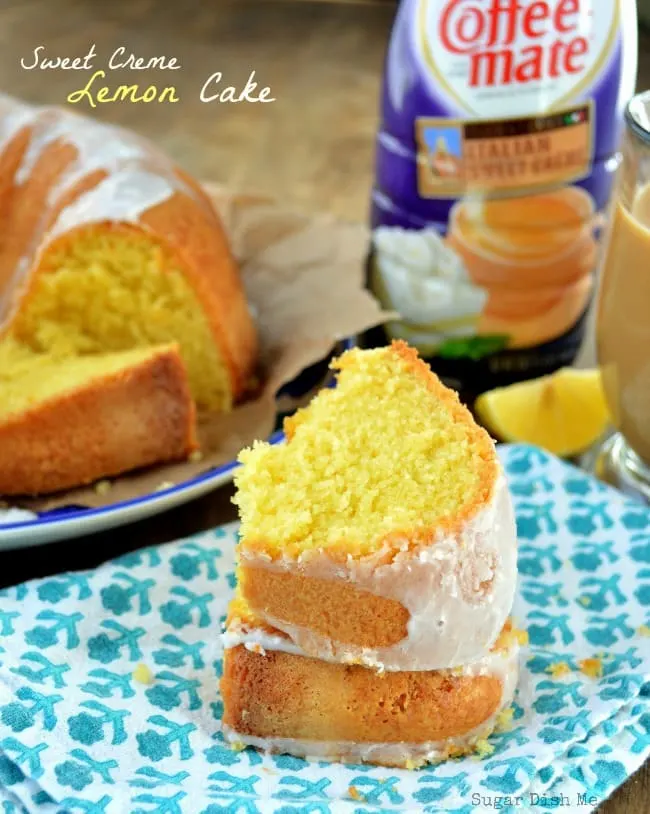 Do you ever use a zillion egg whites for something and then wonder what to do with all those yolks? I hate wasting food… like I'll be the sole person to eat leftovers for days just because I would never throw it out (that actually happens every time I make soup). It is routine for me to use scraps from one recipe and turn them into something totally different — and if I'm being honest, most days those thrown-together dishes often yield my best cooking.
So then I'm all yeah!Ireallywanttosharethisrecipe!!!! But then I remember that the rest of you don't have a 3 quart container of shaved Brussels sprouts with onions and pancetta just hanging around, or whatever magical Frankenstein ingredient I'm morphing. But this cake! This is my favorite cake to make when I needed a bunch of egg whites for something like granola or candied pecans and then I have a dozen yolks that I would never ever ever throw away. Cake recycling! No wait. I think that's called cake pops.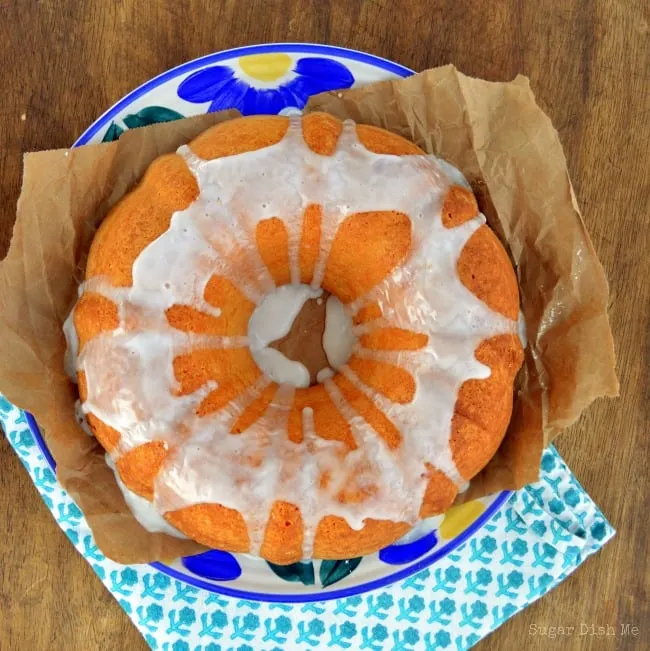 Annnnnywho. Last week I made angel food cake for my sister's birthday. Angel food cake uses 10 egg whites. That left me with 10 rich yellow yolks. This recipe calls for a cup of egg yolks. Depending on the size of your eggs that can be anywhere from 10 – 12. I added 2 more yolks to my leftover 10 to give me a full cup. The yolks make for a rich yellow cake that is buttery and moist. Egg yolks = bundt cake magic.
Also lending to the cake magic is coffee creamer. I used Coffee-mate flavored creamer in another bundt cake recipe last year and I just loved the way it added flavor and moist texture in place of the milk (you can find that recipe for Peppermint Fudge Cake here). I chose the Italian Sweet Creme for this recipe. It's one I like to keep on hand for iced coffee — it adds creamy flavor with a little shot of sweet that is perfect for a cold brew (no sugar granules congregating in the bottom of your cup!); they offer several flavors with a range of sweetness (and you guys know how much I love my coffee!).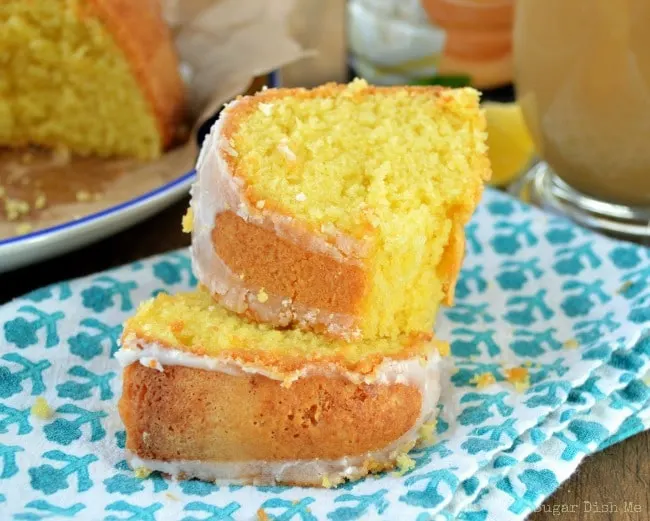 Coffee-mate's newest flavor, Extra Sweet and Creamy, gives you a balanced cup with creamy taste and extra sweetness. It's perfect for coffee – iced or hot (and cake!).
This easy cake is perfect with your afternoon cup.

Sweet Creme Lemon Cake
Moist buttery lemon bundt cake made with Coffee-mate Italian Sweet Creme creamer and 12 egg yolks. This recipe is perfect for using up leftover egg yolks!
Ingredients
¾ cup unsalted butter, softened
1½ cups granulated sugar
zest of 1 lemon
1 cup egg yolks (about 12 yolks)
1 teaspoon vanilla
1¾ cups all purpose flour
2 teaspoons baking powder
¼ teaspoon salt
¾ cup Italian Sweet Creme coffee creamer
For the Glaze:
½ cup powdered sugar
1 tablespoon Italian sweet creme
1 tablespoon fresh lemon juice
Instructions
Preheat the oven to 350. butter and flour a 9 or 10 cup bundt pan.
In a large bowl beat together the butter, sugar, and lemon zest until smooth. Add the egg yolks and vanilla and mix until combined - about 1½ minutes.
In a medium bowl, whisk together the flour, baking powder, and salt. Add ⅓ of the flour mixture to the batter and mix until combined.
Add half of the creamer to the batter. mix until combined. Add another third of the flour and mix. Then the remaining creamer. Then the remaining flour. Do not over-mix.
Scrape the batter into the prepared cake pan and smooth out the top with a spatula. Bake for 45-50 minutes, or until a pick inserted into the center comes out clean
Let the cake cool for 5 - 10 minutes before carefully inverting the pan. Cool completely before slicing.
To make the glaze just mix together the powdered sugar, Coffee-mate Italian Sweet Creme creamer and fresh lemon juice together until smooth. Pour over the top of the cake.
Recipe adapted from this
Gold Cake Recipe
found at allrecipes.com.
Love a good bundt cake recipe? You should also try…