Sharing is a good thing! Here's why I syndicate my recipes.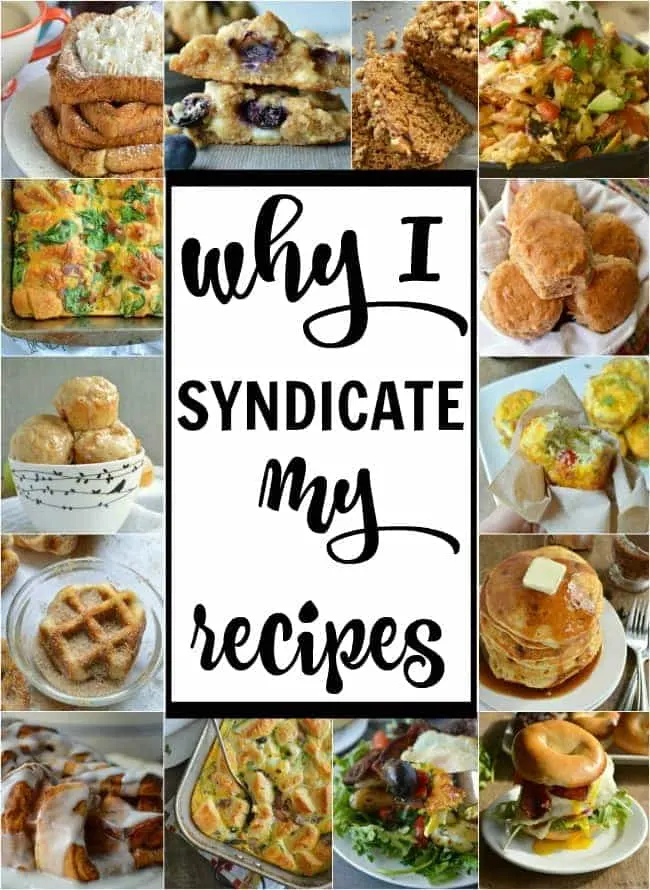 A quick note to my regular readers before your eyes glaze over — just focus on the breakfast recipes! I write two breakfast recipes a month for Food Fanatic because breakfast is my favorite. These Pulled Pork Breakfast Biscuits? I made them for Food Fanatic.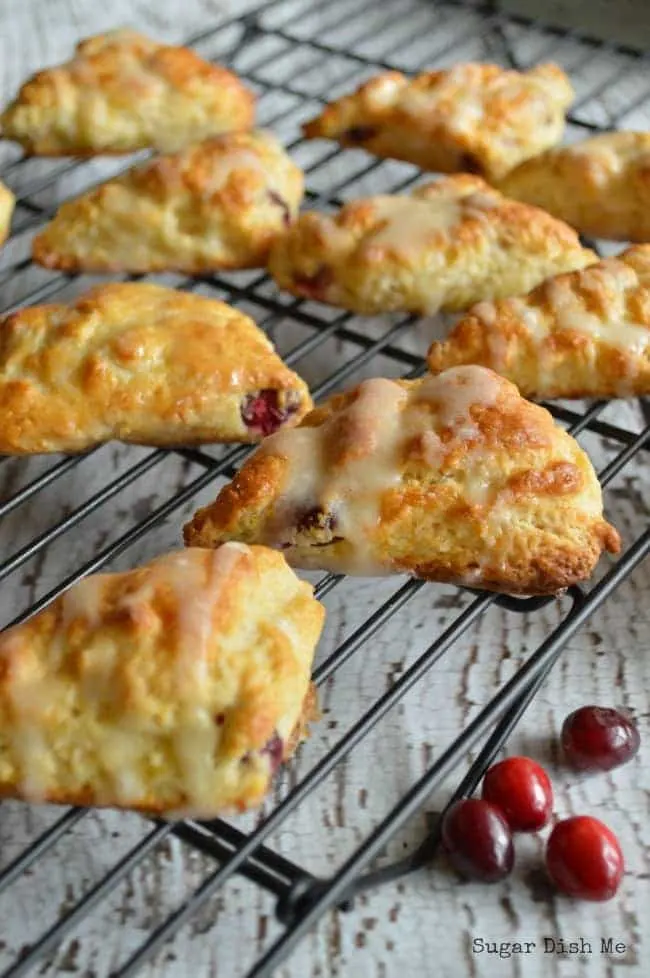 Cranberry Orange Scones, Crescent Roll Breakfast Bake, Apple Pie Pancake Muffins, Christmas Morning Casserole, and Banana Oat Pancakes are all recipes that I originally wrote for syndication with Food Fanatic. 64 recipes in total since I started there a few years ago. And I am often asked WHY.
Why do you, Heather, create original content and give it away to another website instead of keeping it all for yourself? The reason is simple: syndication.
What is Syndication?
Syndication is noun "the transfer of something for control or management by a group of individuals or organizations"
OR "the sale or licensing of material for publication or broadcasting by a number of television stations, periodicals, etc."
What I do here is sort of a hybrid of these two.
Here's a picture of brunch really quick so you don't get bored: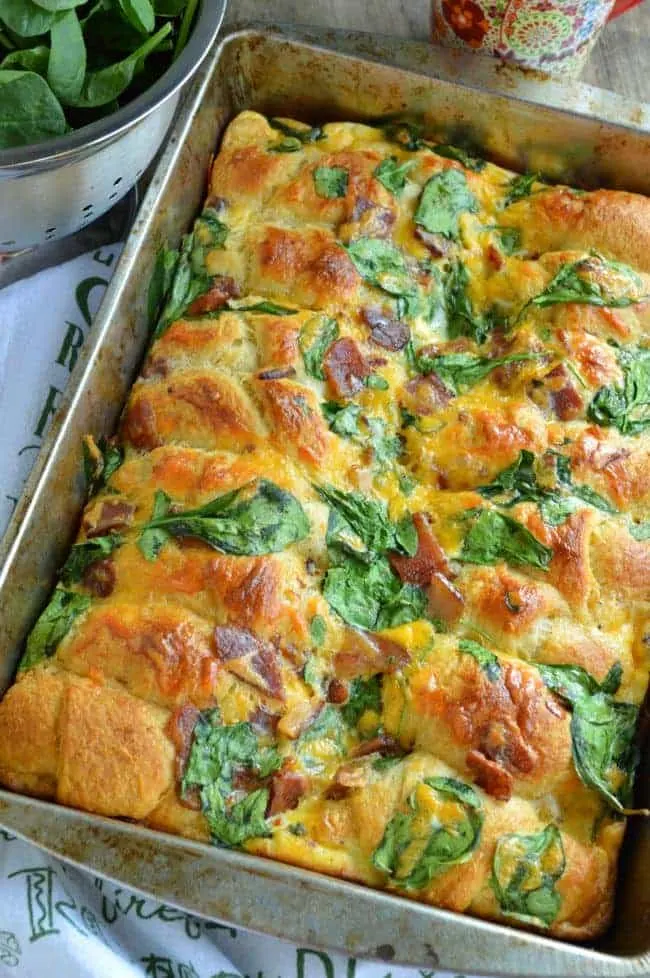 (Crescent Roll Breakfast Bake)
When I send a recipe to Food Fanatic I am technically transferring control to them. Sort of. We have a mutual agreement. The agreement goes like this:
I write an original recipe + post for them. That post has two links back to me, using keywords. It also has two links to them, using their keywords. They publish the post I wrote. Then I publish the post I wrote. Then other awesome sites like Huff Post publish the post I wrote! In this situation I am basically syndicating my own content (because I gave Food Fanatic the original). Huffington Post, the Daily Meal, and Epicurious are also syndicating that content.
ALL the link love.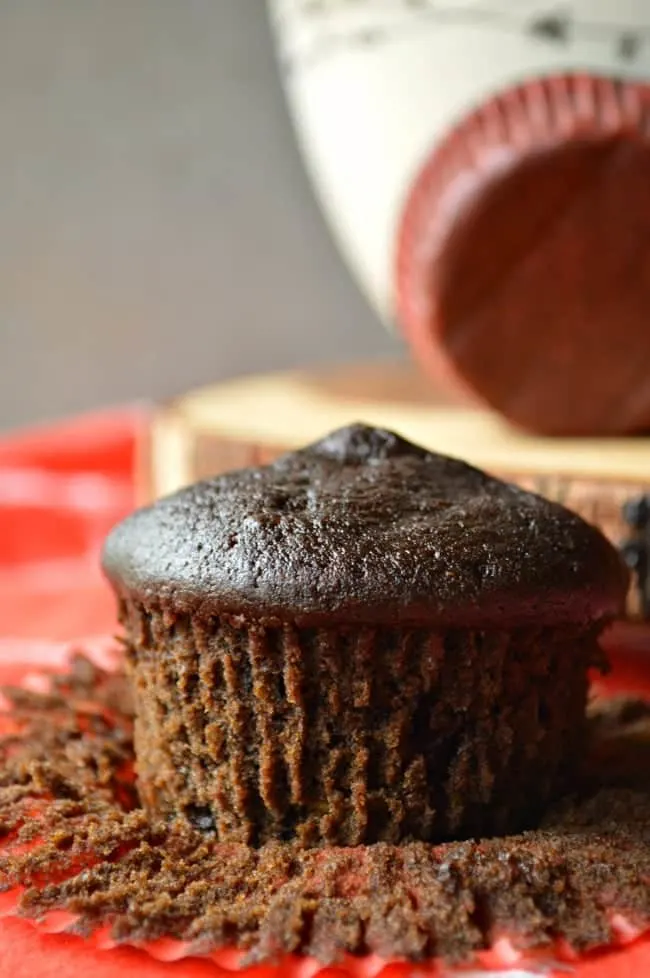 (Double Chocolate Ginger Muffins)
The important part in this agreement is the link back.
For recipes that I submit to anywhere that will be syndicating my content, the links to my posts using keywords (usually the title of the recipe) are like GOLD. Those links are telling Google that whoever is linking to me thinks that I am the authority on that subject. I do like to think I am the authority on breakfast.
The more links I have from other sources to that post, the cooler Google thinks I am on that particular keyword. Link love is crucial! And it's actually a great SEO practice to link to yourself and others often in your posts.
What's even cooler about the link love, is that the posts I just mention in that syndicated content, just links that I've dropped here and there? THOSE LINKS BENEFIT, TOO!
Some math.
When I take a look back at 2016, 6 of my top 30 posts are recipes that I submitted to Food Fanatic for syndication. THAT'S 20% OF MY TOP POSTS FOR THE YEAR!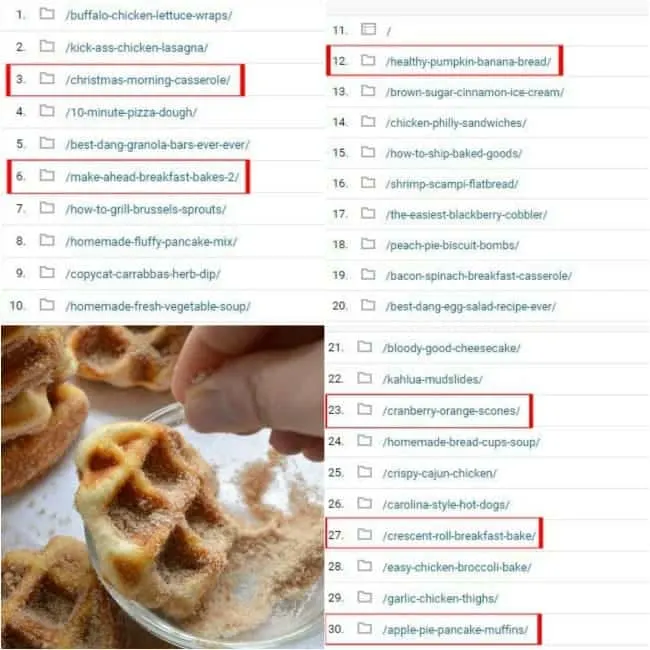 (pictured: 5 Minute Cinnamon Sugar Waffle Bites)
When I narrow it down to just the month of December, 3/10 top posts are posts I wrote for Food Fanatic.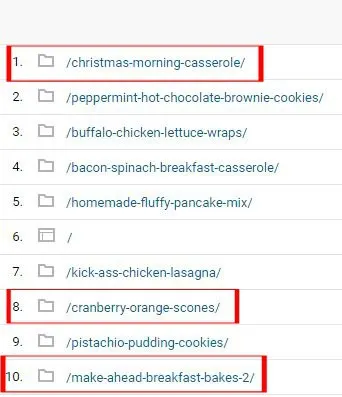 When I look at either of those lists a little further, most of my top posts are posts that have been syndicated in multiple places.
For December, Peppermint Hot Chocolate Brownie Cookies were for the Great Food Blogger Cookie Swap. They are included in multiple cookie round ups for that reason. Pistachio Pudding Cookies are the same. Buffalo Chicken Lettuce Wraps are usually my top post all year. They have been syndicated and duplicated and linked to in more ways than I even know. Bacon Spinach Breakfast Casserole is linked to in that Christmas Morning Casserole recipe that has been syndicated everywhere. Homemade Fluffy Pancake Mix is popular all year round and is linked to in many of my Food Fanatic posts. It's been syndicated as well. And that Kick Ass Chicken Lasagna? It was part of a project with other bloggers. We all linked to each other organically and as a result, that lasagna stays in my top posts.
It's also just really good lasagna.
But they are stealing my content!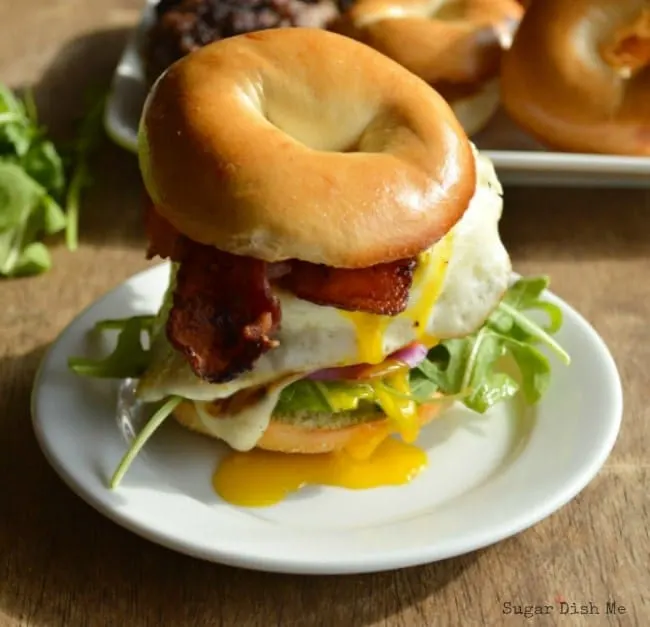 I know, I know!
When someone copies your post or recipe, especially when it's WORD FOR WORD, that slow, blind, indignant rage takes over. "I worked so hard!," "This took me forever!," "WHAT THE HELL?"
I get it. I do.
But. Imitation really is the most sincere form of flattery. And as long as that imitation comes with a link back to my content? I will totally take it. If it's a bigger site than yours and they copy/paste your content and hit publish? Even if your name is nowhere on it, those links in that post now have clout. Even if they hulk smash your Google search results and knock you out as number one?
You're probably still #2 or #3. Annnd you probably would not have made it there without a little bit of syndication love. If you can coax them to add a tiny blurb somewhere that says, "original Pumpkin Pull Apart Muffin recipe can be found at Sugar Dish Me," that's even better.
Plus, I dunno about you, but I will always click on a site that I think gives me a better user experience (a.k.a. NOT allrecipes or BHG with their 40 billion pop over and under and in my face ads). So if that bigger site copies me and I land on the first page of search results?
I'm calling that a success.
Syndication is a good thing, y'all! Get your content out there, say yes when people email you asking to share, and reap the benefits.