This collection of the best biscuit recipes is perfect for bakers at any skill level. Whether you are a first-time biscuit maker, a novice that has had a little practice, or consider yourself a full-on expert, there's something here for everyone!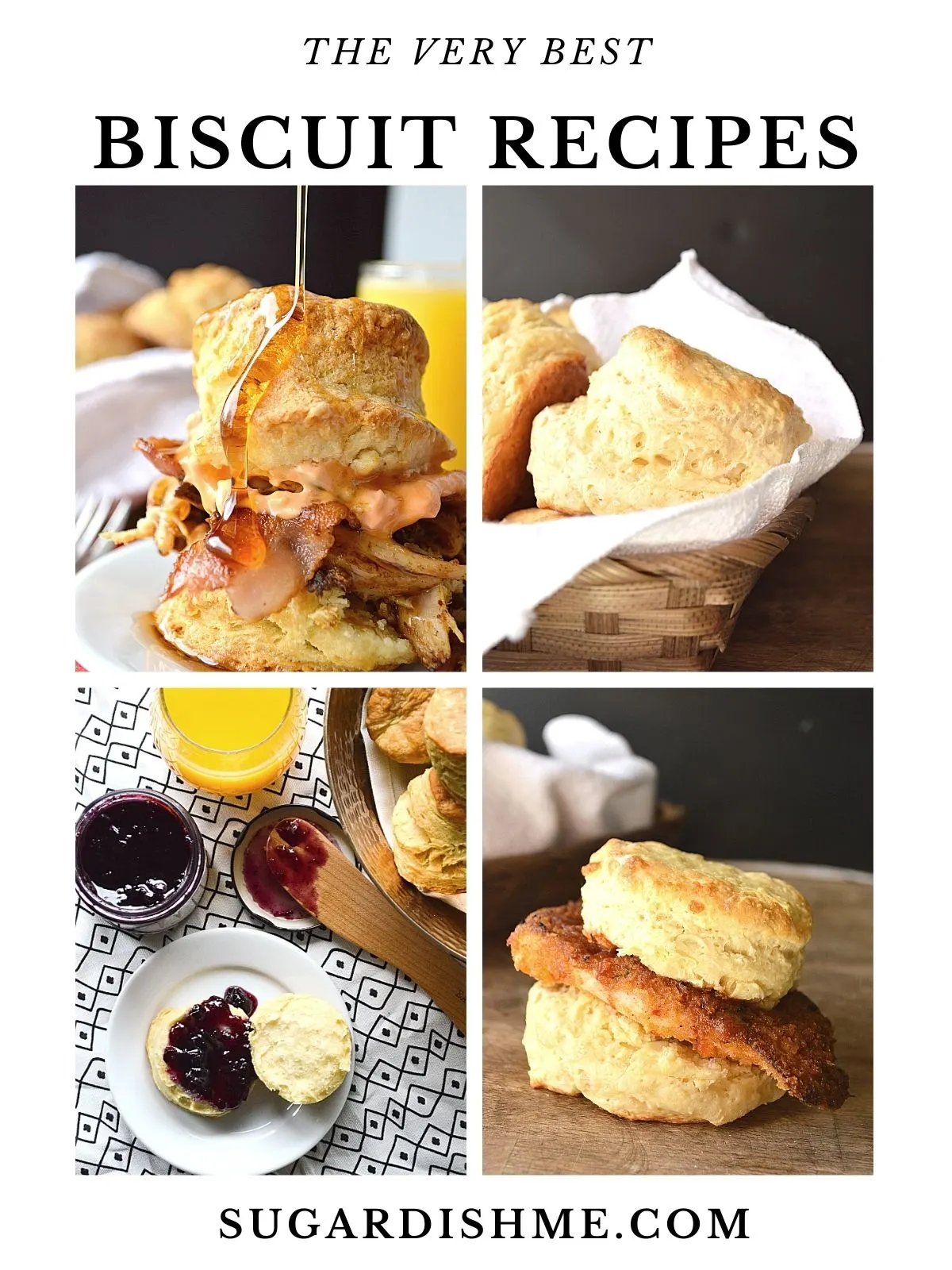 When I met my husband, a man that grew up on a 55 acre small working farm, with a grandma that makes homemade biscuits for every meal, I went on a serious biscuit-making quest. It only took me like 8 years to get REALLY GREAT BISCUITS nailed down. ?
So imma save you some time, especially if you are just beginning your biscuit journey. I've put together all of the best biscuit recipes, each one tried and tested a zillion times, and taste-tested by said biscuit-eating husband. And me, lover of all things bread.
Tools for making the best biscuits
Y'all know I am not one to tell you to run out and buy a bunch of ish if you don't actually need it, but if you are looking for a few things that will make your biscuit-making life simpler, I have some suggestions! These are the things I use on the regular.
The Best Biscuit Recipes
If you are on a quest to find the best biscuit recipes, look no further. All of these recipes are great for experts and beginners alike, so no matter your skill level there's something for everyone!
These truly are the BIGGEST, FATTEST, FLUFFIEST All Butter Biscuits. This recipe never ever fails me, and the post is loaded with tips and tricks and all the things that help me make biscuits like a pro every time. Tender flaky layers, and the tallest biscuits you've ever seen.
Photo Credit: www.sugardishme.com
Do you look forward to apple season all year? I DO! These Apple Biscuits with Honey Butter Glaze are loaded with grated fresh apples and pie spices. They do not disappoint.
Sweet and simple little bites of biscuits that you can make with fresh or frozen berries! Mixed Berry Biscuits also work well as shortcakes with whipped cream and macerated berries. DESSERT BISCUITS! You're welcome.
Can you even believe that these insanely fluffy tall biscuits are made without butter or lard? They also ring in at just 210 calories and have 11 grams of protein. Greek Yogurt Biscuits are a great way to indulge without sacrificing flavor. (Tip: if you make them less humongous they are only 105 calories.)
If you are looking for earthy flavors but still want a soft buttery biscuit texture, Honey Butter Glazed Whole Wheat Biscuits are just the thing. I like to make these using a small biscuit cutter. They have flaky layers and are perfect for splitting and heaping with jam.
FOUR INGREDIENTS! That's all you need to make these crazy easy biscuits. they are aptly named Biscuits for Dummies because this was the first biscuit recipe I ever managed to get to turn out. They are easy and people will think you are fancy. Trust me.
Biscuit Sandwiches
Okay so you've made your biscuits. NOW you need tp do something with them. Besides just smother them with butter and jam (which is totally my prerogative). Sometimes you need your biscuits to be a meal.
Photo Credit: www.sugardishme.com
Is this a biscuit sandwich? Or IS THIS A BISCUIT SANDWICH?!!! Pulled Pork Breakfast Biscuits have pimento cheese, bacon, pulled pork, and maple syrup. If you are trying to flex your restaurant-quality-meals-at-home skillz, this should do the trick.
Do you live in the land of Bojangles? If you do, you will know the joys of a Cajun Filet Biscuit. Add this Crispy cajun Chicken to
This recipe for Chicken Biscuits and Mushroom Gravy is like WHOA. The fried chicken is breaded and crisp, perfectly seasoned, and juicy on the inside. SO MANY biscuit recipes call for sausage gravy, but the mushroom gravy here works really well with the chicken. I originally made this one with refrigerated Grands! biscuits. No judgement.
Okay so I know this is not pictured on a biscuit, but really. Apple Butter Glazed Ham BELONGS on a big, fluffy, buttery biscuit. Ham biscuits are great for picnics and potlucks and breakfast and brunch - I can keep going, but you get the idea.