This easy Chicken Bacon Ranch Kale Salad marries together the need to eat vegetables and the very American urge to put ranch dressing on everything.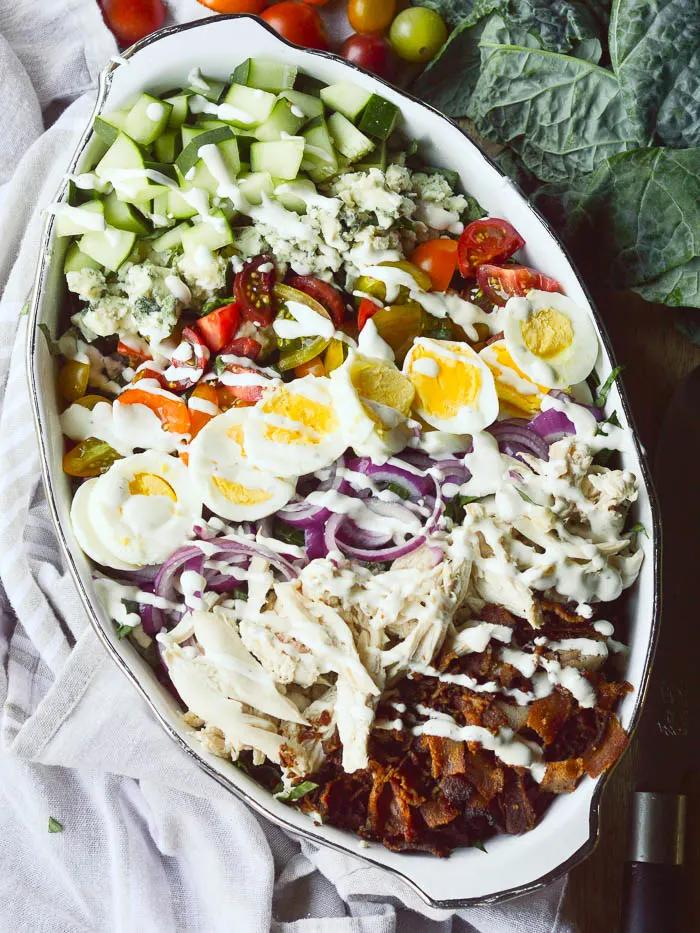 Back in the olden days, when we could still travel, I wandered all over the country for work with a handful of people from Minnesota.
GAH I miss travel. ***shakes fist at the 2020 universe*** Anyway, whenever we are together, we inevitably land at a restaurant somewhere, and my Minnesota friends always always always need a side of ranch.
Pizza, chicken fingers, fries — actually make that ANYTHING FRIED AND ANY POTATOES — chicken, burgers, sandwiches … all are fair game for ranch dressing. It is required dining fare.
Apparently this is a thing closely associated with Midwest culture, just like being overly nice, or the way my uncle says 'pop', but I'd say putting ranch on any and all foods, TO ME, is a thing that screams "THE SOUTH!," because I am 100% certain there is a sushi place here that has a roll WITH RANCH. Or maybe all the ranch dressing just screams, ""MURICA!"
South or Midwest or just trashed up American – I can't be sure. But whatever it is, ranch is good. The point to all this ranch talk is that I PUT IT ON KALE.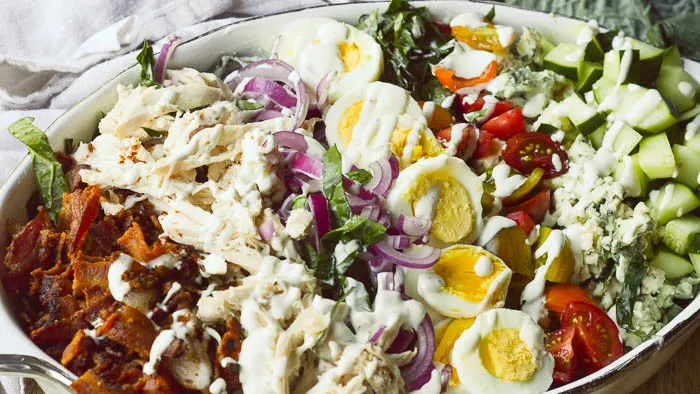 What's in Kale Salad with Ranch
I bought an insane amount of dinosaur kale at my local farmer's market and had to turn it into a useful meal.
See, we have been building a privacy fence for like THE WHOLE SUMMER (I am yelling a lot in this post, y'all. Ranch does something to me.), and lordt it is hot outside. I am so over summer. But anyway we have been eating lots of salads- Southwestern Chicken Salad, Big Bad Buffalo Chicken Salad, etc… – so when I was shopping I just bought all the kale. And now here we are.
Kale and ranch are the stars of this meal, and the rest of what you need lands this salad firmly in the camp of 'murica food.
Here's what else you'll need —
bacon! You had to see that coming.
hard boiled eggs
cucumbers
cherry tomatoes
red onions
cheese Roquefort ORRR just cheddar is good)
chicken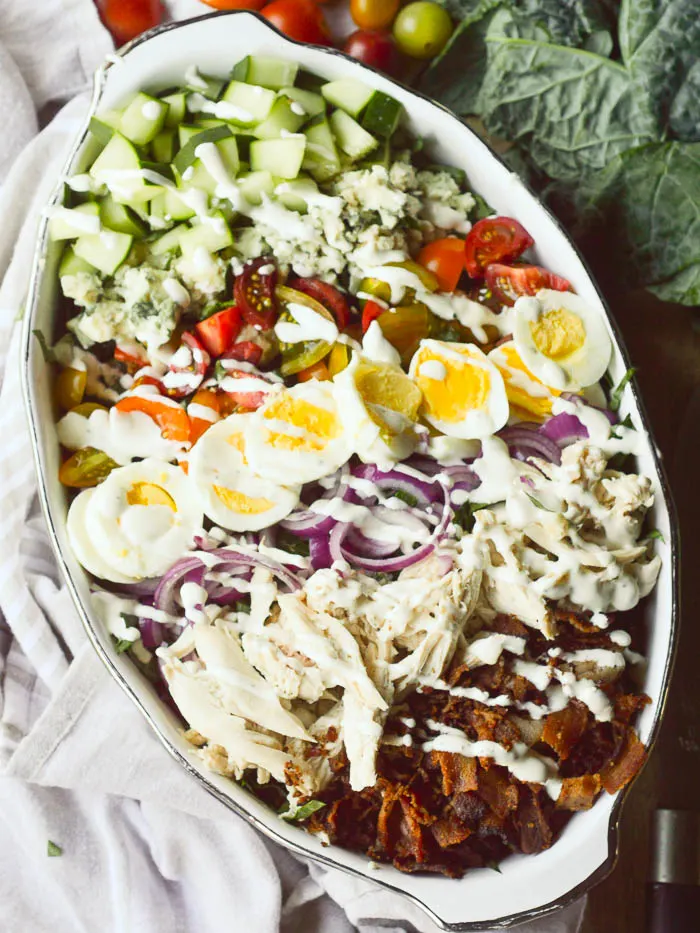 This is where I should probably let you in on two things:
I am lazy and used a chilled rotisserie chicken
I did not make the ranch dressing. If you want to make your own, I can recommend this recipe for Homemade Ranch Dressing from my friend. It comes with Midwest credentials.
Should you blanch kale for salad?
Errmmmm … that's a no for me, ghost rider.
But also I don't mind raw kale? I am guessing you also do not mind raw kale, or you'd likely be off reading about Quick Pizza Dough or Cookies.
That said, you CAN blanch the kale if you are having kale feelings.
How to Blanch Kale for Salad
Rinse the kale.
Remove the stems and chop the remaining leaves.
Place the leaves in a steamer basket on the stove and steam for 2 to 3 minutes. You want it to be BARELY wilted, but still crunchy.
Immediately remove from the heat and transfer to an ice bath until cold.
Strain, pat dry, and now your kale is ready to use.
Again, I will reiterate that I took the lazy approach and did not blanch anything. The only things I cooked were eggs and bacon.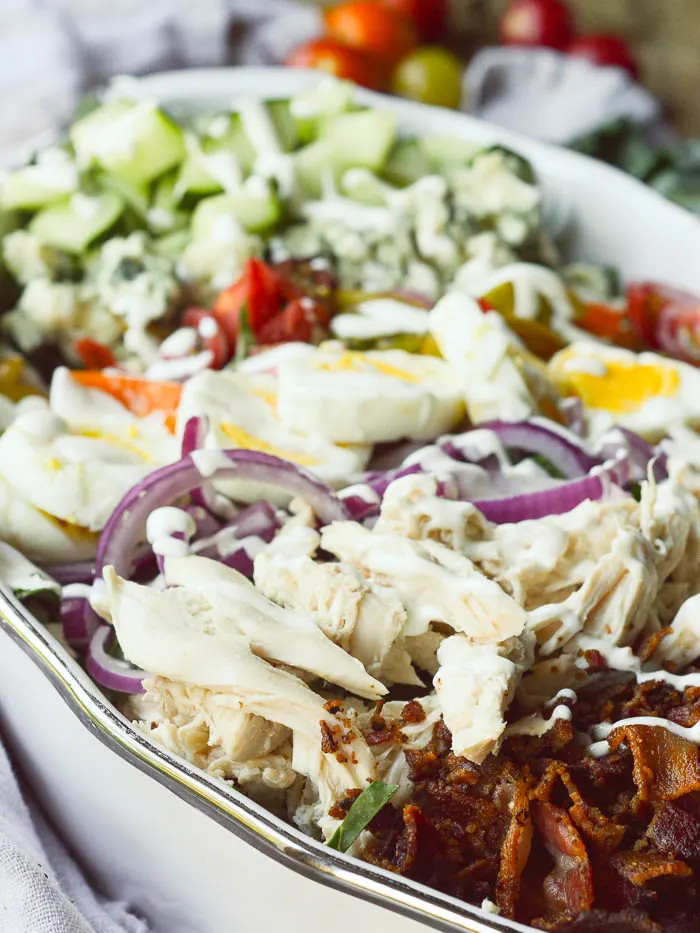 How Long Will This Salad Keep?
The age old question.
It's not a hard and fast answer. It will depend on a few important things. If the salad is dressed, it will not keep. It will be soggy and sad tomorrow. This is the primary reason I didn't just massage the kale with the dressing like I did with this Copycat Panera Power Kale Caesar Salad
Other things that can really affect what is happening with your vegetables in the fridge are whether or not your cucumbers have seeds (I recommend removing them), and whether or not you've sliced your cherry tomatoes.
If you don't slice your tomatoes, don't dress the salad, and seed the cucumbers, you can TOTALLY prep this salad 2 days in advance. Maybe 3.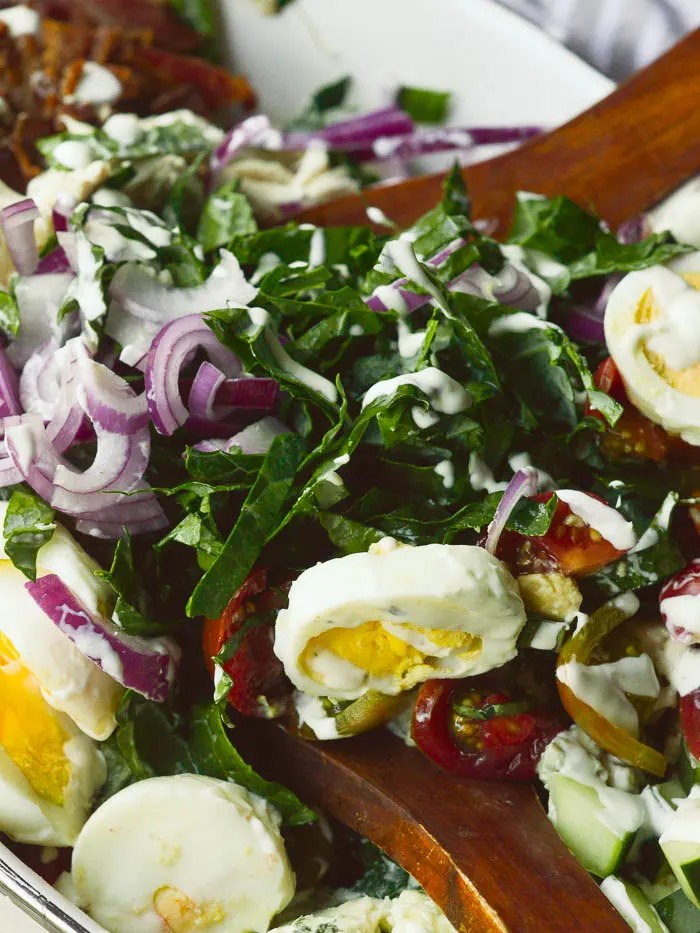 Cheese, Please
I decided to devote a whole section to cheese because it is a thing people have strong feelings about.
I used Roquefort cheese in my Chicken Bacon Ranch Salad because I was channeling a Cobb Salad (note: if you have a good, ripe avocado, ADD IT), but! I know not everyone prefers that strong VERY BLUE (more yelling) flavor. So. You can use a milder crumbly blue cheese here, or …
Cheddar. You honestly really can't go wrong with cheddar. Mild, medium, sharp , shredded or cut into small cubes – if you are not into adventurous cheese, I got you.
Want More Recipes with Kale?
Kale recipes for days right here.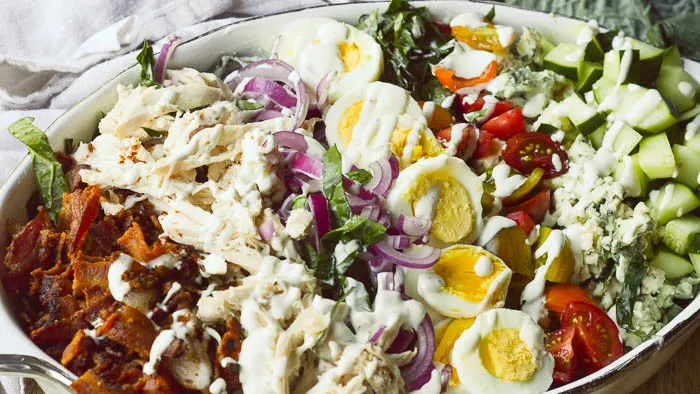 Yield:

serves 6
Chicken Bacon Ranch Kale Salad
Get your Chicken Bacon Ranch on with a nice does of kale in this Chicken Bacon Ranch Kale Salad. Nothing says America like putting ranch dressing on everything.
Ingredients
4 slices thick cut bacon
4 eggs
8 ounces dinosaur kale leaves
1/2 large cucumber
1/2 pint cherry tomatoes
1/2 small onion (red, yellow, or Vidalia)
4 ounces Roquefort cheese (or cheddar)
12 ounces shredded rotisserie chicken
12 tablespoons prepared ranch dressing
Instructions
Cook the bacon until crisp and drain on paper towels. Hard boil the eggs and set aside to cool before peeling.
Prep the kale by washing it and patting it dry. Stack 2-3 leaves on top of each other, and cut the leaves away from the stems on one side. Then flip them around to cut the leaves away from the other side. Once the stem is removed, chop the kale in thin strips, toss in a salad bowl, and repeat with the remaining kale.
Seed the cucumber and cube. Quarter the cherry tomatoes. If you are prepping this salad ahead, skip slicing the tomatoes. Slice the onion VERY thinly.
Assemble the salad - kale on the bottom, and everything else layered on top. Peel and slice the hard boiled eggs before adding them.
Drizzle the whole salad with ranch before serving, or if you are making this ahead, save the dressing and serve on the side.
Notes
If you wanna save even more time, you can buy prepared hard boiled eggs and pre-cooked bacon, or you can cook it ahead.
Recommended Products
As an Amazon Associate and member of other affiliate programs, I earn from qualifying purchases.
Nutrition Information:
Yield:
6
Serving Size:
1
Amount Per Serving:
Calories:

409
Total Fat:

30g
Saturated Fat:

9g
Trans Fat:

0g
Unsaturated Fat:

19g
Cholesterol:

211mg
Sodium:

1002mg
Carbohydrates:

7g
Fiber:

1g
Sugar:

3g
Protein:

28g