Blueberries and Cream Oatmeal is hearty, delicious, and homemade! You can use fresh or frozen blueberries for this recipe that comes together in just 10 minutes!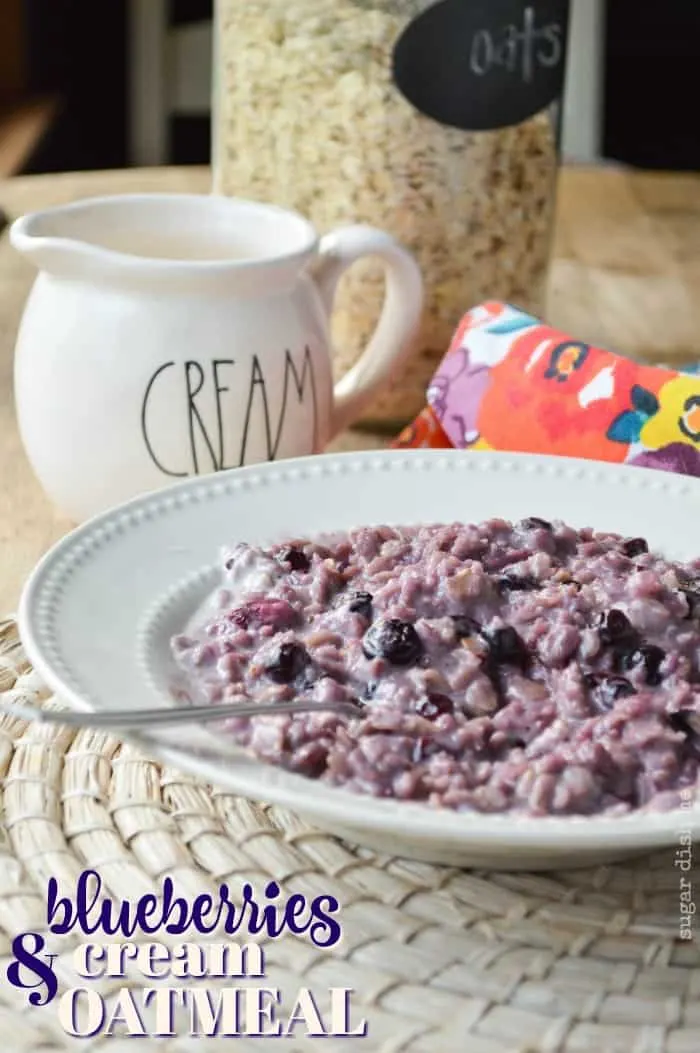 Wanna Pin this Post for Later? Click Here
Yep. I made us more oatmeal. It's a staple.
As a kid I was super in love with instant oatmeal packets. The Maple and Brown Sugar was my JAM (so much that I actually have a recipe for homemade instant oatmeal – maple and brown sugar, mind you).
But when I grew up and realized that oatmeal packets cost eleventy billion dollars, I learned home to make my own Perfect Stovetop Oatmeal. It sort of made me wonder why I ever bought those crazy expensive little packets.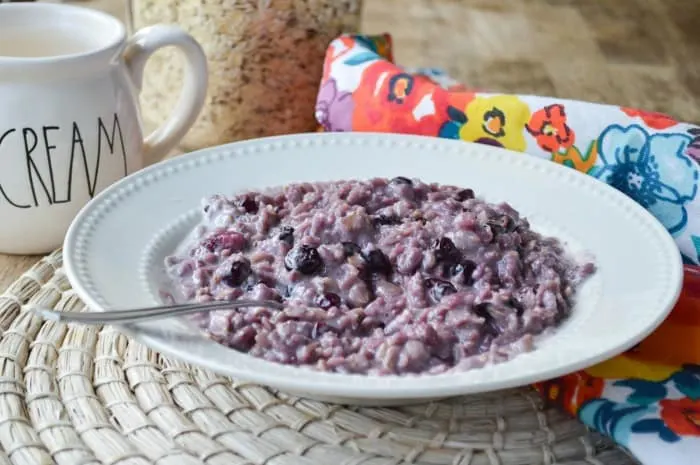 Making oatmeal on the stove is SO easy! And it really only takes a few minutes.
Like, you can brew a pot of coffee (people still do that, right? Please tell me I am not the last woman standing that has not much use for single-serve machines like the Keurig) and while that's doing its thing, you can quick whip up your oatmeal.
I started playing around with flavors after I figured out how easy oatmeal on the stove is to make. Apple Cinnamon Stovetop Oatmeal has been by far my favorite (and yours!). But this Blueberries and Cream Oatmeal recipe might knock it outta the top spot.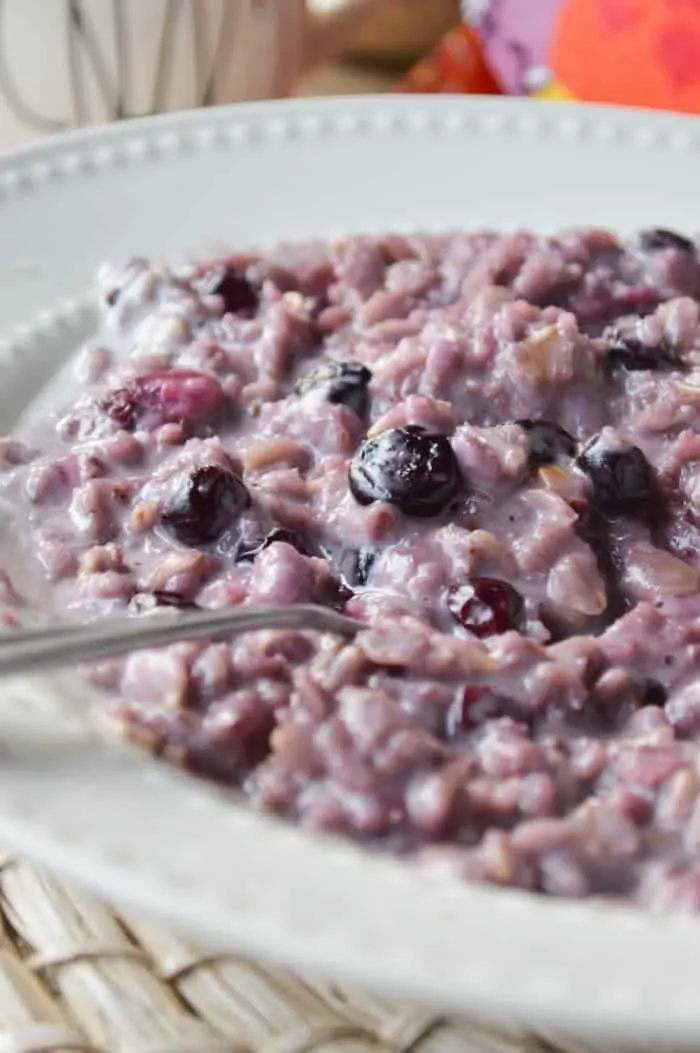 Remember when I made White Chocolate Blueberry Oat Cookies and deemed them suitable for breakfast? Blueberries and Cream Oatmeal is a little like those cookies in a bowl.
Minus the white chocolate.
Okay fine, you can add the white chocolate if you want.
The recipe is really easy because that's how I roll. If you have just 10 minutes you can turn out a really beautiful, hearty, and totally delicious bowl of breakfast.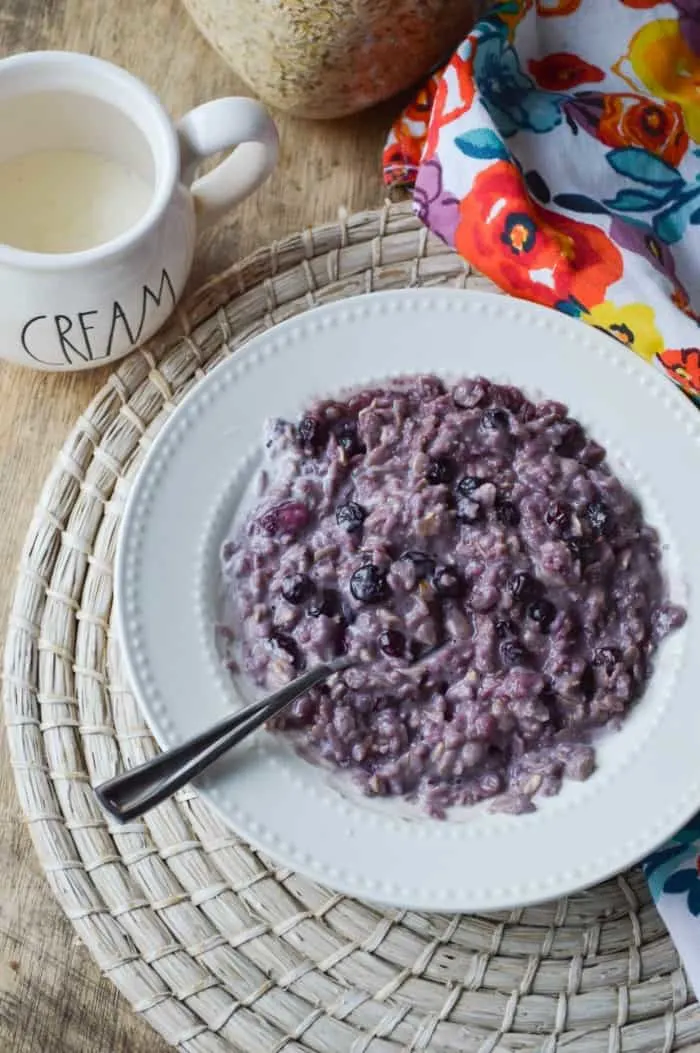 And yes, the blueberries are going to turn your oatmeal purple. It's fun though, right? If I had kids that would actually eat oatmeal loaded with fresh fruit they would be into this. My actual kids would 100% rather eat a bowl of Cinnamon Life cereal. Or Quaker oatmeal Squares.
I cannot compete with the oatmeal squares. They are pretty dang good.
Blueberries and Cream Oatmeal is way better than the instant stuff with the freeze-dried fruits though; you can control the amount of sugar you use (or don't use), and! You can use fresh or frozen blueberries (The jury is still out on blueberry pie filling, guys).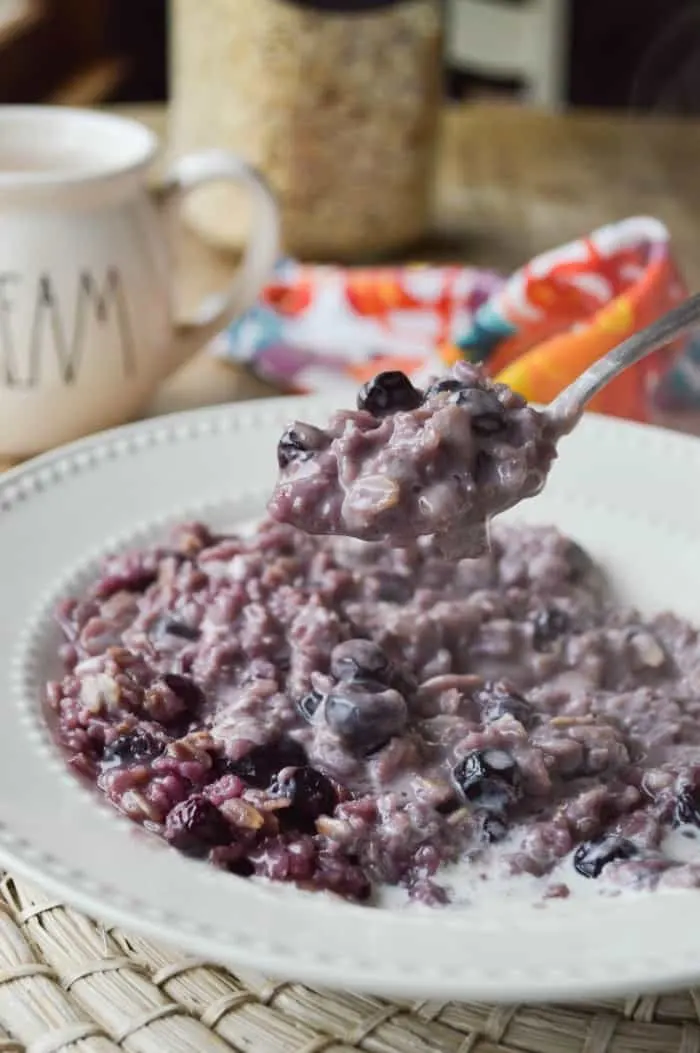 You can't beat that, y'all.

Want more blueberries in your breakfast?! I have just the thing.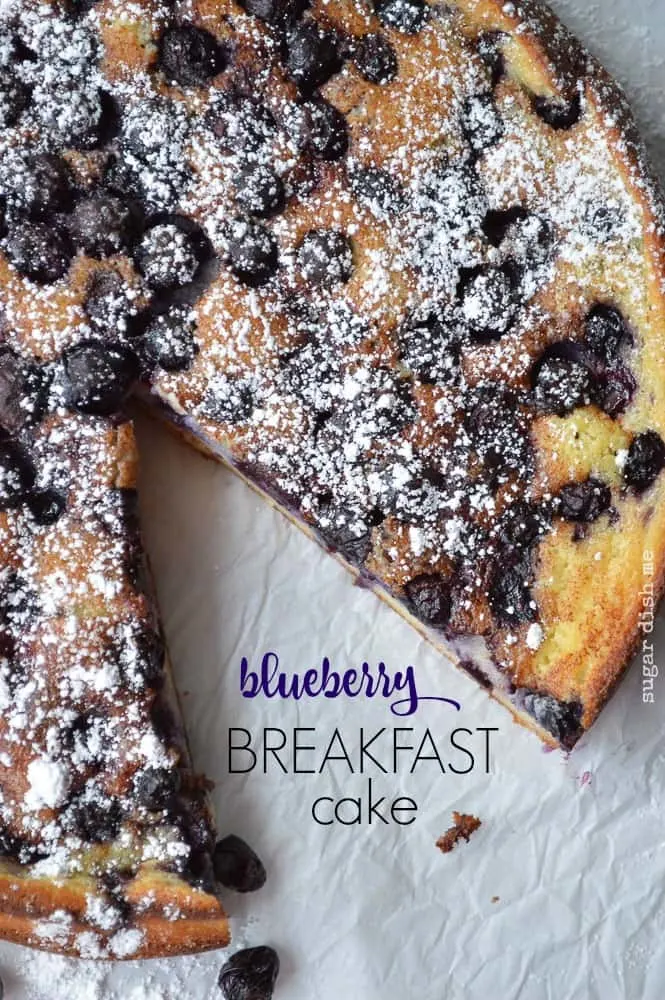 Dense and delicious! This Blueberry Breakfast Cake is loaded with fresh berries and will make your brunch guests swoon.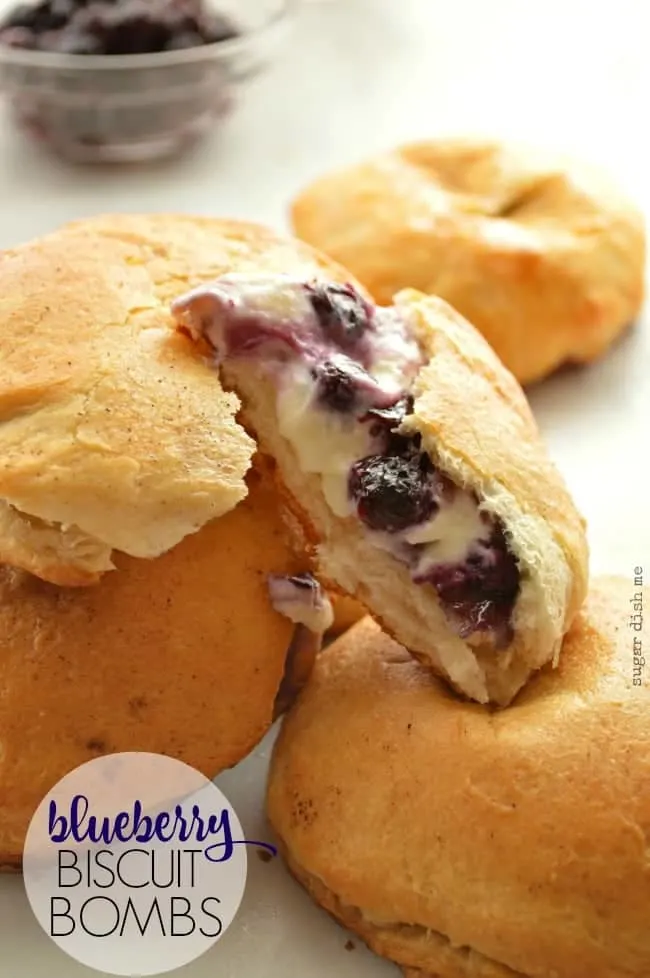 Blueberry Biscuit Bombs are unbelievably simple, tasty little treats that are perfect for breakfast, brunch, or dessert. Flaky biscuits are stuffed with cream cheese and blueberry pie filling for a biscuit bomb your guests will swoon over.