Welcome to Sugar Dish (Me)! I'm Heather, resident mommy, home cook, baker, and sugar dish maker.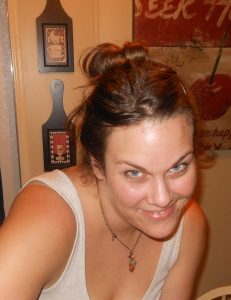 I've been making messes in the kitchen since I was a little kid and my momma handed me a copy of her church cook book and told me, "If you can read, you can cook."
My family thanks you, Mom.
I live in the Middle-of-Nowhere, North Carolina. I wish I were exaggerating. We don't even have Target. Residing with me are my two completely adorable, brilliant, and slightly annoying little boys, Andrew and Evan. I write about them often. I think they like it. They also like the homemade treats that this blog puts in their lunch boxes. The boys and I share a home with my boyfriend (to be clear that word really does nothing to explain the depth of our relationship, but that's as accurate a term as the English language allows), Chad, who clomps around in work boots, fixes everything that breaks (the kids and I manage to break lots of stuff…), and happily critiques my cooking.

We also have a little kitty. Her name is Norma Jean (aka Danger Kitty). She was discovered under one of our trees one night, most certainly feral, half-starved, and looking like owl food. She is now quite fat and sassy, but still reverts to her wild ways several times a day. No feet are safe in this house.
Coffee is kind of my life blood… I think I'm not a very nice person without it. I have an affinity for baked goods. At home, I am ALWAYS in bare feet. I'm pretty sure that I am completely incapable of cleaning the house without the TV on in the background, unless there's music. Because my life has a soundtrack in my head. I hope yours does, too.
What will you find here?
Basically whatever strikes my fancy on any given day.
Sometimes I post quick weeknight meals… other days I will drown you in chocolate. Those are the best of days. I try to provide real recipes with real ingredients because this is REAL LIFE. I don't like driving to 14 stores to find obscure things that I'll only use once; my recipes reflect that. I also don't own a million fancy kitchen gadgets (someday….?) so my methods tend to be pretty simplistic. I have no formal training, though I have paid my dues in the restaurant industry. I've waited many a table, spent hours chopping vegetables and mashing potatoes as a prep cook, catered banquet events, sold cheesecakes to local restaurants, and lavished everyone in my life with waaaaay too many muffins and cookies.
I love a good cookie. 
If you have questions or would like to send virtual cookies, you can email me at heather [at] sugardishme [dot] com. You can also find me on Facebook, or follow me on Instagram and/or Pinterest. I love hearing from you!!! Seriously.
I also really like to know how recipes you've tried have worked out… submitting photos on Sugar Dish Me's Facebook Page is completely acceptable. And exciting!
I appreciate each and every reader from the bottom of my heart. Truly.