Apple Butter Glazed Ham is a simple, sweetly spiced way to dress up your holiday ham, but it also makes a great ham steak if all you need is a quick weeknight meal.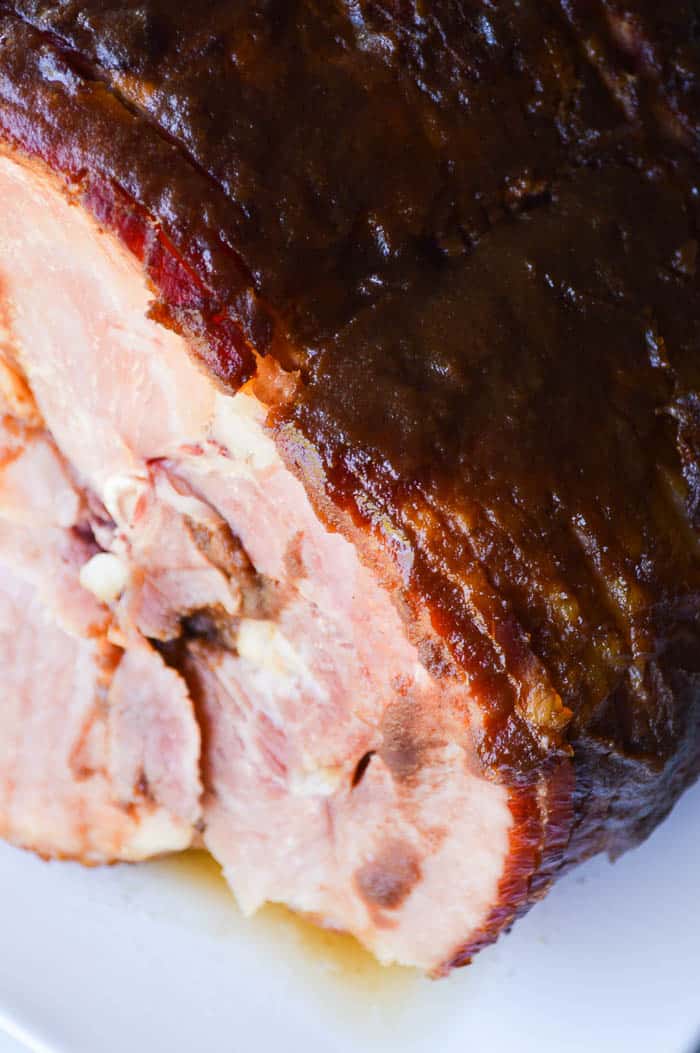 I travel pretty often for work, and the hyper-responsible mom in me always feels the need to do all the laundry and stock the refrigerator full of food before I go. Is this a compulsion that other people have?
I mean … there are three grown dudes here that are 100% capable of feeding themselves and washing their own clothes, and half the time no one even touches all the groceries I buy. Instead they order pizza and eat lots of Bojangles (I even have a cheater Bojangles Crispy Cajun Chicken Recipe, y'all! But no, they order out).
Pre-portioning dog food would probably be more helpful in my prepare-for-travel scenario.
The only time this standard where they totally ignore all my food-prepping is not applicable, is if I make a ham. Apple Butter Glazed Ham is my go-to. I always have the ingredients handy (pantry staples 🙌🏻), and it's not too sweet. There's mustard, and the hint of cloves from the apple butter balances out the brown sugar.
You can make a little or you can make a lot, and the sauce is great to have handy for all your ham sandwiching.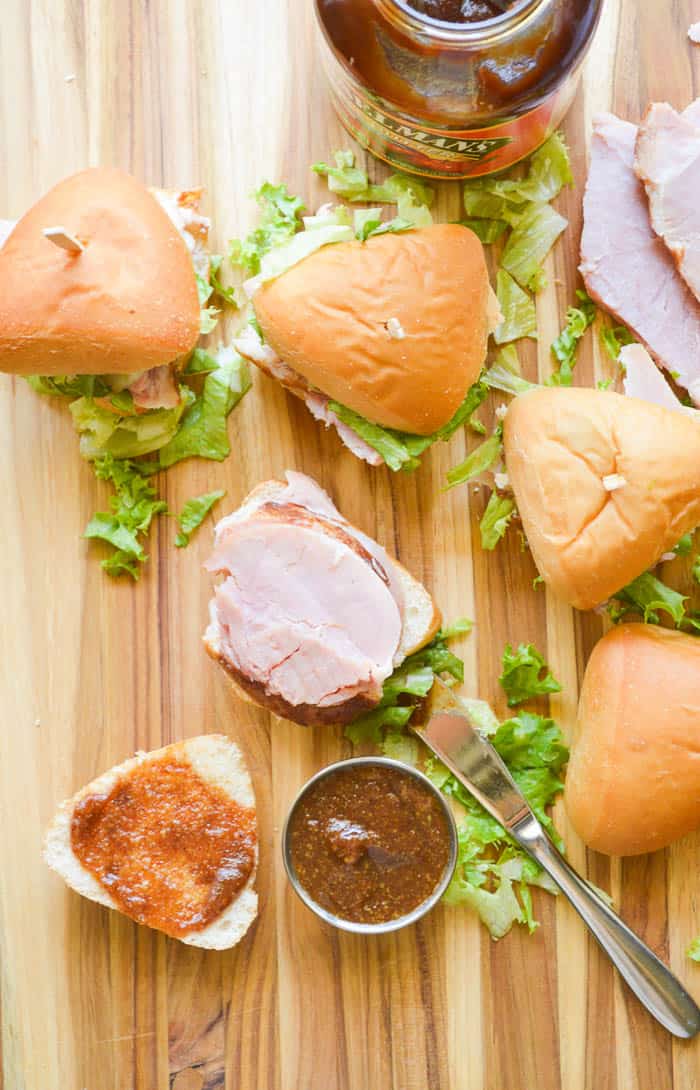 How do you keep a spiral ham from drying out?
Ya glaze it. That's my answer anyway. And if you bought a ham that came with a package of glaze … throw it out. I'm not sure what they put in there, but it's not great and it's suuuuuper sweet. Not my jam.
To keep your sliced ham from drying out, you lay it on its side and pour the apple butter glaze over it. Then use a brush or spoon, or whatever is handy (will you think I am a heathen if I tell you I do this with my hands?) and let the glaze go in between the slices.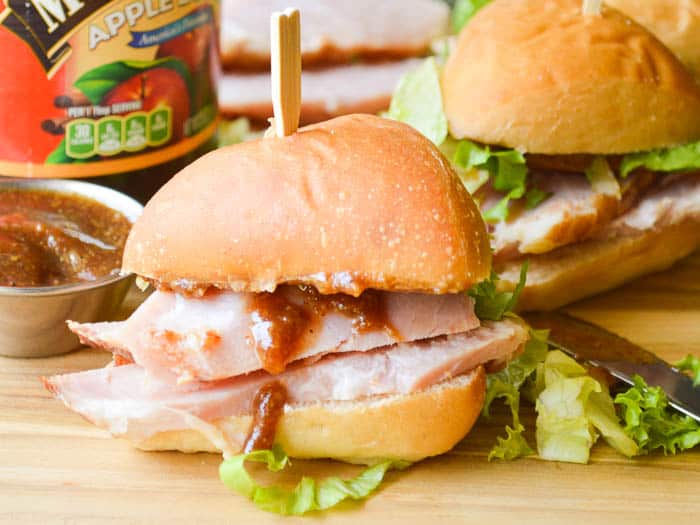 Do you add water to ham?
If you are using a roasting rack, yes.
We can go two ways here. The first route is what I do on holidays when I am making ham for more than just my immediate family. This is where I use
a proper roasting rack
like a real grown up. And in this scenario, I add about an inch of water to the pan and then cover my glazed ham tightly with foil.
The second scenario is what happens when I make a ham just because. No water here. Lazy person's ham. In this version, after I glaze the ham, I don't use a roasting rack, nor do I add water. I just place it in the pan, cut-side down, wrap it in foil, and call it good.
Can I cook the ham the day before?
You sure can. You will want to make sure to tightly cover the ham in foil before reheating in the oven. I typically reheat at 325°F for about 10 minutes per pound.
Depending on how you are serving your meal you may or may not be saving much time by making this ahead, because to actually COOK the ham you are at 325°F for 12-15 minutes per pound. But if the goal is to serve sandwiches or a platter of slices, this will probably be the way to go.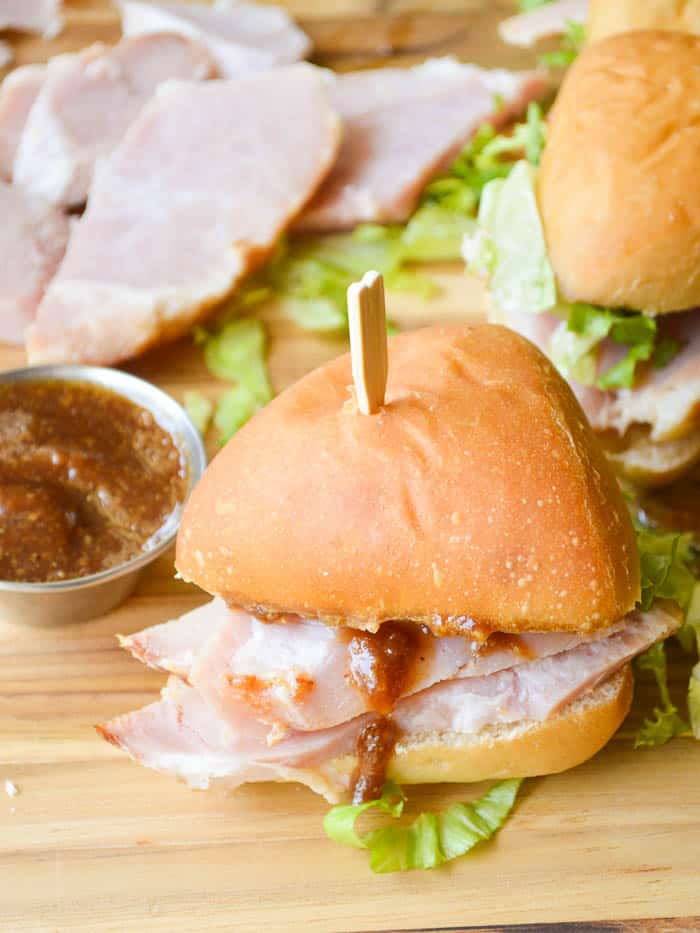 What do I need to make Apple Butter Glazed Ham?
It's realllll basic. You probably have most of these things handy!
apple butter
spicy mustard
orange juice
water
The apple butter glaze part of the recipe makes extra, because the sauce is excellent for serving on the side. I'm a ham sandwich girl and you can't beat the apple butter glaze spooned over the ham on these
Carrot Cheddar Sandwich Rolls.
Or on Kings Hawaiian Rolls. Those are pretty amazing.
Side Dishes to Serve with Ham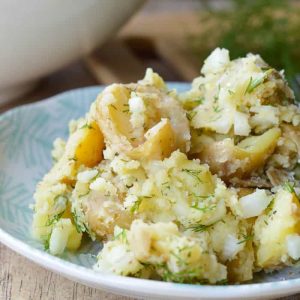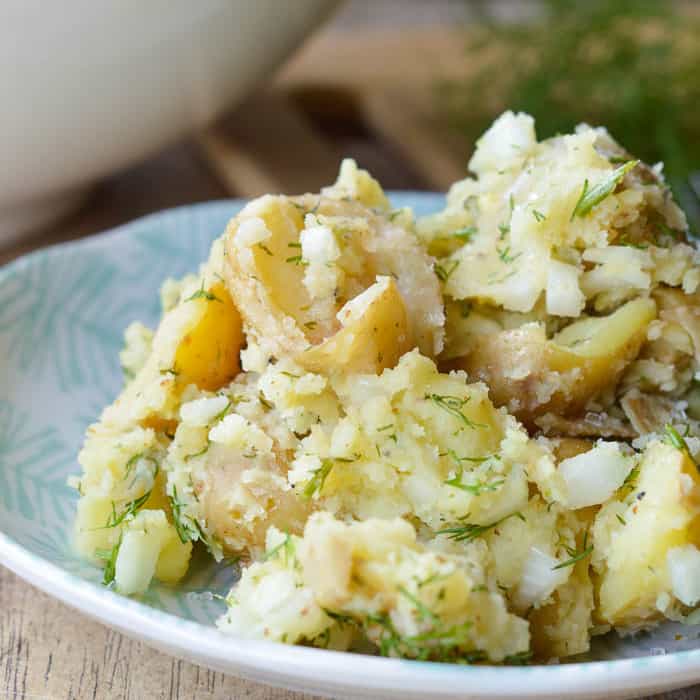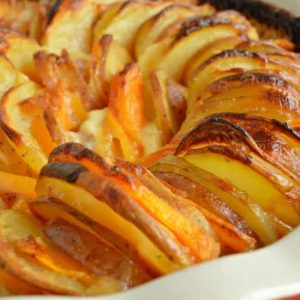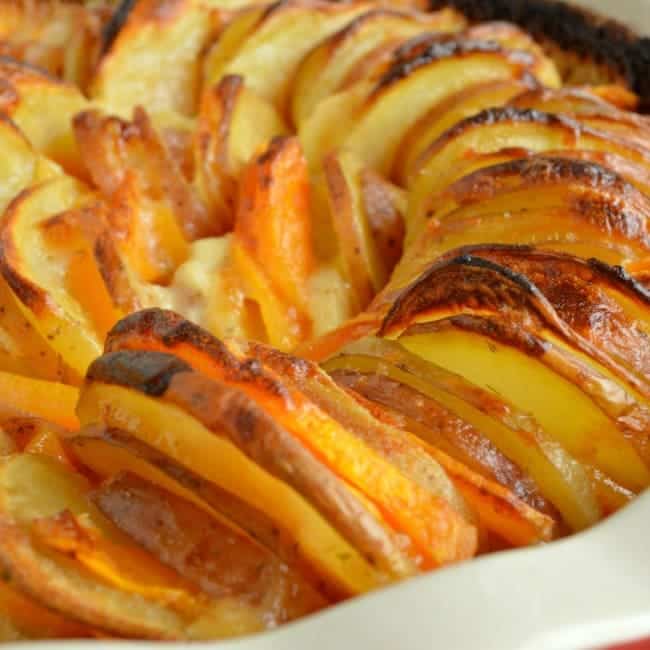 Baby Dutch Dill Potato Salad has no mayo but you won't miss it! I like to serve this potato salad warm wit it's also good cold and has the best vinegar + dill zing. LOVE.
Garlic Herb Potatoes and Squash are BUTTERY. This dish bakes up like scalloped potatoes AND there's cheese. So definitely one to try.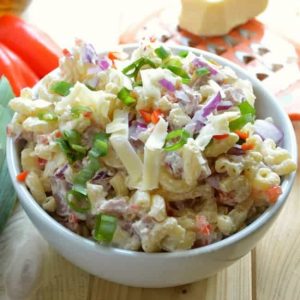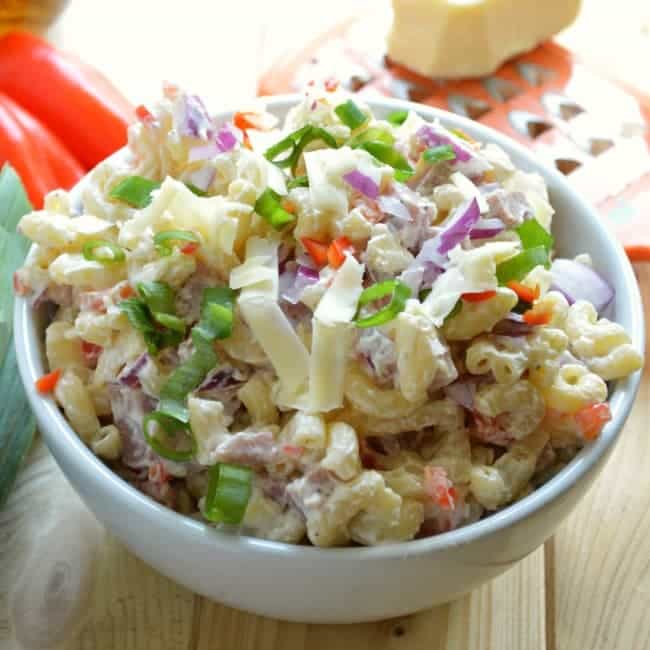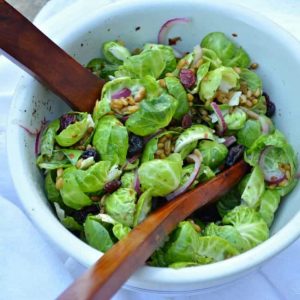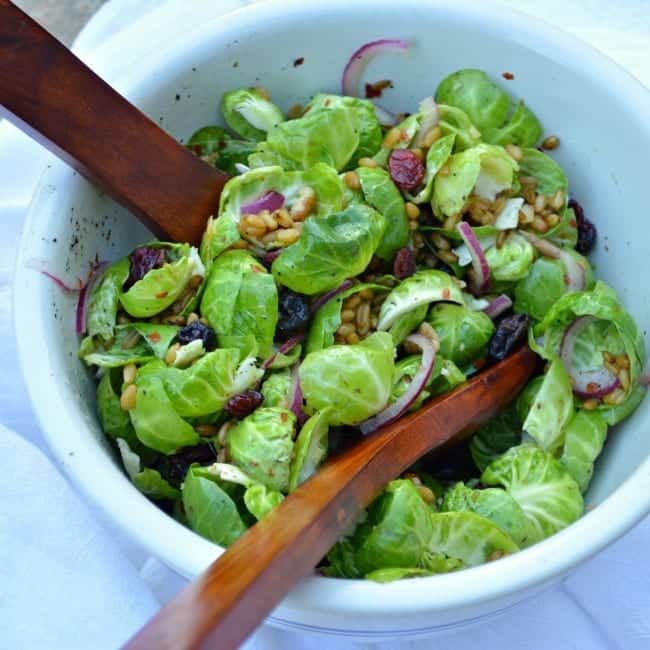 Creamy Ham and Cheddar Pasta Salad is a classic. There's a simple 3-ingredient dressing + peppers, onions, and cheddar. Bonus – you can make the dressing with Greek yogurt OR mayo.
Brussels Sprout Salad with Farro and Walnuts sounds fancy, but it's REALLY simple and is a nice way to change up your Brussels sprouts recipes. Plus it puts some green on the table.
Looking for a dessert to serve? I am IN LOVE with this Instant Pot Strawberry Cheesecake.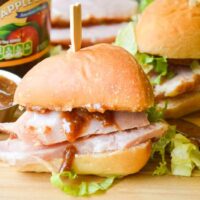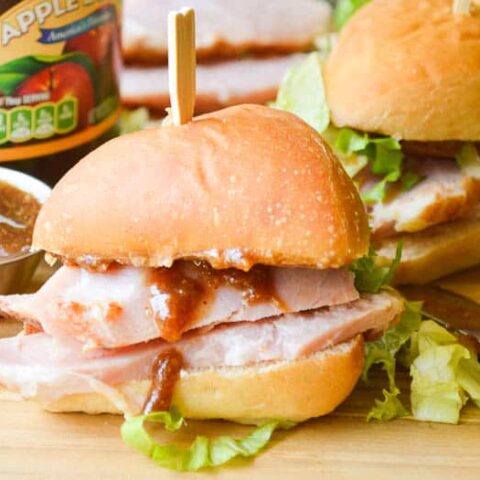 Apple Butter Glazed Ham
Yield:
1 (7 - 10) pound ham
Total Time:
2 hours
5 minutes
Apple Butter Glazed Ham is perfect for serving a holiday crowd. It's easy to make ahead and is simple enough for weeknight meals, brunch, sandwiches, and the glaze also works well on ham steak!
Ingredients
1 (7-10 pound) sliced spiral ham
2 cups apple butter
1/2 cup apple juice
1/4 cup spicy mustard
Instructions
Preheat the oven to 325°F. You can use a roasting rack or not, but you will need a roasting PAN either way. If you are using the roasting rack, situate it in the pan and lay the ham on its side. If you are not using the roasting rack just lay the ham on its side in the pan while you prep it.
Whisk together the apple butter, apple juice (or orange juice), and spicy mustard. Reserve a 1/2 cup for serving with the ham. Pour the remaining glaze over the ham and use a brush or your hands to separate the slices just a little so the glaze can penetrate between the slices. Cover as much of the outside of the ham that you can with it on its side.
If you are not using a roasting rack, place the cut side down in the pan and then cover the pan tightly with foil. If you are using a rack, leave the ham on its side in the rack. Add about an inch of water to the bottom of the pan and THEN cover the pan tightly with foil.
Bake the ham for 12-15 minutes per pound, or about 2 hours. You want the internal temperature to read 140°F.
Remove the foil and turn the heat up to 425°F. Bake for about 10 more minutes.
To serve, let the ham rest for about 15 minutes before slicing all the way through to serve. Simmer the reserved sauce just until it's warm and serve on the side with the ham.
Notes
You will need foil!
You can also use orange juice in place of the apple juice
Recommended Products
As an Amazon Associate and member of other affiliate programs, I earn from qualifying purchases.
Nutrition Information:
Yield:

24
Serving Size:

2
Amount Per Serving:
Calories:

94
Total Fat:

2g
Saturated Fat:

0g
Trans Fat:

0g
Unsaturated Fat:

1g
Cholesterol:

23mg
Sodium:

378mg
Carbohydrates:

11g
Fiber:

0g
Sugar:

9g
Protein:

8g