Twice Bakes Breakfast Potatoes are a GREAT way to use up leftover baked potatoes. Not just for dinner anymore! This classic appetizer recipe also makes a tasty breakfast or brunch.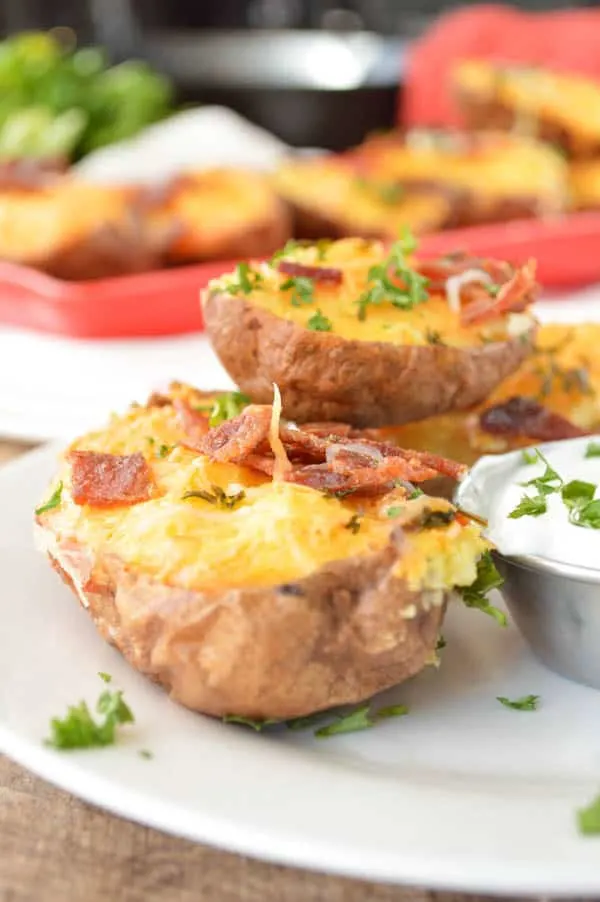 I'm not sure why, but I associate spring with brunch. This is silly because I would literally eat brunch every day of every week for all of my live long days. But something about spring and maybe all the holidays in it (Easter, Mother's Day …) makes me feel like making and serving all the brunch-related things. Spring brunch is also a great excuse to make Meyer Lemon Mimosas.
Just sayin'.
These Twice Baked Breakfast Potatoes have a lot of things going for them.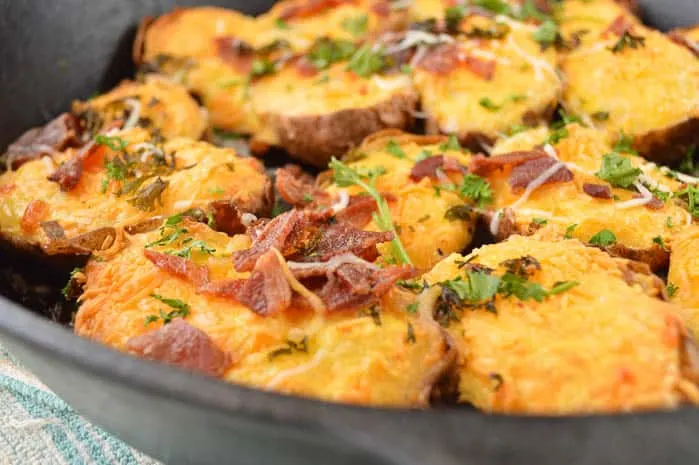 You can make them with leftover baked potatoes. You can fill them full of basically anything you want. They are hearty and suuuper delicious.
Are Potatoes Good for Breakfast?
Uh … yes. Hash browns and home fries are the status quo, but we are gonna elevate things here with Twice Baked Breakfast Potatoes. These are actually still great for dinner (brinner? are we still friends if I tell you how much I hate that made up word?), and you can change up what's IN them.
Is bacon your jam? Cool. Prefer sausage (or have some thing else like country ham handy)? Also cool.
Wanna go the veggie route and load these up with broccoli? I am here for it.
If you want to try a recipe with hash browns, I recommend Cheesy Hash Brown Breakfast Sliders. I put hash browns on burgers. Oh yes I did.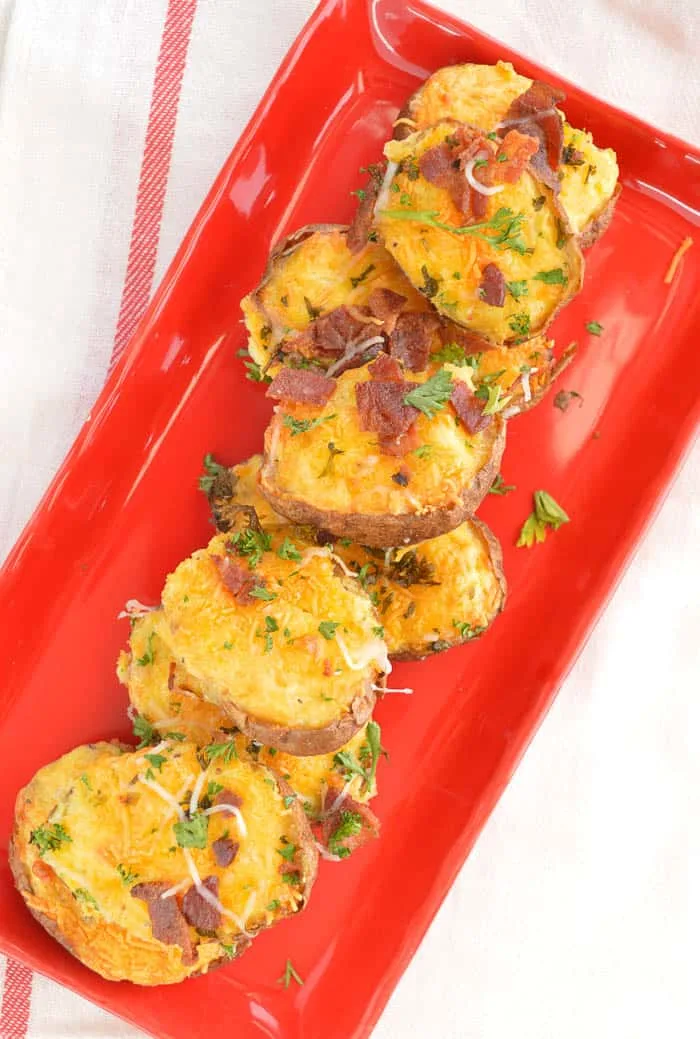 Can I Make Twice Baked Potatoes Ahead?
Yes. In fact, I am gonna tell you to DEFINITELY bake the potatoes ahead of time. It's a whole step out of the way. You can also go ahead and make the filling, and stuff these ahead of time as well. Just wrap tightly and refrigerate.
I would not recommend making the filling TOO far ahead without baking it (the night before is probably as far as I would stretch that because of the eggs in the filling.
TIP: When I make these ahead I use a metal baking dish because cold glass + hot oven = broken things. I also let the dish sit on the stove while the oven preheats for baking to bring the temperature up just a bit.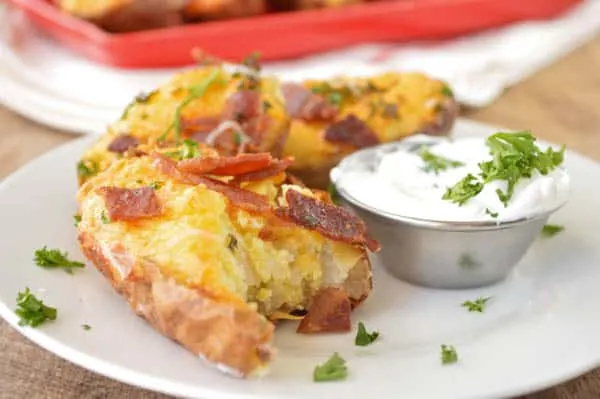 Filling Ideas
I gave to the basic recipe here for the cheesy potato and egg filling, and I made the breakfast potatoes you see with bacon. But the ideas go on for days. Here are just a few —
crumbled sausage
ham
broccoli (like the breakfast version of Cheesy Broccoli Potatoes)
peppers and onions and serve with salsa for a southwest flair
How to Reheat Twice Baked Breakfast Potatoes
Anyone that knows me knows that I am not a huge proponent of the microwave. That said though, I definitely bought one last year when I headed to Memphis because teenage boys + a stove seemed like a bad call (#hotpockets4lyfe).
I'm also REAL weird about microwaved pizza. Just … no.
You can reheat these breakfast potatoes in the microwave, though. It doesn't give a weird texture or ruin the goodness you started out with BEFORE you had all these leftovers.
If you happen to be a bit of a purist like me when it comes to reheating things, you can also reheat these in the oven. Just put them in a baking dish and cover with foil. Preheat the oven to 400°F and give them a solid 15-20 minutes.
Need More Brunch Ideas?
Ham and Egg Brunch Cups start with a puff pastry and get stuffed with a sweetly savory apple butter sauce, a whole egg, and sliced ham. Also I think they are just so pretty!
Crescent Roll Breakfast Bake is one of my very favorite ways to use refrigerated crescent rolls. Crazy easy, and another good one to make ahead.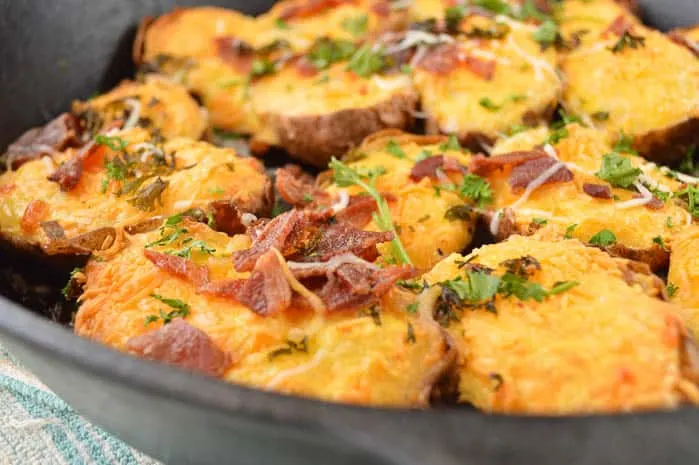 Yield:

4
Twice Baked Breakfast Potatoes
Cook Time:
1 hour
10 minutes
Total Time:
1 hour
20 minutes
Ingredients
2 medium Russet Potatoes, Scrubbed
2 teaspoons Olive Oil
1/2 teaspoon Kosher Salt
1/4 cup Sour Cream
1/2 cup Shredded Cheddar Cheese
2 Eggs
Salt and Pepper, To taste
More Shredded Cheddar and Chopped Green Onions, To garnish
Instructions
Rub the potatoes all over with the olive oil. Sprinkle with the kosher salt and bake at 425°F for 45-60 minutes (depending on the size of the potato). This step can be done a day ahead.
Let the baked potatoes cool until you can handle them. Cut each in half lengthwise and scoop out the cooked potato leaving between 1/8 and 1/4" around the edge.
Mash the potato you scooped out with a fork with the sour cream and shredded cheese. Add the 2 eggs and mix until combined. Add the salt and pepper.
Spoon the mixture back into the potato skins -- they will be over full.
Reduce the oven heat to 350°F. Line a baking sheet with parchment paper, place the potatoes on the prepared baking sheet, and bake for 20-25 more minutes, or until the egg is cooked.
Garnish with cheese and green onions.
Recommended Products
As an Amazon Associate and member of other affiliate programs, I earn from qualifying purchases.
Mixing Bowls with Airtight Lids, 6 piece Stainless Steel Metal Bowls by Umite Chef, Measurement Marks & Colorful Non-Slip Bottoms Size 7, 3.5, 2.5, 2.0,1.5, 1QT, Great for Mixing & Serving

M KITCHEN WORLD Heat Resistant Silicone Spatulas Set - Rubber Spatula Kitchen Utensils Non-Stick for Cooking, Baking and Mixing - Ergonomic, Dishwasher Safe Bakeware Set of 4, Orange
Nutrition Information:
Yield:
4
Serving Size:
1
Amount Per Serving:
Calories:

255
Total Fat:

15g
Saturated Fat:

7g
Trans Fat:

0g
Unsaturated Fat:

6g
Cholesterol:

122mg
Sodium:

529mg
Carbohydrates:

20g
Fiber:

2g
Sugar:

2g
Protein:

11g