These muffins are light, fluffy, and dotted with raspberries! Easy Raspberry Muffins with Greek Yogurt mix up in one bowl with just a few pantry staples. You need a batch in your kitchen this week!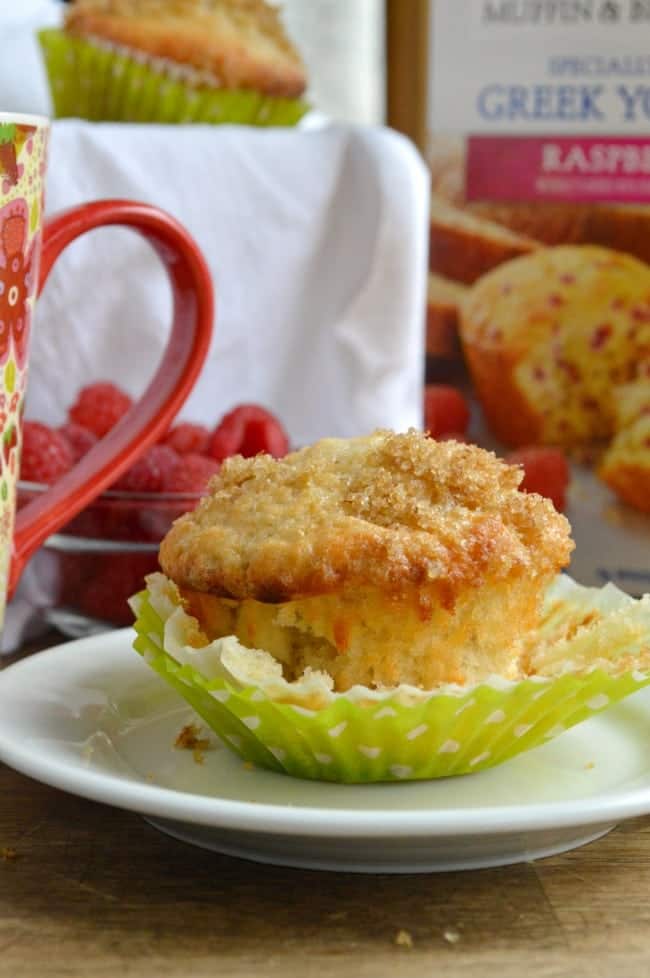 This post is sponsored by Fleischmann's® Simply Homemade®! One of the ways I am able to keep the lights on is to work with brands I really love and share them with you. As always, all opinions, photos, and original photos are my own.
I keep typing 'Raspberry Muffins with Geek Yogurt' and then catching it at the last second. So if you find someplace else in this post with 'geek yogurt' you have my permission to laugh at me, but then please send me an email so I am not embarrassed repeatedly.
Because what I'm trying to say is Raspberry Muffins with GREEK Yogurt. They are, in a word, amazing.
Except I should probably explain a little further than that because I run out of adjectives on the regular and tell you at least 3 times a week that "this recipe is amazing," or, "this cookie is crazy amazing," or … you get the idea. Annnd. If you follow me on Facebook it's probably way more than 3 times a week.
Sorry. I will ask Santa for a thesaurus this year.
All of this nonsense is to say that I made you another super shortcut recipe AND it is loaded with Greek yogurt. You all know I love a good Greek yogurt recipe! We have Greek Yogurt Cheddar Biscuits, and Lemon Yogurt Pound Cake, I use it in pasta salads and now! I am adding it to muffin mix.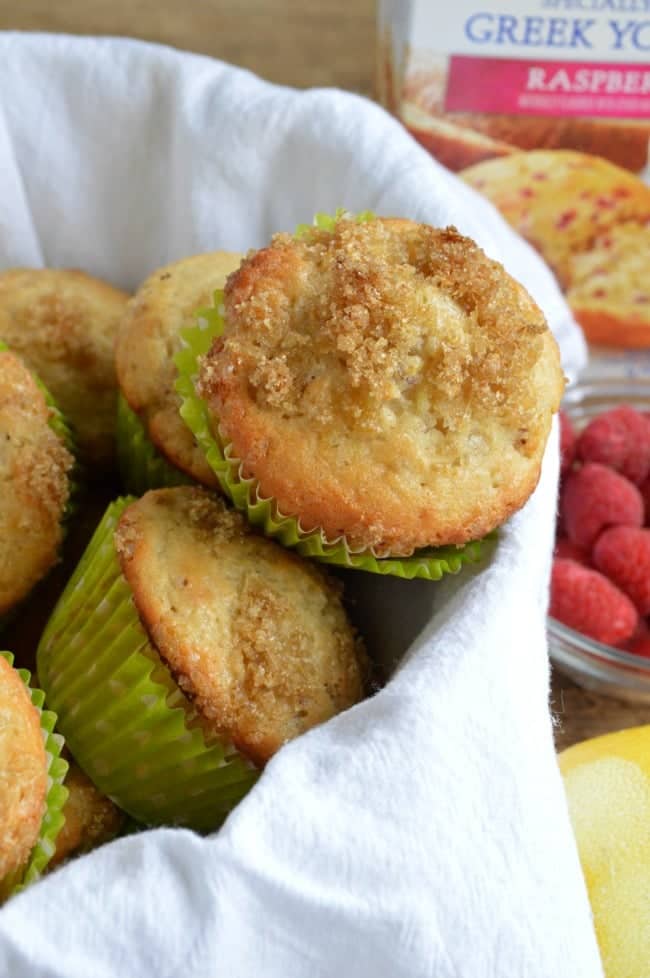 Most of you know that I have spent an awful lot of time working in restaurants, coffee houses, cafes, and catering. It was how I earned my living before le blog here paid the bills. In some establishments there is a major emphasis on baking from scratch. But I've found that in more places than not, the baked goods are made from a mix. There are a few tricks to baking with a box mix that will elevate the end product. I'm gonna share them.
Start with quality product! For these muffins I used Fleischmann's® Simply Homemade® Raspberry Muffin & Bread Mix Specially for Greek Yogurt. You also should be selective with your brand of Greek yogurt because not all are created equal. You want thick, creamy yogurt. Grab your favorite.
FILL your muffin cups. One box of Simply Homemade Muffin & Bread Mix will yield exactly 12 perfect little muffins. If you are looking for big fat bakery-style muffins, cut that yield down to 10 and divide the batter evenly between the muffin cups. Follow the baking instructions on the package, making sure to do the toothpick test for doneness.
Toppings!!! Adding a simple, pretty topping to baked treats made from a mix takes them over the top. Sorry for the bad pun.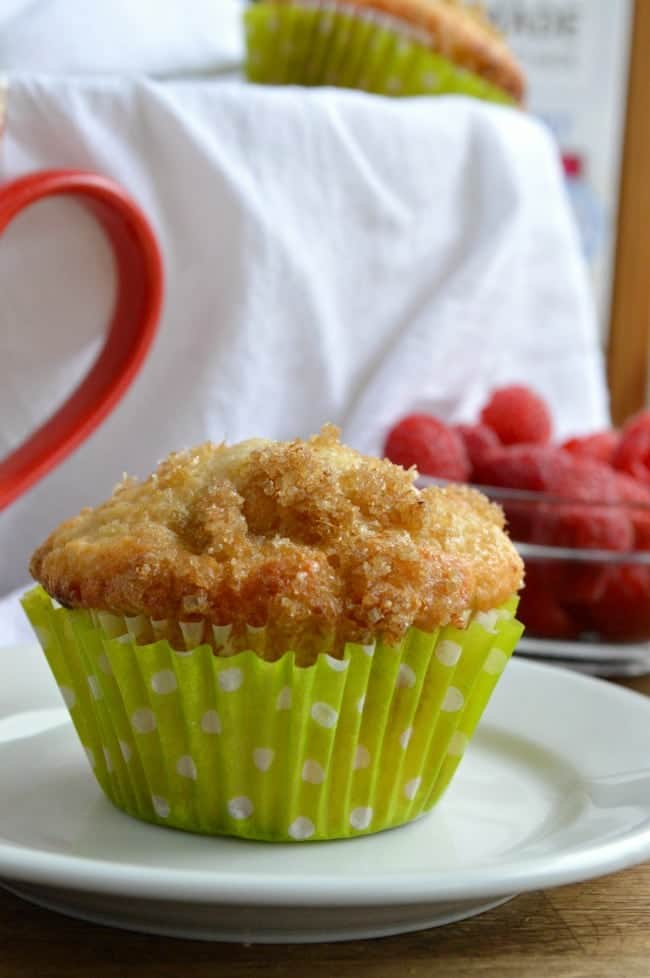 All I really did with these muffins is put some sparkly lemon scented sugar on top. The Simply Homemade mix has great homemade flavor without any additions. It's made with high quality stuff so there are no artificial colors,flavors, or preservatives. The Greek yogurt adds both protein and a delicious rich flavor to the batter. P.S. You can also totally bake this into a loaf of quick bread.
Each serving is 4 grams of protein and 4 grams of whole grain (and 3 WW points! You know I had to calculate).
To make these muffins exactly as I did, you can print out my Easy Raspberry Muffins with Greek Yogurt Recipe that includes that simple sparkly lemon sugar topping below.

Easy Raspberry Greek Yogurt Muffins
Ingredients
1 box Fleischmann's Raspberry Muffin Mix for Greek Yogurt + the ingredients listed on the box for making muffins
2 tablespoons turbinado or raw sugar
1 teaspoon lemon zest
Instructions
Preheat the oven to 375F. Line a standard muffin pan with paper liners or spray with nonstick cooking spray.
Follow the Muffin Directions on the box. Divide the batter between the prepared muffin cups.
In a small bowl add the turbinado sugar and lemon zest. Rub the zest and sugar together until fragrant and then sprinkle it over the batter. Bake for 15 - 20 minutes or until a toothpick inserted into the center comes out clean.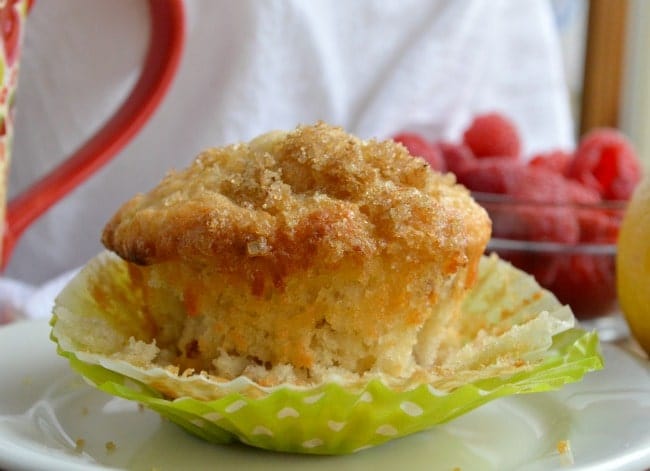 You all might remember a recipe I made with Fleischmann's Simply Homemade last year – these Buffalo Chicken Pretzel Bites came together easily with their Pretzel Creations. They also offer Cornbread, Country White, Sourdough, and Italian Herb. The muffin and bread mix made specially for Greek yogurt is also available in both banana and lemon poppy seed varieties. I had the hardest time deciding which to share!
I am totally confident you'll love them all.