Naturally sweetened and perfect with your morning cup of joe, these Maple Pecan Scones are simple to make and hand out just the right amount of pecan crunch in every bite. Better yet, they are only 156 calories each!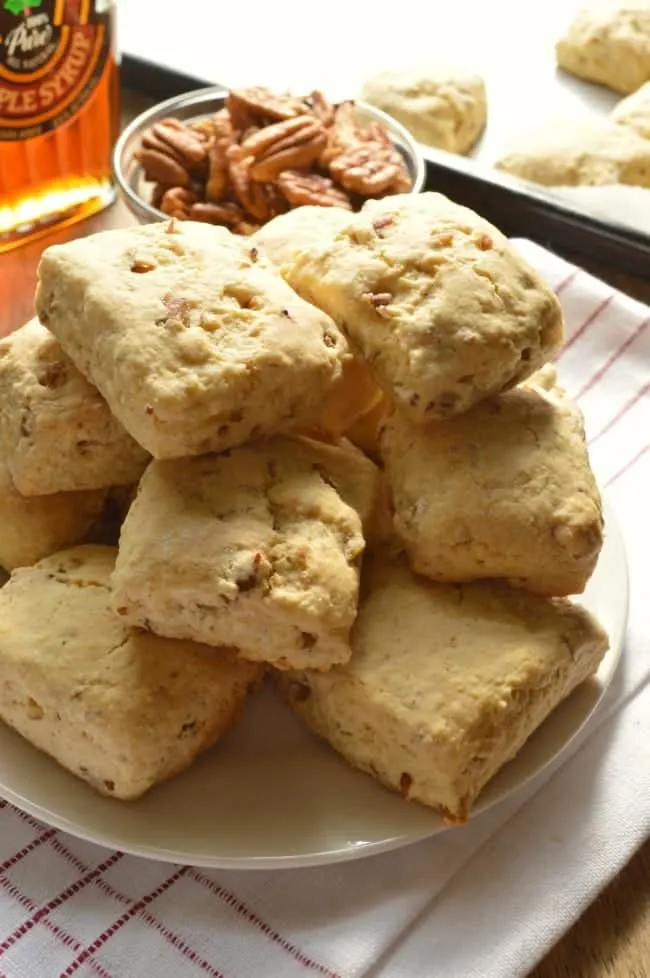 This post is sponsored by alli®. All thoughts and opinions are my own.
Around these parts – in my home, on the blog, and apparently in sentences that begin sounding like I am a cowboy-in-training, I walk a fine line between decadent indulgences and recipes that I have taken the time to lighten up. Really that line is the story of my whole entire food life. The one where I adore baking, cooking, and eating, but I also struggle with maintaining a healthy weight and relationship with food. And then sometimes there's the brownie guilt. It's real.
I've found that having an arsenal of recipes at my disposal is the quickest way to combat the inevitable poor choices that come along with a job like recipe development (why yes, I would like to help you make a 23 cheese dip for your company party this year), but I know for sure this struggle is not exclusive to me and my weird job. When I get awesome emails thanking me for recipes like Greek Yogurt Cheddar Biscuits and Buffalo Chicken Lettuce Wraps, I know that we are all in this place where we want to make good choices, but DANG!! We also want the food to taste good!
So. Starting with these Maple Pecan Scones, I have put together 4 recipes that taste every bit as indulgent as the things I share laden with butter and heavy cream. BUT! With nutritional information you (and your skinny jeans) can feel good about.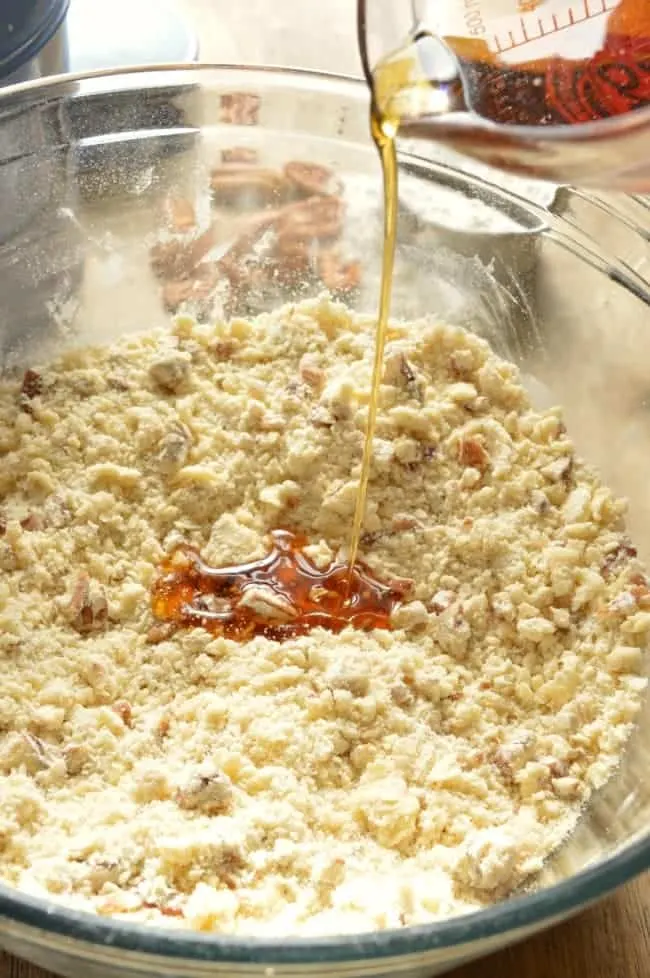 Scones are one of my favorite carby things to grab in the morning. I love them savory, I love them sweet, I love them on a little napkin next to my coffee! But traditional scone recipes are butter-heavy and calorie-laden. If you go the sweet scone route, they can be loaded with sugar as well. With these Maple Pecan Scones though, I replaced the butter with a canola-based, trans-fat free margarine and the sugar with natural maple syrup.
I used one of my best scone-making tips here which is to keep everything COLD. Cold ingredients make for fluffy scones.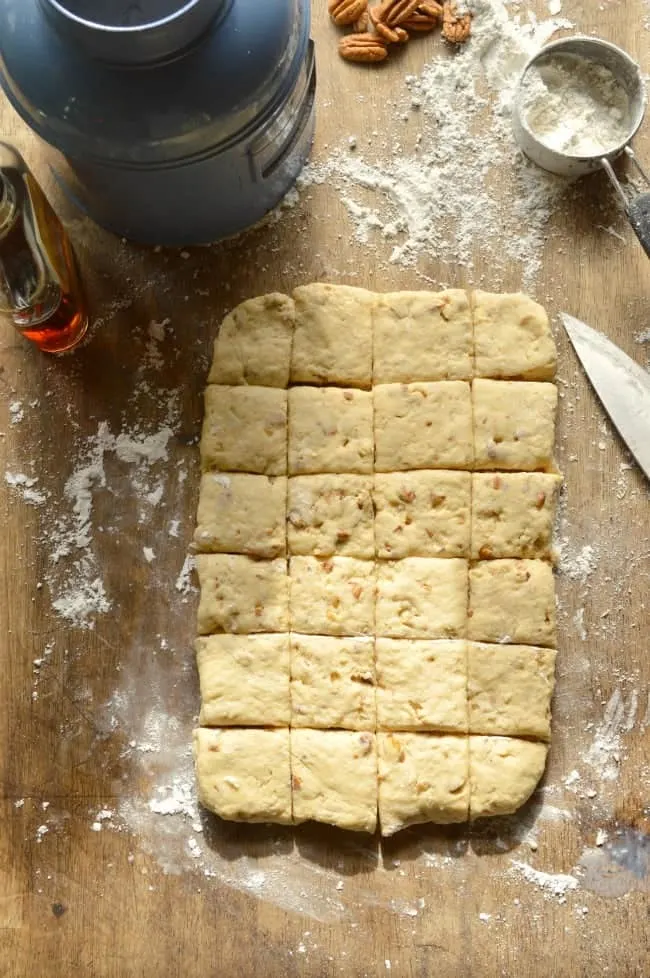 Just a little bit of fat free milk brings this dough together. It's easy to roll out, and instead of cutting it into giant traditional scone triangles, it's cut into 24 little rectangular pieces.
I actually really loved the size of these once they baked up. Perfect little portions.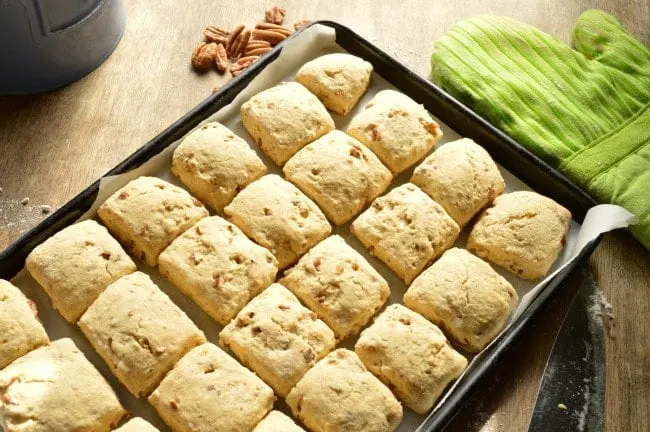 These scones are tender and fluffy. They are just slightly sweet, with a hint of maple richness. What a relief to have a baked little treat that doesn't make me feel like a guilty glutton.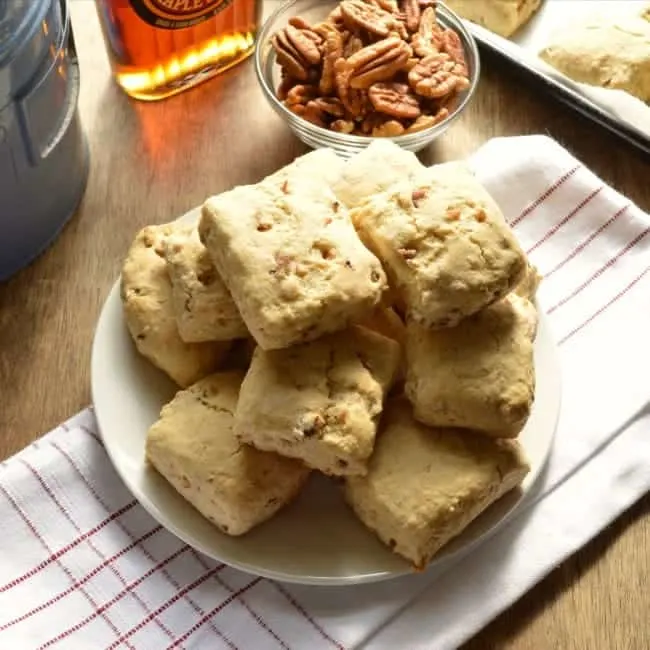 For more crave-able recipes designed to fit your lifestyle be sure to check out myalli.com/recipes-for-you/.

Maple Walnut Scones
Ingredients
3 cups all purpose flour
1 cup chopped pecans
1¼ tablespoons baking powder
¾ cup canola based margarine
½ cup maple syrup
⅓ cup fat free milk
Instructions
Preheat the oven to 375°F.
Combine flour, nuts, baking powder, and margarine in a large bowl and mix by hand until coarse crumbles about the size of peas form. Then gently mix in the maple syrup and milk using a rubber spatula.
Turn the dough out onto a lightly floured surface. Knead 1-3 times, just to bring the dough together. Pat the dough out into a 1" thick rectangle and then cut into 24 squares.
Place the scones 1" apart on an ungreased baking sheet.
Bake until they are firm in the center and golden on the edges and at the bottom, about 20 minutes.
Cool slightly and serve warm.
Notes
**Nutrition facts are estimates only**
Nutrition Information
Calories:
156.8
Fat:
8.9g
Saturated fat:
1.3g
Carbohydrates:
17.2g
Sugar:
4.4g
Sodium:
112.3g
Fiber:
.9g
Protein:
2.1g
If you love scone recipes, you might like…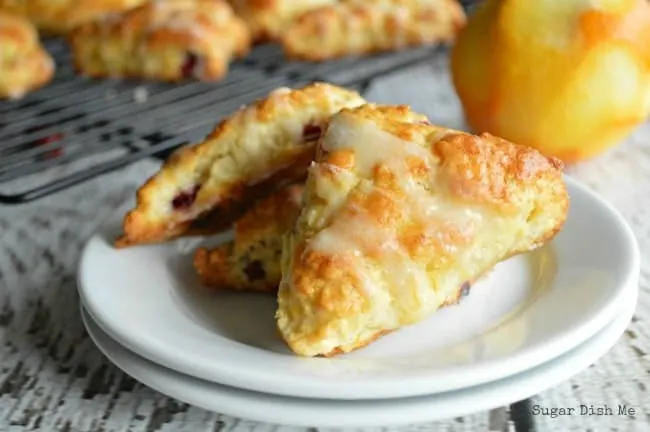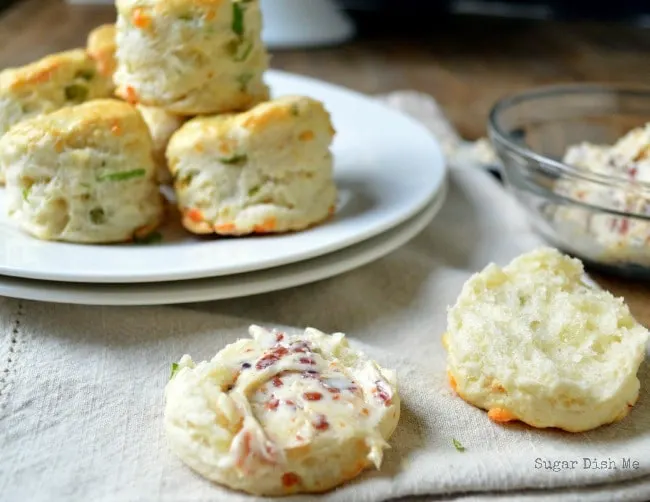 Spring Onion Scones with Cheddar and Bacon Butter